Dolly: I shall return
Weather forces abbreviated show
By Duane Gordon
Dollymania Oct. 9, 2000
©2000 Dollymania.
Check out the photos from Saturday's parade, handprint ceremony and concert here!
AMORY, Miss. -- Dolly Parton pledged she will return to Mississippi in the near future after a vocal affliction caused by low temperatures caused her to cut a performance here short Saturday night.
"My throat is closing up," she told the crowd of more than 10,100 nine songs and about 40 minutes into her scheduled hour and a half concert headlining the fifth biannual Stars Over Mississippi benefit show.
The concert was the culmination of several days of activities to raise funds for the Mary Kirkpatrick Haskell Foundation, which provides college scholarships to deserving students in Mississippi. Amory native Sam Haskell, executive vice president of the William Morris Agency, created the foundation in memory of his mother, who worked for 20 years as the school nurse at Amory High School. The concerts and other efforts have raised more than $1 million for the foundation.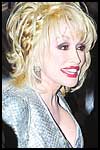 Parton entering Friday night's gala. Photo by Darrell Rakestraw, Northeast Mississippi Daily Journal
Dolly arrived in the little town of Amory, located just south of Tupelo, on Thursday when temperatures were near 90 and was given a tour of the city of about 9,000. On Friday, she held a closed rehearsal at the Amory High School Stadium as a cold front pushed through the state and temperatures began to fall. That evening, a gala was held under a huge tent adjacent to the middle school. The stars ate and enjoyed themselves, as did several guests who purchased tickets to attend. The celebrities present also answered questions asked by the audience, except for Dolly, who said she'd answer the questions at the concert because right then she really had "to pee!"
On Saturday morning, a parade of stars made its way through town. Waving at the crowd who had braved a chilly morning in the low 50s were local school marching bands, several corporate sponsors for the events, and dignitaries (in the following approximate order) Amory Mayor Thomas Griffith, Mississippi Governor Ronnie Musgrove, Mr. Haskell and his wife former Miss Mississippi Mary Donnelly Haskell, Emmy winning choreographer and actress Debbie Allen, husband and wife Emmy winner Gary Collins and former Miss Mississippi and Miss America Mary Ann Mobley, singer Guy Hovis, Mississippi native and Broadway star Laurie Gayle Stephensen, singer Marsha Tindall, Mississippi native and former Will & Grace co-star Gary Grubbs, model Kathy Ireland, Amory native and Touched by an Angel star John Dye, actress Brooke Shields, singer Kathie Lee Gifford (with Cassidy and Cody) and, of course, Dolly.
The parade ended at the town square gazebo, where the mayor welcomed the crowd and introduced the governor, who thanked Mr. Haskell for ensuring the future of many of Mississippi's brightest students. Mr. Haskell then introduced corporate sponsors and celebrities, presenting them with golden railroad spikes (Amory's equivalent of a key to the city). Dolly was seated next to John Dye, who covered her cold legs with his jacket. He later apologized to the crowd for hiding "those beautiful legs." Dolly told everyone she was very pleased to be in Amory and led the crowd in singing "Amazing Grace."
In the early afternoon, Dolly made a "big screen" appearance, kicking off the Ole Miss football game against Arkansas State with a shot of her shouting "Are you ready?" on the school stadium's JumboTron.
Shortly thereafter, the stars gathered on Amory's Main Street to plant their hands in cement for the city's own Walk of Stars. First came Debbie Allen then Marsha Tindall and Gary Grubbs. After a brief wait, Dolly came out to a shouting crowd and made her handprints (albeit wearing gloves). After another wait, Kathie Lee and Cassidy were next, although Cassidy accidentally walked on Dolly's print after doing her own. "Is Dolly gone?" Kathie Lee asked in a worried voice. Fortunately, the print had dried enough by that time where it didn't mark it at all. Finally, Brooke Shields did hers. She stayed the longest meeting people and signing autographs. (Dolly and Kathie Lee didn't sign autographs.)
The concert kicked off at 7:30 p.m. with the orchestra led by David East playing a jazz version of "Battle Hymn of The Republic," but with the sun out of the sky, temperatures began to quickly fall amid a brisk wind which kept blowing away the big screen at stage right. It was announced that people were still buying the general admission tickets outside but that 10,103 total tickets had already been sold to individuals from 27 states and six foreign countries. (See complete concert schedule at end of article.)
By the time Dolly took the stage, the wind had not let up at all, and the temperature was around 35 degrees. She started strong, sounding fine. She spoke of how she enjoyed Amory and its warm-hearted residents during her short visit. "I've never met such a great bunch of people in my life!" she exclaimed. She said Mr. Haskell is a loving, caring, Southern gentleman – otherwise a "freak" in Hollywood. She asked for a coat from offstage as she got colder, noting during her joke about her parents having so many kids that "We had a lot of cold nights like this" in the mountains.
By the time she was about 40 minutes into her set, the audience could tell her voice was beginning to scratch, and instead of singing some of the higher notes on "Appalachian Memories," she harmonized by using notes a little farther down the scale. When she started "Train, Train," she had to stop because she couldn't sing. She had the band try to start it again, and when the notes wouldn't come because of the effect the weather was having on her throat, she said she had to do something and started to dance a little before telling them to stop.
She apologized profusely to the audience, saying if they wanted her to, she'd refund everyone's admission price personally. She said she needed to sip something warm and would try to come back and finish her set.
She realized she could not do the entire show, so she came back – covered in a full-length white coat and wearing a black scarf – and said she would return in the near future to do the show again because she felt like she was letting the people down. She said she would at least perform her closing numbers with the FOCUS Choir from Tupelo: "The Seeker" and "He's Alive." After the latter song, she received a standing ovation and called all of the stars back on the stage to sing the chorus again. As she left the stage, Debbie Allen led the crowd in showing their appreciation for her trying to continue by asking them to "Show Dolly some love!"
The concert was one of only three Dolly has scheduled for 2000: her New Year's Day show at the Opryland Hotel (story/photos here), the Amory show and three Christmas shows at Dollywood. She has said she hopes to tour in 2001.
Editorial Note: In the opinion of this reporter, while I would love to see Dolly return to Mississippi for another performance, she should not feel obliged to do so. Even half a Dolly show was worth much more than the $25 per person admission for reserved seats. And it was not her fault that the weather took a turn for the worse and had that impact on her throat. I would be thoroughly surprised if anyone asked for a refund. If Dolly does return for another show, which I am sure she will do since she said so, I will pay admission again, as I urge all of those who attended Saturday's show to do as well. Perhaps the good that can come from a second show could be that even more money is raised for the foundation to further its efforts – in addition to getting to see and hear Dolly again. And one more thing, to all the Dollymania visitors I had the good fortune to meet while in Amory, it was a pleasure!
Stars Over Mississippi 2000 concert schedule
"Battle Hymn of The Republic" – Orchestra
Kathe Lee Gifford – "Love Never Fails" (then serving as hostess)
Marsha Tindall – "Home"
Guy Hovis – "Hey Good Looking"
"God Bless The USA"
Brooke Shields (comedy monologue, then serving as hostess)
Whoopi Goldberg (video monologue)
Mary Ann Mobley – "It Was Your Song"
"Come Rain or Come Shine" (with Gary Collins)
John Dye and Kathy Ireland (introduce two scholarship recipients)
Mary Haskell – medley of standards
Debbie Allen – dance performance
Kathie Lee – "Heartache, Heartache" (returns as hostess)
Gary Grubbs – recognition of corporate sponsors
Laurie Gayle Stephenson – "Climb Every Mountain" "Come on Get Happy"/"Happy Days Are Here Again" (with Mary Haskell)
20-minute intermission
Kathe Lee – introduce Dolly
Dolly – "Two Doors Down," "Jolene," "Here You Come Again," "9 to 5," "Eagle When She Flies," "My Tennessee Mountain Home," "Coat of Many Colors," "Appalachian Memories"
(unsuccessful attempt at "Train, Train;" leaves stage)
"Orange Blossom Special" – instrumental
Dolly and FOCUS Choir – "The Seeker," "He's Alive"
Entire cast – "He's Alive" final chorus
And a special thanks to the Stars Over Mississippi staff, Norman James in particular, for their help with Dollymania and all the other media types in covering this event!