---
www.dollymania.net News February 2001
---

Feb. 28:
Shining on Leno
Dolly was as spectacular as ever on The Tonight Show With Jay Leno Tuesday night. Of course, she talked about her clothes and plugged Dollywood's April opening and her water park's May opening. Jay congratulated her on winning her sixth Grammy last week and asked for her opinion on the Eminem controversy. She didn't want to get into that one and responded simply, "I never criticize anybody else's work." However, she joked that she thought after his duet with Elton John that she might hook up with him next year and become "M&M and Double D," which she noted was also a reference to her married name, Dolly Dean. She also said she got along wonderfully with the rappers and hip-hop crowd backstage at the Grammy Awards and joked that she was thinking of changing her and her band's name to "Puff Momma and The Backwoods Boys." Jay had her tell almost the entire story of the song "Mountain Angel" and commented that Jolene and her new CD were his favorites of her albums. After a break for another guest's interview (during which Dolly did a little a capella version of "Marry Me"), Dolly performed the CD's beautiful title track, "Little Sparrow." Jay noted before the performance that she has "still the most beautiful voice out there. Just lovely."
Jamie Opened for Dolly
Although Jamie O'Neal recently scored her first No. 1 with "There Is No Arizona," she spent years under the tutelage of some of music's biggest stars, including Dolly. As a child, she toured with her family band, The Murphys, and she tells The Edmonton Journal: "I vividly remember Dolly Parton taking time with us as kids when our family opened a show for her. She was so encouraging." Their full story on her is here.
Was It Something She Said?
The Mirror reports that executives at the U.K. television network ITV ordered an inquiry Monday following an incident where three "grubby-looking" men burst into the studio of This Morning shouting "Smash up the government!" as an interview with Dolly, recorded the previous week, was on the air. Security chased the men from the building, and the network said the men never got near to hosts Richard Madeley and Judy Finnigan.
Yet More 'Sparrow' Praise
This one's about a month old, but tonight I came across a review of Little Sparrow on Virgin.net. Reviewer Esther Sadler notes that both her originals and the covers that look odd at first glance "are truly one, united by the wondrous magic thing that is DP's clear and softly crooning voice . . . . This is the old, even timeless music, but newly commanded by a modern goddess of song. A good old fashioned modern classic." Read the full review here.
State of Confusion?
It was brought to my attention by a Dollymania reader that Sugar Hill's Web site congratulates Dolly for winning the Gibson Guitar Award for Best Female Country Guitarist. As reported here, according to Gibson.com, Shelby Lynne won over Dolly. I've contacted the record label, but I suspect they meant to congratulate her on the nomination and accidentally said she won. Thanks, James! (The label has since corrected the error.)
Merci Beaucoup Mes Amis!
A heartfelt thanks to all of Dollymania's friends who've voted for the site at the vote-based rankings on the new Dolly site AboutDollyParton.com. Since the site opened a few days ago, Dollymania and another fan-operated Dolly site, Dolly.net, have frequently alternated between first and second place. Cast your vote here! Thanks again!
And a Note
Thanks also to everyone who has written to say how much they like the new layout for the main page and news section. And you'll notice one little alteration: In response to reader requests, and a change of mind of my own, I have removed the command which made the pages linked from the main page open in a new window.
---
Feb. 27:
She Shall Not Return
The Tennessean celebrity reporter Brad Schmidt on Sunday reported that Dolly declined an offer from the Academy of Country Music Awards producers, dick clark productions, to return for a second year as host of the show, which will air on CBS May 9. Reasons for her decision were not released, he reported. It was Schmidt who revealed days after last year's show that producers were in negotiations with Dolly to host again after the spectacular job she had done with the 2000 awards. In July, she told Sonic.net that she had agreed to return. His full article is here.
More 'Sparrow' Love
British music mag Q has a brief review of Little Sparrow in its current issue, giving it four out of five stars. The review calls the CD "marvelous" and says it is delivered with Dolly's "canny combination of humour, cartoon sexuality and rootsy songwriting." ."
---
Feb. 26: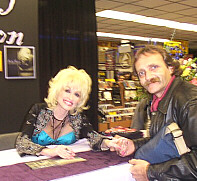 Dolly in LA
Dolly fan Jim was kind enough to provide this photo of him and Dolly at her Tower Records signing in Los Angeles last week. He said he was surprised at how at ease she made everyone feel who met her and that she was "as bubbly as ever." DJ Wes, who hosted the West Coast release party for Little Sparrow, tells me he also got to meet Dolly at the signing and told her of the party. He reports that she seemed really excited and asked if she could keep the photos he showed her of the evening's activities. He said he is also looking forward to being in Jay Leno's audience to watch her perform there Tuesday. Thanks, Jim and Wes!
Queen of England
Dolly is the undisputed country queen of the charts this weekend in the U.K. Not only does Little Sparrow hold onto the No. 1 spot on the country albums charts for a third week, but it shoots up 31 positions to No. 30 on the pop album charts. It also moves up to No. 4 on their independent album charts, up from No. 8. At the same time, The Grass is Blue, which peaked at No. 8 overseas in late 1999, re-enters for a 19th week on the country album charts, coming in at No. 20. And if that's not enough, the only other country release on the U.K. pop charts this week is Gold – The Hits Collection, BMG/RCA's new Dolly compilation CD, which debuts at No. 23! (I don't know why it doesn't show up on the country album charts. Logically, since it is higher on the pop charts than Sparrow, it should be No. 1 on the country charts.) Sparrow dropped four spots to No. 30 in its third week on the Canadian country album charts.
Let's Do It Again
Country.com offered a special feature article this weekend about hit covers of country songs, noting near the opening Dolly's 1970 hit of Jimmy Rodgers' "Mule Skinner Blues." It also included mentions of Sherrie Austin's current single -- her version of "Jolene" -- and the fact that Dolly herself charted "I Will Always Love You" three times (No. 1 in 1974 and 1982 and No. 15 in 1995). The full article is here.
Grammy Scrapbook
Speaking of Country.com, the site over the weekend also added a couple more Dolly photos from Wednesday's Grammy Awards to its Grammy scrapbook. They show one of her performing and one of her and Brad Paisley presenting the Grammy to Faith Hill. (Older shots include a couple of her from rehearsals.) You may access them here.
'Sparrow Shines'
The Boston Phoenix earlier this month published a raving review of Little Sparrow, with writer Ted Drozdowski noting that "the sweetness of her voice, an instrument of astounding power and clarity with a gentle, ever-present vibrato" soars on the CD. "Little Sparrow is spectacular and often sad, showing perhaps for the first time the depths of emotion that Parton can reach. Her voice is terribly fragile in 'My Blue Tears,' one of seven songs that descend to various levels of pain over love gone wrong – the lowest being the madness that rends the life of the spurned 'Mountain Angel.' Parton wrote both numbers, though the latter sounds like a classic English folk ballad transposed to hillbilly country," he says. Further, he praises: "altogether these songs are more of experience than of innocence. And from that experience Parton has made an album that rivals not only her own earlier work but nearly everything else in contemporary country." For the full review, click here. Thanks, Mark!
New Look
I decided to give the News pages at Dollymania a little face lift. Tell me what you think of the new look.
---
Feb. 24:
Grammy Reaction
Launch.com on Friday had the first Dolly reaction to her Grammy win for Best Bluegrass Album. "I broke my high heels jumping up and down," she said after the show. "It is one of the biggest thrills of my bluegrass life." The story noted her case of laryngitis which prevented her from talking prior to the show but said she performed "flawlessly" on stage. She also divulged that plans for her select U.S. dates to promote Little Sparrow were placed on hold for additional planning because the time she and her pickers had expected to start rehearsals was stripped from her with her father's passing in November. "I just kind of stopped everything then just to be with him," she explained. To read the full article, click here.

Dolly in Print
I'm told that Dolly is featured in the current The Louisville Music News with a full page interview, including a photo of her rehearsals for last year's bluegrass awards in Louisville. In the interview, she notes she'd love to do films with Gene Hackman and Al Pacino and that she would like to do a duet album with George Jones and reunite in the studio for a new duet album with Porter Wagoner. We can only hope. Thanks, Larry!

That Dress!
And usually Dolly is the target of fashion czar Mr. Blackwell's Worst Dressed lists, a distinction she wears with pride, but at the Grammy Awards this week, she was beaten. Mr. Blackwell told the Associated Press that Toni Braxton's scandalous "scarf" dress was "in my opinion one of the worst things I have ever seen. Even Dolly Parton looked better."
---
Feb. 23:
Dolly's No Lipsyncha!
Sugar Hill Records on Thursday put to rest rumors that Dolly lipsynched "Travelin' Prayer" on Wednesday night's Grammy Awards. This statement was released Thursday afternoon: "I'm Steve Buckingham, Dolly's producer on The Grass is Blue and Little Sparrow. I wanted to address the question of Dolly's performance on the Grammy Awards Wednesday night. On Sunday, Feb 18, Dolly and I flew to LA from London where she had to do several television shows, dozens of interviews and an in-store at HMV. She had become hoarse from the singing, talking and traveling. At the Monday Grammy rehearsal, she did lip synch in order to save her voice for Wednesday; however, the Grammy awards did not allow lip-synching on the show. I edited the musical track so that only her opening line to the song was left in as a cue. This is because Dolly's original entrance on 'Travelin' Prayer' was on an odd upbeat. If she missed that entrance on the show, everything would be off. This is the reason I left her voice in on the first line and maybe what lead to some speculation. In fact, I was positioned in the audience by the teleprompter that showed her lyrics in order to give her hand signals as cues for each line since 'Travelin' Prayer' is so fast and somewhat of a tongue-twister. After the first line, her vocal was live. I hope this answers any questions about her performance." Thanks Steve and Jennifer! (It was reported on Dollymania after the show that she had lipsynched at rehearsals on Monday and that several people had e-mailed me asking if she'd lipsynched on the awards show. I reported that I didn't know the answer but didn't really think she had lipsynched.)

That Performance!
And the praise poured in Thursday for Dolly's spectacular performance of the song! Alison Aproberts of The Sacramento Bee said in her memorable moments recap that Dolly "showed off her still-bodacious style." Seattle Times critic said Dolly was "looking and sounding as great as ever." David Bianculli of the New York Daily News included Dolly's appearance with what he called the three most special musical moments of the night (with the Sheryl Crow/Shelby Lynne duet and the Moby/Jill Scott/Blue Man Group performance) saying she, "returning to her grass roots, kicked some country butt." William Friar of the Contra Costa Times said her wonderful performance was "all-too-brief" and added "a little down-home sunshine." E! Online included it in their Best and Worst list, stating, "We enjoyed Dolly Parton's performance." In the site's Blow By Blow coverage, they called Dolly "a beautifully busty white apparition stepping out to deliver the perkiest performance of the night, 'Travelin' Prayer.' Weee-hoooo!" Billboard called her a "living legend" and said her version of the song was a "searing rendition." The Calgary Sun's Mike Bell called her "timelessly charming," and The Edmonton Sun's Mike Ross said her performance "proved her new bluegrass sound isn't just a schtick."

Living Legends Get Their Due
The Orange County Register ran a great story covering the country side of the awards, focusing mostly on: "four legendary Nashville performers stood above the rest Wednesday for awards that spoke not just to stellar work in the past year, but to creative depth and talent that have stood the test of time compared with the various flavors of the moment. Johnny Cash. Dolly Parton. Emmylou Harris. Asleep at the Wheel. Counting Wednesday's wins, they have amassed 34 Grammys among them in five decades. Now that's longevity. That's something that deserves to be honored. Parton won her sixth prize, for best bluegrass album, with The Grass is Blue, a sublime, blissful collection that explores her Tennessee hill-country roots for the first time on a full record." Read Gene Harbrecht's full story here.

New Charts Released
Billboard on Thursday released its March 3 charts, and, as expected, Dolly fell slightly. On the country charts, she dropped one spot to No. 14 with Little Sparrow as The Grass is Blue slipped five notches to No. 68. Sparrow re-entered the Internet sales chart at No. 9 after it had fallen out of the top 20 last week. On the independent label chart, it slipped one spot to No. 4, and it fell three slots on the pop charts to No. 110. The chart results, reflecting sales for the CD's fourth week of release, suggest it has sold about 45,000 copies during that time. We'll have to wait another week or two to see if her Grammy Awards appearance will increase sales, as traditionally occurs.

Vote for Dolly!
And Country.com is currently having a poll on its front page of which artist best represented country music at Wednesday's ceremonies, and when I last checked, Dolly was running third. So go vote for her!
---

Feb. 22, UPDATED: Dolly took home the Best Bluegrass Album Grammy Award Wednesday night for The Grass is Blue, her sixth time to win one of the gramophone trophies. Faith Hill's "Breathe," however, beat her out for Best Female Country Vocal Performance for "Travelin' Prayer" from the CD. Both awards were presented prior to the prime time airing of the awards, although, sadly, I don't believe VH1 broadcast either award in the pre-show coverage. Other country winners prior to the broadcast were: Best Male Country Vocal Performance, "Solitary Man," Johnny Cash; Best Country Performance By A Duo Or Group With Vocal , "Cherokee Maiden," Asleep At The Wheel; Best Country Collaboration With Vocals, "Let's Make Love," Faith Hill and Tim McGraw; Best Country Instrumental Performance, "Leaving Cottondale," Alison Brown With Bela Fleck; Best Country Song, "I Hope You Dance," Mark D. Sanders and Tia Sillers, songwriters; Best Southern, Country, or Bluegrass Gospel Album, Soldier Of The Cross, Ricky Skaggs And Kentucky Thunder; and Best Contemporary Folk Album, Red Dirt Girl, Emmylou Harris. Some country winners in non-country categories included Shelby Lynne (who covered "Jolene" a few years back), Best New Artist; Riders in The Sky, Best Musical Recording for Children; Alison Krauss and Mark O'Connor with Yo-Yo Ma, Edgar Mayer and James Taylor, Best Classical Crossover Album; and Bela Fleck, Best Contemporary Jazz Album. The next-to-final performer on the show, Dolly gave a flawless rendition of "Travelin' Prayer," with Nickel Creek joining some of her usual bluegrass pickers. Preparing to present the award for Best Country Album (the only country award on the telecast), co-presenter Brad Paisley told her that it was so wonderful to see a "living legend" look and sound as good as ever, and she threw out her famous one-liner that she was old enough to be his (pause) "lover." When the award went to Faith Hill for Breathe, she gushed over receiving it from Dolly. "Coming from you, that means so much. I admire you so much," she said. Jackson, Miss., native Faith was country's big winner of the night, taking home her first three Grammy Awards.
* And I was asked this several times after last year's awards, so I'll go ahead and answer it now in case you want to know. Where does Wednesday's win place Dolly in the Grammy rankings? Well, for female country performers, she stays in third place. Alison Krauss is first with 11 trophies, up from 10. Emmylou Harris is next with 10, up from nine (plus I also include Linda Ronstadt since three of her 10 awards are for country categories -- two with Trio and one for Best Female Country Vocal Performance). Dolly, as I said, is third with six. At fourth are Mary Chapin Carpenter, The Judds, Anne Murray and Olivia Newton-John with five each, followed by Shania Twain and The Dixie Chicks with four each.
* Speaking of Shelby Lynne, she beat Dolly Tuesday night for the Best Country Guitarist Female at the Orville H. Gibson Guitar Awards. Other nominees were Jo Dee Messina and Trisha Yearwood.
* Dolly and Brad Paisley made the cover of Wednesday's The Tennessean rehearsing for their Grammy appearance together to perform and present the Best Country Album award. To read the story on Paisley and see the photo, click here.
* There was a second Rolling Stone review of Little Sparrow released Wednesday! In it, reviewer Parke Puterbaugh notes that "on this nearly hour-long modern-bluegrass tour de force. Parton gravitates toward sepulchral tales of doomed lovers and broken families that haunt the hill country -- 'Down From Dover' and 'Mountain Angel' are downright gothic – but she lightens the mood with a near-definitive take of Steve Young's song of the South, 'Seven Bridges Road,' and a gospel-style recasting of Collective Soul's 'Shine'" It ends saying that "Parton's silvery, force-of-nature voice cuts to the heart of the matter, convincingly making the case that -- famous literary dictum aside -- you can go home again." You may read the full review here.
* Dolly graces the cover of the features section of the New York gay magazine Next this week, with a great interview, including an announcement that she will play Carnegie Hall (date to be announced)! Other items of note are some somber comments about her father's death, extensive positive remarks about the gay community, and plenty of plugs for Dollywood and the new CD. You can read the entire article here.Thanks, Greg!
* Interesting little tidbit I came across. Did you know Dolly's "Love Is Like a Butterfly" was covered in the U.K. years ago by Clare Torry and used as the theme song for a British television series called Butterflies?
* Dolly got a mention in Bill Longenecker's "dose of random thoughts" in Wednesday's Florida Times-Union, in which he raved about how wonderful Scott Simon's interview with her was Feb. 10 on NPR's Weekend Edition. You may read the story here.
* I'm also told that Olivia Newton-John, who recorded "Jolene" on her 1976 album Come On Over and again on a live album several years ago, has released a new live version of the song on her new import CD, One Woman's Live Journey. I'm told it's great! Thanks, John!
* There's a new Dolly site out there, About Dolly Parton.com, and so they've been added to the links page. (And they have a links system based on votes, so you can vote for Dollymania by clicking here.)
* And one last little note, I'm told that Dollywood has been giving out Dollymania's Web address as the premiere source for Dolly information on the Internet, and I just wanted to express my deep appreciation for their recognition.
---
Feb. 21: Tonight (Wednesday) is the big night, with Dolly up for two Grammy Awards and a performance on the show! Both Country.com and USA Today predict Faith Hill will win over Dolly for Best Female Country Vocal Performance, but Country.com says it's Dolly for Best Bluegrass Album with The Grass is Blue (USA Today didn't weigh in on that category). The site predicts: "Parton's album captured top-album honors at this year's International Bluegrass Music Association Awards, which suggests that the bluegrass world is solidly behind her. [Ricky] Skaggs is tough competition -- Parton sings 'Cry, Cry, Darlin'' on his album (Big Mon) -- but Dolly takes the trophy."
* In a story on the Grammy Web site Tuesday on Brad Paisley, who will sing with Dolly on tonight's show, he raved: "Oh man, performing with Dolly is just wonderful. What an amazing woman. We had the best time talking at rehearsal today. I'd met her before at a couple of awards shows and at the Opry, but never anything like this. Well yeah, I think there might be a lot of jealous artists in Staples Center because I'm the one up there with Dolly." The full story is here, and another photo of the two rehearsing is here.
* And Dolly's Grammy performance and probable win should increase CD sales. Based on chart positions and information in Billboard, Little Sparrow sold about 35,000 copies in the U.S. its first three weeks of release (roughly one-third of the sales The Grass is Blue has made over the past 16 months)! The CD on Tuesday entered its fifth week of release. Chart data to be released late Thursday will be based on its fourth week of sales.
* And I'm told Dolly is featured throughout the March 6 issue of Country Weekly, with a Q&A session, review of Little Sparrow and a spot on the fashion page. Thanks, Robert!
* And I'm also informed that a Dallas radio station has been playing "In The Sweet By and By" from Little Sparrow several times each day as a tribute to NASCAR racer Dale Earnhardt, who died in a crash at Sunday's Daytona 500. Thanks, Michael!
* A review by Dan Julian of The State News on Tuesday gave good remarks about the Sweet November soundtrack, noting Dolly's duet with Paula Cole, "Heart Door," "is a song that should not be listened to while driving. It's a very well-constructed piece with amazing harmonization, but their voices together are dangerously hypnotic." The full review is here.
* And Popmatters.com had its own review recently of Little Sparrow, with Charlotte Robinson calling Dolly's original songs on the CD "deeply poetic and tragic" and saying the CD delivers "spectacular results." Read the full review here.
---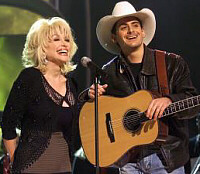 Feb. 20: I've been asked many times over the past week whether Dolly will perform "Travelin' Prayer" or a duet with Brad Paisley at Wednesday's Grammy Awards. (She said on Letterman she'd do "Travelin' Prayer," Sugar Hill Records said she'd do "Travelin' Prayer," but the Grammy press release – and many subsequent articles written using it – said she'd perform a duet with Brad Paisley.) Well, now I can answer: Both are true! According to Grammy.com, the two rehearsed their performance Monday and they will, in fact, perform a duet. Half of the song will be an abbreviated version of Paisley's "We Danced," and the other half will be an abbreviated version of Dolly's Best Female Country Vocal Performance-nominated "Travelin' Prayer" from Best Bluegrass Album nominee The Grass is Blue! Associated Press Photos One, Two, Three.
* Some more predictions are out. Knoxville News-Sentinel music critics Wayne Bledsoe and Chuck Campbell weighed in Monday with their ninth annual calls for Grammy winners. For the female country category, Bledsoe noted that Faith Hill and Lee Ann Womack are the favorites, with Faith having "the edge with the non-country academy," but he ends up saying he'll root for Dolly to win! (Campbell chose Faith.) As for the bluegrass album category, Bledsoe again picks Dolly, but adds that Ricky Skaggs' CD (on which Dolly appears) is the only one that stands an off chance of beating her. (Campbell didn't pick a winner for this category.) You may read all of their choices here.
* Dolly an early influence on actor Keanu Reeves? Well, that's what it says in a Q&A with the artist on the Web. Asked about early influences, he responds that his mother designed costumes for Dolly, Emmylou Harris, Anne Murray and others, so, cleaning her shop as a child, he was around these musicians. "I've had experiences in my life where I've looked at artists and said, 'I want to be an artist,'" he said. The site is located here. Thanks, "Mac!"
---
Feb. 19: Dolly has a great interview in this week's New Yorker magazine, focusing on her performance at Joe's Pub there to promote Little Sparrow. Included are several of her quips from the show (plus a note of how much writer Nancy Franklin hated Whitney Houston's cover of "I Will Always Love You.") You may read it here.
* Little Sparrow this weekend recaptures the No. 1 spot on the British country album charts, up from No. 2, and moves up six spots on their independent album chart to No. 8. It also debuts this week on the U.K. pop album charts at No. 71, the only country CD on that chart (which counts the top 75 albums of the week). The CD also moves up one notch this week on the Canadian country album chart, to No. 26 for its second week on the chart there.
* Music writer Chris Macias of the Sacramento Bee gave his rundown of Grammy performers Sunday, noting that Madonna gives "mediocre" solo appearances. He suggested that she team up with Dolly since a cowboy hat is featured in her new look. "That duo could be a real hoot," he notes.
* Dolly is also the subject of this week's trivia section of Country Weekly, and Dollywood is featured in the March/April issue of Southern Traveler, the travel magazine for AAA members in the South.
* I'm also told there's a "cute" interview with her in the current issue of Interview magazine. Thanks, Michael!
* One of Dolly's London promotional appearances for the CD made Saturday's London Journal, with a few sentences and a photo. View it here.
---
Feb. 17: Billboard Online on Friday had a little story on Dolly's upcoming U.K. television appearances to promote Little Sparrow, noting that the continued interest in her overseas has prompted BMG to release a 22-track set called Gold – Greatest Hits on Feb. 19. According to the British music site HMV, the track listing is as follows: Jolene, 9 to 5, Here You Come Again, Islands In The Stream, Everything's Beautiful In It's Own Way, Love Is Like A Butterfly, D.I.V.O.R.C.E, Coat Of Many Colours, Harper Valley PTA, In The Ghetto, I Will Always Love You, Heartbreaker, Starting Over Again, Two Doors Down, Baby I'm Burnin', The Great Pretender, One Of Those Days, Save The Last Dance For Me, Peace Train, Silver Threads & Golden Needles, Down From Dover, My Tennessee Mountain Home. You may read the story here. Dollymania was actually contacted by producers at the BBC this week about lending some items to the show for her appearance today (Saturday) in London, but the limited time frame prevented that.
* And the CD moved up a notch Friday on CDNow's country album charts, knocking Leann Rhimes' new album off the top spot!
---
Feb. 16: Billboard released its Feb. 24 charts on Thursday, and as predicted here, Little Sparrow took a slight dip. It fell one spot on the country charts to No. 13, 10 spots on the pop charts to No. 107, and off of the Internet sales chart (where it had been No. 4 last week). It held onto its position on the independent album chart, however, where it's still No. 3. The Grass is Blue fell from No. 57 to No. 63. I'd expect a few more weeks of slight falling before some large gains following her Grammy Awards performance.
* Jennifer at Sugar Hill confirmed Thursday that Dolly will do another in-store appearance to promote the CD at Tower Records, this time in Los Angeles at Tower Sunset, from 7 p.m. until 9 p.m. Friday, Feb. 23. Thanks, Jennifer!
* And the CD is still getting great press up in Canada, where a story in the Ottawa Citizen on the resurgence of bluegrass focused extensively on Dolly. Writer Paul Langston says a "sense of family infuses both of Parton's bluegrass albums . . . The discs have the comfortable feel of folks sitting around the kitchen table, swapping tall tales and instrumental solos . . . Parton's voice is the ideal vehicle for bluegrass. Tamping down the back of her throat in classic Appalachian fashion, she lingers over the music's tense, 'high lonesome' notes. Mourning for something lost and yearning for something better, Parton conveys the sense of exile that marks bluegrass and the southern character." You may take in the full article here.
---
Feb. 15: I came across another review of Little Sparrow today, although it was actually published last Friday. It's from the Baton Rouge daily newspaper, The Advocate, and reviewer John Wirt wrote that it "is a great bluegrass album" and that anyone who loves bluegrass "had best not let Little Sparrow fly on by." He says Dolly "sings and writes of heartbreak and regret with touching authority. She's affecting, never maudlin." He further calls her "a country classic." Read the full review here.
* And Billboard has posted a free download of "Marry Me" from the CD. You may get it here.
---
Feb. 14: Wall of Sound published a nice little article on Little Sparrow Tuesday, saying Dolly "isn't dripping any tears in her beer – or whatever her beverage of choice is" with the success of the CD, her upcoming television films and next week's Grammy Awards. Read the article here.
* Another review of the CD popped up Monday on The Stream. You may read it here. Thanks, Gregg!
* And wanna get up close and personal with the eagles in the sanctuary at Dollywood? Well, the American Eagle Society has set up a Web site to give the world a glimpse at the mating and nesting rituals of one pair of the birds, Liberty and Justice, March 1 through July 4. The site is located here.
---
Feb. 13: A Dollymania reader passed along another review for Little Sparrow, this one coming from the Edmonton Journal on Sunday. Giving it four out of five stars, the review noted: "Once again she proves she's a prolific tunesmith, having knocked off half the offerings here while snatching material from camps as diverse as contemporary rock, hardcore country and even one from Cole Porter's book." It continued to say that the guest vocalists "add multiple harmonies to beautifully arranged and crystalline sounding pieces like 'My Blue Tears' and 'Mountain Angel'" and "a Celtic tributary flows into this stream on the alluring" "Down From Dover." It also said she "slapped ['Seven Bridges Road'] with a blazing bluegrass arrangement and gave it a new identity." Thanks, Tim!
* Dolly was featured on NPR's Weekend Edition Saturday discussing the CD. You can listen to the interview here.
* And the Grammy predictions are starting to come out. Orange County Register critic Gene Harbrecht wrote Monday that The Grass is Blue should easily win Best Bluegrass Album at next week's ceremony. He also predicted Trisha Yearwood's "Real Live Woman" or Lee Ann Womack's "I Hope You Dance" will take Best Female Country Vocal Performance over Dolly's "Travelin' Prayer," Faith Hill's "Breathe" and Jo Dee Messina's "That's The Way." (I, however, would put my money on "Breathe" for that one.)
---
Feb. 12: Little Sparrow debuted on the Canadian country charts over the weekend, coming in at No. 27 in the Feb. 18 edition.
* And on Sunday, the Toronto Sun ran its review of the CD, giving it four-and-a-half out of five stars. Reviewer Jane Stevenson calls it "her latest remarkable bluegrass tribute." She calls her voice, "clear, sparkling" and notes "The Beautiful Lie" is "startlingly beautiful." Read the full review here.
* I finally caught Sherrie Austin's cover of "Jolene" on GAC over the weekend, and it's great! The song has been covered a couple of dozen times, and I'd say hers is the best version other than Dolly's! You may reserve a copy of her CD with the song, Followin' a Feeling, to be released March 20, here.
* The news page on Collective Soul's official Web site (here) includes a note about the CD, saying: "Special thanks to Dolly Parton for her moving rendition of 'Shine' on her new album Little Sparrow. If you're lucky, you got to see her sing it on Late Night With David Letterman." Thanks, Jonathan!
* A fan from overseas confirms that Dolly is scheduled there for a few appearances to promote the album. She will appear on Michael Parkinson's show on Feb. 17 (BBC1, 21:05 to 22:05 with comedienne Tracey Ullman and Olympic gold medalist Denise Lewis), and also on Gloria Huniford's Open House Feb. 19 (Channel 5, 2:15). Thanks, Gareth!

* According to HMV, a British music store online, the new Jolene/My Tennesse Mountain Home (cover art to left) also contains the bonus track "Love You're So Beautiful Tonight" from her album Bubbling Over. Thanks, Sean!

* And over the weekend, Dollymania earned the prestigious sixth star from Star Pages, giving it the celebrity Web site listing center's Gold Award and making it the only six-star Dolly site on the Internet and one of only 60 six-star sites listed with the reader-voted Star Pages. (The closest Dolly site is four stars.) Thanks to everyone who cast their votes for Dollymania!
---
Feb. 10: Rolling Stone Online on Friday noted that Collective Soul was ecstatic to learn that Dolly had covered their song "Shine" on Little Sparrow. Lead singer Ed Roland told the magazine that a friend called them when she appeared on Leno and said, "Dolly Parton just sang your song on TV!" He explained to the magazine: "In all honesty, the first CD, which has 'Shine' on it, basically was a songwriter's demo, trying to get a publishing deal and try to showcase songs. It's the first time ever we've had one of those songs covered, and it's an honor, and really cool . . . especially coming from someone who's a great songwriter. It's not necessary for her to use anyone's songs except her own." The band also sent Dolly a large bouquet of flowers to show their appreciation when she appeared on Letterman with a note which read: "It's an honor for you to do our song. You humble us by your kind words." Read the full article here.
* The New York Post on Friday had a great interview with Dolly about the new CD and her press concert of it in New York last month including descriptions of a very emotional performance of "Smoky Mountain Memories" in memory of her late father during the show. Read it here.
* And, although I had the track listing confirmed a couple of weeks ago, I forgot to pass along that the European BMG release Jolene/My Tennessee Mountain Home is, in fact, a full re-issue of both albums, the first time the latter has been available on CD. And you can get it from a few online record stores so that you don't have to spend a fortune on ebay! Thanks for reminding me, Steven!
* And did Dolly inspire an attempted murder? Well, that's the defense for a woman convicted this week in a Florida court for trying to off her boss ala 9 to 5. A story in the Orlando Sun Sentinel recounted the woman's attorney explaining that she "got the idea from the 1980 Dolly Parton Nine to Five movie, in which a character puts rat poison in her boss' coffee. He eventually recovers. So did" this woman's employer. Apparently, the woman, who was allegedly stealing personal checks from her boss, wanted to put enough poison in his soda to make him ill and go home when he apparently got close to discovering her theft.
---
Feb. 9: Billboard released its Feb. 17 charts Thursday, and as predicted here, Little Sparrow moved up a bit. It inched up two spots on the country chart, from No. 14 to No. 12; 20 spots on the pop charts from No. 117 to No. 97; nine spots on the Internet sales chart from No. 13 to No. 4; and one spot on the independent album chart from No. 4 to No. 3. The Grass is Blue also moved up four spots on the country chart, from No. 61 to No. 57. The positions reflect sales figures for the second week of the CD's release (it's currently in its third week). I would expect it to stay steady or fall slightly in the Feb. 24 chart and thereafter before getting a strong boost in the March 10 or 17 chart for sales following her Feb. 21 Grammy performance.
* Dollymania reader Anthony Pepitone was kind enough to send over a few stills he took from Dolly's recent appearances on Letterman on Conan. You may view them here. Thanks, Anthony!
* Matthew Gilbert of The Boston Globe on Thursday gave a mention of Dolly's appearance in his column covering magazine stories of the past week. Discussing Dolly's US Weekly interview, he said: "Note: Dolly Parton – look more like a Saturday Morning cartoon with each passing day. The photo of her on page 64 is amazing, especially in comparison to the accompanying photo of her at age 14. 'I've said it's a good thing I was born a girl,' she says, 'because if I'd been a boy, I'd have been a drag queen.'"
* Dolly got a more positive mention in a Reuters story Thursday about Faith Hill's reported plans to star in an upcoming movie. The story noted several country singers who've made the transition to celluloid, including: "Perhaps the most prominent successful recent transfer from Nashville to Hollywood was Dolly Parton, who appeared in Nine To Five, The Best Little Whorehouse In Texas, Rhinestone and Steel Magnolias, as well as in a host of TV movies."
* And Billboard got its preview of country Grammy nominees posted Thursday, including Dolly's nod for Best Female Vocal Performance. You can look at a little bio on each of the nominees here.
---
Feb. 8: Dolly is up again this year for Best Country Guitarist Female at the Orville H. Gibson Guitar Awards, it was announced Wednesday. She is up against Shelby Lynne, Jo Dee Messina and Trisha Yearwood. Winners will be announced during an 11 a.m. (Pacific time) Feb. 20 ceremony at the Petersen Automotive Museum in Los Angeles. Often overlooked for what at times is amazing guitar playing, she was nominated last year against Kim Richey and Emmylou Harris, but Richey won. You can read Launch.com's coverage of the announcement (including all nominees) here.
* Correction: In yesterday's update recapping Dolly's Internet chat, I reported that Dolly had her first public discussion of her father's November death. I have been told that she mentioned his passing in her NPR interview a couple of weeks ago, explaining at that time that she sang at his grave because she was unable to do so at the funeral, and also told the audience at her Christmas concerts that last year would be the first holiday the family had without her father. Thanks, Greg!
---
Feb. 7: Dollywood on Tuesday announced the dates and information for Dolly's second annual Christmas concerts at the park to benefit the Dollywood Foundation. The "Tennessee Mountain Christmas" performances will be 7 p.m. Dec. 14 and 2 p.m. and 7 p.m. Dec. 15. Tickets, $35-$75 each, will go on sale to the general public March 28. Proceeds benefit the Dollywood Foundation, which promotes educational projects in Dolly's native East Tennessee and, now, nationwide. $15 from each ticket is tax deductible. "A Christmas concert at Dollywood was something I always wanted to do," says Dolly, "and finally last year we were able to start what I hope will become a tradition. I had a great time at last year's concerts, and we raised a good amount of money for The Dollywood Foundation." Dollywood Gold Season Passholders will be able to purchase tickets early (to join, call 865-428-9488). For more information, click here.
* Dolly had a great online chat Tuesday evening at Barnes & Noble's Web site, relaying answers to fans' questions live via telephone to an operator who typed them into the chat. Over the course of a little less than an hour, she answered 19 questions from seven states (Ohio, Indiana, Virginia, New York, North Carolina, Tennessee and Texas) and two foreign countries (Amsterdam -- The Netherlands -- and Sweden). Among the items discussed: she's having a script written for a film based on "Mountain Angel" which she may produce; she hopes to film Solid Gold Cadillac this summer for television; she is still planning some concert dates in major cities this year to promote Little Sparrow; contrary to rumor, she does not plan to perform at the opening of Dollywood this year (although she will be in the opening weekend parade), but she does intend to schedule some bluegrass shows at the park later in the year for Little Sparrow and to benefit the Foundation; Sugar Hill is talking about a possible video for "A Tender Lie" or another cut from the CD; and her favorite cuts from Little Sparrow are "Mountain Angel," "Marry Me" and "A Tender Lie" (which is getting some country radio airplay!). She also addressed her father's death (see news article on Nov. 14) when asked about it by a fan. She said: "Thank you for asking about my father. We were all very devastated by his passing. He had a stroke and was gone within two weeks and had not been ill until then. It was a hard loss. Daddy always loved my singing these kind of songs – he always said I sang the best without all them drums and guitar. But he never got to hear this album, he would have loved it. So I dedicated this to Daddy and I knew it was the last sweet thing I could to for him. But it is hard now that he's gone. Sometimes on stage and at home when I think of mom and dad at home and now that daddy's gone, I always feel like crying and sometimes do. But Daddy will always be alive to me and his spirit will be with me." Barnes & Noble should have a full transcript of the chat posted on their site soon.
* Bay Area Online on Tuesday ran a review of Little Sparrow from the St. Paul Pioneer Press, in which reviewer James M. Tarbox comments that the CD "delves even more assuredly into Dolly Parton's bluegrass/Appalachian roots. But being the musical adventurer she always has been, she also finds acoustic possibilities in seemingly the most unlikely places and brings them to full fruition, too." He says "Seven Bridges Road" and "Shine" are each "a treat," and that "In The Sweet By and By" has "a nice Celtic lilt." You may read the full review here.
* And I got my copy of the Sweet November soundtrack today featuring Paula Cole's "Heart Door" with Dolly, and it is gorgeous! Cole, who wrote and produced the track, sings the first verse, with Dolly joining in on harmony for the remainder of the song. It's a very slow, beautiful ballad, showcasing the upper range of Dolly's beautiful soprano and her amazing trills. And remember, you read about it first Monday night on Dollymania!
* Billboard on Tuesday reported on Dolly's upcoming induction into the Songwriters Hall of Fame with Eric Clapton, Sting, Paul Williams and Willie Nelson. It also noted that Billy Joel will receive the Johnny Mercer Award at the 32nd annual induction ceremony, a black-tie event June 14 at The Sheraton New York Hotel and Towers. A permanent home for the Hall of Fame is under construction at New York University, according to the article. You may read it here.
* Rhonda Vincent on Sunday picked up the Society for the Preservation of Bluegrass Music of America (SPBGMA) Award for Album of the Year for her CD Back Home Again, which includes her bluegrass cover of Dolly's "Jolene." (Dolly beat out that CD for the International Bluegrass Music Association Awards' Album of The Year last year.)
---
Feb. 6: There's a new Dolly duet out there! She and Paula Cole have a duet titled "Heart Door" which appears on the soundtrack of the new Keanu Reeves and Charlize Theron film Sweet November. The CD debuts in stores today (Tuesday). Cole, a longtime Dolly fan who has said many times that she was one of the biggest influences on her performance style, regularly closes her live shows with a cover of "Jolene." To get your copy of the CD, click here.
* The new issue of US Weekly magazine has a two-page Dolly interview in it. Among the tidbits she reveals: She thinks Led Zeppelin is "the greatest group there ever was" and would like to cover one of their songs on her next album, preferably with Jimmy Page singing with her; she has listened to Eminem "to see what it is and what the appeal is. But I can't get into some of it." She also talks about her image and her appeal to drag queens. Thanks, Mike, for alerting me to the article!
* Dolly got a mention in the articles Monday announcing that All My Children actress Kelly Ripa will be the new co-host on Live! With Regis, noting that Dolly was one of the celebrity fill-ins this season for co-host.
* Dollywood on Monday announced its Showcase of Stars line-up for this season. Showtimes are 5 p.m. and 8 p.m., and tickets range from $19-$25. The artists and dates are: Sawyer Brown, May 26; Brad Paisley, June 2; Ricky Skaggs, June 9; Brenda Lee, June 16; Diamond Rio, June 23; Neal McCoy, June 30; Chely Wright, July 7; Tanya Tucker, July 14; Lorrie Morgan, July 21; Montgomery Gentry, July 28; Sammy Kershaw, Aug. 4; Toby Keith, Aug. 11; Aaron Tippin, Aug. 18; John Berry, Suzy Bogguss and Billy Dean, Aug. 25; and Tracy Lawrence, Sept. 1. Dolly is expected to perform Christmas shows at Dollywood in December, but no dates have been announced yet.
* And remember Dolly's online chat is tonight (Tuesday) at 7 p.m. Eastern at Barnes & Noble's site here. And for those of you who wonder why I'm putting the day in parenthesis, it's because I post the update in the evening and date it the next day.
---
Feb. 5: Time on Saturday released its review of Little Sparrow, with Jonathan Gregg writing that it "delivers a good helping of the right stuff . . . Dolly's bluegrass incarnation is one of the more exciting makeovers of recent years in country or any other kind of music, and Little Sparrow is a valuable addition to one of America's most enduringly vital genres." The review also looks at Big Mon, noting that Dolly's version of "Cry, Cry Darlin'" on that CD is "a standout by any standard." To read both full reviews, click here.
* A review in Sunday's Cleveland Plain Dealer calls "Down from Dover" and "Mountain Angel" both "fantastic" and notes that Dolly's "sweet mountain twang is a dandelion wisp swirling in a sad hillside wind on the title track that opens the disc, and joins the keening fiddle of Stuart Duncan to offer a wailing lament on the reprise that closes it. In between, it's even better . . . This is beautiful music from a beautiful lady about a beautiful part of our beautiful land." Read the full review here.
* The Wichita Eagle on Sunday also published their review, saying Dolly's voice is "as bright as an angel" and notes that is especially true on "Mountain Angel," which she "writes and delivers perfectly." It concludes by saying the pickers and harmony singers on the CD "help Dolly bring it all back home, and a fine home it is." Read the review here.
* And the CD moved up a notch on the U.K. country charts this week, taking the No. 1 spot! For comparison, The Grass is Blue made it to No. 8, and both Trio II and Hungry Again went to No. 3.
* And The ACME Dolly Page reported over the weekend that Dolly on June 8 will be inducted into the national Songwriters Hall of Fame. Joining her in the Class of 2001, the site reported, will be renowned movie theme composer Paul Williams, fellow country crooner Willie Nelson and Sting. She was inducted into the Nashville Songwriters Association International's Songwriters Hall of Fame in 1986.
---
Feb. 3: Dolly was amazing on Conan Thursday night! She wore a wonderful black shirt, jacket and skirt ensemble, complete with a black choker and dangling silver crucifix on a black necklace (much like Madonna popularized in the '80s). She described it as "trailer park meets Park Avenue." Conan got her to tell the infamous story of how she streaked across Tom Jones' yard in the '80s on a dare, and they played a gag where he dared her to strip. She said she would, took off her jacket, and the screen went to "Technical Difficulties." When they came back, she had put her "clothes back on." Later in the show, she performed a flawless version of "A Tender Lie" and even closed out the show with a few choruses of a rollicking bluegrass version of "I Will Always Love You."
---
Feb. 2: As predicted here yesterday, Little Sparrow debuted at No. 14 on the Feb. 10 country album chart released Thursday afternoon by Billboard. It was the highest-debuting country CD of the week, earning the country chart's "Hot Shot Debut" tag. It was also the fifth-highest debut of the week on the pop charts, where it lands at No. 117; highest debut of the week on the independent label chart, where it is No. 4; and third-highest debut of the week on the Internet sales chart, where it is No. 13. The Grass is Blue also makes a return to the country album chart for the week, re-entering at No. 61 for its 25th week on the chart.
* Tower Records' in-store publication Pulse on Wednesday finally updated its Web site to include the current issue with the Dolly interview. You may read it here.
* The CD is still getting rave reviews. The Nashville Scene on Thursday said Little Sparrow rounds out the "dazzling triptych" started with Hungry Again and The Grass is Blue and "not only bridges the Appalachian and Anglo-Celtic ballad traditions, it puts the focus squarely on that part of Dolly's legacy that deserves it most: her art." In an interview that follows, Dolly says: "So there were two reasons that I did 'Dover' again; actually, I guess three. The first being that I thought it was one of the best songs I'd ever written and felt like it never had a fair chance. Another reason was that I had to take that verse out, and that always bothered me. I wanted, in my lifetime, to have all the song's pieces back together. And then the third reason was, we were using [Altan], and I wanted to have songs that really had those long beautiful chords where they could actually play the kind of stuff they do, [which] I think sounds better on those kind of songs. I've always thought that 'Dover' sounded old-world anyway." Read the story here.
* Wall of Sound posted a brief review recently calling the CD "nearly as lovely" as "the gorgeous award-winning" The Grass is Blue. Read it here.
* Country Standard Time also featured an interview article which calls it "indeed a step or two beyond bluegrass – but only so far; it's not a dramatic change, of course." You may read it here.
* Jennifer at Sugar Hill has provided the direct link for Dolly's Feb. 6 (7 p.m. Eastern) live chat on Barnes and Noble's site. The link, which includes a nice bio on Dolly, is here. Thanks, Jennifer!
* Dolly confirmed to Launch.com in an article published Thursday morning that she has secured the rights to produce and star in a television version of the classic Annie Get Your Gun, currently starring Reba on Broadway. Dolly says she hopes to produce the film as soon as the current Broadway run ends. You may read the full article here.
* Dolly also got a mention with some pretty big company in Thursday's L.A. Times, when a story on Jennifer Lopez' No. 1 album J. Lo. Billboard magazine chart director Geoff Mayfield noted an actress hitting No. 1 is a "rare feat." He said: "It's hard to think of any actors or actresses who have had a No. 1 album. If you go the other way--singers who have become actresses--you have Dolly Parton, Barbra Streisand, Whitney Houston. But talking about people who were established as actors first and singers later, I can't think of any." The full article is available here.
---
Feb. 1: Little Sparrow will debut at No. 117 on the pop Top 200 albums chart, according to Billboard. We'll have to wait until late Thursday to find out its country position, but based on recent chart performance (The Grass is Blue peaked at pop No. 198 when at country No. 24; Trio II and peaked at pop No. 62 when at country No. 7), Sparrow should debut on the country chart around No. 13 or No. 14. The positions will reflect sales from the CD's first week of release, prior to her Letterman and Conan appearances this week, which traditionally increase sales; so we could see the album move up a notch or two on the following week's charts.
* And call your radio stations to request the new Dolly singles! Jennifer at Sugar Hill confirmed for me that three singles were released to radio last week. "A Tender Lie" was sent to country stations, "Bluer Pastures" shipped to bluegrass stations, and "Seven Bridges Road" to the those in the relatively new Americana genre. She also tells me that, contrary to previous reports, no video is currently planned. Thanks, Jennifer!
* Even though it isn't a single, "Shine" is getting some attention as well. Each week, John Sakamoto, editor of Canada's top music site, JAM, lists the 10 songs he believes are the best new releases that week across all genres. On Wednesday, he selected "Shine" at No. 5, noting: "What the hell is a riff-heavy Collective Soul song doing on a hardcore bluegrass album, you ask? Revealing itself as the kind of spiritual ('Oh, heaven let your light shine down') that Parton favours these days. Utterly convincing." Read the full list here.
* Sherrie Austin got a thrill last week, she reported on her Web site, with a handwritten note from Dolly thanking her for recording a cover of her classic "Jolene." The Aussie singer said: "I was so thrilled and so honored to receive such a sweet letter from Dolly saying how much she likes my voice on our new version of 'Jolene' and thanking me for recording her song. Getting her blessing means the world to me!" You can see a photo of Dolly's note here. The song is the first single off Austin's upcoming CD, Following a Feeling, to be released March 20. The video premiered on CMT Wednesday and GAC Thursday. Thanks, Justin!
* I'm told Dolly got a minute or two on Wednesday's Oprah. During the interview with Julia Roberts, they played a clip from the episode when the cast of Steel Magnolias appeared on the show, with Julia telling the story of how all of the cast members except Dolly complained of the brutal Louisiana summer heat (especially when they filmed winter scenes wearing coats!). Roberts said all of them were thoroughly impressed when asked why she didn't complain, Dolly responded to them that when she was a little girl, she asked God to make her rich and a star, and now that He has given that to her, she's not going to complain.Thanks, Michael!
---