'Songbird' lights in Maury County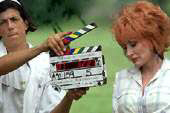 Dolly Parton gets into the mood for a Blue Valley Songbird scene while camera assistant Beth Horton gets ready to mark the shot. (Eric Parsons/Tennessean Staff)


By Sue McClure /Tennessean Staff Writer
July 30, 1999
BETHEL COMMUNITY - The director yells "Cut!" and a dozen men and women scatter, searching for shade from the sweltering 97-degree heat.
A few wander next door to Robert's Country Store for ice water, Popsicles, wet towels to mop their brows.
And then, like a sudden blast from an air conditioner, all discomfort is forgotten as an unmistakable blonde steps into the store, flashing a dazzling smile and a trademark figure.
"I come to see what plate lunches you got today," Dolly Parton calls out to the woman behind the register as she strolls to the back of the store, her high heels clicking on the wooden flooring.
The locals twitter with excitement and grab napkins to get autographs. It isn't every day that Dolly comes to Bethel to film a movie.
In fact, it's the first time in 15 years that Parton, a native of Sevierville, Tenn., has filmed a feature-length film in her home state, says her office manager, Teresa Hughes, adding that several scenes were shot in and around Nashville over the past two weeks.
"Back in 1984, Dolly filmed part of Rhinestone in about that same area," Hughes says of the tiny Bethel community, nestled near the Williamson County line in northwest Maury County. She co-starred with Sylvester Stallone in that film.
But judging from the locals' reactions, it's high time Dolly, a famed country singer, songwriter and actress who will be inducted into the Country Music Hall of Fame Sept. 22, came back to Maury County for filming. She has a home in Brentwood.
"I love this area," Parton says, gesturing to the rolling hills outside the store. "And I come here whenever I'm in town because they make the best baloney sandwiches and plate lunches. I usually have one of each," she says with a giggle, her figure defying her words.
"OK, y'all, I've gotta go get dressed and get going on this," she says after dozens of autographs and snapshots with everyone in the store.
And with that, it's back to filming The Blue Valley Songbird, a made-for-television movie slated to air in November on the Lifetime cable channel.
"It's based on a song I wrote," Parton says. "It's not based on my life; it's totally fake."
That's a point that needs to be underscored, as the story centers on a young girl with a very abusive father. The girl is sent away from her home in Blue Valley, Tenn., to live with a family in Nashville, where she will try to make it as a singer.
Flashbacks take the main character, played by Dolly, back to the 1970s, when she was a young girl.
One of those flashbacks is being filmed now inside Bethel Church, a simple white structure built in 1849.
Those seated in the pews don't have to act; they're actual members of the congregation.
"We were thrilled that they asked us to be part of the film," Doris Wakefield says. "There's about 20 of us.
"This is a funeral scene for her daddy," she continues. "And he wasn't liked, so they just wanted a few of us."
Wakefield, who has attended church here all of her 73 years, is pleased that her little church has a role in the production.
"They even gave us $1,000 for using the church and $700 for using the community center," she says, her eyes sparkling at the notion. "We would have let them use it for nothing.
"And Dolly's just been so sweet," Wakefield continues. "I said, 'Sign our (church) register,' and she just turned around right then and signed it!"
Adjacent to Bethel Church, an ancient-looking cemetery, actually just hours old, will soon host the mourners.
"Don't look too carefully at the tombstones," advises production assistant Chris Stringfield. "Some of them are pretty funny."
Sure enough, several made-up markers boast names like Buck Naked Jones, Eva Braun and Dr. P. Broke: Loved His Chickens.
Rest assured television viewers won't see those names when the camera pans across the cemetery.
Their attention, like everybody's in Bethel, will be focused on Dolly Parton.