Three Together Again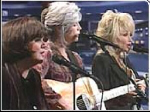 Three Women Reunite For A New Set Of Songs
Harris And Ronstadt: Friends Since 1973
And They Both Say Parton's The Best Singer
NEW YORK - Monday, April 19,1999 (CBS)
When Dolly Parton, Linda Ronstadt, and Emmylou Harris teamed up in 1987 to make the Trio album, it resulted in three Top 5 singles and a Grammy award for Best Country Performance by a Duo or Group, in addition to being named Album of the Year by the Country Music Association.
Now they have released Trio II, a continuation of a happy collaboration.
"I feel a big part of country music," says Parton. "But I've been living this my whole life. I feel proud to be part of this whole thing and certainly working with [Harris and Ronstadt]. We're making history, in our own way."
Harris tells "CBS This Morning" co-anchor Mark McEwen that she and Ronstadt first met in 1973, when both were on the road, Ronstadt as the opening act for Neil Young and Harris as a duet with Gram Parsons.
"I remember it well," says Harris. "They were playing the huge stadium."
Ronstadt interjects, "Neil was playing the stadium. I was the opening act."
Harris says that she and Parsons were "playing a little tiny club across the tracks." And Ronstadt was part of a group that dropped in to hear them play.
"And Linda and I stayed up all night and bonded our friendship," says Harris. "One of the first things we said to each other when we met was, 'Who is your favorite girl singer?' And we both said, 'Dolly'."
Parton's first hit record, in 1967, was a song titled "Dumb Blonde." Her latest solo album, Hungry Again, was released in August. She also has dabbled in movies. Her debut on the big screen came in 1980 with 9 to 5, costarring Lily Tomlin and Jane Fonda. The singer, 53 , also starred in Straight Talk (1992), Steel Magnolias (1989), Rhinestone (1984), and The Best Little Whorehouse in Texas (1982).
Harris, 52, a seven-time Grammy winner, released a solo album, called Spyboy, a few months ago. It was recorded live during her last tour, and the songs span 25 years of Harris' career, including new interpretations of old hits.
Ronstadt, 52, the mother of two young adopted children, most recently released the solo album We Ran in 1998.