Parton, Ronstadt, Harris: One album, second round, triple threat
From Bill Tush
CNN Entertainment News Correspondent
NEW YORK (CNN) -- The last time these three women joined forces on an album, it went double-platinum according to Billboard. The 1987 Trio yielded four hit singles, a Grammy and an Academy of Country Music award. And, according to the artists, it helped forge a solid friendship.
So it makes sense that Dolly Parton, Linda Ronstadt and Emmylou Harris got together again for the follow-up Trio II, released in February. It's currently at No. 16 on Billboard's country charts, at a time when the genre is dominated by younger, pop-friendly singers Shania Twain, Faith Hill and the Dixie Chicks.
"We love singing harmony," says Parton. "And no one has to carry the burden of the weight, which is wonderful. ... There's no pressure. It really came together kind of naturally. We all loved the same songs."
Trio II has some pretty big cowgirls' boots to fill. Its precursor spent five weeks at the top of Billboard's country charts.
And it's taken five years to get the new album to market. Trio II was recorded in 1994 but the triumvirate of stars had too many career obligations to properly promote the release until now.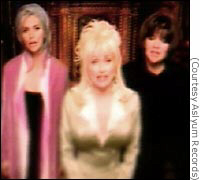 'No particular reason for it'
Ronstadt met Parton in 1970 during a visit to the Grand Ole Opry in Nashville. Two years later, at a Gram Parsons concert in Texas, she ran across Harris. The three became friendly. But the seeds of their partnership were sown several years later when they convened at Harris' house in Los Angeles.
"I called Linda and told her that Dolly was coming over," recalls Harris. "This one evening, there was no particular reason for it."
Sitting on a sofa in Harris' living room, they started singing. "What you do when you're singers," Harris says, is "you tend to sing, which happens very casually."
The three introduced their collective sound on Parton's television show in 1976. They recorded their first album in 1978. And although they abandoned the project, they hung on to some of the songs. Trio's "Mister Sandman" became a hit for Harris in 1981, while "My Blue Tears" surfaced on Ronstadt's 1982 album, Get Closer.
They went back to work on a joint project in 1986, and Trio was released a year later. It generated the hit singles "To Know Him Is To Love Him," "Telling Me Lies," "Those Memories of You" and "Wildflowers." And it was named the Academy of Country Music's 1987 album of the year.
Twelve years later, Parton says the new album, Trio II, is about more than just hits, awards and accolades.
"I was so flattered and honored that they liked me so much. It really worked out to be a wonderful friendship," says Parton.
The singers regrouped in San Francisco in 1993 to select the songs for the follow-up. They finished the project a year later. But scheduling conflicts blocked them from promoting Trio II and they temporarily jumped ship.
Eventually, the tracks were reassembled for this year's release.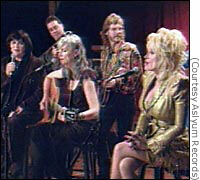 The sum of their parts
On Trio II, the lead rotates among the artists. Ronstadt drives songs including The Carter Family's "Lover's Return" and Randy Newman's "Feels Like Home." "Blue Train" and "High Sierra" are also her leads.
Harris guides the Parton-penned "Do I Ever Cross Your Mind," The O'Kanes' "When We're Gone, Long Gone" and the Irish "You'll Never Be the Sun."
And Parton supplies the key vocals on "He Rode All the Way to Texas," Del McCoury's "I Feel the Blues Movin' In" and Neil Young's "After the Gold Rush."
Billboard says Ronstadt and Harris are working together on a new duet album, slated for early-summer release.
But they and Parton have no plans to tour together for Trio II.
"I've been on the road since I was 17," Ronstadt says, "and I'm 52. It's enough already."
Parton seems to feel the same way: "Hopefully now that we're older we'll have to settle down. Maybe when we're old women we'll do a third one. We are old women."
May 12, 1999