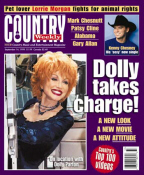 Good Golly, Miss Dolly
Dolly Parton moves full steam ahead with a powerful new TV movie and a full plate of other projects
By Wendy Newcomer
Country Weekly Sept. 14, 1999
A curvy redhead knocks on the door of Billy Dean's bachelor pad. The door swings open and Billy locks eyes with the woman standing before him.
He leads her inside. He moves closer, close enough to feel her breath. They linger for a moment . . . then sparks fly and they share a passionate kiss.
"Cut!"
Back to earth. The director's command reveals that it's only make-believe. The scene is taking place on the set of Dolly Parton's new movie, Blue Valley Songbird. And country's most famously platinum blonde has traded in her trademark tresses for an eye-catching red wig to play the role of a woman who follows her dream out of the Tennessee hills to the big city of Nashville. Long, tall singer/songwriter Billy Dean is cast as her band's guitarist, and Dolly's love interest.
"We were so nervous and clumsy!" Dolly says of her kissing scene, during a break. "We were like little kids having our first date. Billy would say, 'Well, I'm going to shave real good so I don't scratch you,' and 'I'm going to have a whole pocketful of Altoids and Tic-Tacs.'
"I said, 'I will too.' So the day we were going to shoot it, we were both chewing gum and mints like it was really going to matter. The craft services people kept bringing around pizza rolls and egg rolls. But we already had our mouths ready for this big kissing scene."
Dolly's husband of 33 years, Carl Dean, was a good sport about the smooch. "Oh, my husband don't care," she says. "We'd been working on this movie for a few weeks and I've been getting home late at night and leaving early the next morning.
"Carl and I would just sort of pass by each other every day. So the morning of the love scene, I said, 'I'm going to be kissing Billy Dean today.' Carl said, 'Well, I'm glad somebody's getting some!" Dolly uncorks one of her trademark giggles. "But he knows I'm uneasy with doing those love scenes."
A solid camaraderie with her leading man made those uneasy scenes easier. "Billy's just fantastic," Dolly says. "He's so likeable. He's like a little brother, a big little brother. He's 6'4", and I;m so little. Because he's so tall and I'm so short, I thought 'The director will have a fit trying to get the shots.' It turned out to be great. The chemistry was just so great."
Dolly is also hoping that her new movie has the right chemistry to connect with a wide television audience. The film, which will air Nov. 1 on Lifetime, is Dolly's most personal project yet. Blue Valley Songbird marks the highest degree of personal, hands-on involvement, from concept to completion, that she's ever attempted.
Dolly not only stars in the film, she's also the film's executive producer, and she wrote the song on which the storyline is based. She wrote all the additional music that appears throughout the film, and she was instrumental in choosing the arranger for the soundtrack.
"I was very involved," she admits. "And I promoted shooting the movie in Nashville from day one. I was thrilled that we could film it here."
Dolly also worked hard to find the right screenwriters to bring her original song to cinematic life.
"I felt it was very important to find Southern people to write this script," she explains. "The writers we chose were both from the South, so they had an understanding of it."
Dolly certainly didn't become one of the world's most recognized superstars by letting someone else make all the decisions for her. She's not only one of country music's most creative, enduring talents, she's also a sharp-minded businesswoman who truly enjoys rolling up her sleeves and getting down to brass tacks.
"I've always loved working on the business end of any of my projects," she says. "It's a lot of work, but I love doing that. I like feeling like I've got my 'hands-on.' It's the same with Dollywood, or any of my projects. I kind of have to know what's happening."
She wrote the song "Blue Valley Songbird" three years ago, and it appeared on her 1998 album Hungry Again.
"As soon as I wrote the song, I had full intentions of making a movie from it," she says. "In my mind, I thought, 'This is like a screenplay.'"
Blue Valley Songbird chronicles the life of a young girl who leaves home to escape her abusive father and aspires to become a star. While Dolly, like her character, struggled as a young singer, she stresses that the story is not autobiographical.
"This is not a Dolly Parton story in any way," she says, curling up on a couch in her dressing room. "I want to make sure the people know that. The character's father is nothing like my father.
"My daddy only whipped our butts when we needed it, and not near enough," she adds with a laugh. "But I do relate to the [character's] times on the road, the early days of trying to get started in the business, the traveling around, all the hard knocks and bangs of trying to get started as an artist. But not the childhood abuse."
Dolly returns to the set for scenes to be shot at a local theater. Her character, Leanna Taylor, steps into the spotlight onstage. Her red hair shines, her blue dress sparkles. The audience is on their feet even before the first note is heard. Then Dolly launches into "Blue Valley Songbird."
Between takes, she delights in joking with the extras who are acting as the audience.
"What do you thing about this red hair?" she asks. "I can't get used to it, but Reba's been wanting to borrow my wig!
"We're not really singing," she admits. "We're just lip-synching. That's Hollywood for 'faking it.'"
But there's no faking Dolly's enthusiasm for this movie. "It's all about responsibility in this movie," she says. "This woman is trying to come to terms with herself and with her past. She's trying to decide that she's only responsible for herself, not for her father, her past, or the demons of her childhood. And then all the bas choices she's made with men, she's based on what her father was like."
The director calls for yet another take and the long day of shooting gets longer. The extras get restless. But Dolly, always the entertainer, keeps their minds off the delays.
"I want y'all to know, I am wearing falsies," she cracks, pausing for comic effect. "I didn't want you to think these were my real shoulder pads."
Dolly's schedule these days is padded, indeed, with activity. The day after Blue Valley Songbird wraps, she heads to the studio to complete her next project, a bluegrass album called The Grass is Blue.
"It's something I thought about doing years ago," Dolly says. "But usually when you're with a major record label, they call gospel or bluegrass albums 'specialty albums' and you never know if they're going to sell or not. But I don't have a record label now, and I haven't even pursued one. So I'm just going to do specialty albums now."
The Grass is Blue is clearly Dolly's specialty. The record, to be released in October, features bluegrass standards, with one exception: Dolly wrote the title track.
"I wrote a song so I'd have a great title for the album," Dolly says. "It's one of those songs that says the only way you can get through a situation is to make believe that the opposite is true." Dolly recites the lyrics:
"The rivers flow backwards/and the valleys are high/The mountains are level/and my tears are dry/I'm alright now, but I'm over you/And the sky is green/And the grass is blue."
Dolly's getting a little help from her friends for The Grass is Blue. "Everybody's going to sing on this album," enthuses Dolly. "Alison Krauss is going to sing a bunch of stuff, and probably Ricky Scaggs and Vince Gill, too.
"Alison and Ricky are just like soul mates, as far as singing. When Ricky and I sing together, it's like we know where were going even before we get there. And it's the same with me and Alison. We look at each other like, 'Wow, how did you know I was going to do that?' That's soul mate singing.
"And I'd love to have Patty Loveless and Alison do harmonies with me on this old song I love called 'Cash on the Barrel Head.' I've personalized a lot of the songs, rewitten some of the lines and made them 'girl songs.'"
Dolly gives a rundown of her other projects in the works. One is starring in yet another cable movie for Lifetime called Trouble in Jerusalem.
"It's about the problems and culture shocks between a Southern, Christian girl and a Jewish guy from New York," says Dolly, who'll play the Southern belle. "It's a comedy, but it's about how true love survives. It doesn't matter about religion or anything else."
She's also working on a gospel-themed project for CBS called Heaven's to Betsy. "I've been working on that story for years," she says. "It's a two-hour movie of the week starring two black women and myself who have a group called Milk and Honey. There will be a lot of gospel music in that, so I'll probably do a gospel album based on that movie."
And, hold on to your hats, Dolly has a new dance single with none other than flamboyant British pop singer Boy George.
"It's a fabulous song called 'Your Kisses Are Charity,'" she says.
"And then I did six songs for a movie for Elton John's company. The first single off that album will be a new version of 'Jolene.' The film is called Women Talking Dirty, but it's only slated for release in Britian."
Dolly smiles. "I'm busy," she says. "And Dollywood, of course, is just doing fantastic. We have wonderful new things, including a whole new water park area adjacent to Dollywood. So I have more to do than I can get done, but I still love the music. And I'll always be doing that in one way or another."
But Dolly's music probably won't include, ironically, a country album any time soon. The tide of country's musical marketplace seems to have turned against her, she says.
"If I thought I had a market for one, yeah I'd do one," she admits. "But right now, no, because I can't sell it. I haven't sold any country records in years.
"When I really went all-out on the Hungry Again album, I tried to make that as country as I could get it. But there was no real interest in it. It got wonderful reviews, critical acclaim, but it didn't sell that much. But Blue Valley Songbird came out of that album, and now that's turned into a movie."
Dolly's schedule may be full, but she's never too busy to dream. "I feel like I'm just starting my career," she says. "I still want to do some great feature films. I'd love to win an Oscar someday."
One of Dolly's goals may come as a shock. "I would love to have a great recording career, which I don't feel I've ever had," she says earnestly. "I've had a lot of hit records, but I've never had that string of hits when you're actually consistent with it."
And then, she's off and running with another string of ideas, projects and goals.
"I still want to do a cosmetic line. I also have a desire to have a line of Southern foods, like 'Dolly's Dixie Fixin's.' I want to do a lot of stuff for children, like children's songs and books. And I would love to do an early-morning children's program, where I could tape several episodes.
"Lord, I have new dreams every day," she says, smiling. "And I'm going to see them come true if I live long enough. And if I don't, it won't be because I ain't workin' at it!"