The Dolly Show (1976-77)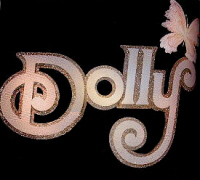 Listed below are the performances on Dolly's first variety show, Dolly. Originally aired in the 1976-77 television season, it was one of the most expensive syndicated shows ever at that time with a budget of about $100,000 per episode. Produced by ShowBiz, the same company that made The Porter Wagoner Show, it was also one of the highest-rated shows in syndication at that time, seen weekly by more than 9 million people in 130 markets. (For comparison, Porter's highly successful syndicated show at its height with Dolly was seen by about half that many people.) Still, Dolly asked at the end of the season to be let out of her contract because of creative differences and throat ailments worsened by the work of doing a weekly television show. It was resyndicated with the same success in reruns a couple of years later and remained in limited syndication for a few years after that.
Her usual format was that the show opened with a close-up on the shimmering butterfly perched atop the "Y" of her name as "Love Is Like a Butterfly" played. The camera would zoom out to show the full name and then pan to the set, where Dolly would glide down on a velvet-roped swing. Ralph Emery would announce, "Ladies and gentlemen, Miss Dolly Parton!" She would step down and begin the opening song. She would then introduce her guest for the evening, often finishing the opening number with them or having them sing a song on their own. During the show, Dolly usually performed three solos (including the opening number), with one being an off-studio shoot at one of Nashville's landmarks or sites outside of town. She would perform at least one song with her guests, and the guests would sing usually two songs on their own (only one additional one if they performed after Dolly's opening). At the show's conclusion, she would thank her guests and tell them goodbye before saying, "And now," and reciting the third verse to "I Will Always Love You," singing the chorus once and then humming the song as the credits rolled. The show featured Dolly singing many easy listening and even light rock hits of the day as she was decked out in frilly dresses or skin-tight bell-bottomed jumpsuits.
I have listed below all of Dolly's performances and all of the guest performances that I know (some episodes I have don't have the guest performances recorded). The only absent episode here is the one with Captain Kangaroo. These are not in any particular order except for the Trio episode, which I have listed first because most critics and those who worked on the show consider it the series' best installment.
Guests: Emmylou Harris and Linda Ronstadt
Dolly - Silver Threads and Golden Needles; Emmylou - Blue Ridge Mountain Boy; Linda - I Can't Help It If I'm Still in Love With You; Trio - Applejack; Dolly - Do I Ever Cross Your Mind (with the "78-speed" version as well); Trio - The Sweetest Gift, Bury Me Beneath The Willow Tree.
Guest: Jim Stafford
Dolly - Lucky Lady; Jim - Jasper Purdy; Dolly - Queen of the Silver Dollar; Dolly - medley (Yesterday, For The Good Times, Help Me Make It Through the Night, Bridge over Troubled Waters); Jim - Nickel Pickin' Slim; Dolly and Jim - Spiders and Snakes (with Dolly singing in a child voice).
Guest: Chuck Woolery
Dolly - Hunka Hunka Burning Love; Dolly- Sittin' on the Dock of the Bay; Chuck - Growing Up in a Country Way; Dolly and cast - Hello Dolly; Chuck - Little Green Apples; Dolly and Chuck - Help Me Make it Through the Night and Thank God I'm a Country Girl.
Guests: Pure Prairie League
Dolly - Slippin' Away; Pure Prairie League - Two Lane Highway; Dolly - Down From Dover; Dolly with her band Gypsie Fever - Afternoon Delight; Pure Prairie League - Dance; Dolly with Pure Prairie League - Bye Bye Love.
Guests: La Costa and John Hartford
Dolly - When Will I Be Loved; Dolly - Circle Game; John - Mississippi Dew; La Costa - Old Man River; Dolly with John and LaCosta - Gentle on My Mind; Dolly - How Great Thou Art.
Guests: The Parton Family
Dolly - Old Black Kettle; Stella Parton - I'm Not That Good With Goodbye; Randy Parton - Down; Dolly - I Got a Brand New Pair of Roller Skates (Dolly singing in child voice); skit with Stella and Dolly as children; Wiladeene - Morning (poetry); Dolly with the family - In the Pines and In The Sweet Bye and Bye.
Guests: Jim Ed Brown and Hellyn Cornelius
Dolly - My Mama She Loves Me; Jim and Hellyn - I Don't Want to Have To; Dolly - The Way We Were; Jim and Hellyn - Saying Hello; Dolly- Midnight Train to Georgia; Dolly with Jim and Hellyn - I Was Looking Back To See; Dolly - Bubbling Over.
Guests: Marilyn McCoo and Billy Davis Jr.
Dolly - Proud Mary; Dolly - Rhinestone Cowgirl; Marilyn and Billy - I Couldn't Stand the Pain; Dolly - Love Is Like a Butterfly; Marilyn and Billy - You Can Change My Heart; Dolly with Marilyn and Billy - Take These Chains from My Heart; Dolly - You.
Guest: Bobby Goldsboro
Dolly - The Door is Always Open; Bobby - That's My Boy; Dolly - A Little at a Time; Bobby - Butterflies; Dolly - Carroll County Accident; Dolly and Bobby - Proud Mary and Let It Be Me.
Guest: Karen Black
Dolly - Getting Happy; Dolly - The First Time Ever I Saw Your Face; Karen - Satin Sheets; Dolly - What Ain't To Be Just Might Happen; Karen - Did You Ever Wonder; Dolly and Karen - Me and Bobby Magee.
Guest: Lynn Anderson
Dolly and Lynn - That'll Be The Day That I'll Die; Lynn - Sweet Talking Man; Dolly - Swanee River; Lynn - Cry; Dolly - Getting Happy; Dolly and Lynn - Taking Care of Business; Dolly - We Used To; Dolly and Lynn - Dumb Blonde.
Guest: Kenny Rogers
Dolly - Knock Three Times; Dolly - Bad, Bad Leroy Brown; Kenny - Love Lifted Me; Kenny and Dolly - He's Got The Whole World in His Hands; Dolly - Joshua; Kenny - The World Needs a Melody; Kenny and Dolly - medley (Spanish Eyes, Brown Eyed Handsome Man, Blue Eyes Crying in the Rain).
Guests: The Fifth Dimension
Dolly - The Promised Land; Dolly - We'll Sing in The Sunshine; Fifth Dimension - Working On a Groovy Thing; Dolly with The Fifth Dimension - Does Your Chewing Gum Lose Its Flavor on the Bedpost Overnight; Fifth Dimension - If That's The Way You Want It.
Guest: Tom T. Hall
Dolly - Sneaky Snake; Dolly - Coat of Many Colors; skit with Dolly and Tom talking with a puppet dog; Tom - Watermelon Wine; Dolly - Crackerjack; Dolly with Tom - I Love; Tom - I Care.
Guest: Ray Stevens
Dolly - Great Balls of Fire; Ray - Get Crazy With Me; Dolly - Lying Eyes; Dolly and Ray - Happy, Happy Birthday Baby; Dolly - City of New Orleans; Ray - Sir Thanksalot (with Dolly playing a damsel in distress whom Ray rescues after fighting a dragon); Dolly and Ray - Searching.
Guests: The Staples
Dolly - Gypsie Fever; Staples - Do It Again; Dolly - House of the Rising Sun (much better than the 9 to 5 and Odd Jobs version); Staples - Love Me; Dolly - Highway Heading South; Dolly with The Staples - The Seeker.
Guests: K.C. and The Sunshine Band
Dolly - Flowers on the Wall; K.C. and The Sunshine Band - Get Down Tonight and That's The Way I Like It (with Dolly singing on the chorus on the latter); Dolly - He Would Know; Dolly - In the Ghetto; K.C. and The Sunshine Band - Shake Your Booty; Dolly and K.C. - Cryin' Time.
Guest: Mel Tillis
Dolly - I Am The Entertainer; Dolly - The Last Time I Saw Him; Mel - Good Woman Blues; Dolly - Brother Love's Traveling Salvation Show; Mel - I Order One For Me; Dolly and Mel - Don't Let Go.
Guest: Ronnie Millsap
Dolly - Bad, Bad Leroy Brown; Dolly - Me and Little Andy; Ronnie - Pure Love; Dolly - The Night Life; Dolly and Ronnie - Rollin' In My Sweet Baby's Arms and I Believe in Music.
Guest: Anson Williams
Dolly (no Anson songs listed) - Love Will Keep Us Together, Early Morning Breeze, Everything Old is New Again, Mack the Knife (with Anson), The Bargain Store.
Guest: Freddy Fender
Dolly (no Freddie songs listed) - Higher and Higher, Mr. Bojangles, Dixie/Battle Hymn of the Republic, Before the Next Teardrop Falls (with Freddie).
Guest: Tennessee Ernie Ford
Dolly (no Ernie songs listed) - Jolene, Sing a Little Sunshine/Sunshine On My Shoulders, I Believe (with Ernie), Tiptoe Through the Tulips, 12th of Never.
Guests: The Hughes Corp.
Dolly (no Hughes songs listed) - Thank God I'm a Country Girl, Today I Started Loving You Again (with the Hughes Corp.; Dolly dons a white afro wig), Down on Music Row and medley (Blues Haunting Me, Song Sing Blues, My Blue Tears).
Guest: Rod McKuen
Dolly (no Rod listed) - China Grove, Peanuts' Linus and Lucy skit with Rod, Feelings, My Funny Valentine, All I Can Do (with Rod), I Know (with Rod).
Guest: Anne Murray
Dolly (no Anne songs listed) - Let Me Be There, The Battle of New Orleans, All I Can Do and Drift Away (Give Me The Beat, Free My Soul) (with Randy Parton and Anne). (Also on this episode, Randy sang Tennessee I Long To See You.)