Since the start of her career, Dolly has been one of the top artists in country music history when it came to pairing her high soprano with other singers, both male and female. Below is a complete list of all her duet and trio efforts:
Dolly's first success was singing uncredited harmony on Bill Phillips' 1966 hit "Put It Off Until Tomorrow," which Dolly wrote. When listeners called in to radio stations across the country asking who that wonderful singer is on the record with him, it convinced Fred Foster and Monument Records, where Dolly had been recording Brenda Lee/Leslie Gore-style pop tunes often produced by Ray Stevens, that she could be a success in country, which is what she wanted to record. She released her first solo album, Hello I'm Dolly in 1967, spawning two charted singles. The exposure from this gained her an interview with the man who would change her life forever.
PORTER WAGONER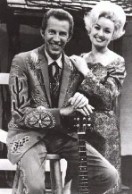 Soon she joined Porter Wagoner's syndicated television show. She replaced his former "girl singer," Pretty Miss Norma Jean, to become Pretty Miss Dolly Parton by the end of 1967. The entire cast of the show toured with Porter, and the audiences at their live concerts wanted Norma Jean. "Where's Norma Jean?!" they'd scream at Dolly. They were hostile to say the least. Porter decided they would loosen up the crowd by singing a few duets before she did her solo set. The first song they did, because it was one of the few they both knew, was Tom Paxton's "The Last Thing on My Mind." The popularity of them singing together and the close-knit harmony proved a winner, and Porter decided to take over her career, managing it and producing her records (although he didn't get credit for producing until 1975). His label, RCA initially didn't want to sign Dolly, thinking as Foster did that her voice wasn't right for country, and Porter reportedly put his own royalties on the line to guarantee she'd make money for them.
They released their first album, Just Between You and Me, in 1967, and "The Last Thing on My Mind" raced to No. 7, as did the follow-up single in 1968, "Holding On to Nothin'," from Just The Two of Us. On that strength, they released Dolly's first RCA solo album, Just Beacuse I'm a Woman, which was a hit. The title song made it to No. 17.
In 1968, Dolly was nominated for CMA Female Vocalist of the Year and won the Music City News (now TNN/Music City News Awards) Most Promising Female Artist. She and Porter took home the CMA for Vocal Group of the Year and Music City News Award for Duet of the Year.
They continued recording together, each recording solo albums and duet albums. Porter was the bigger star, often in the Top 10, and Dolly wavered in the teens on the chart. Their duets, however, were consistent Top 10 hits.
In 1969, Dolly was inducted into the Grand Old Opry. She and Porter were virtually the regular hosts of the Opry show for many years. Their albums continued to produce hit after hit, but none of them hit No. 1 yet. In late 1970, Dolly first hit No. 1 with a solo, "Joshua." She would continue to have regular Top 10s until 1973, when she began a two-year string of four straight solo No. 1 hits, and Porter and Dolly had their only No. 1 duet, "Please Don't Stop Loving Me."
By this time, the two had won the Music City News Duet of the Year twice more, and the CMAs had initiated Vocal Duo of the Year, which they won the first two years it was given. Dolly had earned five solo Grammy nominations, and the duo had received four. Porter dropped from the Top 10 and lingered around the 30s and 40s. Dolly remained strong on the charts.
During this time, she had decided it was time to move on and take control of her own career. She was the rising star now, and Porter's was fading. He fought this. She tried to express her feelings in song, writing "I Will Always Love You," her third No. 1 hit. Finally, she and Porter announced that although he'd continue to manage her career and produce her records, they would no longer perform together. They would still record duets, but she would leave his show.
In 1975, Dolly got her own syndicated show, "Dolly," which had the highest budget of any syndicated show at that time. After one season, she quit. During that year, and after nominations for each of the past six years, she finally won the CMA Female Vocalist of the Year, something she repeated in 1976 (the first year she was nominated for CMA Entertainer of the Year). She made a trip to RCA headquarters in New York without telling Porter and asked that her career change. She dropped Porter as her manager and dissolved their duet partnership. She changed management to a Los Angeles firm.

In 1976, their last duet album of the time was released, Say Forever You'll Be Mine. Later that year, their final single, which did not appear on the album, "Is Forever Longer Than Always," came out. They had severed their ties by this time.
Dolly's first solo effort without Porter was only marginally successful, so her next album's direction was decided by her management team: pop. Here You Come Again was a smash success, earning Dolly the distinction of the first female country artist to be certified platinum (1 million copies sold). Not only was the title song No. 1 on the country charts for five weeks, it hit No. 3 on the pop charts. She was making loads of money and had officially become a superstar. Her next two albums went gold (500,000 copies), and her 1975 Best of compilation finally reached that mark as well. In 1978, she would win her first Grammy and take home the CMA's top prize, Entertainer of the Year. She was offered a starring role with Jane Fonda and Lilly Tomlin in the film "9 to 5."
This success, of which he was not a part, didn't sit well with Porter, who filed a multi-million dollar breach of contract suit against Dolly for leaving their partnership, claiming as her manager, he deserved a portion of her royalties from her success and for the rest of her career. The harsh things said at that time would ruin their relationship for nearly 10 years. Dolly settled out of court for a cash amount of about $1 million, that they would record one final album together, he would give her back his half of their publishing company (Owepar, which then was assumed by Dolly's new publishing company, Velvet Apple Music), and she would give him back her half of their recording studio, Fireside.

Porter & Dolly was released in 1980. The album (which not only was recorded separately, but even the cover photo was taken by two separate photographers) did reasonably well, getting one No. 2 and one No. 12 singles, but the fire was gone. Dolly's star continued to rise with more gold and platinum albums, hit films, her own theme park, and more. Porter faded into obscurity, relegated to only hosting the Opry, greeting fans at Opryland, and remembering their past success.
However, they mended their severed ties and hurt feelings and in 1988, when the two reunited to perform some of their duets on Dolly's short-lived ABC television series, which, once again, at that time was the most expensive television series ever, with a budget of $1 million per episode. They continue their newfound friendship to this day, but they have not recorded together since the 1980 album.
But they were the most successful duet partnership in country music, charting 21 singles.
KENNY ROGERS
The next big duet partner for Dolly was Kenny Rogers. They were friends. He had appeared on her syndicated television show. Each one had recorded songs written by the other. Dolly was in a terrible state of depression, contemplating suicide at one point, she has said, and was choosing her projects very carefully, such as her HBO concert special from London. Kenny came to her and asked if she would record a duet with him. Ever a popular male lead with a female partner, Kenny had found great success in duets, but nothing would compare to this new partnership.
In 1983, "Islands in the Stream," written and produced by the Bee-Gees, was released from Kenny's Eyes That See In the Dark and shot off hard. It hit No. 1 on the country charts (two weeks) and No. 1 on the pop charts (two weeks). Between release in the fall of 1983 and the winter of 1984, it sold more than 2 million copies, more than any other song for the year, beating out even Michael Jackson's biggest hits that year "Beat It" and "Billie Jean" (combined). The success pushed Dolly's Greatest Hits to the gold mark, and that album was soon re-released with the addition of the song to it.
The song would be nominated for a Grammy, oddly enough in the Best Pop Duo or Group category, and win Single of the Year and Top Vocal Duet at the Academy of Country Music in 1983, Favorite Country Single at the American Music Awards in 1984, Duet of the Year at the Music City News Awards in 1984, and continue to be so popular that it won Favorite Country Single for the second year in a row at the American Music Awards in 1985.

They knew they had something big, and more than Porter and Dolly, these two had pop appeal. In 1984, they released a Christmas album Once Upon a Christmas, featuring three Dolly solos, two Kenny solos, and six duets (all but one of which were written by Dolly). They filmed a television Christmas special for the album to huge audience ratings. The release soon became one of the most popular seasonal albums of all time, surpassing 1 million copies by early December that year (just three months after its release). Over the next five years, it would sell more than 1 million additional copies to make it double platinum. (And Dolly's Greatest Hits would also reach the platinum mark by 1986).
In 1985, they released another duet, "Real Love," this time on Dolly's album of the same name. They recorded a successful HBO concert special to promote it. It hit No. 1 on the country charts, but only made it to No. 91 on the pop charts. They did, however, receive another Grammy nomination and another nomination for CMA Vocal Duo of the Year.
Remaining good friends, they went on several sold-out world concert tours. He appeared on Dolly's ABC television show. They did an NBC television concert special together with Willie Nelson. They would not however work much together anymore after a couple of years. Dolly wrote the title song for Kenny's 1989 Christmas album, "Christmas in America." They recorded one more duet, a cover of "Love is Strange" in 1990 on Kenny's album of the same name, but it only went to No. 21 on the country charts.
THE TRIO
Dolly first met Linda Ronstadt and Emmylou Harris when she was doing her 1975-76 syndicated television show. Both somewhat new to the music business, dabbling mostly in folk and soft rock sounds mixed with folk, they were both huge Dolly fans. They came on the show, and the three harmonized beautifully. Over the years, they would record many projects.
Their first was "Light of the Stable," which actually was sung by a quartet by adding Neil Young. The single from Harris' 1975 Christmas album was popular, and they said they should do a whole album together, but that wouldn't happen for a while.
Harris had recorded Dolly's "Coat of Many Colors" and had a hit with "To Daddy." Ronstadt had given her version of "I Will Always Love You." Dolly had recorded Harris' "Boulder to Birmingham." Then Dolly appeared on Ronstadt's 1977 release Simple Dreams singing harmony on "I Never Will Marry." That same year, she'd sing harmony on Harris' recordng of "When I Stop Dreaming" on Luxury Liner and with her on "Green Pastures" off of Roses in the Snow the following year.
The three would get back together in 1979 for Dolly and Ronstadt to sing harmony on Harris' "Even Cowgirls Get the Blues" on Blue Kentucky Girl. In 1981, the Trio appeared on Harris' Evangeline, and performed both the title cut and a splendid version of "Mr. Sandman." Unfortunately, record label conflicts kept "Mr. Sandman" from being released as a single, and Harris had t re-record all the vocals herself for the single version. They would get back together twice more in the next few years, first to record a Trio version of Dolly's "My Blue Tears" on Ronstadt's Get Closer in 1982 and then for Dolly and Ronstadt to record harmony on several songs throughout Harris' 1985 concept album The Ballad of Sally Rose.

Then Dolly left RCA records and was in between contracts (signing later with Columbia/Sony). Ronstadt was recording for a subsidiary of Warner Brothers, which was Harris' label. The circumstances were right to get back together for an entire album. In 1987, Trio was released on Warner Brothers. (Songs: The Pain of Loving You (written by Porter and Dolly), Making Plans, To Know Him is To Love Him, Hobo's Meditation, Wildflowers (written by Dolly), Telling Me Lies, My Dear Companion, Those Memories of You, I've Had Enough, Rosewood Casket (arranged by Dolly's mother, Avie Lee Parton), Father Along.)
It rocketed to the top of the country charts and made it into the pop Top 10 album chart. In five months, they had sold 1 million copies and were certified platinum. The traditional country album would spawn one country No. 1 ("To Know Him is to Love Him") and three additional Top 10 hits. It was nominated for the Grammy's top award, Album of the Year, and won Best Country Duo or Group. It won the Academy of Country Music's Album of the Year, and the Trio was named CMA Vocal Event of the Year (an awards show Dolly hosted that year) and the TNN/Music City News Vocal Collaboration of the Year. The success of this album and failure of Dolly's next solo release, Rainbow, a mainstream pop record, prompted Dolly to return to country in 1989 with the highly successful White Limozeen.
Pledging to record a more pop-oriented follow-up, they reunited in 1994. However, by the time the album was finished, fighting among them led to its cancellation. Fortunately, they mended their relationships, and the album came out in 1999.
OTHER EFFORTS

Rhinestone Although a failure at the box office, Dolly's 1984 film with Sylvester Stallone produced a successful soundtrack of Dolly originals which gave Dolly a No. 1 and a No. 10 solo hits, respectively "Tennessee Homesick Blues" and "God Won't Get You." It also included several strange duets, strange because "Rocky" was singing. Dolly and Stallone performed "Be There," "Stay Out of My Bedroom," "Sweet Lovin' Friends," and "Woke Up in Love."

Burt Reynolds In Dolly's 1982 musical "The Best Little Whorehouse in Texas," two of her original songs were added to the script: "I Will Always Love You" and "Sneaking Around," the latter of which was a duet between her and co-star Burt Reynolds. The film produced two hits for Dolly: "I Will Always Love You" [country #1, pop #53] and "Hard Cany Christmas" (from the original score) [country #8].

The Winning Hand In 1982, capitalizing somewhat on Dolly's fame, Monument Records released this album of duets. It featured new recordings by Willie Nelson and Brenda Lee as well as Dolly's and Kris Kristofferson's old '60s Monument vocals. They added Willie Nelson to her "Everything's Beautiful" (written by Dolly) and "Happy, Happy Birthday Baby" and Brenda Lee to Dolly's "Ping Pong" and "What Do You Think About Loving." "Everything's Beautiful" was released as a single, hitting No. 7 on the country charts. It prompted Dolly to invite Willie onto her next album, Burlap & Satin (1983), on which they recorded "I Really Don't Want To Know." They later appeared together with Kenny Rodgers in an NBC television special.

Slow Dancing With The Moon In 1993, Dolly's next album had many collaborations. "Romeo," a song Dolly wrote for her nephew, was a country No. 27 and pop #50, featuring duet vocals by Billy Ray Cyrus and harmony vocals (as well as adlib jokes) from Tanya Tucker, Pam Tillis, Trisha Yearwood and Martina McBride. (It was also nominated for a Grammy.) Also included were "You Got Me Over A Heartache Tonight" was a duet with Billy Dean and "Whenever Forever Comes" with Collin Raye.

Honky Tonk Angels In 1993, Dolly got together with friends Loretta Lynn and Tammy Wynette to do a trio album for Columbia/Sony and Dolly's new personal label, Blue Eye Records. The album was praised by critics but didn't sell well. It featured guest Kitty Wells on her classic "It Wasn't God Who Made Honky Tonk Angels" and vocals from the late Patsy Cline on her hit "Lovesick Blues." Completely cover songs, with the exception of "Let Her Fly" (written by Dolly), it included "Put It Off Until Tomorrow" (written by Dolly and recorded before both by her and Loretta), "Silver Threads and Golden Needles,""Please Help Me I'm Falling," "Sittin' On the Front Porch Swing," "Wings of a Dove" (previously recorded by both Dolly and Loretta), "I Forgot More Than You'll Ever Know," "Wouldn't It Be Great" (written by Loretta), "That's The Way It Should Have Been" (written by Tammy), and a revised version of "I Dreamed of Hillbilly Heaven." They were nominated for the CMA Vocal Collaboration of the Year. Tammy Wynette died five years later.
Treasures Dolly's 1996 cover album on MCA's new Rising Tide label (which later disbanded) and her Blue Eye Records also failed to sell well, even though it included collaborations with some of the nation's best performers, especially the beautiful version of Randy Newman's "Just When I Needed You Most" with Allison Krauss and John Sebastian. It also included Merle Haggard's "Today I Started Loving You Again" (which Haggard wrote) with harmonica playing rocker John Popper, Freddy Fender's classic "Before the Next Teardrop Falls" with Latin singer David Hidalgo, Krauss and Suzanne Cox on Neil Young's "After the Goldrush" and brother-in-law Richard Dennison on "Walking on Sunshine." (Plus an amazingly sensual and rocking version of Kenny Rodgers and the First Edition's "Something's Burning" written by Mac Davis.) The most interesting song on the album was a cover of Cat Steven's "Peace Train" featuring harmony vocals by Ladysmith Black Mambazo, the African group which sang on Paul Simon's Graceland and whom Dolly found from a Life Savers commercial. (A techno dance remix of "Peace Train" would become one of the highest-selling dance singles of the next year and launched plans this year for release of an EP featuring new "Peace Train" remixes, a remix "Walking on Sunshine" as the next single, and reportedly a new dance mix of her 1977 hit "Two Doors Down.")
Ladysmith Black Mambazo After recording "Peace Train" on Dolly's album, the group asked her to appear on their 1997 release Heavenly. She sang lead on Bob Dylan's "Knockin' On Heaven's Door," which was performed Reggae!

Margo O'Donnell, the Irish songstress, released her 30th album, The Highway of My Life, in 1999 choosing to fill it nearly two-thirds of the way with Dolly classics, although it was only released in Ireland. Margo also made it a family affair since the CD was produced by Dolly's cousin Richie Owens with her uncle Louis Owens serving as executive producer. Also, Dolly and several of her relatives made appearances. Recorded were (with Dolly's original recording dates in parentheses): "Better Part of Life" (1973), "Bet Your Sweet Love" (never recorded by Dolly), "Silver Sandals" (1970, with Porter), "Mine" (1969), "Mama Say a Special Prayer for Me" (1969), "Wrong Direction Home" (1973), and "God's Coloring Book" (1977), plus Dolly's arrangement of "Letters to Heaven" (1957 and 1971) and J. Eggers and B. Eggers' "It Ain't Fair" (1971). "Silver Sandals" includes duet vocals by Dolly's uncle Bill Owens, "Mama Say a Special Prayer for Me" includes harmony vocals by Dolly's aunt Dorothy Jo Owens, "Shade of the Family Tree" includes duet vocals by Dolly's uncle Louis, and Dolly herself sings with Margo on "God's Coloring Book" and as a trio adding Maura O'Connell on "Wrong Direction Home," both of which were released as singles in Ireland.
Mary Kay Place This actress recorded an album for CBS in 1976 titled Mary Kay Place Live at the Capri Lounge: Loretta Haggers (after a television character she played who sang), which was nominated for a Grammy. It featured Dolly singing harmony along with Herb Pedersen on "Good Ole Country Baptizin'" and just her and Mary Kay on "Coke and Chips" and Dolly's "All I Can Do."
Chet Atkins President of RCA Records when she signed, Dolly remains good friends with the legendary guitar picker. She performed "Do I Ever Cross Your Mind" (a song she didn't record herself solo until 1982) on his 1976 The Best of Chet Atkins and Friends. They later paired up again on the same song, this time adding Randy Travis, on Travis' 1990 Heroes and Friends. Chet would also appear on several of Dolly's subsequent albums pickin', and she had a No. 15 hit with Chet's "Silver and Gold" in 1991.
Lorrie Morgan On Dolly's 1991 release, Eagle When She Flies, she recorded another Dolly original duet, "Best Woman Wins," with Lorrie Morgan, which also appeared on Morgan's album that year.
Asleep at The Wheel Dolly appeared in a television movie "Wild Texas Wind" with the band as her band and its lead singer, Ray Benson, as her manager, Ben Rayson. She also appeared on the band's 1993 Tribute to Bob Wills singing Wills' "Billy Dale."
Rhonda Vincent Vincent, who sings harmony on Dolly's 1998 release Hungry Again, had Dolly sing harmony on "The Blues Ain't Working on Me" on her 1996 release Trouble Free. Vincent had previously recorded Dolly's "My Blue Tears."
Les Taylor On the soundtrack to Dolly's film Straight Talk in 1992, she recorded with Les Taylor "Burning to Burned," a song written by her and her uncle, Bill Owens.
James Ingram Recorded for the film "Beethoven's 2nd," the pop duet with James Ingram, "The Day I Fall in Love," went nowhere on the charts, but it was nominated for an Oscar for Best Song. It was written by Carole Bayer Sayer (with two other writers); she also wrote several of Dolly's early pop hits.
Ricky Scaggs Scaggs, who produced Dolly's 1989 comeback country album, White Limozeen, was just getting his first few hits in Nashville when Dolly dropped in on his 1983 Don't Cheat in Our Hometown to sing harmony on "Don't Step Over an Old Love" and "A Vision of Mother."
Vince Gill In 1995, three years after Whitney Houston's smash hit version, Dolly re-recorded "I Will Always Love You," this time as a duet with Vince Gill. It peaked at #15 on the country charts and was nominated for a Grammy. They won the CMA's Vocal Event of the Year and were nominated for the TNN/Music City News Vocal Collaboration of the Year.
Holly Dunn Dunn covered Dolly's "Most of All, Why" on her 1989 release The Blue Rose of Texas, featuring Dolly on harmony.
Ricky Van Shelton Dolly's most recent No. 1, this duet, "Rockin' Years," was written by her brother, Randy Parton, and came from Dolly's 1991 Eagle When She Flies. It won the TNN/Music City News Awards for Vocal Collaboration of the Year and Video of the Year and was nominated for the CMA Vocal Event of the Year and Grammy for Best Country Vocal Collaboration.

Mac Davis Having already recorded one of his songs, "In the Ghetto," Dolly got with her good friend to write several songs for her 1989 release, White Limozeen, including the title cut (spelled that way because neither could spell "limousine"), and their duet, "Wait 'Til I Get You Home." She later recorded his song "Something's Burning," and he wrote the title cut from her Slow Dancing With the Moon. In 1994, Dolly again teamed up with Davis to record "Everyone But Me and You" as a duet on his Columbia release Will Write Songs For Food.
Smokey Robinson On her 1987 pop release Rainbow, Dolly teamed up with this Temptation for "I Know You By Heart." It, unfortunately, did not chart.
Julio Iglesias In 1994, Dolly joined the Latin crooner on his Crazy album for "When You Tell Me That You Love Me."
Richard Dennison Dolly gave her brother-in-law duet vocals on "We're Through Forever ('Till Tomorrow)" from 1978's Heartbreaker
Neil Diamond The king of cheezy music teamed with Dolly on a cover of "You've Lost That Lovin' Feeling," for his 1993 release of cover songs, Up on the Roof. As with Barbara Streisand on "You Don't Bring Me Flowers," the female far outshines the Diamond.
George Jones Dolly teamed up with George, Trisha Yearwood and Emmylou Harris on Jones' 1994 release, The Bradley Barn Sessions, to record "Where the Grass Won't Grow."
Herb Pederson This member of the Desert Rose Band put out a couple of solo albums in the late '70s, and one of them, Sandman, includes Dolly singing harmony on "Cora is Gone." Dolly also joins a chorus with Linda Ronstadt and about five guys I've never heard of with Pederson on "If I Lose."