Dolly at the National Press Club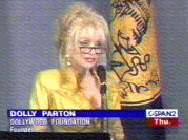 Read Dolly's Questions and Answers with the Press Club here.
Read Dolly's address to the Association of American Publishers here.
March 23, 2000
Washington, D.C.
Transcript
NPC President Jack Kushman (editor Washington bureau of the New York Times): Now, when I was a little boy delivering the Nashville Tennessean, I never dreamed I'd share a microphone with Dolly Parton. (Audience laughter) She was already being shown at the Grand Ole Opry. I've still got a ways to go. Parton's a singer, an actress, an author, a businesswoman, the creator of a unique reading program that's now expanding beyond her native Tennessee. And we're very happy to welcome her to her first appearance at the National Press Club here in Washington, which believe it or not, is a pretty good bluegrass town. (Audience laughter)
The fourth of 12 children, Ms. Parton was raised in Locust Ridge, Tenn., close to the Smoky Mountains National Forest, raised on a farm with not much money and with her early taste for music. She was singing on local radio by the time she was 10. And by the age of 13, as I said, she was at the Grand Ole Opry. Since her first country music record appeared in the early '60s, Ms. Parton has put out more than 60 albums, ranging from bluegrass to country to mainstream pop. And she's appeared with many other entertainers as well. She's won her Grammys, and last year she was inducted in the Country Music Hall of Fame. Her voice is distinctive, but she's also expressed herself in more than song. Since her movie acting debut in 1980 in the film 9 to 5, Ms. Parton has appeared in a number of movies and television shows, even in a role on The Simpsons. (Audience laughter)
Now, I don't know too much about country music myself, but I know that Dolly Parton's voice can sing one word that just melts my heart, that's the word "Daddy." (Audience laughter) And the only thing that does it better for me is when my little girl comes up and says, "Daddy will you read me a book?" (Audience laughter)
Dolly Parton has set up an 11-year-old non-profit organization that's embarked on a remarkable reading program called The Imagination Library. Every month, pre-school children in her native county of Sevier, Tenn., get a free book from the foundation, starting on the day they're born. Now, look at these kids waiting to get that next copy of Goodnight Moon or The Little Engine That Could or Make Way For Duckings, and imagine those kids coming up and saying, "Daddy, can you read me this book?" You can see it's self-explanatory. This program is now expanding to other communities nationwide, and so far more than 100,000 books have been distributed through the Imagination Library program.
Today we're looking forward to hearing in words, and I sure hope in song, about this program (Audience laughter) and about one of the more storied lives in modern entertainment. Please give a warm welcome to Miss Dolly Parton. (Applause)
Dolly: Thank you. (Applause) Thank you so much, Jack. (Applause) Well now, I got a little speech, and I got to be all ready for it. But first of all I'd like to say what an honor it is to be here. Now I can sing all day, but I get nervous when I have to speak, so you can forgive me. And I'm at the age to where I have to wear glasses, too! (Dolly laughter) Thank you, Jack. There was a man at the end of the table we didn't introduce. Are you somebody important? (Audience and Dolly laughter) They didn't say your name, and I thought, well, what is your name? Hi, Chuck. Yeah, well, nice to see you. I didn't want them to leave you out down there. (Audience applause)
Anyway, they tell me that they got press from everywhere here today. Will all the National Enquirer people stand up? (Audience laughter) Seriously, there is one! (Dolly laughter) Well, actually, I really can't say much about the National Enquirer because they actually keep me hot during some pretty cold spells. But they are kinda rough on me. I've actually taken up more space in the National Enquirer than a sumo 'rastler in a hot tub. (Audience laughter) Sumo 'rastler. Anyway, I've always been linked to a lot of stuff with the press, especially like the tabloids. You know, they're always saying I'm having all these hot affairs with all these movie stars. And that's kinda discouraging really 'cause it really limits me with some of the TV guys. (Audience laughter) But anyhow, I think it's great that all of you are here, 'cause, you know, they're always wanting to know about, well, all the stuff. (Motions to body, audience laughter) Like, are they real? In fact, they even, you know, sometime back they even had something about one of my, like some romance, they even had back some years ago something 'bout a big hot romance with Bert Reynolds and Stallone. I thought that was a bit ridiculous. Those guys don't even know each other. (Audience laughter)
But anyway, most of you know that I am still married to Carl Dean, my husband of 35 years. Actually been together 35 years. We still get along pretty good. We fish and we camp and we camp and we fish (Audience laughter) and we fish and fish. (Dolly laughter) Actually, I'd love to have a red hot romance! Got any offers out there? (Audience laughter) Anyway. (Audience laughter) Nobody?
But this is quite a town, I have to tell you. Bein' here in D.C. I'm not running for office, but I certainly have had a lot of politicians checking out my platform. (Audience laughter) Ah! Bet I could stir up something around here, with Bill Clinton, now that Hillary is in New York and all. (Audience and Dolly laughter) Just joking. Shouldn't be makin' fun of my Southern brother, should I?
Anyway, I'm here in town for actually two days. I was over yesterday speaking to the AAP. I guess you know that's the Association of American Publishers. I thought it was a 12-step program for publishers (Audience laughter), and it might be for all I know. (Audience laughter) But we had a good time over there. And, 'course, I got introduced by Secretary Richard Riley, the Secretary of Education. I was tellin' my folks when I was coming out here that I was going to be introduced by Richard Riley. He's this very intelligent, highly educated man, the, the Secretary of Education. And my Daddy said, "Well, hell, he's got that much education why's he still the secretary. He ought to be the boss by now!" (Audience and Dolly laughter) I thought that was a pretty good one. (Audience laughter) But when they asked me yesterday to speak here, at the AAP, I thought, well, Oprah must be busy. (Audience laughter) 'Cause Oprah's done more for books than Bob Dole has done for Viagra. (Audience and Dolly laughter)
Anyway, I was given that award for my help with kids and books, which you spoke about and I'll talk about a little bit later on. But anyhow, I just wanted to kinda get some of my funny stuff off of my chest. (Audience laughter) But I did want to say that through the years, even though I make jokes about the press, I have depended on ya a lot, especially when I have a lot of good things to mention, and we have a lot of wonderful things going on right now.
And one of the things I wanted to announce today was that we're planning a fourth Dixie Stampede dinner attraction in Orlando, Fla. And just in case making notes, it's a $20 million project, assuming that the city officials approve everything. And we're very excited about that. It's located on I-4 right in the middle between Disneyland and Universal Studios, and if all goes well, we'll be opening sometime next summer, 2001, so we're just a'growin'.
And second, we've started a partnership in Australia to build a fifth Stampede there in Surfer's Paradise on the Gold Coast. A little later on, I'm sure you're gonna be asking some questions, so I have more information if you want it. Also, outside, they have packets of information on any of the things I mention today. If you want more detailed information, you can pick that up on the way out. And most of ya already heard about the one in Australia 'cause I think it leaked out in the press last week. Seems like there's a election going on over there, and for some reason if one party approves of ya, the other don't. 'Course we don't have that problem here, do we? (Audience and Dolly laughter) Not in D.C. Well, anyway, we decided to go there and just form our own party and just have fun at all our parties. But Australia has always been one of my favorite places in the world. I have a lot of fans over there, they love country music. And I really look forward to going back to visit with all my friends and fans there.
And, 'course, you know, this is gonna be our 15th season at Dollywood! Just seems just like yesterday we started that. And we've got a lot of great things going there. That's our theme park, in case you don't know, back there in the Smoky Mountains. Of course, we've put $100 million into that so far, and we've entertained over 30 million visitors since we started. So, we're very, very proud of that. And we're building a new children's attraction for this particular season. It's called Dreamland Forest, and it's gonna be our big deal this year. And next year, which we didn't get it done in time, we were planning for it for this year, but we have a big $20 million water park going in. So, we're just entertaining all kindsa folks up there in the Smoky Mountains. Of course, you know, the Smokies', might as well get a plug in here, the most visited national park in the United States. We get like about 10 million people going through there a year. So, you get a field of spillovers; when people get tired of camping up there in the Smokies they come and see us. But I'm a hoping to kinda be the next Walt Disney, or the next Mickey Mouse with these two big, uh, ears, of mine. (Audience laughter) How ya like me in glasses? (Audience applause) I'm joking. I wish I didn't have to wear 'em, but that happens when ya get older.
Anyway, you're all invited to come down for the opening. We'll be having our big parade. We always have a parade on Friday night to open everything. And then on Saturday and Sunday we have our big grand opening, which we're still looking forward to.
And, 'course, a lot of people want to know what I'm actually working on, a lot of my own stuff. I'm writing some music for some movies that I'm doing. I'm doing a few television movies of the week. I have a movie that's coming out this fall, hopefully, on CBS. It's a gospel musical with me and two black girls singing. We're called Milk 'N' Honey. And we actually have a real wonderful story. We haven't cast that yet, but we're looking at people like Patty LaBelle and Gladys Knight or somebody like that if I'm lucky enough to get them. But anyhow, we've got a lot of fun things going on with that. And I'm doin' a re-make on Turner Classic Movies of the old Judy Holliday movie of Solid Gold Cadillac. Remember that one? So I'm looking forward to that. So I'm doin' a lot of things like that in addition to doin', actually creating some things for feature films through my new production company, which is called Southern Light. So anyhow, I know you like to have a lot of information on those kinda things.
But, gettin' back to what we were talking about, and things are going well for me. In fact, if things start going any better, I'll have to hire somebody to help me enjoy it. (Audience and Dolly laughter) Maybe you! Anyhow, I have been blessed, and it always gives me great pleasure to know that I can do something to try to give back, and working with the kids, no matter how much I joke or kid, I really am very, very proud of the work that we're doing through the Dollywood Foundation and with the, the little Imagination Library that we have going that you spoke about.
'Course most of ya know that I grew up in the Smokies, like you mentioned, in a family of 12 kids. 'Course we didn't have anything that money could buy, but we had a lot of good stuff. And I wanted to get involved in education mostly because a lot of my folks were never able to read and write. In fact, my own Daddy never had a chance to go to school. He's one of the smartest people I know, though, in spite of the fact that he didn't get an education. But I've often wondered what my Dad might've done had he had a chance to get an education.
And, of course, like I say, there was 12 of us kids. And, uh, six girls, six boys living back there in the Smokies in a little. You know, most people had like four rooms and a bath. We had three rooms and a path. (Audience laughter) And we had running water, when we'd run and get it. (Audience laughter) 'Course we didn't have television. Well, there was a local show. In fact, we had a little local show that was kinda the forerunner of that show they had on a few months ago called How Would You Like To Marry a Multi-Millionaire? Remember that? Ours was called How Would You Like To Marry Outside Your Immediate Family? (Audience and Dolly laughter) Nobody won, of course. (Audience and Dolly laughter) But anyhow, things were not all that good back there, but. I thought I'd through that one in.
But anyhow, people always are asking me, like when I talk about my Mama and Dad and all the kids, they say, "Well, were you folks Catholic? That you had so many kids?" I say, "Naw, we're just horny Baptists (Audience laughter) and Holy Rollers!" Back there in the hills, but. And I don't mean that with disrespect. My folks loved each other, and they loved us. And like I've always said, we kept our mother on a pedestal. We had to. That's the only way we could keep Daddy away from her. (Audience laughter) But, we had all the good stuff, things money can't buy. People say, "Well, how in the world, living in a small house like that with 12 kids did you have any privacy?" I said, "Well, we had, you know, a wash pan, a pan of water, and you know, you just kinda washed down as far as possible, and you washed up as far as possible, and when everybody clears the room, you wash possible." (Audience laughter)
So, that's just kinda how it goes in the mountains like that. But certainly, books were very special. But they were very scarce in our house. 'Cause we weren't allowed to take books home. Homework to me was like milkin' two cows, sloppin' four hogs, gatherin' eggs, bringin' in water and eggs and doin', you know, doin' supper, and that's kinda the way it was. 'Cause we took books home, which Daddy told us not to, because they'd get tore up and chewed up by the kids or get rolled up into roll-your-own cigarettes. You know, some were back there, ended up in the outhouse. (Audience laughter) But I loved books.
And that was, with the exception of one book that was always in our house, and that was the Bible that my mother used to read to us. In fact, it was from my Mama's reading that made me realize just how important it is for parents to read to their kids. And although I go on with a lot of foolishness, it was very important, those times that we spent with Mama. Because she used to read these books, and buddy I mean when she read, we could see it happening. In fact, one of the songs that I wrote years later was a song called "Coat of Many Colors," which is a song that actually became a big hit. But Mama had read from the Bible, and of course, Mama used to always make quilts and make all the clothes that all the kids, you know, had, because, you know, people used to send Mama big boxes and bags of scraps to make quilts out of. And this one particular time in my life, I needed a coat, so Mama made this coat for me. And I realize now, years later, that she told me the story 'bout Joseph and the Coat of Many Colors to make me not ashamed to wear that coat to school. 'Course I was so proud I couldn't wait to wear that coat to school 'cause I thought I looked exactly like Joseph.
But when I got to school, the kids laughed at me because really it was just scraps and rags, but Mama had made me feel proud of it, knowin' that they probably would make fun of me. And I was hurt, and I was kinda angry at Mama 'cause I felt like she'd lied to me, and I went home and I told her, you know, that everybody laughed at my coat and they didn't think I looked like Joseph at all. And that we was poor. And she said, "Honey, we're not poor. Look around you. We've got a lot of love. We've got a lot of stuff. We've got enough to eat. We don't have everything we want, but we've always got something to eat." So Mama instilled that in me, and I don't know if any of you even remember that little story of the coat of many colors, but it talks about like, (singing) "In my coat of many colors that my Mama made for me, made only from rags, but I wore it so proudly. And although we had no money, I was rich as I could be, in my coat of many colors Mama made for me." And that's only 'cause I promised a woman I'd sing. (Audience applause) But, the little story actually, you know, just talks about how, you know, people will make fun of you and people kinda point you out because you're different. And I know that memory really, really hurt me. And for years and years. And it was only after I wrote that song and it became a hit that that hurt left me. It's amazing how healing money can be. (Audience and Dolly laughter)
But I remember, I was so proud of that song. Of course, Mama loves me to write songs about her, and Daddy loves me to write songs. 'Course, I had a song called "To Daddy" that Emmylou Harris had a big hit on. And so if I write a song about Daddy, I have to write a song about Mama. But when this one became a big hit, Mama was so proud. And I thought, well, you know what, it's only right and fair that I'm gonna take this money that I made, my first royalty check, and buy Mama something special. So I, I was living in Nashville at that time, and I went back home to East Tennessee, which is 200 miles, you know, east of Nashville. So I said, "Mama, get your pocket book. I'm taking you to Knoxville, and I'm gonna buy you the best mink coat they got." This was years ago, when people were still wearing mink. (Audience laughter) Anyway, but she said, "Lord have mercy, honey! Where am I gonna wear a mink coat around here? To a cock fight?" (Audience laughter) She said, "I don't want no mink coat. You just give me that money." (Audience laughter) So, it was really my Mama that started that, "Just show me the money!" (Audience laughter)
So anyway, I gave Mama the money. And she was just that kind of woman that she bought a lot of stuff for that money. But anyhow, I was very proud of that particular little coat, and I just trailed way off my story, didn't I? (Audience laughter) But anyhow, it was all about books, and it was about the "Coat of Many Colors" and why I wrote it and why this is so important to me. And it's not about just clothes, sometimes it's about the color or the size or just being different.
And you probably noticed that I still dress a little different. (Audience laughter) But I wanted to wear something bright and shiny today, 'cause I knew this was going to be a dark room and I wanted to show up 'cause I want, I love to be seen. (Audience and Dolly laughter) And of course, I love to be different. You know, I wear these synthetic wigs, and these synthetic fingernails, and these synthetic lashes, and, well, these (motions to chest; audience laughter) I got these when I wrote the song "Jolene," but that's another story. (Audience laughter) I figure if I ever start another theme park I should do it in Silicone Valley. (Audience and Dolly laughter) You think I'd get Dollywood there, Ken? (Audience and Dolly laughter) Oh well, might as well have a little fun while I'm at it.
But they say that you're never so tall as when you stoop to help a child. I better not be stoopin' had I. (Audience and Dolly laughter) I think I'll just stand up for the kids. A few years ago I started a public foundation called the Dollywood Foundation, and it's to help kids in my home county. We started out to help the high school drop-out rate, and we did, too! In fact, we were able to change it from over 30 percent to less than 6 percent in about five years, and I'd say that's pretty good. I had a lot of help with that. (Audience applause) And I, yeah. Anything you can do to help a youngun, it's a good thing to do!
So we feel very proud of that. And in addition to still having this little Imagination Library, we still work very closely with the kids and still give out scholarships and anything that we can do up there to try to help. But we're especially proud of this little Imagination Library. And for those of you who want to know a little more about what it is, the Imagination Library is a program that we started in Sevier County, as you mentioned. And you even said the name right! Sevier County. Most people say "See-ver" or "Sev'r" or "Sev-ee-er." But anyway, it's in Sevier County, and we give a book a month to every child, from the day they're born until they're kindergarten age. And so that's 60 books with a little bookcase that's their little engine and a caboose on a track, which is cute. And the engine and caboose expand apart, and it makes room for each of the books. And, of course, the first book that they get is the book of The Little Engine That Could. 'Course they love that.
And they mail, they mail these books directly to these kids. In fact, a lot of the kids just wait at the mailbox at the first of every month to get these little book. And most of 'em think that I bring them myself. (Audience laughter) They do! And I think that is the cutest thing, and sometimes they leave presents in the box like I'm Santa Claus or something. They'll ask their parents if they saw me that day or, "Did Dolly leave my book?" So it makes me feel real happy to know that I can do that much for part of a child's life and possibly someway try to change its life for the better.
And we hope that as many communities that we can find will help us sponsor the work that we're doing and replicate the program. And we just started. And we have several things in progress. We have a bank in Pratt, Kan., an individual in Georgia. And we'll work with civic groups, corporations, politicians, anybody else that's willing to help us out with the program. So, again, if you want more information on that, I believe we have that available. Or you can talk to Ted Miller over here or David Dotson. They'll help you with any of that.
So, today, I have a very special, you know, Stampede Co., and yesterday we made the announcement that we donated $7 million through the Dixie Stampede to expand the Imagination Library. So, we felt very proud to be able to do that. And we're looking for other help 'cause I can't do it all myself. I've already told ya that I have to keep some money for myself. 'Cause it costs a lot to make a person look this cheap. (Audience laughter) And all the upkeep that it takes. (Audience laughter) Well, you know it's true.
But I am proud to be able to do my part. And, of course, we have the Dixie Stampede, is like a dinner theater, where we actually have all these beautiful horses, and we have one in Branson, Mo., we have one up in Pigeon Forge, Tenn., we have one in Myrtle Beach, S.C., and now we're hopefully gonna have the one in Orlando and Australia, so we're just growin' with that. And we feed and entertain thousands of folks, and a lot of 'em bring a lot of their kids, so it just seems great that we would be able to donate money from the Dixie Stampede to help with the Imagination Library.
So the mission of my Dollywood Foundation is to "Dream More. Learn More. Do More. And Care More." As a matter of fact, when I was putting all this together a few years back, I wanted to write a little something that would kinda, kinda say what it's like to, if you try, that there's not anything that you can't do really, if you give it enough effort. And I wrote a little song called "Try," and I'll read it like a poem. I didn't bring my guitar because I didn't how what kind of set-up we'd do. But anyhow, my husband's Church of Christ, and they like to sing with no music. I don't. I'm a Holly Roller. I like to all the much music I can get. But anyhow, so this little song I think kinda what it says is what we all need. It says:
"I've chased after rainbows, and I've captured one or two.
And I've reached for the stars, and I've even held a few.
I've walked that lonesome valley. Topped the mountains. Soared the sky.
I've laughed, and I have cried, but I've always tried.
And I've always been a dreamer, and dreams are special things.
But dreams are of no value if they're not equipped with wings.
So secure yourself for climbing. Make ready for the sky.
Don't let your dreams go by. You'll make it if you try."
And there's more.
"So try to be the first one up the mountain. The highest flying dreamer in the sky.
Try your best to be an inspiration, for others that are still afraid and shy.
Try to make the most of every moment. If you fail, get up and try again.
Try each day to try a little harder. 'Cause if you never try, you never win.
Nothing is impossible if you just believe.
Don't live your life in shackles, when faith can be your key.
The winner's one that keeps determination in his eyes.
He's not afraid to fly, not afraid to try.
(Singing)
So try to be the first one up the mountain. The highest flying eagle in the sky.
Dont' let somebody tell you you can't do it. And if they say that, show 'em it's a lie.
So try to think of life as just a journey. And the road gets rough and rocky now and then.
Try each day to try a little harder. And if you fail, get up and try again.
The winner's one that always goes the distance. And you'll never really know unless you try."
Yeah! (Dolly laughter; audience applause) Oh me. (Dolly laughter)
And it's so true, too, don't you think? So at least you'll know that I'm out there trying. And I really do want to thank all of you for any support that you might give us, as far as the press. 'Cause we feel like if we can bring enough attention to this that we will make other people aware. And we all want to help the kids. It's like, and if we can help them when they're little and when they're young, in their most impressionable years, it might last a lifetime. And so we have lots of wonderful things going on, and I understand that they do have a bunch of questions. And he said he's gonna read 'em all, but if any of you feel like you want to holler something out that you want to know, I don't care what he says, do you? (Audience laughter) Who do you think you are, the boss? (Audience laughter)
Future speakers to the National Press Club include the president of National Public Radio on March 30, comedian Steve Allen on entertainment obscenities on March 31, and the Secretary General of NATO on April 4.
Watch for future transcripts installments to include Dolly's speech to the Association of American Publishers.
Read Dolly's Questions and Answers with the Press Club here.
Read Dolly's address to the Association of American Publishers here.