Sugar Hill/Blue Eye Records to Release Dolly Parton's Little Sparrow Jan. 23, 2001
Country Music Hall of Famer Delivers Second Installment in Acclaimed Bluegrass/Appalachian Departure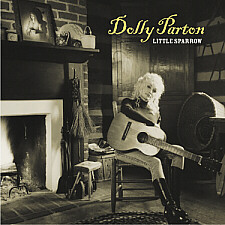 Reserve your copy of Little Sparrow here!
Read the Dollymania review here!
Sugar Hill/Blue Eye Records will release the second all-acoustic album by living legend and Country Music Association Hall of Fame inductee (1999) Dolly Parton on Jan. 23, 2001.
Little Sparrow follows 1999's critically acclaimed label debut The Grass is Blue, her first all bluegrass outing and winner of the International Bluegrass Music Association's Album of the Year award, eligible for Grammy nomination in 2001. On Little Sparrow Parton seeks to bridge her love of bluegrass and the Appalachian mountain music she grew up with.
"I believe Little Sparrow has more depth, breadth, and soul than all of the other albums I have done. Hopefully it captures the best of everything I've ever lived or felt, written or sung. I also think this is Steve Buckingham's best work as a producer. I hope you enjoy it. You know how every parent thinks their kids are the prettiest, how every person thinks their hometown and their home team is the best and how every singer/songwriter thinks that the album they just finished is the best they've ever done . . . well, I think that too," Parton said.
Produced by Steve Buckingham, Little Sparrow is a spirited and eclectic collection of Parton originals, bluegrass standards and inspired takes on material by the likes of Cole Porter and Collective Soul. Rounding out an impressive cast of all-star acoustic musicians including Jerry Douglas on resophonic guitar, Chris Thile mandolin, Stuart Duncan on fiddle, Bryan Sutton on guitar, Jim Mills on banjo and Barry Bales on bass are noted guests such as Alison Krauss and renowned Celtic group Altan.
Debuting at the Grand Ole Opry in 1959, Parton's remarkable career in music has successfully navigated both country and pop charts as well as successful forays into television and film (9 to 5, Steel Magnolias). Parton has authored over 3,000 songs including the hits "Coat of Many Colors," "Jolene," "Tennessee Mountain Home" and "I Will Always Love You." In 1992, Whitney Houston's rendition of the latter spent an unprecedented 14 weeks at the top of the pop charts, for a time becoming the biggest pop hit of the rock and roll era. From collaborations with Porter Wagoner to Emmylou Harris and Linda Ronstadt (the Grammy Award-winning Trios series), Tammy Wynette, Loretta Lynn and many others, Parton's legacy spans the history of modern country. In 1994 she published her autobiography My Life and Other Unfinished Business.
Sugar Hill is highly regarded as the premier label for American roots music of all types. Founded 23 years ago by Barry Poss, the label also boasts eight Grammy awards and was named "One of the 21 independent labels that changed the world" by Pulse Magazine. In 1998, Sugar Hill became part of the Welk Music Group, owners of the prestigious Vanguard Records.