Precious Memories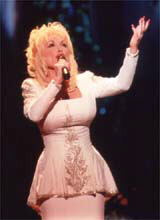 Dolly's special "Precious Memories" aired on TNN April 1 with a collection of sacred hymns and special guests marking Dolly's first full return to gospel music since her Grammy-nominated gospel album Golden Streets of Glory in 1971. She has a gospel album coming out soon as a result of the special to be released exclusively through Dollywood.
The special opened with Dolly performing a solemn "Sacred Memories." Then she sang her stirring 1975 tune "The Seeker" with Dollywood's Kingdom Heirs. She spoke of the history and importance of gospel music in the South, highlighted by clips from her Dollywood video "Heartsongs."
Next, she introduced Alison Krauss and Union Station, who performed "Your Grace Provides for Me," followed by the Kingdom Heirs with "First Day in Heaven." Dolly then talked about the opening of the Southern Gospel Hall of Fame and Museum on the grounds of Dollywood this month and showed photos of some of the past's gospel greats. She mentioned the importance of family harmony in gospel, featuring a brief clip of The Chuck Wagon Gang and even a picture of her own Parton Family Band from the mid '70s. At that time, she introduced The Cox Family, who performed "Will There Be Any Stars in My Crown" and "Everybody Wants to Go to Heaven (But Nobody Wants to Die)."
Continuing the family theme, she introduced her brother Randy Parton and sister Rachael Parton Dennison. They reminisced about their family growing up in the Smoky Mountains, rattling off the names of all 12 brothers and sisters very rapidly. They talked of their preacher grandfather and told of how they traveled to churches throughout the area to sing as children and how once their father jerked them out of the sanctuary because the pastor was handling snakes. Then the three performed "In the Sweet Bye and Bye."
Dolly then turned over the stage for Dollywood's a capella group Honey Creek, comprised of Randy and Rachael and two others, who performed "I Am Ready."
Dolly recalled how she found God when she was alone one day in an old abandoned church and how she never wants to sound preachy but always wants to share the spirituality which is so much a part of her. She called Alison Krauss and Suzanne Cox of the Cox Family back on stage to do trio harmony with her. They performed "And He Walks with Me" and "Jesus is Calling," with each taking a turn on lead. Then they went into "When the Roll is Called Up Yonder," "Washed in the Blood of the Lamb" and "Power in the Blood."
Dolly then told of her mother sewing her a coat made from many scraps of cloth and how she told her of the story of Joseph's coat of many colors from the Bible to make her feel better about it but how the children at school made fun of her for the coat. The three then sang her classic "Coat of Many Colors."
The show closed with Dolly and all of her guests performing "Over in the Glory Land."
The special's primary sponsors were Dollywood and H&R Block. During the show, presented as part of TNN's "20th Century Hitmakers Week," two new commercials aired for Dollywood, one boasting its numerous music shows and how it has more live performances than any park in the country and a second presenting its new huge roller coaster, The Tennessee Tornado.