About your webmaster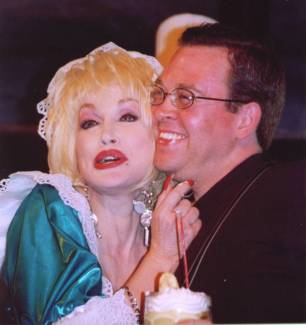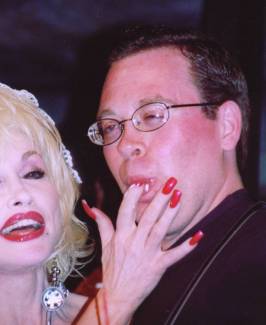 Dolly and Duane, April 2003
Duane Gordon (dgordon@dollymania.net), 34, lives in Middletown, Ohio, located halfway between Cincinnati and Dayton.
He is currently in his second year as Executive Director and CEO of the Middletown Community Foundation, a non-profit foundation serving the city and its surrounding communities. After his first year at the helm of the organization, it recevied the Entrepreneurial Community Spirit Award from the Chamber of Commerce Serving Middletown, Monroe and Trenton as well as the Friend of the Agency Award from Big Brothers Big Sisters of Butler County.
He is a member of Middletown Rotary Club and Middletown Kiwanis Club and is secretary of his neighborhood association -- Preservation, Restoration and Improvement of South Main (PRISM). He is a performer with the Middletown Civic Chorus and Middletown Symphony Chorale and hosts a bi-weekly television program, Foundation Matters, on the local nonprofit television station, TV Middletown.
Previously, he served as for three years as Director of Finance and Technology for the Community Foundation of Greater Jackson in his hometown of Jackson, Miss., preceded by five years as that Foundation's Communications and Programs Director.
He is a former singer with the Mississippi Chorus, having also served on its Board of Directors and as the organization's Treasurer. He is also a former member of the Board of Directors for the Mississippi Chapter of the Association of Fundraising Professionals and held one term as that organization's Vice President of the Board and two terms as Communications Officer.
In 2003, he was named a Hull Fellow by the Southeastern Council of Foundations to participate in the Hull Leadership Program, which helps young leaders of nonprofit foundations across the South develop a deeper understanding of the roots of philanthropy, gain new perspectives on issues facing charities, discover insights in personal leadership and form new relationships with peers in the field.
Before joining the Foundation, he worked as a staff reporter and News Editor for four years at the Madison County Journal, the weekly newspaper for the northern suburbs of Jackson and one of the most highly awarded newspapers in the state (also the first newspaper in Mississippi to post an online version). For three of his four years there, the Journal was selected by the Mississippi Press Association as the recipient of first place in the General Excellence Award for its circulation division, an honor roughly equivalent to "Newspaper of the Year" (second place General Excellence for his fourth year). Prior to the Journal, he was a news reporter and features editor at The Reflector.
Duane has received 21 individual Mississippi Press Association awards for news, features, photography, editorials and Freedom of Information efforts in addition to being largely responsible for many additional awards given in the name of the newspapers where he has worked.
Born the first of four children in a family in Jackson, Duane left high school a year early to enroll at Mississippi State University on academic scholarship. There, he studied journalism, theatre and music, being graduated with honors and receiving a bachelor's degree in journalism. At MSU, he served as features editor of the school newspaper and was a member of both the choir and madrigal singers. He was elected to several leadership positions, including vice-president of the University Honors Council and president of GLBF, presented papers at both the national and regional collegiate honors conferences and was published in three national publications. He was also very involved in theatre, performing lead and supporting roles in numerous shows, winning Best Actor from University Theatre and receiving two Irene Ryan Excellence in Acting nominations (plus a third with three other actors for ensemble performance - scene).
He became a Dolly Parton fan, his parents said, when he first saw her syndicated television show around the age of six months and was transfixed by her performance. Singing along with her albums and following the lyrics printed on the inside cover of Best of Dolly Parton, he taught himself to read at the age of 3. His first concert was the most recent time Dolly played Jackson, Miss., in 1978, when the 4-year-old Duane was carried up to the foot of the stage to hand his idol a rose. Since then, his love for Dolly has grown. His collection now encompasses virtually all of her career recordings on album, cassette, CD and video ever released commercially (plus several bootleg recordings). He has her entire solo, duet and trio recordings from 1962-1987 on the original vinyl, plus many additional releases on other formats plus magazines, posters, books and other collectibles. He even has a butterfly tatoo on his ankle in honor of Dolly, since the butterfly has been her symbol for more than three decades.
Sharing his home are two cats: Charlotte and Marie; his darling 3-year-old beagle mix, Gabrielle; and one other human, Matthew.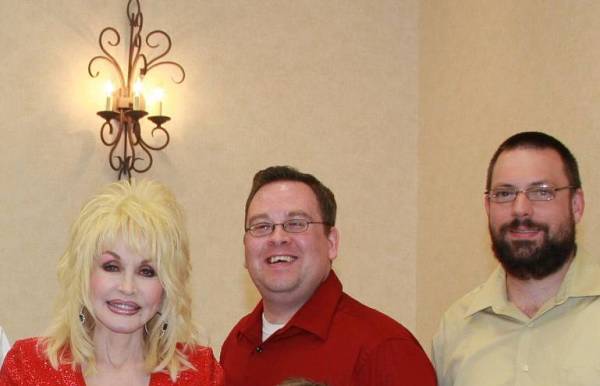 Duane and Matthew with Dolly, June 2009