1999: Dolly's Year in Review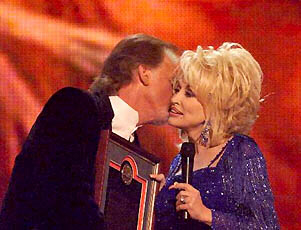 Dolly accepts her Country Music Hall of Fame induction plaque from Kenny Rogers in September.
One of the most eventful years in Dolly's career is coming to an end, and here I offer you a re-cap of some of the highlights.
January

Dolly turns 53.

Dolly's label, Decca, a unit of MCA Nashville, closes its doors in a multi-label shake-up following MCA-parent company Universal and Polygram's merger. Dolly is one of several artists left without a contract.

Dolly is featured in A&E's Biography on Kenny Rogers.

During A&E's Country Week, online voters select "I Will Always Love You" as the greatest country song of all time.
A claymation Dolly gets "blown up" by Jennifer Lopez on MTV's Celebrity Deathmatch Super Bowl half-time special, and the same night, she voices an animated version of herself on a Super Bowl-themed The Simpsons on FOX.

February

* The long-awaited Trio II album with Emmylou Harris and Linda Ronstadt is finally released nearly five years after it is recorded; it meets critical acclaim and soars to No. 4 on the country album charts to become one of the year's top selling CDs with more than 400,000 copies. It reaches No. 3 on the U.K. country charts. The ladies also make a slew of television promotional appearances for the album. Buy it.

Cas Walker, an early mentor of Dolly's and on whose radio show she got her start as a child, dies at age 96.

Country Music Magazine's Hazel Smith advocates Dolly's induction into the Country Music Hall of Fame and Rock and Roll Hall of Fame. (She is inducted into the country one in September.)

March

Dolly and Elton John co-write songs for the film Women Talking Dirty, which John is producing. In the film, for which no U.S. release date has been set, there is a bar dedicated to Dolly, and the soundtrack is reportedly to feature five or six songs by her including a new dance mix of "Jolene."

Dolly fills in for vacationing Kathie Lee Gifford as co-host of Live! With Regis and Kathie Lee for two days.

TNN airs a special episode of Prime Time Country titled "An Evening With Dolly Parton."

Dolly the cloned sheep, named after our Dolly, gives birth.

April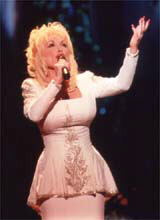 * TNN airs a special by Dolly featuring gospel songs called Precious Memories.

* Irish singer Margo O'Connell releases her 30th album, a collection of songs almost entirely written by Dolly and featuring Dolly harmonies on two songs.(Order at www.CDIreland.com.)

* Dollywood opens for its 14th season, featuring the new attractions of the Tennessee Tornado roller coaster and the Southern Gospel Music Hall of Fame. In recognition of the latter, Dolly releases her first all-gospel album in nearly 30 years, Precious Memories, on her own independent Blue Eye label. Sold exclusively at Dollywood, all proceeds from the CD go to her Dollywood Foundation. (Call (423) 428-9445 to order.)

A national survey names Dolly the fifth most popular female singer of the century. Barbara Streisand is No. 1.

May

Dollymania welcomes its 10,000th visitor.

June

Dolly makes a cameo in the Lifetime film Jackie's Back!.

Variety confirms the producers of the Broadway revival of Annie Get Your Gun asked Dolly to take over the lead role when Bernadette Peters ends her contract; she declined.

TNN's Century of Country series looking over the history of country music dedicates a quarter of one episode to Dolly, identifying her as "country's first superstar."

It is announced Dolly will be inducted into the Country Music Hall of Fame.

* Dolly's 1996 CBS holiday film Unlikely Angel becomes her first movie to be released on DVD. Buy it.
July

* Dolly records duet vocals with Boy George for his group Culture Club's song "Your Kisses Are Charity;" it is expected to be released as a single in the U.S. in spring 2000. Buy the U.K. import.

The Austin American-Statesman names "Jolene" one of the 50 best songs of the millennium.

Dolly is voted by women in the music industry as the 34th most influential female artist for the special The 100 Greatest Women of Rock 'n' Roll which airs on VH1.

* Dolly films her Lifetime movie Blue Valley Songbird in west Tennessee.
August

Alison Krauss releases her CD Forget About It featuring Dolly on harmony on one song. Buy it.

* New dance remixes of Dolly's "Walking on Sunshine" cover and 1977 pop hit "Two Doors Down" are released. Buy it.

Modern Maturity Magazine names Dolly one of the 50 sexiest people over 50.

Dolly buys the rights to the novel The Jew Store, the true story of a Jewish family which ran a general store in Tennessee in the early 20th century, meeting resistance from community members and the KKK. Dolly will adapt it and produce the movie as a feature film, also playing a supporting role, it is announced.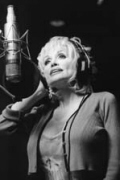 * Dolly records her first full bluegrass album for her Blue Eye label and the independent Sugar Hill Records.

* Buddha Records, a new division of BMG, begins re-issuing selections from the RCA catalog. Its first CDs include Dolly's 1980 9 to 5 and Odd Jobs (buy it) and 1971 Coat of Many Colors ( buy it), the first time the latter is available in the U.S. on CD.

It is reported that Dolly has been in talks with television executives about hosting her own talk show; as of year's end no deal has been reached.

Dolly is named the Catfish Institute's Celebrity Catfish Lover of the Year.

Dollymania welcomes its 20,000th visitor.

September

Gospel legend Vestal Goodman releases a duet album including a song with Dolly. Buy it.

Bravo Network airs a biography special on Dolly as part of its Profiles series.

1990's Home for Christmas is re-released by Sony.

The Gatlinburg Hard Rock Café opens outside the Great Smoky Mountain National Park featuring Dolly's dress from the cover of Something Special and one of her guitars as the centerpieces of its banquet room.

Elton John's Women Talking Dirty premieres at the Toronto Film Festival.

* Dolly is inducted into the Country Music Hall of Fame during the CMA Awards. The Trio is nominated for Vocal Event of the Year but loses to Vince Gill and Patty Loveless; however, due to Loveless' absence, it is Dolly who performs the winning song with Gill, the show's host. She also gives what most critics consider the best performance of the evening with "Train, Train" from her bluegrass album, and Entertainer of the Year Shania Twain calls Dolly her "idol" in her acceptance speech. For the Dollymania story on the awards, including the complete text of Dolly's acceptance speech, click here.

Recognizing the 25th anniversary of NBC's Saturday Night Live, many critics note Dolly's 1989 episode as host as one of the best in the series' history.

Dollymania publishes the first review anywhere of Dolly's bluegrass album.

Country Music Magazine names Dolly one of the 12 most influential country singers of all time.

October

* Dolly's first bluegrass album, The Grass is Blue, is released to rave reviews; by year's end, many critics name it one of the best CDs of the year. It peaks on the country album charts at No. 24 and U.K. country album charts at No. 8. Buy it. For Dollymania's review, the first one which was published anywhere on the CD, click here.

It is announced Dolly will record a song for a tribute CD to bluegrass legend Bill Monroe produced by Ricky Scaggs to come out in 2000.

Merle Haggard releases his second autobiography and confesses the deep but unrequited love he had for Dolly in the 1970s; Dolly says she had no idea it was so serious.

Dolly makes a rare in-store appearance at Wal-Mart in Franklin, Tenn., to sign copies of The Grass is Blue.

November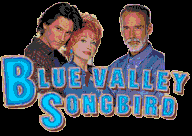 * Blue Valley Songbird, a movie based on Dolly's song of the same title and co-starring Billy Dean, premieres on Lifetime.

A poll of readers of the Atlanta Constitution-Journal names Dolly one of the 50 most influential Southerners of the century.

* Buddha releases the next in line of Dolly's RCA catalog, 1978's Heartbreaker (first time on CD, buy it) and 1974's Jolene (first time full album is on CD, buy it).

Country.com names Coat of Many Colors one of the 50 best albums of the century.

Dolly announces next season Dollywood will add a treehouse playground and a neighboring waterpark. Also, she expands her Dollywood Foundation's literacy programs nationwide.

* Country Music Magazine names Kenny & Dolly's Once Upon a Christmas from 1984 one of the 10 "essential" country holiday CDs.

Dolly is interviewed extensively in A&E's Biography on Reba McEntire.

CMT names the Trio its Vocal Event of the Year.

It is announced Dolly will likely be a guest on PBS' Austin City Limits concert program, on which she has never appeared, during its 25th season in 2000.

December

Rolling Stone names Coat of Many Colors one of the year's best re-issues.

* Delta Entertainment begins re-issuing RCA/Camden compilation albums, and in their first batch is Dolly's 1972 Just the Way I Am. Buy it.

* The Bodyguard soundtrack, which includes Whitney Houston's smash 1992 cover of Dolly's "I Will Always Love You," is named the decade's biggest-selling album at 17 million copies.

"I Will Always Love You" is named the 13th most-played song of the century and top one by a country composer with more than 5 million airplays.

People Magazine readers name Dolly their fourth favorite country performer of all time.

Dollymania passes 30,000 visitors.

The "Walking on Sunshine"/"Two Doors Down" dance remixes are released in Australia.

It is announced that Dolly will appear in an upcoming Christmas movie by Ottawa filmmaker Bryan Stoller currently being filmed in Canada. In the movie, A Christmas Rap, she plays the head of an orphanage.

2000

Dolly will kick-off Y2K with a concert at the Opryland Hotel in Nashville on Jan. 1. Read the Dollymania review of the concert here!