Bluegrass & BBQ Festival
Images on this page are copyright © 2006 Duane Gordon/Dollymania and may not be reproduced without prior written consent.

By Duane Gordon
Dollymania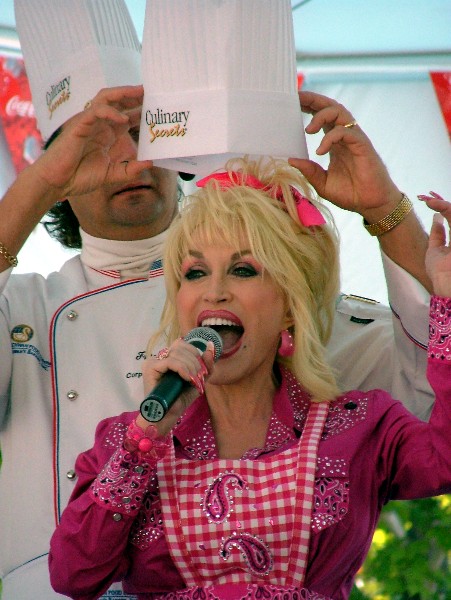 Dolly gets a chef's hat before fixin' up a couple of dishes from her fund-raiser cookbook. See more pictures here!
"Hey, you won me! What are you gonna do with me? Ha-ha!" Dolly laughed on Friday before a crowd at Dollywood and live on the air of Knoxville's WIVK radio.
Moments before, Dollywood Foundation Executive Director David Dotson accompanied by two security guards delivered to Dolly the winning entry in her ultimate backyard barbeque and bluegrass contest.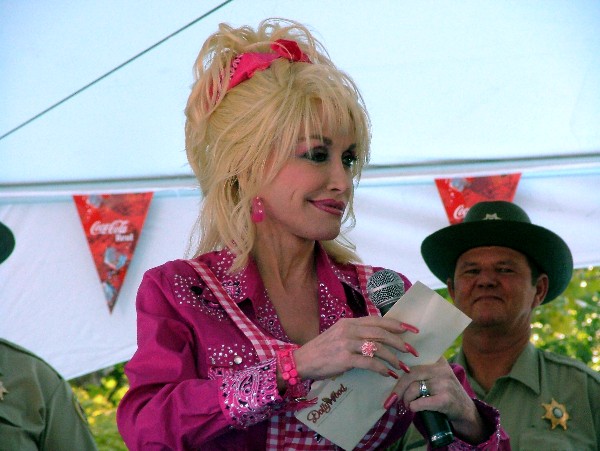 Dolly with the winner's envelope.
"Oh, God, no!" answered winner Mark Walbolt of Gatlinburg, Tenn., his phone call piped through the sound system for all to hear.
Dolly squealed. "Oh God, yes!"
"Oh my," he paused. "For real?!"
"For real!" Dolly said as the crowd gathered at a stage built over the fountain in the middle of the park laughed. "I was surprised that you were in Gatlinburg. We thought we were probably gonna have to go all over the country, but this is gonna work out just fine. So, where up in Gatlinburg? I didn't go to school with you, I didn't used to date you or nothin', did I? Mark? Are you there Mark? Hello."
Her question was met with silence. She wondered aloud whether he was still on the line (apparently he was, but he was just too shocked to speak).
"I think he had a heart attack," she joked. "Well, I'm gonna come anyway. I'll revive you!"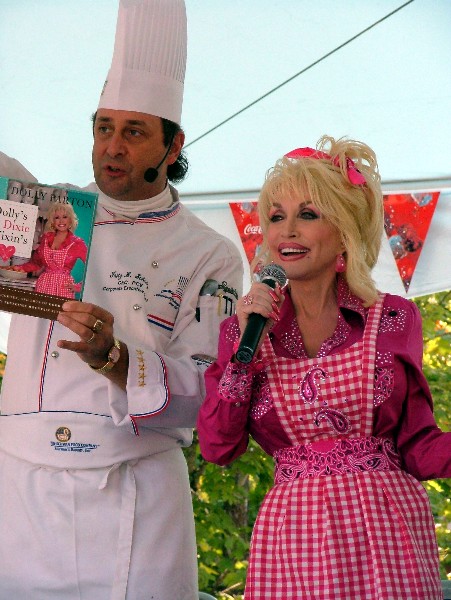 Chef Fritz, Dolly and her cookbook.
The contest was held to promote the release of her Dolly's Dixie Fixin's cookbook as a fundraiser for the Foundation and its Imagination Library program. Each advance order of the book (to be mailed in a couple more weeks) resulted in an entry in the contest to have Dolly come to the winner's house with barbeque for 100 guests, whom she will help serve and entertain with a concert. (While the contest is over, the book remains on sale at the park and online here.)
She announced that Dollywood and her Dixie Stampede restaurants donated $300,000 each for the effort (although she didn't specify how much of that came from cookbook sales or if that was in addition to any sales made).
Announcement of the contest winner was just one highlight of Dolly's most recent return home, this time to kick off the park's Bluegrass & BBQ Festival, which continues through Sept. 27. Prior to announcing the contest winner, she welcomed the crowd to the festival with a few strands of "9 To 5" before joining Sara Lee chef Fritz Schultz to cook up a couple of dishes from her cookbook: Southwestern chicken (which mixes cocoa with spices) and Southern potato salad. After the calling out Walbot's name, Dolly called up Ricky Skaggs, the weekend's headliner, to the stage, and he began to tell how while she's a great cook she managed to burn a whole mess of her husband's favorite dried beans when she and Skaggs got too involved in working on her CD White Limozeen, which he produced back in 1989.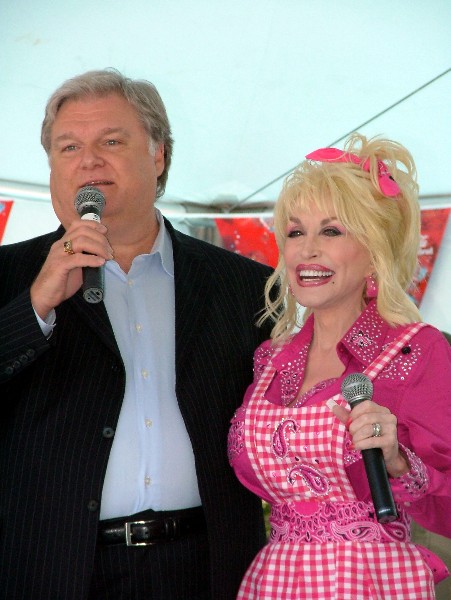 Ricky and Dolly.
"Next thing I know, Carl was screamin' and the kitchen was full of smoke," he recalled. "And Dolly had let them beans burn."
Dolly interrupted: "And Carl has hated you since that day!"
Skaggs invited Dolly to join him on stage at his noon show for the festival, and she agreed. His band, Kentucky Thunder, did a spectacular job with Dolly when she came out toward the end of his set for a reportedly unrehearsed version of her classic "I Will Always Love You."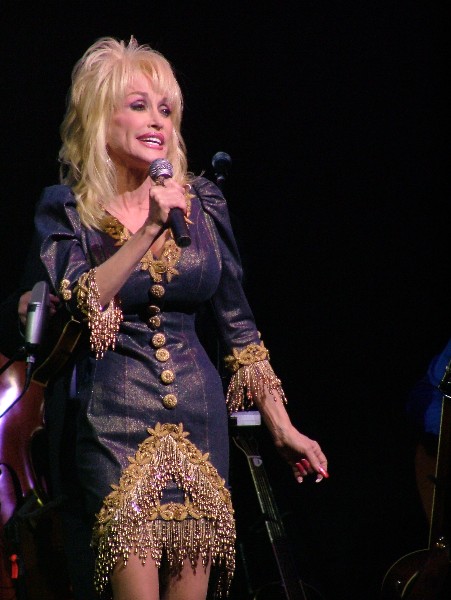 Performing "I Will Always Love You."
She concluded the day with her traditional tour through the park grounds.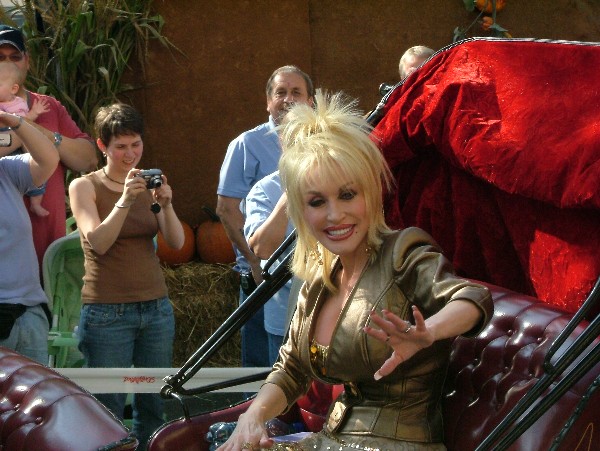 Dolly's parade.
The week also saw the launch of the new Q2Q program, where guests may purchase Q-Bots to reserve special seats at several entertainment shows at the park. Although there were apparently some problems with the lines for the Skaggs concerts partly due to the new Q2Q system, park officials said they were working on getting all the kinks out. Assuming the program is successful in this trial run, it is expected to be extended to rides in the 2007 season.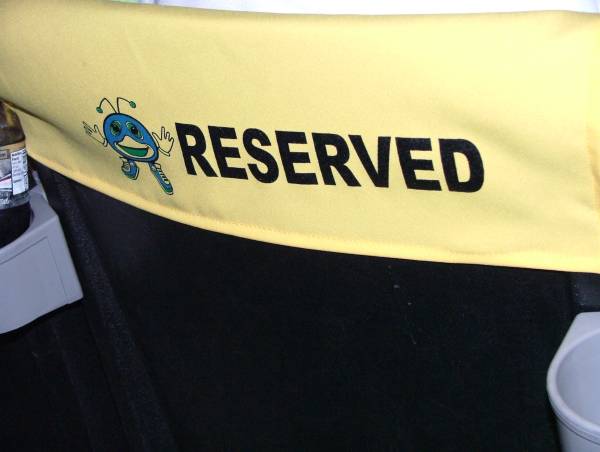 A Q2Q reserved seat.
And, of course, new for next season will be the $17.5 million Euro-Fighter indoor/outdoor coaster Mystery Mine (although I understand it is not expected to be part of the Q2Q system next year). Construction on the ride is progressing quite quickly, with much of the track for the interior portion already laid and supports for much of the exterior portion of the ride up. The coaster, which boasts several inversions and a greater-than-vertical 95-degree drop from 85 feet, certainly looks like a monster! It opens on Friday the 13th, April 2007.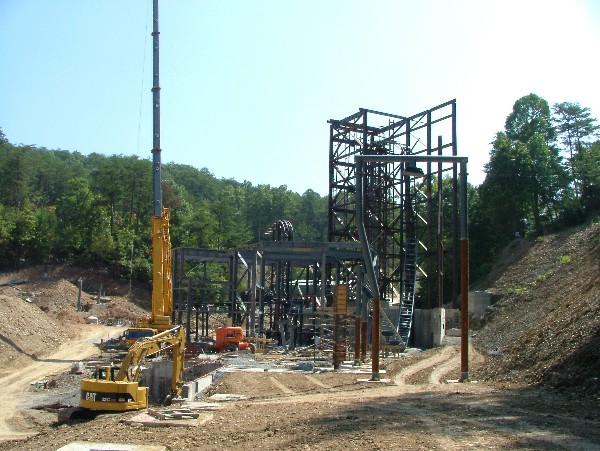 The Mystery Mine.
Look for many more photos from the festivities and a transcript from her appearance in coming days!
I'd like to offer special notes of appreciation to Dolly, Pete, Corrin, Michael, and all of the personnel in the Dollywood media relations office. Thank you!
See additional photos here.