Click below for other individual galleries.
With Dolly I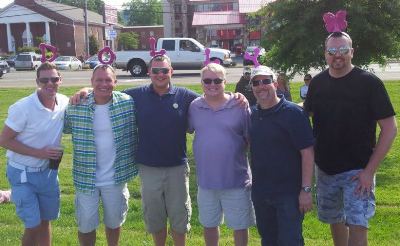 Some fans spell out D-O-L-L-Y on their heads.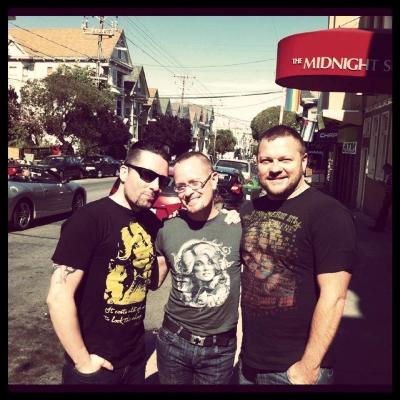 Manuel reports: "With a little help from Facebook and  the Dolly-ites section of Dolly's website we had a meeting of local San Francisco Bay Area fans! Only three of us for now but we have at least three more Dolly-ites that will meet soon :)"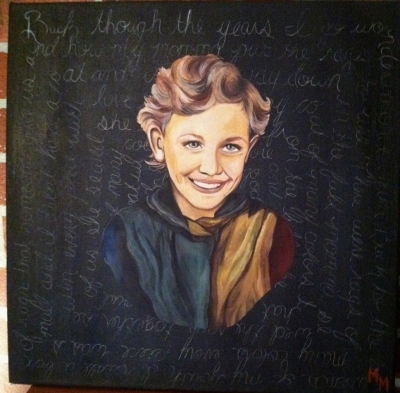 Marcy Miller, an artist from Ft. Lauderdale, Fla., created this piece based on Dolly's "Coat of Many Colors" with lyrics from the song around her face.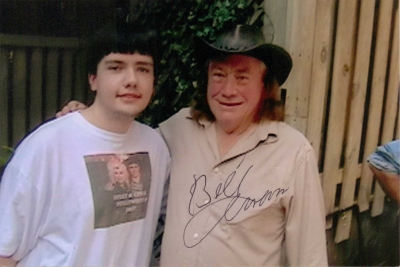 Chris Goff recently met both Uncle Bill and cousin Debbie Jo at Dollywood.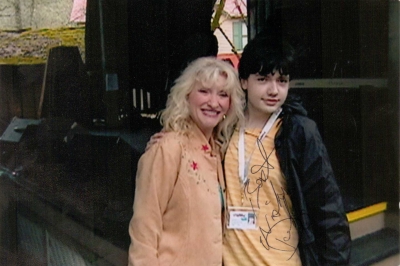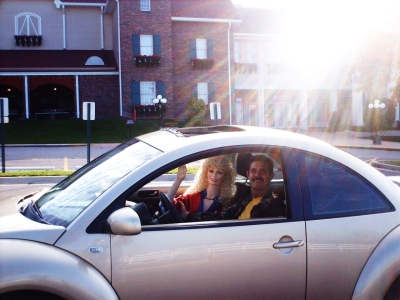 Hi ya'll! It's me, "Dolly Too." Leonard and I just took a trip to my Dixie Stampede in Branson.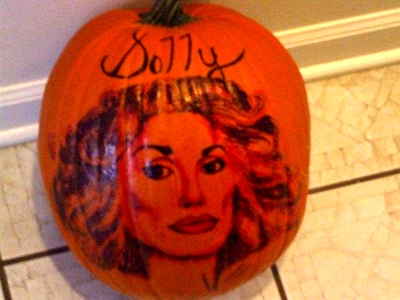 Nick Boehlen celebrates Halloween with a "Dolly-umpkin."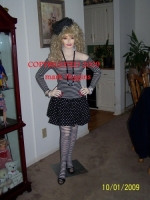 Check out the latest changes to Mark Higgins' life-sized Dolly mannequin here.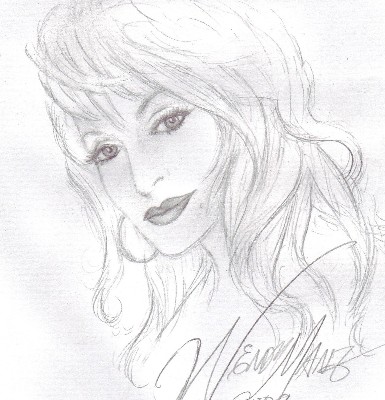 Wendy Manz from Winnipeg, Canada, sent in this sketch of Dolly.

Walley has a great collection!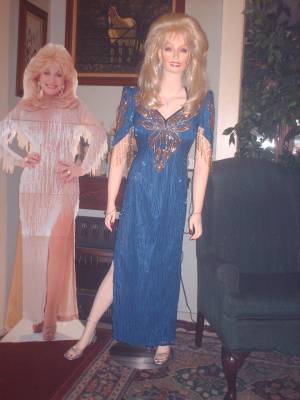 Leonard sent in a "doll" of a photo, attesting: "Hi ya'll! I am Dolly Too. Be seeing ya from time to time..............."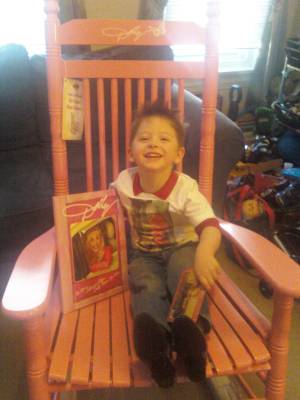 Michael sent in a shot of 2-year-old fan Landon in his new Dolly rocking chair.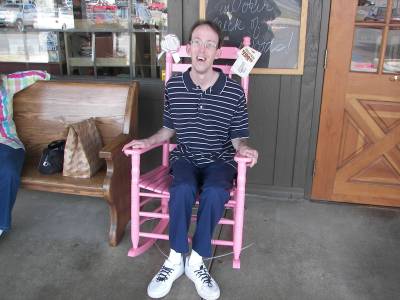 Dolly superfan David Schmidli picked up his Dolly rocker the morning they went on sale.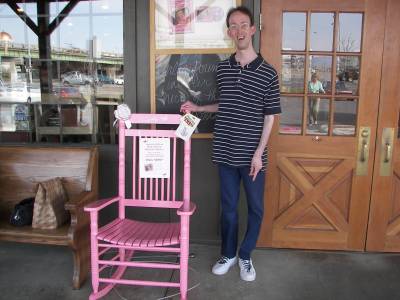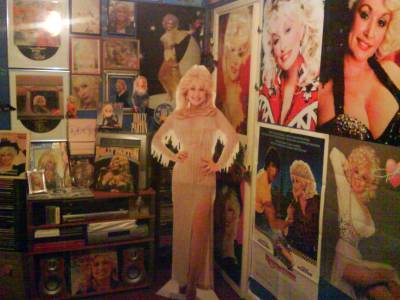 Walley with part of his Dolly collection, which is also featured on his YouTube channel.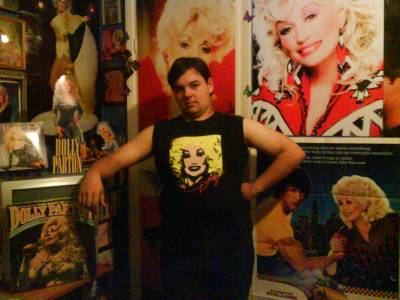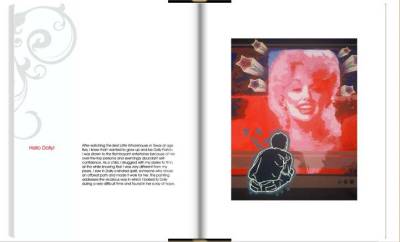 Artist Paul Richmond has published a new book titled Ins & Outs detailing "the journey of a Dolly-idolizing, repressed gay boy as he finds his way out of the closet and into a place of self-acceptance" featuring reproductions of several of his paintings, including two of his Dolly pieces: "Hello Dolly," above, and "The Dollypop Guild," below, which was displayed in the recent LA exhibit DollyPop. Check out the book here. In addition, he is offering two giclee prints of "The Dollypop Guild" from his online store here.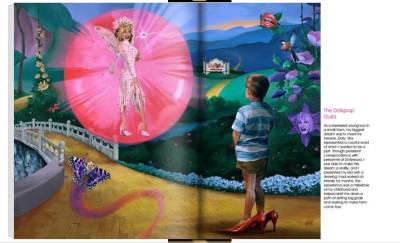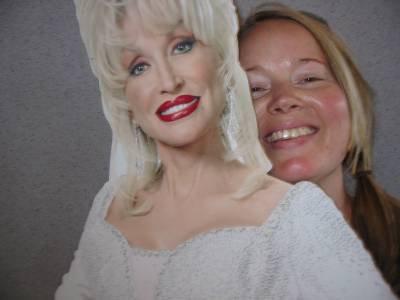 Rachel runs the YouTube site Dolly Addict Down Under and took these shots "with" Dolly at the Comfort Inn when she visited the States.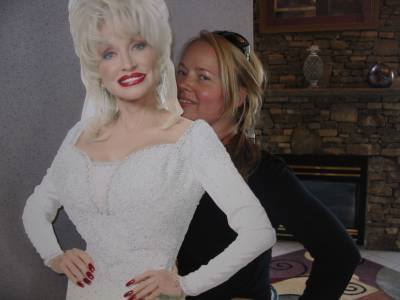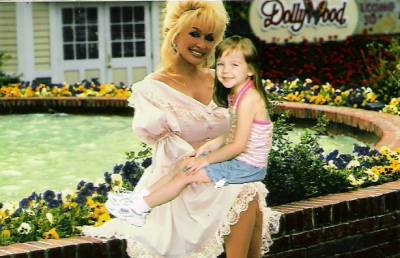 Emily White actually got to meet Dolly unexpectedly and get a hug from her a few years back, but since her parents didn't have a photo to capture that event, they created one for the fun of it.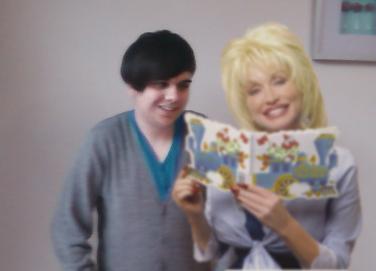 George Armitage's friend Lucy Spurge used the computer to bring George and Dolly together.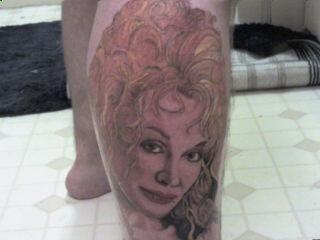 Jon got a permanent Dolly tribute on his leg.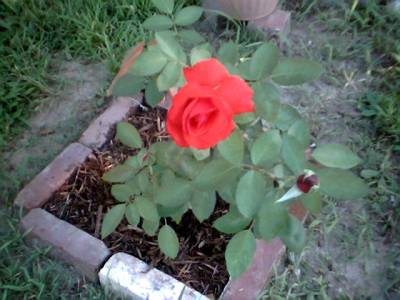 Eric sent in a shot of the first blossom on his new Dolly rose.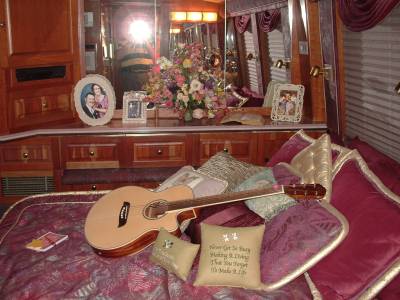 Greg caught himself in the mirror when taking a photo of Dolly's bedroom in her former tour bus on display at Dollywood.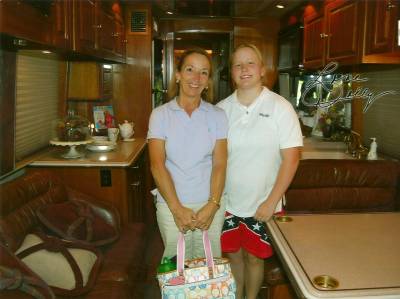 Kelly toured Dolly's bus at Dollywood and checked out the exterior of her home outside of Nashville.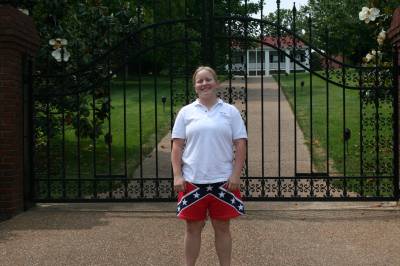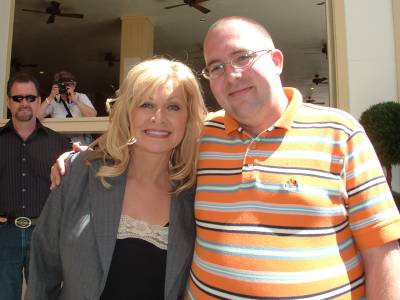 Greg Brookshire met Dolly's sister Rachel recently at Dollywood.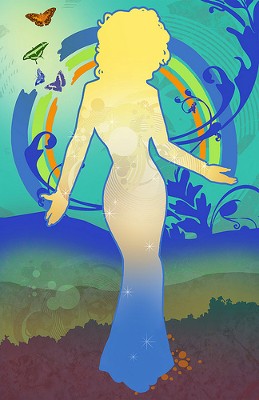 Artist Paul Potter has opened an eBay store to sell his Dolly-inspired posters and pants airbrushed with her likeness here.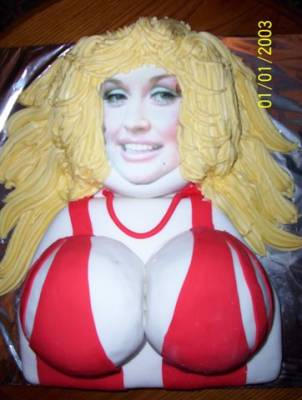 Sarah also had herself a Dolly, Dolly, Dolly birthday!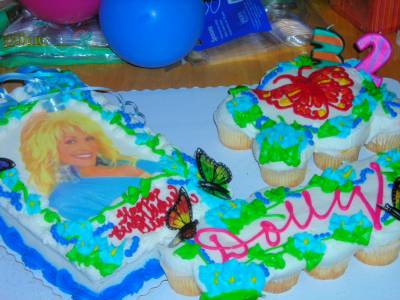 Clinton had an amazing Dolly cake at his recent birthday party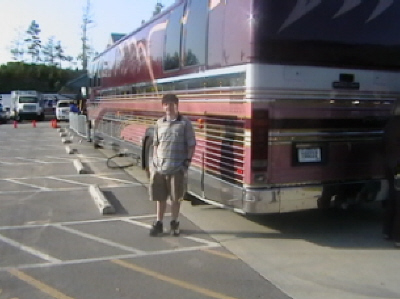 Chris Goff with Dolly's tour bus at her Smokies Stadium concert.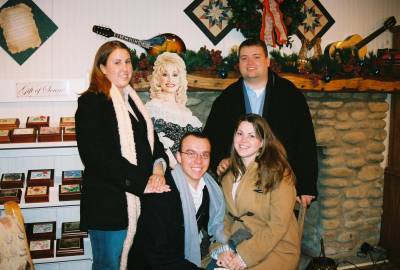 This picture was taken in December 2004 for the 1st annual Holla-Day in the Mountains. Pictured "with" Dolly are: Jenny, Gerome, Laura, and Josh.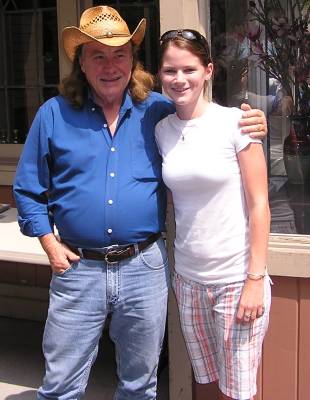 Jen is shown at top with Dolly's Uncle Bill Owens at Dollywood and below with the Dolly cardboard cut-out at the Tennessee Visitor's Center.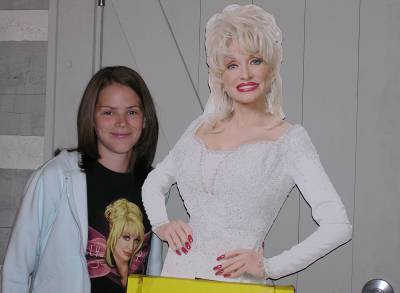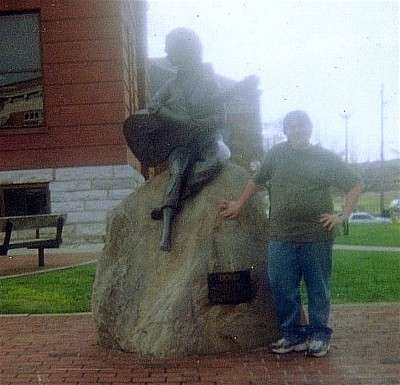 Eric Vann took a picture with the Dolly statue in Sevierville, Tenn., during Dollywood's opening weekend for 2005.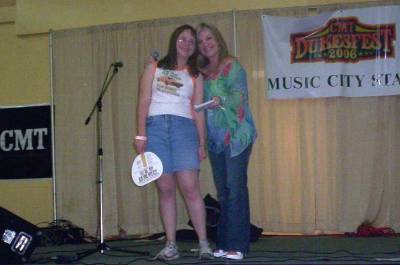 Michelle got to meet and sing with Dolly's sister, Stella. You may read about it on her Xanga here.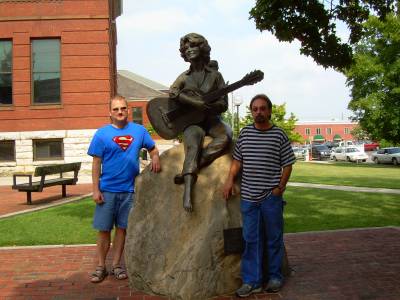 Mark and Gary at Dolly's statue in Sevierville, Tenn.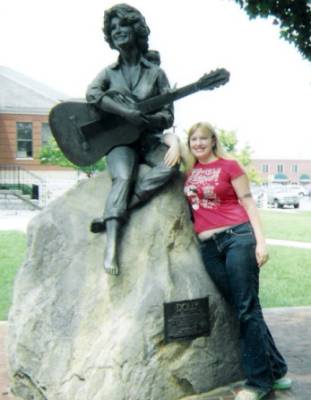 Caroline is shown above with Dolly's statue in Sevierville, Tenn., and below with Dolly (or, at least, a cut-out of her) at the Comfort Inn in Pigeon Forge.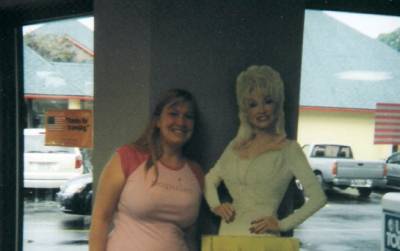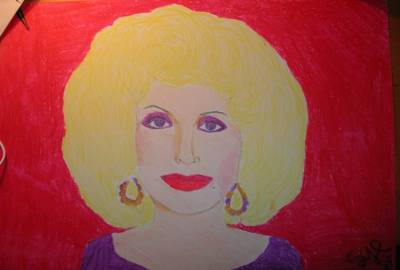 Syl in Italy used a balloon to make a "3-D" Dolly.

Dollywood added a new feature in 2005 where fans could get their photos taken, and Dolly would be superimposed on the image with them. The Goff family, Donna and Gene and son, Chris, thought this was such a cute idea that they sent in their shot "with" Dolly for the site.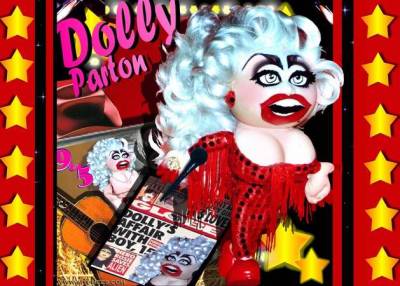 Sean Tataryn creates dolls of his favorite celebrities as a hobby. Here's his "Dolly."


Mark recently made a For God And Country outfit for one of his Dolly dolls.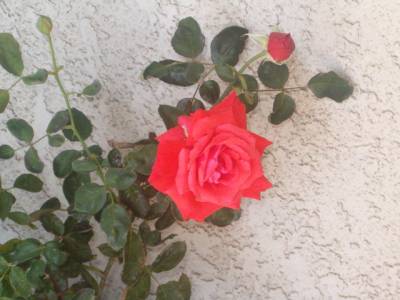 Brian Wolf sent in a shot of the very first Dolly Parton rose that grew from a bush he recently planted at his home. Dolly is one of several celebrities who have official rose varieties named after them.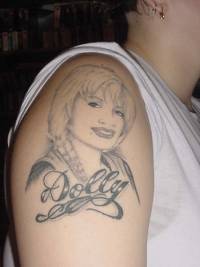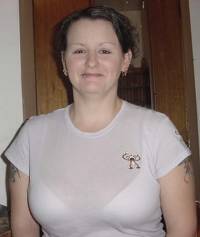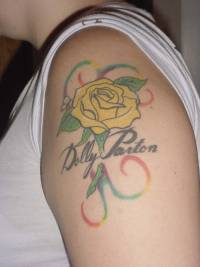 Fan Christina Davis has a tattoo on one arm from Dolly's CD cover for Hungry Again and one on the other arm in honor of the songs "Yellow Roses" and "Coat Of Many Colors" as well as her love of butterflies.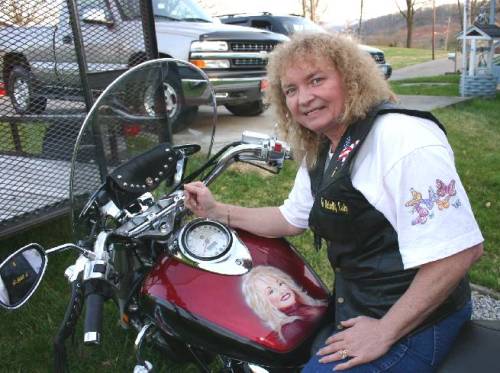 Fan Debbie Poole recently won second place at a bike show for her bike painted with the likeness of Dolly.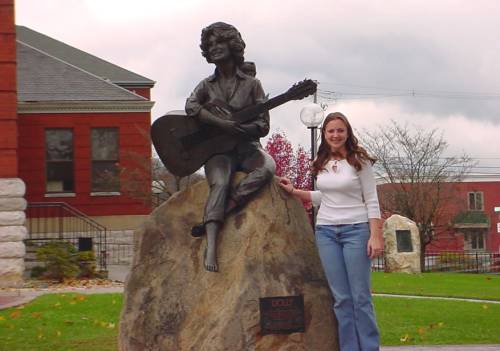 Ashley Atkinson is shown with the Dolly statue outside the Sevier County Courthouse in Sevierville, Tenn., on Thanksgiving Day 2004.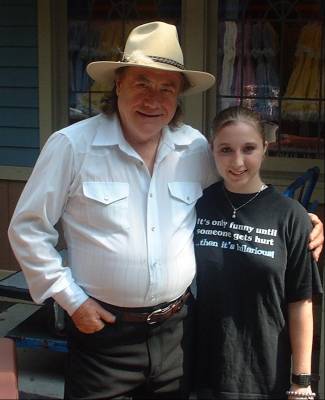 My friend Melissa, who goes by the nickname "Dolly Jo" and runs her own Dolly club on Yahoo here, got to meet Dolly's Uncle Bill Owens recently at Dollywood.

Ken and Kathi Wallis were lucky enough to obtain Dolly's autographed canoe from the winners of her name the water park contest, and Ken (left) and nephew Andy Zimmerman (right) recently tried it out in the pool before placing it with the rest of Wallis' Dolly memorabilia.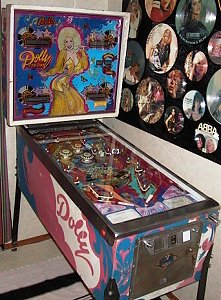 Although he's not in the photo, this was sent to me before I started this page, and I thought I'd add it. Swedish fan Per Jonsson says he's thrilled with his recent acquisition of a Dolly pinball machine. More pics are available here.