Opening Weekend Was a Blast!
Photos taken at Dollywood's April 2001 opening weekend.
All images are © 2001 Debbie Poole. Used with permission. Click on each of the smaller photos to view the full layouts.
By Debbie Poole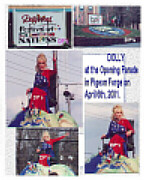 Dolly on Parade started out on Friday evening at 6 p.m., when Dolly climbed up on a float that was made of a globe. She was setting "on top of the world" in a chair, wearing the USA colors -- a red, white and blue outfit. The streets of Pigeon Forge were covered with people on both sides on the road way, some five lines deep. Thousands of people where there to see Dolly. The float was covered with family and friends of Dolly's at the bottom of the world.. Dolly was all smiles and singing with her music as it was playing.
On Saturday morning, Dollywood's opening started out with lots of Dolly Fans waiting to get to see Dolly again and again that day. She started with a TV interview on top of the Butterfly Emporium. Then around 10 Saturday morning they had a Dollywood Parade all throughout the park, with all the international performers from Ukraine, Kenya, Bulgaria, Ireland, Trinidad, Russia and Czech Republic. Then it started with a Dolly performance at the DP's Theatre, where she came in wearing a green sequined dress and singing "I Will Always Love You."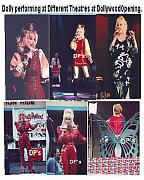 Then Dolly came down to the Show Street Palace and performed her "9 to 5" with the Russia group. Then she visited the Pines Theatre and performed with the Bulgaria group. Then around 6 p.m. came the Closing with Dollywood singers and different groups for the nations to perform. Later Dolly came out and was singing "9 to 5" with them and then came back out a second time and sang "I Will Always Love You." Then she smiled, and, as she waved goodbye to all, she told everyone to have a good time at Dollywood's Festival of Nations for the month of April and enjoy all the shows.