KidsFest 2006
Images on this page are copyright © 2006 Duane Gordon/Dollymania and may not be reproduced without prior written consent.

By Duane Gordon
Dollymania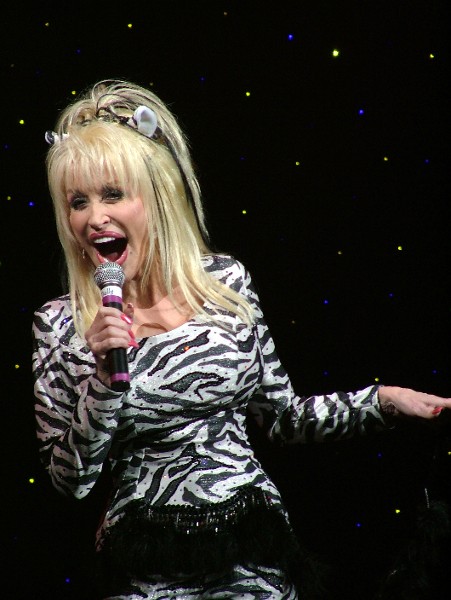 Dolly tickles herself with something she said. See more pictures here!
DOLLYWOOD -- Abracadabra and . . . Dolly! Making one of the most unique entrances of her career, Dolly was "magically" summoned to the stage at D.P.'s Celebrity Theatre Friday to open the fourth annual KidsFest activities at Dollywood in Pigeon Forge, Tenn.
Headlining this year's event is the "Big Cats and Magic Show" by Las Vegas entertainers the Fercos Brothers, who incorporate dancing showgirls, lions, tigers and impressive magic into their 45-minute program. On Friday, the brothers offered an abbreviated show for the day's media event, with most in the audience anticipating Dolly's arrival after their set was finished.
The Fercos Brothers manipulate the body of an assistant in ways it wasn't meant to bend.
Instead, they were surprised when after just a couple of illusions, the curtain fell on a cage which featured Dolly herself inside, donning a white and black striped cat suit, complete with tail and ears. One of the brothers even grabbed at the cage as they do when one of their big cats is inside to get it to paw at them, and Dolly followed the cue and pawed right back. She joshed that her outfit came from "Frederick's of Dollywood," although I understand it was actually made by the folks at the Dolly's Closet dress shop using fabric reportedly purchased from the local Wal-Mart!
Leaving the cage, she joked that they had suggested placing one of their cats in the cage with her, to which she replied, "No way, Jose!" She praised their talents and plugged several of the other offerings which will be available at KidsFest through its Aug. 6 conclusion, including the "Clifford The Big Red Dog" stage show, SpongeBob SquarePants ride, Jest In Time circus and Imagination Playhouse live action musical adaptations of stories from Dolly's Imagination Library literacy program.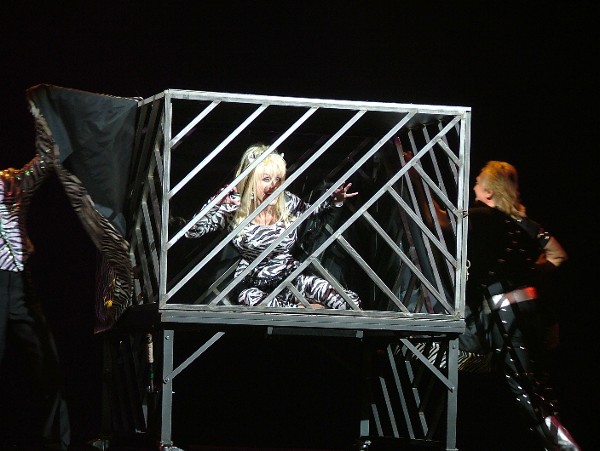 Dolly makes her appearance.
She announced that this year's ride addition, Timber Tower, was down for upgrades "to make it even better than what it is" now and reminded the audience that in September at the park's Bluegrass and Barbeque festival she will draw the winner of the cookbook contest for a barbeque for the winner and 100 family members and friends where Dolly will bring and serve the food and perform songs with her Kinfolks Band. (Each advance order of her cookbook, Dolly's Dixie Fixin's, constitutes an entry in the contest -- get yours here!)
Taking questions from the press, she was asked about the park's 2007 expansion, the Mystery Mine ride, which is expected to be formerly announced next month although word of it and some details leaked a few months in advance. Pressed for further information on the ride, Dolly confirmed "it's gonna be the biggest ride that we've ever had here" but declined to offer additional specifics, saying more information will be forthcoming soon.
With the current high gas prices and the publicity generated by national media coverage of the city of Pigeon Forge's efforts to give free gas to some of its visitors this summer, she was asked what impact fuel costs are having on the park, to which she responded that attendance has been the best ever, something she attributes at least in part to high gas prices convincing those close to the park to visit there instead of longer trips to Florida or other vacation destinations. "I'm glad you're here -- if you walked or rode a horse!" she said. "You might have to next year if they don't stop this!"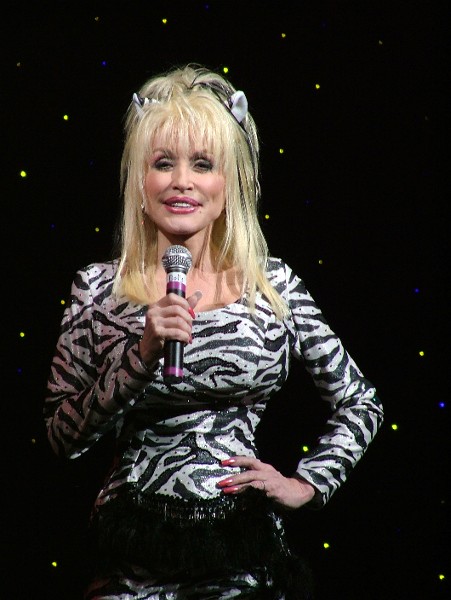 Dolly listening to a question.
When this reporter asked his question, Dolly expressed her appreciation for this site, saying: "I want to thank you right in public for being so good to me. I'm sure anybody wants to know anything about me you can ask Duane. I have to call him to see what I'm gonna do next!"
With the question about the Imagination Library prefaced by stating that it had recently been announced the program had reached all of the counties in Tennessee, the audience erupted into applause. When that died down, I asked for her reaction to that development and to talk about how she devised the cookbook idea as this year's fund-raiser for the program.
She explained many people have encouraged her over the years to produce a cookbook and that she tried to put as many of her best recipes as possible in the book -- although she admitted that she left a few of her "real secret" ones out so that her friends and family will continue to ask her to cook those dishes for them instead of their doing it for themselves. As for the program reaching statewide status in her home state, she gushed over the staff members at her foundation and the state officials who have been a tremendous help in reaching all of the children. "That's a wonderful thing," she said.
The Q&A ended with a rather random question from a gent representing the Australian Broadcasting Company who asked in a strong accent for her opinion on an internal political matter Down Under: opposition party leader Kim Beazley's desire to rollback the country's employment regulations. At first, Dolly couldn't understand the question due to his accent and offered in a joking way that if he was asking about Keith Urban and Nicole Kidman getting married she thinks its wonderful but she's jealous. Exaggerating her own twang, she joshed, "Lord, don't he have an accent?" and explained she really couldn't understand what he was saying, allowing him to repeat his question.
Once she understood it, her reply was simple: "I don't get involved in our politics, much less yours."
Since the morning's theme was magic, she then led the crowd in singing the Peter, Paul and Mary hit "Puff the Magic Dragon" before taking on the role of magician to help the Fercos Brothers make a tiger appear in a cage on stage.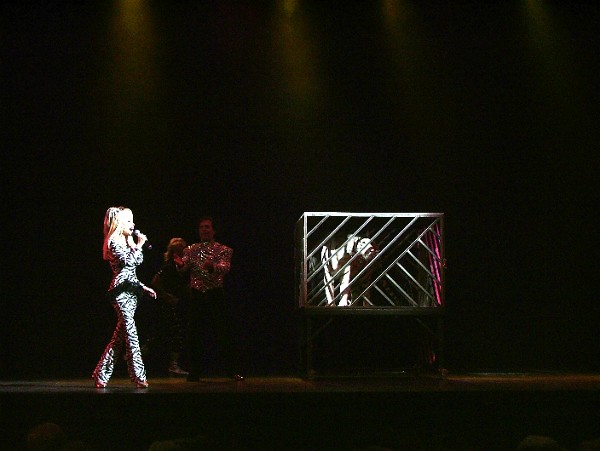 Dolly and the tiger.
That afternoon, she stopped by the Heartsongs Theatre with Dollywood Foundation Executive Director David Dotson at the conclusion of its presentation of the Imagination Playhouse performance of Keiko Kasza's My Lucky Day. The appearance, which was for invited guests and the media, also featured several jokes between Dolly and Dotson which brought great laughter from the audience and prompted Dolly to suggest the two "put a show together" and take their comedy act out on the road. Kasza, who was in the audience, said when her book was first published she told her husband she could now die, but since Dolly had taken it and adapted it into a stage show, she could not only die but go to heaven.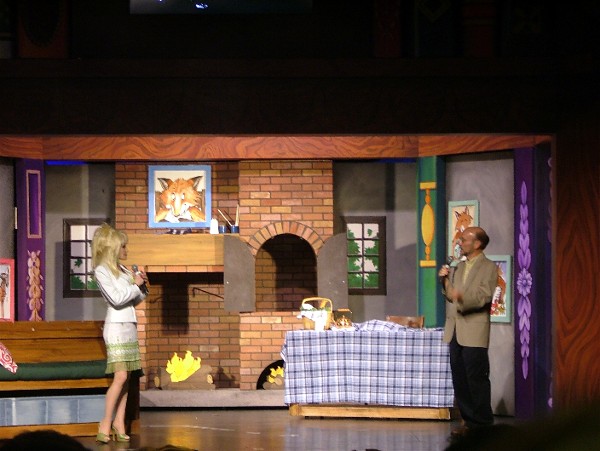 Dolly and Dotson exchanging lines.
Miss South Carolina contestant Nina Gilliam, Miss Beauford/Jasper County, was recognized for her efforts on behalf of Dolly's Imagination Library, which is the state pageant's official service project. She said she wanted a dress that Dolly had worn earlier in the day, to which Dolly joked that the beauty queen would need to stuff the chest to make it fit.
Dolly then introduced two of this year's four Dolly Parton Scholarship recipients who were able to attend the festivities, Bethany Kloster and Tiffany Alexander. Each came on stage with Dolly and spoke about their plans for college. The Foundation and several business partners in the county provide a $15,000 scholarship to one graduating senior at each of the four high schools in Sevier County, Tenn. Kloster is a senior at Gatlinburg Pittman High School, and her award is sponsored by Tennessee State Bank, while Alexander, a senior at Sevier County High School, is sponsored by the Sevier County High School Alumni Association. The other two recipients were unable to attend the event: Dexter Johnson of Pigeon Forge High School (sponsored by the Dixie Stampede) and Erin Keller of Seymour High School (sponsored by Citizens National Bank).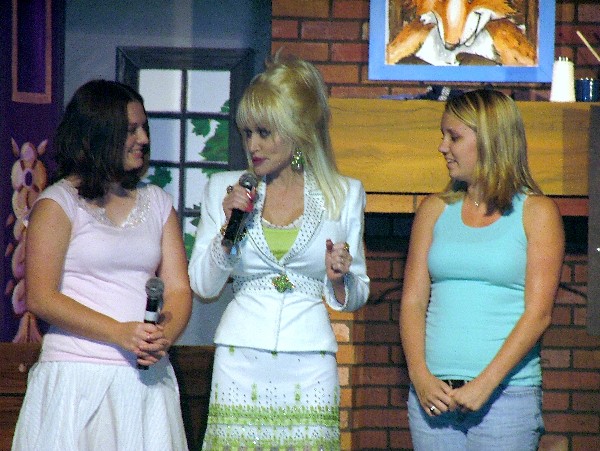 Dolly with Kloster and Alexander.
Dolly also presented the Dolly Parton Chasing Rainbows Award from the National State Teachers of the Year organization to Bobbie Clifton. The award recognizes a former state Teacher of the Year who has overcome great obstacles to help children. A 15-year teacher in the North Bolivar School District, most recently at the Shelby Middle School in Shelby, Miss., she now serves as a technology facilitator for the district's central offices. Born one of 22 children, she didn't finish high school. She moved to Chicago, then returned to her native state of Mississippi where she went to college and, at the age of 40, became a teacher.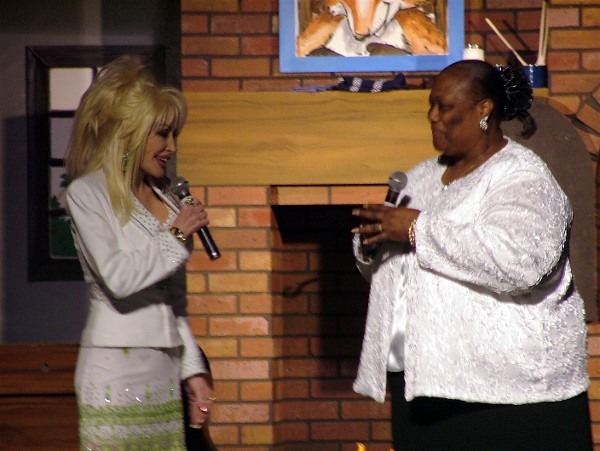 Dolly and Clifton.
"I never thought anyone, especially not Dolly Parton, would be honoring me for something that I love to do," she told the crowd, explaining that her own upbringing and the illiteracy she saw of her own two parents compels her to spend extra time with the children in the classroom who are facing similar circumstances. As she left the stage after telling her story, the audience rose to give her a standing ovation, and Dolly asked her to come back and see it.
The program ended with Dolly and the show's cast performing her song "You Gotta Be" from the show.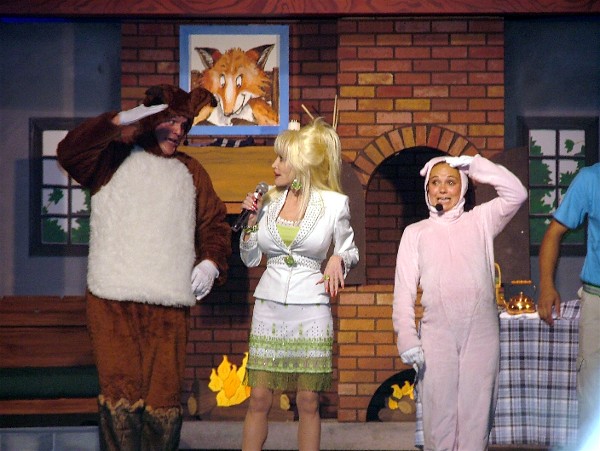 The cast singing with Dolly.
Dolly's final stop of the day was a parade through the park grounds later in the afternoon.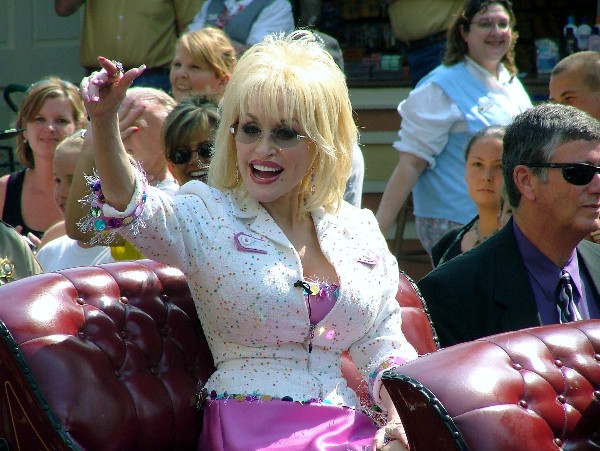 The parade.
I'd like to offer special notes of appreciation to Dolly, Pete Owens, Corrin Paradice, Jack Mauldin, and all of the personnel in the Dollywood media relations office, and the site's readers. Thank you!
See additional photos here.