Dolly Screensaver
Dollymania is pleased to offer its readers your very own "Best Of Dollymania" screensaver for your computers. The free screensaver features more than 65 photos of Dolly taken by your webmaster over the past couple of years!
This is a very large file (nearly 4 megabytes), so if you have a dial-up Internet connection, this will take quite a long time to download. For a high-speed connection, it should only take a few seconds. To access, click on the link or sample image below. (Note: You will first want to read and/or print the directions on this page for reference.)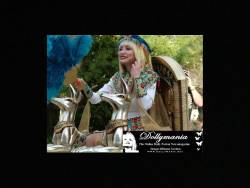 Download Here.
A window should open asking if you wish to open the file or save it to your computer. Choose "Open." Since the screensaver does not have an authenticode, a security warning may open asking for you to verify that you wish to open the file. If this happens, click "Yes." (For this reason, I do not recommend e-mailing it to any of your friends, since they may fear the file to be a virus, or their e-mail programs may remove the file suspecting it is a virus. Instead, direct them to this page for downloading.)
A preview of the slideshow will begin once the download has completed. Hit any key or click your mouse to stop it. A window will open giving you several options, including the ability to download the freeware which was used to create the screensaver. If you would like to change the slideshow settings (such as the length of time each image is shown, the type of transition from one image to the next, or enlarging the images to fit the entire space of your screen instead of their actual size -- although enlarging them does reduce image quality) you may change those items where noted in that window before making it your screensaver. Choose "Make This Slideshow My Screensaver." A window will open to tell you it was successfully installed. Then your Display control panel window should automatically open. Click "OK" on the Display window.
Should you wish to cease using the screensaver in the future, simply go to "Control Panel" from your START button (on pre-Windows XP operating systems, you'll need to choose "Settings" first) and select "Display." Click on the Screen Saver tab, and use the drop-down menu to select the one with which you wish to replace this one. Should you wish to remove the screensaver from your computer completely, go to the Windows folder on your computer's main hard drive (usually under drive "C"), find the file named "DollymaniaSC," right click and delete.
If you'd like to also customize your computer with one of seven exclusive Dollymania Dolly wallpapers, click here.
Downloading of the screensaver from this site signifies acceptance of the following terms and conditions. All images contained herein are © Copyright Duane Gordon/www.dollymania.net. All Rights Reserved. Unauthorized duplication is a violation of applicable laws. Electronic duplication, re-sale or trade to a third party, public display in any form (including but not limited to prints and electronic representations either in a physical place or on the Internet), publication in any form, alteration in any fashion or manner, or the creation of photographic prints from the images is expressly prohibited without prior written permission from the copyright holder. Permission is granted only to display the images on one's computer screen. Any other use constitutes a violation of these terms and conditions.
.