Dolly
ood Opening
eekend 2006
Unless otherwise noted, images on this page are copyright © 2006 Duane Gordon/Dollymania and may not be reproduced without prior written consent.

By Duane Gordon
Dollymania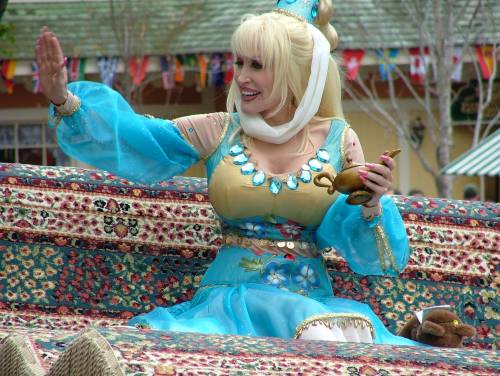 Dolly as a genie riding her magic carpet through Dollywood at the park's Parade of Nations on Saturday. See more pictures here!
Dolly Parton portrayed a fisher-lady, damsel in distress and genie as well as walking the catwalk and taking a bite out of some taffy while celebrating the 21st season opening of Dollywood over the weekend.
The festivities kicked off with a media event on Friday at the new Timber Tower ride. Although it looks quite terrifying in photos, the $6.5 million ride itself is very smooth and gentle as it rotates riders and dips them at an angle toward the pond below. For two-and-a-half minutes, riders sit atop the 65-foot tower as it topples over at a 60 degree angle.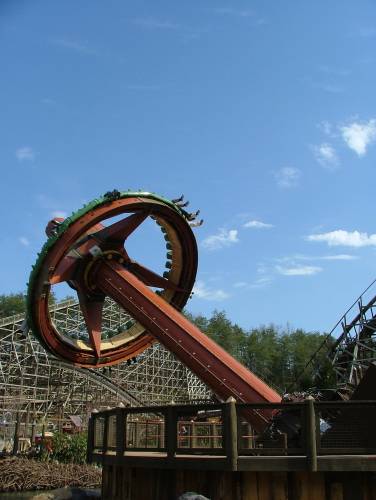 Timber Tower
Donning an outfit adorned with dozens of fishing lures (complete with a rhinestone-studded fishing pole and fishing lure earrings), Dolly welcomed the press to the new LumberCamp restaurant, where fried catfish with all the fixin's was served up in an attempt to break a world's record. Officials said the total meal served to more than 150 people reached far in excess of the 300 pound goal to break the record for the world's largest documented catfish meal. All documentation was being submitted to the Guinness Book of World Records, which will notify the park at a later date of whether all requirements were met to include the event in the record book.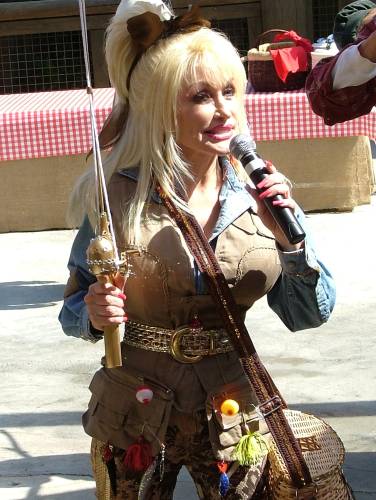 Dolly in her outfit Friday.
She announced that in lieu of her annual benefit concerts at the park to support the educational programs of the Dollywood Foundation she has completed a new cookbook, titled Dolly's Dixie Fixin's. And to entice orders for the $27.50 book, each one purchased will allow an entry into a new contest to win a free barbeque in the winner's back yard for 100 family and friends with special musical guests Dolly and the Kinfolks Band. The book, which will feature many recipes from Dolly's mother, Avie Lee Parton, and her mother-in-law, Ginny Dean, will be mailed after Sept. 15 and contain more than 125 dishes, including some from her favorite restaurants she visits while touring on the road.
All orders placed by midnight Eastern time Sept. 1 will be entered in the contest (one entry per book ordered), and they may be ordered directly online here. Dolly is scheduled to announce the contest winner during her appearance at the park to kick off the new Bluegrass & BBQ Festival on Sept. 15. Proceeds from all sales benefit the non-profit foundation.
In a question-and-answer period, Dolly touched on the high price of gas ("Folks are gonna have to leave really early if they're gonna have to walk here all summer!"), that there are currently no plans to open additional Dollywoods (although she still hopes to open more parks eventually), her reaction to the Oscars (she didn't expect to win but was pleased that the group that did win was made up of fellow Tennesseans), that she had input in the designs for the new Dolly's Closet dress shop ("I can't take any credit for the good classy stuff, you know, I have no taste"), she has no plans for her next album but hopes to record some CMT specials in the near future, Sevier County traffic ("It sucks!"), and the 9 To 5 musical (saying if it's a success it would eventually go on national tour, in which case she would hope it could visit Dollywood, "and if it ain't a hit, we'll bring it up here immediately!").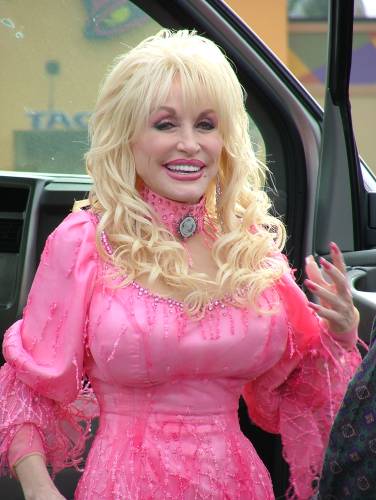 Arriving at Friday's parade.
Friday night found her in a pink outfit atop a huge log. With long fairytale hair, she sat in front of fake legs and feet that were sticking out from beneath a gown with ropes around it so she could appear as a damsel in distress tied up and moving toward a saw blade. Two "lumberjacks" with axes worked to set her free as the float winded its way down the Parkway in Pigeon Forge.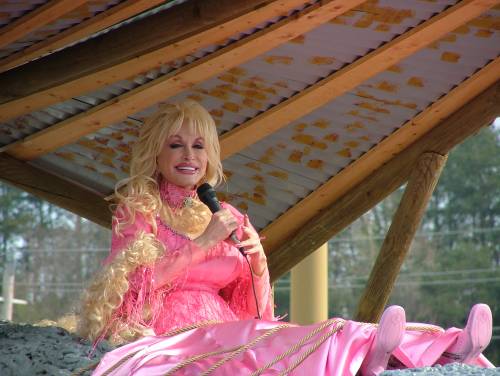 On her float Friday.
On Saturday, she opened up the new 6,500-square-foot Sweet Shoppe, which contains a 100-seat Victorian ice cream parlor, candy shop and taffy kitchen. It takes up the former location of several stores in the Showstreet area. Rather than a ribbon-cutting, she offered a taffy cutting, using her teeth.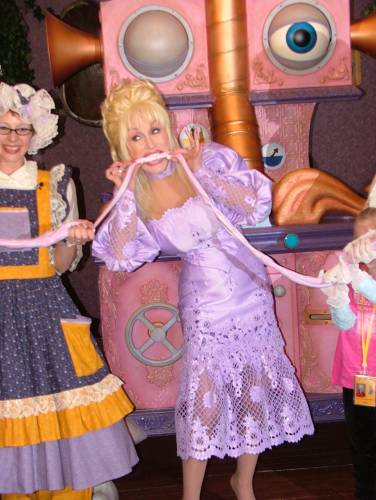 The taffy cutting
Next, she celebrated the opening of the new Dolly's Closet dress shop in the former location of the Imaginations store across from the Chasing Rainbows Museum by taking part in a fashion show. Fans were allowed to ask a few questions. One young boy asked what inspired her fashion, and she once again told the story of being astounded by the beauty of the gussied up "town tramp." Another fan asked if she would sing, so she offered a chorus of "Why'd You Come In Here Lookin' Like That." And two fans, one adult and one child, asked if they could have a hug, to which she kindly obliged.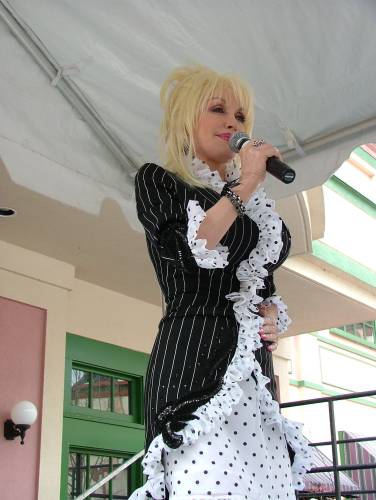 At the fashion show.
The day ended with her Parade of Nations through the park, featuring her dressed up as a genie, a la I Dream Of Jeanie. Waving at the crowd, she would often pull out her "magic lamp" and give it a rub or turn to the onlookers, cross her arms and do Barbara Eden's eye blink movement. She sat atop a magic carpet and was escorted by men in Aladdin-style costume.
The parade celebrated the sixth annual Festival of Nations, which continues through May 7 with nearly a dozen groups of performers from Australia, China, Italy, Belgium, the Ukraine, Zambia, Trinidad, the Czech Republic, Ecuador and Russia. Featuring a total of more than 200 individual visiting artists, plus international food and the return of the Ten Thousand Villages marketplace, the event is headlined once again by the 121-year-old Moscow Circus.
The Royal Stiltwalkers of Merchtem Belgium.
Look for many more photos from the festivities in coming days!
I'd like to offer special notes of appreciation to Dolly, Pete Owens, Corrin Paradice, Jack Mauldin, and all of the personnel in the Dollywood media relations office. Thank you!
See additional photos here.