Christmas Concert Was Uplifting


By Duane Gordon
Dollymania
All images are © 2001 Duane Gordon and may not be reproduced without prior written permission.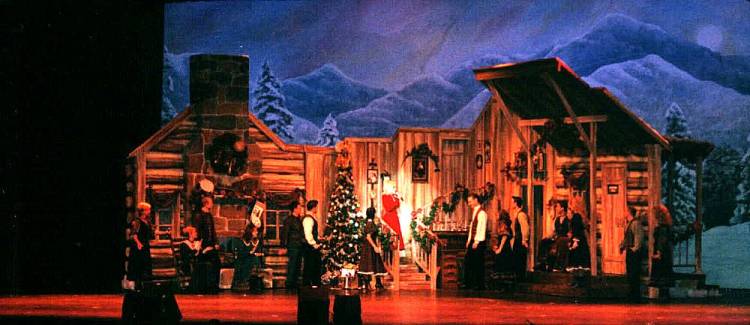 Dolly was as enchanting as ever celebrating the holidays with her annual Smoky Mountain Christmas concerts at home in Dollywood to benefit The Dollywood Foundation. She was full of spirit and joy as she pranced around the stage on the upbeat numbers, joking with the audience. She was reverent and peaceful on the more serious songs, giving the audience a very joyful noise.
The concerts raised funds for her foundation's Imagination Library program, which provides free books to pre-school children throughout the country in communities which participate. She joked that she wants to "do for books what Bob Dole has done for Viagra!" The programs' success earned her the Good Housekeeping Seal of Approval earlier this year, the first time the honor was given to a person, to which she said her husband replied that he doesn't know why they gave her the seal since she never does any (housekeeping).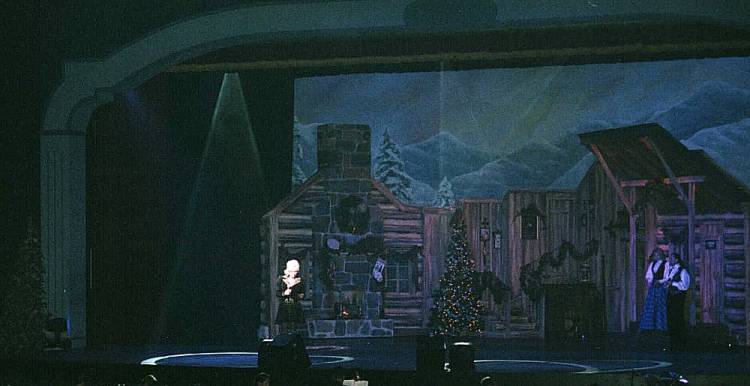 Between the songs she told stories, including the loneliness she felt on her first Christmas away from home after moving to Nashville in 1964 and how her family considered her brother Randy their Christmas baby, since he was born in December. (She and the cast sang "Happy Birthday" to him and her niece Heidi during Saturday night's show, which took place on their birthdays.) She said she'd never publicly told the story of how when he was a baby he was born with a hole in his heart and needed surgery. The doctors didn't know whether he'd live through the surgery, and their parents didn't know how they would pay for it either. They held a prayer service for him at church, and he was healed that night and didn't have to go through surgery.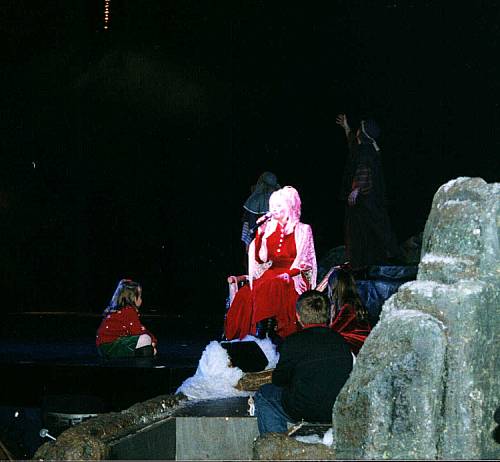 Family was a recurring theme of the evening, with Dolly performing duets with Randy and her sister Rachel singing as well. Also included were three of Dolly's nieces, Rachel's daughter, Hannah; Randy's daughter, Heidi; and Cassy's daughter, Rebecca. Dolly was surrounded by a chorus of singers and dancers, and special guests the Lee University Choir also performed.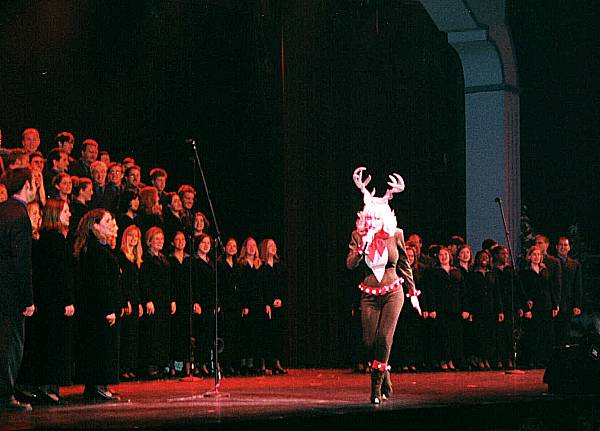 The two most moving moments of the night came when the Lee University Choir belted out a rousing and soulful "Joy To The World," and when Dolly closed the show with a new patriotic number for her encore. She wrote the song, "Color Me America," in response to the Sept. 11 terrorist attacks. Wearing a white outfit with blue stars, she brought the audience to a standing ovation. The number ended with choruses of "America The Beautiful" and "God Bless America" before Challenger, an eagle from the sanctuary at Dollywood (and the same eagle who flew over the field at the World Series game a few weeks ago in New York attended by President Bush) took flight over the audience's heads to an American flag at the back of the house.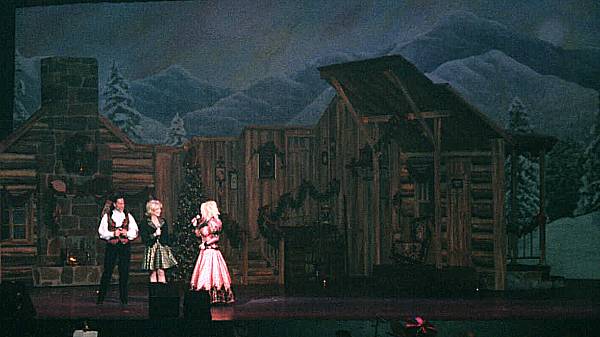 The entire show was amazing. Dolly did make a couple of mistakes (mostly when singing with Randy and other family members), but she laughed them off, and that's part of the fun unpredictability of a live show. Everyone in attendance seemed to thoroughly enjoy themselves. Thank you, Dolly!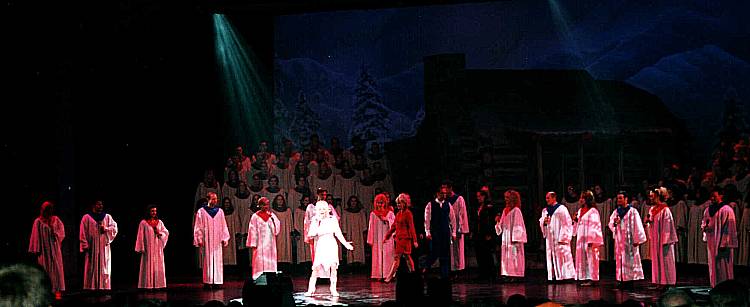 Set List:
Chorus: Home For The Holidays.
Dolly: With Bells On
I'll Be Home For Christmas
A Smoky Mountain Christmas/Down Home Country Christmas
Dolly and Randy: Christmas To Remember
Dolly: reads the Christmas story from the Bible to children at the foot of the stage
Silent Night
Chorus: Hail, Fortunate One
Dolly:Winter Wonderland/Sleigh Ride
White Christmas
Lee University Choir: Do You Hear What I Hear
Joy To The World
Ode To Joy
Dolly and Lee University Choir: Rudolph The Red Nosed Reindeer
Jingle Bells
Deck the Halls
I Believe In Santa Claus
Chorus: We Need A Little ChristmasRachel: A Tennessee Christmas
Hannah, Heidi and Rebecca ("The Hopeless Romantics"): Everybody Needs A Little Lovin' On Christmas
All family members: Happy Birthday
My Favorite Things
Dolly: Have Yourself A Merry Little Christmas
Lee University Choir: They Rejoiced
Dolly and Lee University Choir: Go Tell It On The Mountain
Dolly and All: Color Me America/America The Beautiful/God Bless America

Lyrics to "Color Me America" (special thanks to Chris of Dolly Parton Central for providing the lyrics):

I am red white and blue
These are colors that reign true
To all I love and feel and see and
I stand proud and brave and tall
I want justice for us all
So color me America
Red White and Blue

I see red when evil speaks
Spilling red blood on our streets
I feel blue from grief and the sorrow that it brings
Oh, but the white, the light of love
God's own spirit, like a dove
Picks us up and hands to us an olive branch.

Oh, sweet freedom may you stay
In our land and live always
And may peace and beauty fill our hearts anew
And may we all stand up for you
May our thoughts and deeds be true
And be worthy of your stripes
Red White and Blue

See reader-submitted pictures here!