Year In Review: 2002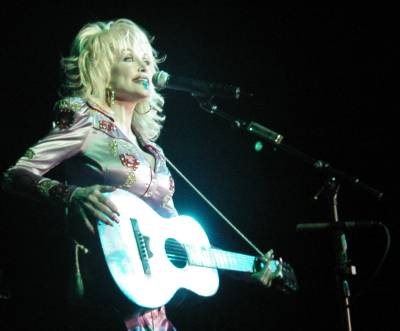 Dolly live in Dallas, Texas, in one of her concerts from her first American tour in a decade. Dolly sold out all 13 U.S. dates of the tour this summer and all seven of her shows in Europe this fall, her first time to tour there in 20 years. Image copyright © 2002 Duane Gordon/Dollymania. May not be reproduced without prior written consent.
This is your Dolly Year In Review for 2002, the fourth annual installment of the only published overview of the past year in Dolly's life!
Previous Years In Review: 1999, 2000 and 2001.
---
January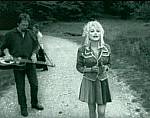 Dolly receives her 37th and 38th career Grammy Award nominations for Best Female Country Vocal Performance for "Shine" and Best Bluegrass Album for Little Sparrow. Ralph Stanley's Clinch Mountain Sweethearts, which includes a Dolly duet, is also nominated for Best Bluegrass Album. (Image of Dolly in the video for "Shine.)

Sparrow continues to make several critics' "best of the year" lists.

Dolly begins recording Halos & Horns.

February

Dolly is presented with the American Association of School Administrators 's Galaxy Award, its top honor, for her Dollywood Foundation Imagination Library program, which provides one free book per month to every child in a participating community from birth to age five. Previous honorees include Steven Spielberg, Bill Gates and Sen. John Glenn. (Image courtesy AASA.)

Legendary Irish band Altan releases their new CD, Blue Idol, which includes a duet with Dolly on the cut "The Pretty Young Girl." The band had previously appeared on two Dolly albums.

Big Mon, the tribute album to bluegrass founder Bill Monroe on which Dolly performed "Cry, Cry Darlin'," is re-issued under the new title Ricky Skaggs And Friends Sing The Songs Of Bill Monroe.

BMG Music's Buddha imprint releases Dolly's CD in the RCA Country Legends series.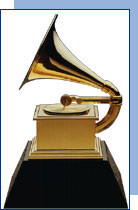 Dolly bests Sheryl Crow, Jamie O'Neal, Lucinda Williams and Trisha Yearwood to take home the Grammy for Best Female Country Vocal Performance for her cover of "Shine," her third win in that category and seventh total Grammy win, also marking the third year in a row she has taken home a Grammy. Frequent collaborator Alison Krauss beats Dolly for Best Bluegrass Album and ups her total wins to 13, the record number for a female country artist (including credit for one of the trophies O Brother, Where Art Thou? takes home that evening).

Dollymania passes the quarter-million mark for visitors to its front page since its inception.

March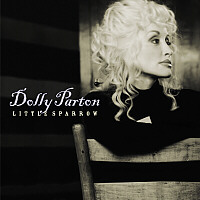 Little Sparrow wins the Association for Independent Music's (AFIM) Indie Award for Best Bluegrass Album, an award she also won in 2000 for The Grass Is Blue.

It is confirmed that gospel legend Dottie Rambo and Dolly have scheduled to record a duet for release later in the year.
A grassroots effort begins in Tennessee to convince Dolly to run for governor. Although volunteers collect about 5,000 signatures on their petition, Dolly declines the request.

The Lifetime movie Jackie's Back, which includes a Dolly cameo, is released on DVD.

April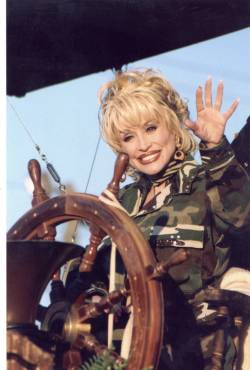 Dolly provides harmony vocals on the Stevens Sisters' cover of her "I'll Never Say Goodbye" on their new album Little By Little.

Dollywood holds its annual season opening celebrations, including the opening of the new $10 million Adventures in Imagination complex at the park, featuring a new Dolly "Chasing Rainbows" museum and the Smoky Mountain Wilderness Adventure ride. At opening weekend festivities, Dolly announces she will tour the U.S. this summer on her first concert tour in a decade and that her new CD will include a bluegrass-flavored cover of "Stairway To Heaven." (Image at left of Dolly in the opening weekend parade courtesy Chris Dossenbach. Used with permission.)

Dolly performs an invitation-only show in Myrtle Beach, S.C., to celebrate the expansion of her Imagination Library to that community.

Dolly's first theatrical film in a decade, Frank McKlusky, C.I., is released on a test-marketing basis in several cities across Florida. Low audience turn-out and poor reviews in the two-week testing convince Disney execs to release it straight to video.

Tickets to Dolly's December benefit shows at Dollywood for the Dollywood Foundation sell out a few days after they go on sale.
May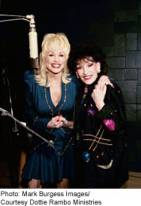 Dolly participates in a celebration in Nashville for last year's inductees into the Country Music Hall of Fame. Dolly, the Hall's youngest current living member, was inducted in 1999.

The Nashville Sound, a part storytelling/part concert film documenting Nashville's Fan Fair and The Grand Ole Opry in 1969 which was released in theaters in 1972, is issued on DVD for the first time. It includes one full Dolly performance of "My Blue Ridge Mountain Boy" and a clip of her and Porter singing part of "Just Someone I Used To Know."

Dolly and Dottie Rambo complete recording their duet "Stand By The River." (Image of the duo at left courtesy Dottie Rambo Ministries. Used with permission.)

Dolly performs at a benefit concert in Minneapolis for the Families of Freedom Fund to provide scholarships for the children of Sept. 11th terrorist attack victims. The concert replaces the one she had cancelled on New Year's Eve in Nashville, which it is reported for the first time had been called off due to a bomb threat and not scheduling conflicts, as had first been announced.

Dolly's Splash Country water park adjacent to Dollywood opens for its second season.

June


Tickets go on sale for Dolly's summer tour of the U.S., her first in a decade. All 13 shows, held at small venues ranging from about 1,000 to 2,500 attendees, sell out. In July and August, she plays New York, Washington, Nashville, Atlanta, New Orleans, Dallas, Denver, Los Angeles, Las Vegas, Boston, Chicago, St. Louis and Kansas City. Dollymania is the first media outlet to confirm and publish the list of venues and dates where she will perform in each city.
It is announced that Dolly's Orlando Dixie Stampede, the fourth in the equestrian dinner theater chain, will open in May 2003 after a delay following the economic downturn after the Sept. 11th attacks. Local media praise the announcement as a sign that the struggling economy of the Florida tourist destination is beginning to pick up.

Dolly is nominated in the first-ever CMT Flameworthy Video Awards for Flameworthy Female Video for "Shine" but loses to Martina McBride's "Blessed."

Dolly films the video for the first single from Halos & Horns, "Dagger Through The Heart."
Halos & Horns is released to almost universal rave reviews and debuts at No. 4 on the U.S. country albums chart, No. 58 U.S. pop. Shortly after its release, Billboard debuts a bluegrass albums chart, where Halos peaks at No. 2. In Great Britain, it debuts at No. 1 country (a spot it holds for 10 weeks) and reaches No. 37 pop. (Its popularity propels both Little Sparrow and The Grass Is Blue both into the top 15 on the British country charts, helping Sparrow log more than a full year and a half in the top 20 overseas.) In Canada, the CD reaches No. 18 country. To promote the album, she appears on NBC's Today, ABC's The View, CNN's American Morning, CMT's Most Wanted Live and Grand Ole Opry Live, CBS' The Late Show With David Letterman and several radio interviews as well as holds a CD signing at Virgin Megastore in New York's Times Square.

The high debut of Halos gives Dolly the record for the most top 10 country albums for any artist with a total of 40. Previously she had been tied with Loretta Lynn and Merle Haggard for 39 each.

Her concert tour kicks off in New York City. Each stop on the tour receives critical acclaim in every published review, both in local and national publications. Many media outlets comment with apparent surprise that at each show a very large percentage of the audience is young (under the age of 30) and that a sizeable percentage is gay.

Dolly's appearance on So Graham Norton from the previous year kicks off the show's premiere on the BBC America cable network.

Phil Bredesen, the Democratic candidate for governor of Tennessee, announces that if elected he will take Dolly's Imagination Library literacy program statewide. He wins the election in November.

A September concert in Sioux Falls, S.D., as a benefit for the United Way's statewide expansion of the Imagination Library there sells out in a matter of hours with almost no media coverage.

Due to a scheduling conflict with film soundtrack recordings, Dolly's planned October European tour, her first in 20 years, will be pushed back to November. Tickets for the seven-date, five-city tour quickly sell out.
August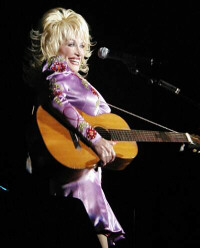 Dolly's sold-out U.S. tour continues. Image at left of her live in Dallas, Texas. Copyright © 2002 Duane Gordon/Dollymania. May not be reproduced without prior written consent.

Dolly announces she will soon film a video for "These Old Bones" from Halos.

It is announced that Dolly's former longtime duet partner, Porter Wagoner, is to be inducted into the Country Music Hall of Fame in November. He had loudly complained the previous year that he was not included in a very large class inducted to celebrate the Hall's new museum opening.

Dolly does an online chat on MSN.

Dolly performs on NBC's The Tonight Show With Jay Leno.

Gannett, the nation's largest newspaper chain, ranks the best Dolly websites in its nationally-syndicated tech section. Dolly On-Line comes in at No. 1, Dollymania No. 2, Dolly.net No. 3 and the Internet Movie Database's Dolly page No. 4. The rankings are published in several dozen newspapers across the country and on every Gannett newspaper's website.

Disney releases more information on My Peoples, an animated film expected for a 2005 release, confirming that Dolly will voice an angel in the movie. It will also feature the voices of James Carville, Lily Tomlin and Travis Tritt with music composed by Ricky Skaggs.

September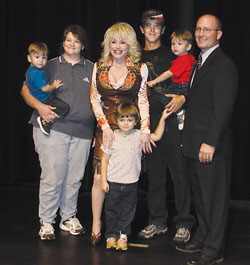 CMT unveils its survey of the 40 Greatest Women of Country Music, placing Dolly at No. 4. The top five consists of Emmylou Harris, Dolly, Loretta Lynn, Tammy Wynette and No. 1 Patsy Cline. Trio pal Linda Ronstadt also makes the cut at No. 40.

Dolly's U.S. tour comes to a close in Kansas City with a bit of controversy. Radical right-wing Christian hate group leader Rev. Fred Phelps organizes a protest of the concert, picketing because of Dolly's openness to the gay community. His complaints against her include that she has an openly gay manager (actually, he had retired from the management business about 10 years ago to run a Las Vegas casino), that she jokes had she not been born a woman she would have been a drag queen, and an allegation that she and best friend Judy Ogle are lesbian lovers (a tabloid rumor she has denied). The protest involves a small number of people, and state and federal law enforcement officers ensure no threatening actions take place.
Dolly performs at the sold-out Imagination Library benefit concert in Sioux Falls, South Dakota. (Image above of Dolly at a media event prior to the concert in Sioux Falls by Roger Kasa of the Huron Plainsman. © 2002 Huron Plainsman. Used with permission.)

Porter Wagoner releases a new CD, Unplugged, on which he covers Dolly's "Lost Forever In Your Kiss," a top 10 duet for the couple in 1972.

Dolly is named Tennessee's official ambassador for film and music.

Pam Tillis' tribute album to her father, It's All Relative, hits stores with harmony vocals by Dolly on "Violet And A Rose."

A VH1 viewer poll of more than 750,000 voters gives Dolly the No. 47 position on the 100 greatest female artists of all time.

October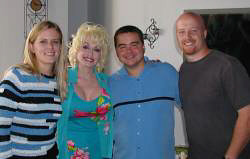 Guest appearances abound on this month. Dolly provides harmony on a cover of her song "Falling Out Of Love With Me" on the self-titled album by Pinmokey, duet vocals on her "Once Upon A Christmas" with Christian group Selah on their Rose Of Bethlehem CD and harmony vocals with Ricky Skaggs on the title cut of Patty Loveless' Christmas CD Bluegrass & White Snow: A Mountain Christmas. Also, her duet with Dottie Rambo, "Stand By The River," hits radio and soars up the gospel charts, and her 1994 guest appearance on the holiday special of the PBS animated series The Magic School Bus is released on DVD and video for the first time. (Image at left of Dolly with Selah courtesy Allan Hall of Selah. Used with permission.)

Dolly begins a publicity tour of Europe to promote Halos and the release of "If" as the album's single overseas. She does CD signings in Dublin and Oxford, television and radio programs in Scotland, England, Sweden and more. A TV crew also follows her around on the press tour filming a documentary to air on BBC One on Jan. 6.

Dollymania holds its second-ever contest, giving away an autographed copy of Halos, radio show promo CDs, album flats and promo photos in collaboration with Sugar Hill Records. The site also passes 400,000 visitors.

The film Sweet Home Alabama opens nationwide, and its soundtrack is released. Both feature the Dolly song "Marry Me" from Little Sparrow.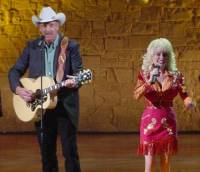 Dolly and Vince Gill headline a concert taped for later broadcast on CMT in Austin, Texas. Pal Ray Benson serves as host. (Image at left of Dolly and Ray Benson at the taping courtesy Natalie. Used with permission.)

Sugar Hill Records confirms that a tribute album to Dolly and her songwriting is in the planning stages. Artists who have expressed initial interest in participating include Shania Twain, Alison Krauss, Sinead O'Conner, Norah Jones, Aimee Mann and the Dixie Chicks. It is also announced that Dolly has agreed to participate in song selections and possibly sing on some of the cuts as well. It is stated that the album could begin recording in 2003 and be released later that year.

It is announced that The Best Little Whorehouse In Texas will be released in the U.S. on DVD in January. It has been available for several months on DVD in Europe, Australia and Mexico.

Ralph Stanley's Clinch Mountain Sweethearts, which includes a Dolly duet, is named the International Bluegrass Music Association's Recorded Event Of The Year.

Iraqi dictator Saddam Hussein chooses Whitney Houston's version of the Dolly-composed "I Will Always Love You" as the theme song for his unopposed re-election campaign.

"If" spends one week at No. 73 on the British pop charts, Dolly's sixth appearance on the chart overseas.

November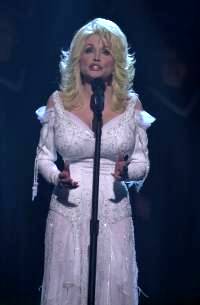 Dolly performs "Hello God" on the CMA Awards. The single gets some radio airplay and reaches No. 60 on the U.S. country singles chart. (Photo at left by Jim Hagans shows Dolly performing the song on the awards program. Image provided by Country Music Association. Used with permission.)

The Dollywood Foundation's Imagination Library program continues to expand in communities across the nation. It now operates in more than 180 cities in 25 states and will distribute more than 1 million books in 2003.

VH1 counts down the 100 Greatest Love Songs of all time in a five-hour special. Dolly is interviewed throughout talking about several songs, and her duet of "Islands In The Stream" with Kenny Rogers clocks in at No. 80. She also takes the No. 1 spot, as a songwriter, when Whitney Houston's cover of her "I Will Always Love You" is named the top love song.

Dolly conducts her first concert tour of Europe in two decades, performing seven sold-out shows in Manchester and London, England; Glasgow, Scotland; Belfast, Northern Ireland; and Dublin, Ireland. A BBC film crew follows her on tour for a documentary to air in England in January.

The Dolly film Frank McKlusky, C.I. hits stores on DVD.

It is announced that Dolly's 1992 film Straight Talk will be released on DVD in May 2003.

December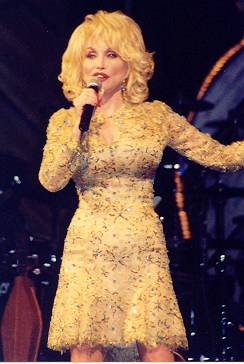 Dolly's duet with Dottie Rambo, "Stand By The River," is the No. 1 song for December on the monthly chart published by Power Source magazine of Christian country music, marking Dolly's first No. 1 on any official gospel chart.

Halos & Horns has sold more than 125,000 copies since its release, according to Sugar Hill Records. The Grass Is Blue sees its total increase to 182,000, while Little Sparrow passes 201,000.
Dolly performs her annual sold-out benefit concerts for the Dollywood Foundation at Dollywood. The concerts are taped for a possible DVD or CD release or television special. (Image at left from the concert courtesy Brenda Willis. Used with permission.)

Preliminary ballots go out for 2003's Grammy Awards, and Sugar Hill Records puts Dolly's Halos & Horns in the Best Country Album category and "Dagger Through The Heart" in the Best Female Country Vocal Performance category, while Sony submits Dolly's appearance with Pam Tillis on "Violet And A Rose" for Best Country Vocal Collaboration. Final nominees will be announced Jan. 7.
Voters at Dot Music, the largest music website in Great Britain, name Dollymania the 102nd best music resource online. Two other Dolly sites, Dolly On-Line and All Things Dolly, make the top 1000, at No. 477 and No. 534, respectively. More than 2,000 websites received a total of more than 130,000 votes in the annual Peoples Choice Award competition in the Dot Music Interactive Music Awards.

It is announced that Dolly's Imagination Library will expand to nearly 100 Native American communities, mostly on reservations, across the country through a partnership with the Bureau of Indian Affairs.

Halos & Horns begins to appear on the critics' best-of-the-year lists.

Graham Goes to Dollywood, Graham Norton's British holiday special with Dolly at her theme park, debuts on U.S. television on the BBC America cable network.

Dolly's appearance with openly gay British television host Graham Norton on his So Graham Norton program, the series' U.S. premiere episode in July on BBC America, is nominated by the Gay and Lesbian Alliance Against Defamation (GLAAD) for its annual media awards as Best Talk Show.

Dolly hosts a radio special for Christmas in England.
---
Dollymania was the first Dolly site to report almost all of the above stories. Those items marked with the butterfly logo represent a handfull of the approximately two dozen stories throughout the year which Dollymania was the first news outlet anywhere to publish.