---
www.dollymania.net News August 2002
---

Aug. 31:
CMT: Dolly's The Fourth Greatest
Dolly ranked No. 4 in CMT's 40 Greatest Women of Country Music special Friday night. Her segment of the show featured clips of "Here You Come Again," her first appearance on The Porter Wagoner Show with "Dumb Blonde," her two most recent Grand Ole Opry appearances and videos of "Honky Tonk Songs," "Romeo," "Why'd You Come In Here Looking Like That," "Shine" and "Light of a Clear Blue Morning.." k.d. lang, Cyndi Thompson, Trisha Yearwood and Barbara Mandrell all commented on her stunning beauty. Others offering praise of her talent included Henry Paul of Blackhawk, Emmylou Harris, Shania Twain, Patty Loveless and Connie Smith. Her voice, her songwriting ability, her acting and her personality were all noted. The narrator said she is "without a doubt the most recognizable icon of country music in the world." Some stand-out comments included:

Vince Gill: "She's got that personality that she has that makes you fall in love with her."

Trace Adkins: "She's a force to be reckoned with in the industry as a whole, not just the music industry, but the entertainment industry."

Trisha Yearwood: "She's a brilliant songwriter and a brilliant storyteller."

Sheryl Crow: "Nobody sounds like Dolly."

Alison Krauss: "When I think of the ultimate feminine voice, I think of Dolly."

Robert K. Oerman (country music historian): "No one can touch her. No one can touch the hem of her dress as far as I'm concerned."

And my favotrite -- Rodney Crowell: "I've always thought of Dolly like Mozart, you know, just classic and talented to the point of it being effortless."

Dolly was interviewed throughout the show, commenting on performers ranging from the Dixie Chicks and Connie Smith to Patsy Cline. Clips of her were also shown with the "Trio" during segments on collaborators Linda Ronstadt (No. 40) and Emmylou Harris (No. 5) and with the "Honky Tonk Angels" during the profile of No. 2 Tammy Wynette. Fellow "Honky Tonk Angel" collaborator Loretta Lynn was No. 3. Legendary Patsy Cline was the only other one to best Dolly on the list, capturing the No. 1 spot. The list was the result of polling hundreds of artists, music historians, music journalists and other music industry professionals. Friday's daily poll on CMT.com, however, didn't include Dolly in the question of who is the most important woman in the history of country music. The choices it gave were Maybelle Carter, Patsy Cline, Loretta Lynn, Shania Twain and Tammy Wynette. (And just for the record, according to Billboard, Dolly is the No. 1 all-time female country performer based on singles chart performance and No. 1 based on albums chart performance.)

Kansas City Protest Announced
Note: I hesitate to report this since it gives this imbecile undeserved publicity, but this story is newsworthy and will be of interest to many Dolly fans. Thanks, Adam. Although a large portion of Dolly's live show is dedicated to songs filled with messages of worshiping God and praising Jesus, Topeka-based Christian Right hatemonger Fred Phelps, best known for picketing the funerals of those who have died of AIDS and the victims of gay bashings (including Matthew Shepard), has announced he will picket Dolly's sold-out Saturday night show in Kansas City. In a press release, Phelps gives his reasons for choosing to picket Dolly -- among them: that she has an openly-gay manager, Sandy Gallin (though it's true that Sandy is out of the closet, he hasn't been her manager for nearly 10 years now); that she says had she been born a man she would have been a drag queen (a joke she often tells); and an insinuation by Phelps that Dolly and longtime best friend Judy Ogle are lesbian lovers (a rumor that has been reported in the tabloids but which Dolly has emphatically denied). In its text, he calls her a "dyke pimp" and proclaims: "God hates Dolly Parton! . . .Dolly Parton hates God!!!" The end of the press release also features a drawing of protest signs bearing epithets such as "God Hates Fags" and "Fags Are Leeches" and one with a photo of Dolly proclaiming her "Dyke Pimp." For more information on Phelps' agenda, visit the site www.godhatesphelps.com. And I respectfully ask any who are attending the show to ignore Phelps and his minions. Do not shout at them, do not counter-protest, do not acknowledge them. He gets much more publicity for these stunts when there is a confrontation. Show the bigots that Dolly fans are bigger than they are.

More Concert Recaps
Some more fans have added their reactions to Dolly's St. Louis show. Read them here. And one has written about last week's Lowell, Mass., show here. Thanks, guys!

A New Single Overseas
Amazon.com U.K. is reporting that "If" will be released in Britain as a single from Dolly's Halos & Horns on Oct. 7. Thanks, Solomon!

'Once Upon A Christmas' To Be Re-Recorded
The current issue of CCM (Contemporary Christian Magazine) reports in an interview with Selah lead singer Allan Hall that he is fulfilling a personal dream by recording a new version of Dolly's classic holiday composition "Once Upon A Christmas" as a duet with her. She originally recorded the song as a duet with Kenny Rogers on their album of the same name. Thanks, Lee!

'What Would Dolly Do?'
I came across an interesting article this week in which Matthew Smith praised Dolly and said his philosophy in life is to think of each situation as "What Would Dolly Do." Read it here.

Dolly On Soundtrack
According to CD Universe, Dolly's "Marry Me" will appear on the soundtrack to the new film Sweet Home Alabama. The CD, to be released Sept. 24, also contains Shedaisy's cover of the Lynyrd Skynyrd classic title song as well as cuts from Sonya Isaacs, Ryan Adams and more. Reserve your copy here!
---
Aug. 30:
U.S. Charts Updated


Dolly loses a little ground on the Sept. 7 Billboard charts released Thursday. Halos & Horns falls four places on the country albums chart to No. 16 for its seventh chart week. The album holds steady at No. 3 on the bluegrass albums chart, drops 33 on the pop albums chart to No. 165 and loses three notches on the independent albums chart to No. 10. Little Sparrow is down one on the bluegrass albums chart to No. 14 for its seventh week. The Dolly-inclusive Songcatcher soundtrack remains steady at No. 10 on the bluegrass albums chart for its fourth week and falls two to No. 69 on the country albums chart for its 33rd chart week. And on the tally of most-played videos on CMT for the broadcast week ending Aug. 18, "Dagger Through The Heart" moves up three spots to No. 16.
Other Charts
The CD falls out of the Canadian top 50 country albums in the Aug. 29 chart released Thursday, down from No. 45. The album spent six weeks on the chart up north, peaking at No. 18. And on the Neo Hippy weekly independent albums chart, it drops two spaces in its seventh week to No. 18.
Spellbound St. Louis
Dolly wowed them again with her St. Louis concert Wednesday night, I'm told. Melissa Preusser writes that Dolly was "amazing." She changed up the set list a little to perform "I Will Always Love You" before her medley of songs and closed with "Try." Wearing an off-white pair of Capri pattern pants and a beaded suit-like top of the same pattern, Dolly amazed the crowd, which sang along to several songs. She also sported a shoulder-length "flippy" wig and "looked great!" Thanks, Melissa! Next stop is the close of her U.S. tour in Kansas City on Saturday night. E-mail recaps here!
The 'Post' Agrees
The St. Louis Post Dispatch reviewed the show on Thursday, saying her performance "soared." Read the review, and see a photo, here.
Get 'Frank,' 'Schoolbus' On Sale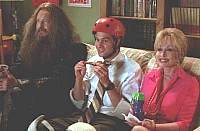 Reserve your copy of the Dolly comedy Frank McKlusky, C.I. for 30 percent off ($20.99) prior to its Nov. 19 DVD release. Order it here! And the DVD and VHS versions of Dolly's appearance on The Magic School Bus Holiday Special, set for an Oct. 8 release, are also 30 percent off ($13.99 for DVD). Order it here!
'Greatest' List Almost Here
In advance of Friday night's 40 Greatest Women Of Country Music special on CMT, USA Today ran a story on Thursday, quoting Shania Twain from her interview on the show about Dolly: "I think if Dolly Parton would have come out when I came out, she would have been kicked out of Nashville faster than me. They would have just wondered where she came from, and she's just so true to herself, she wasn't going to be changing. I don't think she was going to be doing any compromising." Read it here. CMT also added a special section to its website about the show, listing all 40 honorees but not revealing where they rank on the list. Visit the section here.
Don't Knock 'Em
A Dolly quote from an upcoming issue of US Weekly made Salon.com's People Column on Thursday, with her saying: "The tits and the hair and the personality helped build the whole Dolly deal, but it was my music that brought me out of the Smokies." Look at their column here.
No Noms
Dolly didn't get any nominations for this year's Country Music Association Awards, which were announced Thursday. Awards officials haven't said yet whether Dolly will be allowed to fulfill her request to close the Nov. 6 awards show by performing "Hello God." It will air live on CBS.
'Big Wind's A Comin''
That song Dolly released in 1969 could well apply if you're in the middle of the Atlantic Ocean, where Tropical Storm Dolly, the fourth named storm of the season, formed on Thursday.
---
Aug. 29:
CMT, Billboard Plug Single
Although it's not on CMT's official top 20 countdown, Dolly's video for "Dagger Through The Heart" has been getting a bit more airplay than when the network started airing it in the late-night hours in July. In video airplay for the week ending Aug. 11 (the most recent figures published by Billboard), Dolly's cut was the 19th most played one on CMT. The magazine also carried a review of the single in its Aug. 24 issue, praising it as "a lovely acoustic number teeming with personality and charm." The reviewer added that Dolly provides "hauntingly beautiful delivery" and "her beautiful, vulnerable voice infuses each line with an ocean of heartbreak." He says it may be too bluegrass for mainstream country radio but encouraged programmers at country, Americana and bluegrass stations to play the cut. Thanks, Cleve!
Tillis News
And Billboard Online's Artist Of The Day on Wednesday was Pam Tillis, focusing on her new CD It's All Relative, which hits stores on Tuesday. The article noted Dolly's appearance on the track "The Violet And A Rose" and also revealed that Marty Stuart plays mandolin on the cut.
More 'Halos' Reviews
A few more Halos & Horns reviews have come out recently. Among them:

The indie rock e-zine Delusions of Adequacy on Tuesday gave a mixed reaction, praising Dolly's heartfelt roots music as coming from an authentic daughter of Appalachia and saying it has "perfectly balanced" and wonderful cuts like "Shattered Image," "John Daniel," "Dagger Through The Heart" and the title song. However, he didn't think "Stairway To Heaven" translated well into bluegrass and said that her Sept. 11th-inspired songs were too "overblown." Read Matt Fink's review here.

The August issue of The Music Box loves nearly all of the album's songs, with the major exception of "If," saying nothing against Dolly's interpretation but just that it's a bad song which should have been forgotten instead of being covered. Overall, John Metzger terms the album "sometimes resplendent, sometimes flavorless, but inevitably palatable and pleasing." Read the review here.

A recent review in The Press of Atlantic City, on the other hand, enjoyed "Stairway" and calls "What A Heartache" a song that is "particularly pretty." However, he criticized the voice she uses for "These Old Bones" and that "Hello God" and "Raven Dove" feature "too much production." Read Charles Schroeder's review here.

Finally, an interesting site I ran across this week, Goluboy, published its opinion of the CD on Monday, with the reviewer saying he never thought he'd like bluegrass until he heard this album, being "particularly enchanted" with the "amazing remake" of "Stairway To Heaven." Read it here.

Free Tickets
Dollywood is giving away free tickets to its Country Legends concert series next month. Up to eight tickets for any of the four shows are available on a first-come, first-served basis. The dates are Jean Shepard, Jennie Seely and Jan Howard on Sept. 7; Stonewall Jackson, Ray Pillow and Tommy Cash on Sept. 14; Jack Greene, George Hamilton IV and Margo Smith on Sept. 21; and the "Memories of Conway" show on Sept. 28 with Michael and Tre Twitty, Jim Glaser and Norma Jean. Admission to the 2 p.m. shows requires a ticket to the park, but those attending the 6 p.m. shows may enter the park for free one hour prior to showtime. Get tickets here.
---
Aug. 28:
Vote For Dolly In 'CW' Awards
Dolly has made it through the first round of voting in two categories for this year's Country Weekly Fan Favorite Awards, so everyone vote between now and Sept. 6. She is nominated with 19 others (including Faith Hill, Reba, Jo Dee Messina and Shania Twain) for Favorite Female Artist and with 18 others (including Tim McGraw and Faith Hill, "Angry All The Time;" Joe Dee Messina and Tim McGraw, "Bring On The Rain;" and Garth Brooks and Trisha Yearwood, "Squeeze Me In") for Favorite Collaborative Song for "Shine" with Nickel Creek (although only one member of the band played on the song, Chris Thile; Sara Watkins appears in the video but not on the actual song). You may vote for up to five nominees in each category, and voting is limited to one ballot per e-mail address (so if you have two addresses, vote twice!). A final ballot of the top five nominees in each category will be released Oct. 1. Vote here! Thanks, Cleve!
Up On Americana Chart
The Americana Radio Chart updated its Aug. 27 figures on Tuesday, and Dolly moves up two notches to No. 5, with cuts from Halos & Horns receiving 424 spins for the week, compared to 425 the previous week.
See Dolly In St. Louis!
The next stop on Dolly's summer U.S. tour is St. Louis on Wednesday night! Anyone who gets photos or wishes to offer a recap of the show, please e-mail them here. Thanks!
Dollywood For Homeschoolers
Dollywood has announced that its fifth annual Homeschool Day will take place on Sept. 20, featuring a special lesson plan notebook about history and science related to the park for parents and their homeschooled children, a presentation by rangers from the Great Smoky Mountains National Park, crafts classes, looks at marine life from the Ripley's Aquarium of the Smokies and more. Special discount admissions are available with free lunch provided. Call 865-428-9890 for more information.
---
Aug. 27:
Another Great Review
The Oregonian had a great review of Halos & Horns in its Monday edition. Scott D. Lewis loved just about every song on the album and gives it a "B." He calls its ballads "tender and touching," its fast-paced songs like "I'm Gone" "real winners," and calls "These Old Bones" a song which is "cute, charming and silly all at the same time." The only cuts he didn't like were the CD's two covers, "If" (which he says is such a bad song to begin with that even a great talent like Dolly can't make it work) and "Stairway To Heaven" (he didn't say Dolly's version was bad, just that the song is such a classic that no one should ever attempt to cover it). Read the full review here.
And Another
And although this review is a few weeks old, I just came across it. A British site This Is York raved over the album earlier this month. Charles Hutchinson says the CD is amazing, especially the stand-out "Stairway To Heaven" cover, saying "far from being a strained novelty . . . Dolly goes for the heart of the wild beast armed only with that quiverin' voice and a choral army." He sums up his review by saying: "This is Dolly mountain music with new peaks." Read the full review here.
One More Chart
I also came across another chart this week, the Americana Radio Chart, which shows Halos down one spot for the chart week ending Aug. 20, in which it comes in at No. 7. However, its airplay numbers increased that week to 425, up from 415 the previous week and 363 the week before that.
'Peoples' Info
A website which tracks news and rumors about upcoming animated films has added a page on My Peoples, the Disney cartoon for which Dolly will supply the voice of an angel. Visit it here.
Almost Tillis Time
It's just a week until Pam Tillis' tribute to her father, It's All Relative, hits stores, including a duet with Dolly. Reserve your copy here!
Get 'Pretender' On CD
A Dollymania reader pointed out something to me yesterday I hadn't realized. For all of you who have been asking for a CD-version of Dolly's 1984 The Great Pretender, a German import called Collection available at Amazon.com has all 10 songs from that album plus five more Dolly classics from her RCA years. Get your copy here. Thanks, Jason! (Jason, sorry but I accidentally deleted your e-mail before writing down your address. If you could re-send it, I'd be happy to post your item on the Collectors' Connection page.)
---
Aug. 26:
Down From No. 1 Overseas


After a six-week reign at No. 1 on the British country albums chart, Dolly's Halos & Horns slips one spot to No. 2 for its seventh chart week, it was announced Sunday. Shania Twain's Come On Over regains the No. 1 spot. But, as you may recall, last year Little Sparrow replaced Shania at No. 1 for several weeks, then fell to No. 2, then went back to No. 1 again for a total of eight weeks at the chart's top spot. Sparrow itself drops six places on this week's chart to No. 16 for its 78th chart week overseas.
Another Rave Review
Out In America, a gay and lesbian-themed news service with websites for many metropolitan areas across the U.S., has chosen the CD as this week's review. Writer F. Daniel Kent says the album continues to set Dolly "as not only a country music diva, but also as a superlative songwriter and storyteller." He loves every track on the disc, especially "These Old Bones," "Dagger Through The Heart," "Not For Me" the title cut, "Stairway To Heaven" and "If." He concludes "Dolly Parton is the ultimate expression of what country music truly is at its very core because she not only practices tradition, she is tradition." Read his full review on Out In Baltimore here.
Catch The 'Wind' On CMT
CMT has announced it will air Dolly's 1991 TV-movie Wild Texas Wind on the cable network at 1 p.m. Eastern on Sunday, Sept. 22.
---
Aug. 23:
Gaining A Little, Losing A Little On The Charts


Dolly inches up one more notch to No. 12 on the Aug. 31 Billboard country albums chart in the sixth chart week for Halos & Horns, it was announced Thursday. The CD falls nine places on the pop albums chart to No. 132, two spots on the independent labels album chart to No. 7 and one space on the bluegrass albums chart to No. 3. In the same edition, Little Sparrow drops one on the bluegrass chart to No. 13, while the Songcatcher soundtrack, with the Dolly duet "When Love Is New," loses one place on the bluegrass chart to No. 10 and re-enters the country albums chart after a several-week absence to come in at No. 67 for its 32nd chart week. Dolly's label mate Nickel Creek, with more than 51,000 copies sold in the debut week of its sophomore album, This Side, debuts at No. 2, besting Dolly's record No. 4 debut last month (until this week the highest debut in the label's history). Their CD debuted at No. 18 pop. On the Aug. 22 Canadian country albums chart, Dolly is down six places to No. 45 in the CD's sixth week.
Boston Reviews Starting
Boston-area papers started offering their opinions on Thursday of Dolly's sold-out Wednesday night concert in Lowell, Mass. The Lowell Sun, which also sports a photo of Dolly at the show, called her performance "dazzling" and her band "stellar" (read it here), and the Boston Herald said she's "never sounded better" and called her show "truly divine." Read it here. Thanks, Mark!
St. Louis Bound
The next-to-last stop on Dolly's U.S. tour is St. Louis on Wednesday night. (Anyone who can send in a recap and/or photos, please do so here. Thanks!) And the St. Louis Riverfront Times on Thursday offered a preview of the show with an article which points out Dolly's contradictory yet complementary appearance as "a whore, a saint, a poet and a preacher disguised as a dumb blond country girl." The article, by Roy Kasten, goes on to chronicle her career and explain that all of those images the public has of Dolly have made her "country music's closest equivalent to Elvis." But beyond that comparison, he notes that she is, at her heart, someone who "embodies an absolute freedom born or individual charisma and boundless talent" and "a quintessential American artist, exuding an aura of wide-open possibility, that she can do and be anything she damn well pleases." He calls Halos & Horns "sexier" than her two previous roots albums, pointing to the introspective artistry present in "Hello God" and the deeply "moving" cuts "Dagger Through The Heart" and "I'm Gone" as well as the amazing cover of "Stairway To Heaven," about which he notes that "no one but Dolly could make a song rock without the aid of a single electric guitar and also make a connection, at a personal level, with what was so beautiful about the tune the first time you heard it." Read his full story here.
Last Chance For S.D. Tickets
South Dakota newspaper The Huron Plainsman reported Thursday that their local YWCA had 15 tickets available that morning from the United Way of the Heartland Region for Dolly's sold-out Sept. 4 benefit show in Sioux Falls. The concert will raise funds for the first-ever statewide expansion of her Imagination Library, here through a partnership between the Dollywood Foundation and United Way chapters in the state. The program, currently in more than 60 communities in about 15 states, provides free books to children from birth to age 5. Anyone interested in tickets (if there are any available by the time of this update on Thursday evening), may call 605-352-2793 or 605-352-3537. Read the full story here.
New Dolly Cover
English label Twisted Nerve Recordings recently released a single by Misty Dixon covering Dolly's "Love Is Like A Butterfly" to sound like a late 1960s British invasion pop song. Take a listen on their site here.
---
Aug. 22:
More 'Peoples' News
New details on the upcoming Disney cartoon flick in which Dolly will voice a heavenly character were released this week by a rather unlikely source, the muckraking Drudge Report. In a story announcing that Democratic political strategist James Carville has reportedly been offered a voice role in the film, Drudge divulged several details about the movie. As has been previously reported here and elsewhere, Disney's animated feature My Peoples, currently scheduled for a 2005 release, will feature a bluegrass soundtrack by Ricky Skaggs and the voice of Dolly as the character of an angel in the tale set in Appalachia. Drudge reports that others lending their vocal talents to the film include Lily Tomlin and Travis Tritt to give life to shirt buttons, plates, pens, thimbles, threads and a broom as two-dimensional characters act against a three-dimensional background. The show was scripted by Mulan writer Barry Cook. Read the full story here.
Meet Me In St. Louis
Wanna take a trip to St. Louis to see Dolly next week? Well, Dollymania reader Korey Kelly, a college student in Alabama, had travel companion cancel and is now looking for someone from the area to take the ticket and join the trip up to Missouri to see Miss Dolly next Wednesday night. Any interested parties may e-mail wpkd@fayette.net.
---
Aug. 21:
More Dolly Images From The Big Apple
My good pal Vanessa sent in some shots of Dolly from her New York appearances. Check them out here. Thanks, Nessie!
New Reviews
A couple more reviews have come out praising Halos & Horns:

British business journal Hoovers carried the review in its Monday edition, with Graham McDonald noting that while some songs "verge on the oversentimental," the album is still amazing. He sums it up by saying her awesome cover of "Stairway To Heaven" alone makes the record worth buying and "forgives" any cuts which he believes don't "quite work." Read the full review here.

And Australian radio network ABC on Tuesday says the CD "echoes her classic bluegrass style" and calls the album's two cover songs "intriguing." Read it here.

Dolly's Standing
The new edition of Billboard's Top Country Singles resource book was released this week, and it contains quite a bit of Dolly information. On their updated artist standings based on chart performance, Dolly ranks No. 1 of all females (Reba is No. 2) and No. 7 of all country performers. She is the No. 3 performer (No. 1 female) for the 1970s and No. 9 performer (No. 1 female) for the 1980s. She has the eighth most No. 1 songs of any artist with 24 (No. 1 female; Reba is No. 2 female with 21), the fourth most top 40 hits with 87 (No. 1 female; Reba is No. 2 with 70), eighth most top 10 hits with 55 (No. 1 female; Reba is No. 2 with 52), and ninth most crossover pop hits with 25 (No. 2 female, Anne Murray is No. 1 with 28).She also ranks as the eighth most charted artist with 106 chart singles (No. 1 female; Reba is No. 2 with 82). The total is a little different than previously reported here because of several factors: 1) the totals count double-sided singles (where both the A-side and B-side are listed on the chart even though the B-side doesn't chart in its own right; Dolly has four of these) as two separate entries instead of one; 2) songs which make it onto the country singles sales chart but not the standard airplay chart are included (Dolly has one); 3) one song, "Hard Candy Christmas," charted for a second time when re-issued in the 1997 holiday season, reaching No. 73; and 4) my singleography (here) had missed one chart single, "Just When I Needed You Most," which made it to No. 62, and has been updated to reflect that correction.
---
Aug. 20:
Blowing Away The Windy City
The Chicago papers on Monday started coming out with reviews of Dolly's Saturday night show there. Joshua Klein of The Chicago Tribune gave a good overview of the show, recounting many of Dolly's jokes and saying that her voice is in top shape, especially noting that compared to Whitney Houston's mega-hit cover of "I Will Always Love You" that the song "will never be more beautiful than when sung by the woman who wrote it." Read the full article here (but you have to register with their site to access the article; it's free, though). And Bobby Reed of the Chicago Sun Times called her performance dazzling, saying it proved "old-fashioned showmanship never goes out of style." He said the crowd was "worshipful," her show "engaging" and her voice "marvelous." Read his review here.
And Fan Reaction
And a couple of fans were kind enough to send in their recaps of the show as well. You may read them here. Thanks, guys! Next stop is the sold-out concert Wednesday night in the Boston area's Lowell Auditorium. (Anyone attending the show who wants to send in a recap, it would be much appreciated! E-mail me here.)
---
Aug. 19:
No. 1 For A Sixth Week


Dolly's getting close to besting her own personal record of eight weeks at No. 1 on the British country albums chart last year as Halos & Horns holds on to the top spot for a sixth week in a row, it was announced Sunday. In the same edition, Little Sparrow, which last year reigned at No. 1 for eight weeks, remains steady at No. 10 for its 77th chart week.
Site: 'Frank' Comes To Video In November
The movie website ComingSoon.net has announced that Dolly's comedy Frank McKlusky, C.I. will hit store shelves and video rentals on Nov. 19. The film, which did very poorly in a two-week limited test release in Florida earlier this year, stars Dolly and Randy Quaid as the parents of the main character, a wacky insurance claims investigator. Also, Amazon.com reports that Dolly's 1994 guest appearance in the holiday special of the PBS children's series The Magic School Bus will be released on video and DVD for the first time on Oct. 8. (The animated series stars 9 to 5 pal Lily Tomlin as the class teacher and bus driver. Dolly appeared as her cousin, who runs a recycling plant.) Thanks, Robert!
In The News
Dolly's Splash Country expansion, first reported anywhere here on Friday night, got several mentions over the weekend in the Tennessee papers. On Saturday, briefs appeared in the Knoxville News-Sentinel, Chatanoogan.com and Tennessean. On Sunday, it was in the Mountain Press.
New Site Up
Dollymania pal Phil, who for some time now has operated a Dolly discussion board on Yahoo complete with some rare video and MP3s, has moved all of his material to a new website, Voice Of An Angel.net. Check it out!
---
Aug. 17:
Chicagoland Getting Ready For Dolly!
Dolly was all over the Chicago papers on Friday in advance of her sold-out concert at the House of Blues there on Saturday. In a Sun Times article titled "Hitting the road with 'halo' intact," Bobby Reed gives a good overview of Dolly's career, and she discusses several cuts from the new CD. (Read it here.) The city's music guide, Metro Mix, features a story dedicated to her songwriting and some of her most frank comments about Sept. 11th. (Read it here.) And the city's alternative weekly, Chicago Reader, offers its review of the CD here. Thanks, Chris, for sending all of these in! (And anyone attending the show who wants to send in a recap, it would be much appreciated! E-mail me here.)
More Reviews Coming Out

The New Zealand Herald gives the CD four out of four stars in its Saturday edition, with Graham Reid saying Dolly's "consistency of tone and deep subtexts of guilt and redemption" have made each of her Sugar Hill recordings "revelatory albums," even for those who aren't fans of country or bluegrass. Read the full review here.

The Cleveland Free Times gives the album an "A," with reviewer John Chaich saying "It's classic Parton for old and new fans alike, and . . . worth the sin." (He also notes that "These Old Bones" features her "best character voice" since 1977's "Me And Little Andy.") Read it here.

The Boston Herald had two opposing opinions of the CD in its Friday edition. A feature story and interview promoting her tour stop in nearby Lowell on Wednesday by Steve Morse praised the album, especially her cover of "Stairway To Heaven," saying it is the "highlight of the album" and that "anyone who can breathe new life into a chestnut such as 'Stairway to Heaven' has got to be doing something right." (Read it here.) Then in the same paper, reviewer Kevin Convey gives it two out of four stars, saying the album is too "cornpone" and that her songs are too "Nutrasweet," calling it "overcooked, under seasoned and almost entirely lacking in nourishment." (Of the dozens and dozens of reviews which have appeared in major publications on the album, about two-thirds have found it to be perfect in every way, with almost all of the remaining third gushing over it and just not liking one or two cuts. This is the only the third opinion released about it to say that the whole album is bad. Read it here.)

And Profiles

Mix Online published a lengthy article titled "The Gospel According To Dolly Parton," featuring an entertaining interview from her Nashville offices in which she talks about the new album. Read it here.

BBC Radio 2 recently posted a transcript of an interview Dolly did July 31 on their network about the new album. Read it here.

Glasgow Tickets Still Available
Tour officials in Great Britain tell Dollymania that her second concert in Glasgow didn't sell out on Wednesday or Thursday as had been expected, but it will very soon, as only a small "handful" of tickets remained available as of Friday. Tickets may be purchased from Ticketmaster UK for the Nov. 27 show, which is the only one of her stops on the November tour of the British Isles which has yet to sell out.

Dollywood, Splash Country Upgrades Announced
Dollywood this week announced a couple of new additions to their properties in Pigeon Forge, Tenn. The main park on Nov. 9 will open a 1,600-square-foot, $200,000 climate-controlled dog kennel for visitors who are traveling with their pets. Called "Doggywood," it's built in the style of a rustic Smoky Mountain cabin. Luxury cabins are available for $30 a day, while smaller kennels are available for $7 daily. And adjacent Dolly's Splash Country water park will add a $1.5 million interactive children's attraction and multi-slide complex next season. Raintree Hollow will be located between Raging River Rapids and Mountain Scream slides and will fill a two-acre area with misting trees, shaded benches, lounge chairs, a giant waterwheel, Soaker Springs (a kids' attraction with bubblers, buckets and water blasters) and Mountain Twist (a three-side complex for single-person mat sliding down several twists and turns, a 42-foot drop and an average grade of 12.5 percent). In a press release, Dolly noted: "We've had two really good seasons at the waterpark and I'm very proud of that. Folks have had such a great time and families have had so much fun enjoying all the Smoky Mountain water adventures at Splash Country that we knew it was time to give them more to shout about. Both of our parks are all about fun and family, and Raintree Hollow will just add to that." Splash Country opens its 2003 season on May 17. Any major additions to Dollywood proper next year have yet to be announced.

Imagination Library Still In Campaign
Democratic candidate for governor of Tennessee Phil Bredesen is still promoting Dolly's Dollywood Foundation Imagination Library Program as a centerpiece in his campaign. Chattanoogan.com reported on Friday that in his campaign stop in town that morning, he continued to push for a statewide public-private partnership to provide free books each month for every pre-school child in the state. Read the full story here.
---
Aug. 16:
Gaining Some Ground


Billboard released its Aug. 24 albums charts on Thursday, and Dolly's sales increased slightly, reflecting the apparent impact of last week's appearance on The Tonight Show. Halos & Horns remains steady on the country albums charts at No. 13 for its fifth chart week. The CD moves up six places on the pop charts to No. 123 and one on the independent albums chart to No. 5. It holds on to its No. 2 spot on the bluegrass albums chart. Little Sparrow moves up three places to No. 12 on the bluegrass chart for its fifth week, and the Songcatcher soundtrack, featuring the amazing Dolly duet of "When Love Is New," inches up four on the same chart to No. 9 for its second week.
Talkin' To The Fans
Dolly's half-hour online chat on MSN went well Thursday, with her answering several questions about her life, family, career, tour, album and acting. Of note, she talked about her desire to do another television variety show, but says this time she would have it syndicated to keep network bosses out of it, and her annual Dollywood Foundation fundraising concerts at the park this December will feature her current set list from her tour plus Christmas songs at the end, instead of the all-holiday concert she's given the past few years. Read a transcript of the chat here.
Other Charts
The CD loses one notch on the Aug. 15 Canadian country albums charts released Thursday, down to No. 39 for its fifth week. Also, on the Roots Music Report chart released Thursday, the album moves up from No. 12 to No. 1 on the bluegrass chart and from No. 12 to No. 4 on the overall roots music chart. Finally, I came across another chart this week, on the "adult alternative hippy music" site Neo Hippy. Dolly's record ranks No. 16 on their independent label chart.
'Baby, You're Da Greatest!'
Is Dolly the greatest woman in country music history? CMT will try to answer that question over Labor Day weekend with a new special announced this week. Possibly hinting at her being No. 1, CMT.com is using Dolly's photo from the Halos & Horns cover as the sole illustration for information on the special, which apparently follows the same format of the "100 Greatest" series on its sister network, VH1, and the top 40 were selected by the same method used in the top 100 lists -- voting by hundreds of artists, music historians, music journalists and music industry professionals. (You may recall, Dolly ranked No. 34 on VH1's tally of the 100 greatest women of rock, with the only country performers higher than her on the list being Emmylou Harris and Patsy Cline.) CMT hasn't released the top 40 list, but it has announced that those whose interviews will be featured in the program include Dolly, Vince Gill, Loretta Lynn, Reba McEntire, Don Henley, Lee Ann Womack, Chris Isaak, Toby Keith, Travis Tritt, Lorrie Morgan, Jamie O'Neal, Lynn Anderson and Randy Travis. The three-hour special hosted by Billy Campbell premieres at 9 p.m. Eastern/Pacific Aug. 30 and will repeat at 4 p.m. Aug. 31, noon Sept. 1 and 8 p.m. Sept. 2.
Another Great 'Halos' Review
Boston's alternative weekly, Boston Phoenix, published a raving review of Halos & Horns on Thursday. Ted Drozdowski wrote that the album has "Navajo-blanket precision" arrangements. He calls "These Old Bones" the album's "biggest surprise" and says it offers a "nice metaphor" for Dolly's own reaching to new generations with roots music. He says the CD's best cuts include "Not For Me," "Sugar Hill" and the title song. And he says her cover of "Stairway To Heaven" is "a work of precise beauty" as her voice "slowly forms each note into a cotton-candy delicacy" and then revs up for the finale. He says the disc, along with her two other most recent solo albums on Sugar Hill Records, "make the case for her coronation as country music's modern-day queen." Read it here. Thanks, Mark!
Post Loved Denver Show
The Denver Post on Thursday finally got around to reviewing Dolly's Tuesday night concert there, with Ricardo Baca praising Dolly's performance (saying she's "still at the top of her game") and calling her songs "capsules of her life." Read it here. Thanks, Adam!
Bluegrass Nominations
The International Bluegrass Music Association nominations were announced Thursday, and while Dolly wasn't nominated this year for her solo work, she is included in one category. Ralph Stanley's Clinch Mountain Sweethearts is up for Recorded Event Of The Year. Dolly and Stanley share the nomination with the album's other performers: Iris DeMent, Pam Tillis, Patty Mitchell, Gillian Welch, Maria Muldaur, Sara Evans, Joan Baez, Kristi Stanley, Gail Davies, Chely Wright, Melba Montgomery, Jeannie Seely, Lucinda Williams and Valerie Smith. Dolly had been nominated the two previous years for Female Vocalist Of The Year and in 2000 took home Album Of The Year for The Grass Is Blue.
---
Aug. 15:
Dolly Takes Denver By Storm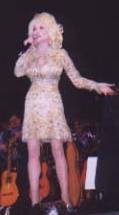 Some kind fans on Thursday submitted their recaps (and even a few photos, such as the one at left!) of Dolly's Tuesday night show in Denver. Take a look here. Thanks, guys! Next up, Dolly blows into The Windy City with her Saturday night sold-out appearance at House of Blues Chicago. Anyone who wishes to send in their recaps, please e-mail me here. (Image courtesy Adam Markle.)
Dolly Sites Recognized
Dolly fan sites have gotten some great national press this week, with an article ranking the best of the dozens of websites dedicated to the diva, including the one you're reading now! Binghamton (N.Y.) Press & Sun-Bulletin writer Mary Pat Hyland, whose "Celebrity Sitings" column is syndicated by Gannett, the nation's largest newspaper chain, this week focuses on Dolly, mentioning her new album and tour. The column is included in the print edition of several Gannett publications, including Wednesday's The Tennessean in Nashville, and in the online versions of just about all of the chain's papers this week on their "eTechnology" page. In rating the sites, Hyland chose Dolly On-Line as the "best bet," saying: "A great resource for fans. Includes song lyrics, news, pix, info on her movie career and stylish wallpaper to download on your desktop." (Congratulations, Chris!) Dollymania was No. 2, with her noting: "Another great site that includes exhaustive FAQs about her life and career, big photo galleries and a page for collectors of Dolly memorabilia." Dolly.net came in third with "News, interviews, concert reviews from her summer tour, appearance schedule and more wallpaper," and the Internet Movie Database's Dolly page here was fourth with a "filmography of Parton, includes fun trivia and quotes." As a "Sidetrack," Dollywood's official site was also linked. Read the full column in Jackson's Clarion-Ledger here. Thanks, Earl!
Don't Forget
Remember that Dolly will do a live Internet chat on MSN Thursday at 1 p.m. Central time. The chat will be on MSN's entertainment page here.
---
Aug. 14:
All Of Europe Sold Out But One Show
All of Dolly's European tour dates but one have "completely" sold out, its promoters have confirmed to Dollymania, with all tickets for the entire tour expected to be gone by the end of this week. Every date on her November tour of England, Scotland, Northern Ireland and Ireland has sold out except for the added Nov. 27 concert in Glasgow, Asgard, the European firm promoting her shows overseas, has confirmed. However, even that date is expected to be sold out by Wednesday or Thursday. Also, it has been confirmed that unfortunately no additional dates will be added to the tour. I'm told that while it was expected that more than the one date would be added, scheduling problems at the venues has made it impossible to include any new shows on the line-up. Finally, her stops across the pond will be before much larger audiences than those in her sold out U.S. tour. This summer, the capacity at the majority of venues she's been playing is about 1,000, with a couple in the 1,300-1,400 range and the largest being Las Vegas with 1,800. In Europe, however, the smallest venue she is playing will be the 1,800-seat halls in Belfast and Manchester, while the largest are the two shows in London with 3,400 ticketholders each and Dublin's 3,500. Thanks, Paul!
Wanna Dolly Dress?


Stephen Shutts, a freelance appraiser for the Country Music Hall of Fame and operator of the music memorabilia museum which has traveled with Brooks & Dunn's tour the past couple of years, is parting with a Dolly dress from the 1960s. He says the label reads "Made Exclusively For Dolly Parton" and includes a tag signed by Dolly. He is asking $2,000 including shipping and insurance. Please address inquiries to him at smshutts@mindspring.com.
Vote For Dolly!
Rolling Stone is seeking your list of the best albums of all time! The magazine is collecting readers' personal top 10 countdowns of their favorite albums to be used in compiling their fan-voted 100 Best Albums Ever. So everyone visit their site here and enter your favorites (and be sure to include lots of Dolly!).
Dollywood Brings Summer To A Close
Dollywood is promoting a "last-minute get-away" this weekend with the gospel-themed Days of Praise. The youth-oriented weekend features contemporary Christian artists such as Solomon's Wish, Jump 5, Joy Williams, Rebecca St. James, Anointed, Benjamin Gate, Avalon and Audio Adrenaline. The event concludes the park's Summer Fun Series. For more information, visit www.dollywood.com.
---
Aug. 13:
Some Straight Talk On MSN
Sugar Hill Records has just confirmed that Dolly will do a live Internet chat on MSN Thursday at 1 p.m. Central time. The chat will be on MSN's entertainment page here. Thanks, Rob!
Viva Dolly Vegas
Manuel (who happens to be currently operating a Yahoo discussion board dedicated to Dolly's 2002 tour here) was kind enough to send in his recap of Dolly's Saturday night sold-out show at Las Vegas' House of Blues. Read it here. Thanks, Manuel!
Europe Update
A fan in Manchester, England, tells me that Dolly's concert there has, in fact, sold out. No official word yet from the promoters of her November tour of England, Scotland, Northern Ireland and Ireland, but this fan said the show sold out long before the date of the concert moved from October. Thanks, Michelle!
---
Aug. 12:
A Five-Peat


Halos & Horns holds on to the top spot on the British country albums chart for a fifth week in a row, it was announced Sunday. The CD falls off the top 20 independent label albums chart, down from No. 19. In the same edition, Little Sparrow remains steady at No. 10 for its 76th chart week on the country albums chart overseas, and The Grass Is Blue falls off the top 20 country albums chart, down from No. 14 with 23 chart weeks.
Virgin Praise
Virgin Megastore's online magazine weighed in with its review of Dolly's Wednesday night concert in Los Angeles. Kim Taylor said the evening brought out "daddy's little golden girl in all her glory" and that attending a Dolly concert is "like being showered in gold dust and sunshine in the middle of a long, dark night." She said the only disappointment of the evening was "that the end comes all too soon" and that Dolly didn't perform an encore. She added that while the club played her cover of "Stairway To Heaven" over the sound system after the show ended, she wished Dolly had performed it live because "it is one of the best songs from Halos & Horns" and has received regular airplay on LA's KCRW radio. Read the full review here.
More LA Coverage
The LA Times on Saturday published its review of her Wednesday performance at House of Blues Hollywood, with writer Randy Lewis noting that she "was in total command of the fans, who greeted her with an unusually effusive roar." The article mixes in an interview with Dolly, in which she talked about her absence from country radio, how she got into recording bluegrass, and the fact that she's "the happiest" she's ever been with her art. Read the article here.
Northern Ireland Date Sold Out
Dolly's Nov. 23 show at Belfast's Waterfront Hall is sold out, the concert venue has confirmed. And a Dolly fan in the area tells me that all tickets were gone an amazing one hour after they went on sale Friday! Thanks, Mark! Her next U.S. stop is the sold-out show in Denver on Tuesday. (Any reviews of that show or of her stop in Vegas the other night would be greatly appreciated; e-mail me here.)
Two Of A Kind
RuPaul sent in a photo from his first-ever meeting with Dolly, which took place on Thursday in Los Angeles. View it here. Thanks, Ru!
Stampede Off And Running
Dolly's Dixie Stampede Dinner & Show in Orlando, Fla., is moving along, reports the Orlando Sentinel on Sunday, saying a local PR agency has already been hired to promote the equestrian dinner theater which is scheduled to open May 23. Dolly operates three other Stampedes: near Dollywood in Pigeon Forge, Tenn.; and in Branson, Mo. and Myrtle Beach, S.C.
Hey Porter!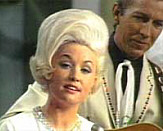 Former Dolly producer and longtime duet partner Porter Wagoner is finally getting his due, with an induction into the Country Music Hall of Fame's class of 2002, it was announced Saturday. Dixie Chick Natalie Maines broke the news to Porter and another 2002 inductee, Bill Carlisle, during that evening's Grand Ole Opry live broadcast. Porter, who turns 75 on Monday, had expressed anger last year at not being inducted into the Hall at that time, even noting that Dolly got in before he did (she was inducted in 1999 and is the Hall's current youngest living member). I would expect that Dolly will play some role in Porter's induction, as the most successful part of his career was his duet partnership with her. On his own, Porter scored two solo No. 1 country singles ("A Satisfied Mind" in 1955 and "Misery Loves Company" in 1961), 13 top 10 solo singles and six top 10 solo full-length albums. But with Dolly, he had one No. 1 single ("Please Don't Stop Loving Me" in 1974), 13 top 10 duet singles and a dozen top 10 duet full-length albums. He also co-produced all of her RCA recordings from 1967 through 1976 with label chief Bob Ferguson, but he didn't receive credit for his producing until 1975.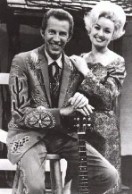 Although he started recording in 1952, perhaps his biggest contribution to the music industry was his long-running television show, The Porter Wagoner Show, which debuted in 1960, providing weekly country music to a national audience. Dolly was the show's featured female performer from 1967 through 1974, and the show went off the air in 1981. In his career, Porter won a Grammy as a producer and three CMA Awards with Dolly for their duets. After they parted ways in the mid-1970s, Porter sued Dolly for breach of contract, resulting in her paying a $1 million settlement. They reunited in 1988 on Dolly's network variety show and have made several appearances together since then. Although he hasn't had a chart record since the mid-1980s, he has continued to record, most recently putting out an album two years ago, for which Dolly contributed to the liner notes. The induction ceremony will take place during this year's CMA Awards, to be broadcast on CBS Nov. 6. Read The Tennessean's coverage of the announcement here. (Images at left are of the duo on Porter's show circa 1967.)
---
Aug. 10:
Label: New Video Coming 'Soon'
Dolly will "soon" film a video for " These Old Bones," Sugar Hill Records has confirmed to Dollymania. No word yet on the filming date or when it might premiere, as my contact at the label says he just found out about the video plans on Thursday. Thanks, Rob! On Friday, Dolly announced in an interview with the Denver Post that she would film a video for the song from Halos & Horns. As she does in the song, Dolly in the video will perform both the old mountain woman character and her daughter, explaining that she is "dressing down" to play the old woman and even had some chipped yellow teeth made for her to wear on the shoot. She added that she felt that the song would be a great basis for a television movie or series. Read the article here.
U.S. Tour Apparently Sold Out
Although no official word has come from House of Blues Promotions, Dolly's full tour has apparently sold out, including her stop in Las Vegas on Saturday. The Denver newspaper and the venue she is playing in St. Louis both announced that her dates there are sold out. Given that Ticketmaster has not had tickets available for any of the other dates for some time now, and the fact that when a couple of other dates on the tour sold out House of Blues did not announce it (every concert on the tour has sold out), it is apparent that the entire tour is now sold out. Overseas, tickets are still available on Ticketmaster UK for Glasgow and London, and her Belfast show went on sale Friday. Her Dublin stop might be sold out, because tickets were initially on sale for it through Ticketmaster Ireland, but they have been showing it unavailable for some time now. No word on the Manchester stop of the tour as to whether it is sold out or if tickets just haven't gone back on sale yet, as its venue still has the original October date listed instead of the re-scheduled show in November, and when one attempts to place an order, it shows none available.
LA Papers Loved Dolly
A couple of local reporters have logged their opinions of Dolly's Wednesday night concert in Los Angeles, and they loved it.

Orange County Register critic Ben Wener says in Friday's paper that "underneath the well-rehearsed sweetness and sauciness, it was evident that Dolly was nervous, occasionally flustered by the verging-on-rowdy crowd's roaring response . . . [This] was as honky-tonk as the House of Blues has ever been, with cowboys and drag queens whooping and hollering side by side. For a brief moment, Hollywood became Dollywood. And the impossibly bosomy legend in the platinum- blond wig and hot-pink Kitty Wells- meets-Stevie Nicks dress needn't have worried whether she was making a good impression." He said the crowd loved her and the show was amazing. Read his story here.

And Hollywood Reporter writer Tom Roland on Friday lauded her vocal style, saying: "She exhibited a more subtle contrast vocally, practically attacking the phrases on some of her more fiery numbers with a piercing, hard tone. Yet she faded at times to a whisper or simply fluttered at other moments, as she vacillated from commanding to compliant and from sagely wise to childlike." He noted the religious undertones of the show, but said Dolly's main focus was pure entertainment: "giggly self-deprecation and an authentic return to her musical origins." Read his review here.

Plus, another fan sent in some notes for the Dollymania recap page here.

RuPaul, Too
RuPaul's weblog this week relates the amazing tale of not getting to attend Dolly's Hollywood concert, then getting last-minute tickets, then even getting to meet her in person the next morning. Perhaps America's most popular drag queen (turned-singer-turned-actor), RuPaul says of the show: "dolly and her band kept the house rock-notized. i was in hog heaven. after the show, we were speechless. without having to even say it, we acknowledged that we had witnessed a phenomenon from tennessee," adding about meeting her: "i finally got to meet dolly parton, thus fulfilling my quest to look into the eyes of all my heroes. she was the last one on my list." Read the full recap here. Thanks, Hans!

The D-Man
Rick Dees on Friday posted a two-part audio interview with Dolly on his website from her appearance in his studio earlier this week. Access it here.

Leno Notes
Dolly was great on Leno Thursday night. She joked and laughed, and Jay kept complimenting her on her amazing appearance and how she's a fascinating and very talented performer, repeating several times that she's won seven Grammy Awards. She performed a great rendition of "I'm Gone" from the new CD and looked simply fabulous!
---
Aug. 9:
Hollywood Recaps
Several fans were kind enough to send in their reactions to Dolly's sold-out House of Blues Hollywood concert from Wednesday night. The only real change from her most recent shows was the replacement of her "silly songs" medley with the "78-speed" version of "Do I Ever Cross Your Mind." A slip-up also let the crowd know that she wasn't really playing the bluesy harmonica on "I'm Gone," when the sound started before she put it up to her mouth, causing her to laugh during the song and exclaim, "Well I guess now you know I can't play this damn thing!" Read their recaps here. Thanks, guys! Next stop: Vegas on Saturday night! (And remember if you're reading this early enough Thursday evening to catch Dolly on NBC's The Tonight Show With Jay Leno!)
Movin' On Up


Billboard released its Aug. 17 albums charts on Thursday, and Dolly regains a little ground. Halos & Horns inches up one spot on the country albums charts to come in at No. 13 for its fourth chart week. The CD drops 16 on the pop charts to No. 129 and one on the independent albums chart to No. 6. It holds on to its No. 2 spot on the bluegrass albums chart. Little Sparrow falls three on the bluegrass chart to No. 15 for its fourth week, and the Songcatcher soundtrack, featuring the amazing Dolly duet of "When Love Is New," enters the bluegrass list at No. 13.
A Canadian Update
The CD slips nine places on the Canadian country albums chart for its fourth chart week up north, coming in at No. 38 on the Aug. 8 tally released Thursday.
Radio Queen
Dolly's appearance on Rick Dees' radio program Thursday morning has netted two pages of pics on his website here. The site promises audio of her interview will soon be posted as well.
More Press
Dolly gets a full-page interview with Alanna Nash (author of her 1978 biography) in this week's Entertainment Weekly talking about the new album, her tour, and the upcoming Mae West film for ABC. Of note in the story, she reveals that she suggested to frequent collaborator Alison Krauss a few years back that they do "Stairway To Heaven" as a duet. Alison's reaction: "Have you lost your mind!?" Read the full story here. Thanks, Dan!
A Mention
She also got a mention in a recent New York Times book review (here) on the story of a South African seaside town. A local resident is quoted as saying she wants her town to someday be transformed enough to "have big stars like Eddie Murphy and Dolly Parton come here for holiday." Thanks, Bryan!
And Another
And Dolly shows up again in Chet Flippo's weekly column Nashville Skyline on CMT.com. In discussing the current state of country music, he writes: "Despite the industry's best efforts over the years to get rid of such old war horses as Willie Nelson, Johnny Cash, Merle Haggard, Earl Scruggs, Kenny Rogers, George Jones and Dolly Parton (more a fine, forever young filly than war horse there), they keep attracting new, young audiences." Read the full column here.
Great Dolly Video
A reader tells me he just got a copy of The Porter Wagoner Show Vol. 1 from Porter Wagoner.com, and it's great. The three-episode collection features Dolly's first appearance on the show, followed by a tribute to Chet Atkins with Dolly singing "I Can't Stop Loving You" while Chet plays guitar, and a final episode which is entirely Porter & Dolly duets. Copies are available from the merchandise page on Porter's site for $19.95 plus tax. Thanks, Paul!
---
Aug. 8:
More Dallas Shots
Dollymania pal Harrell was kind enough to send in a few of his shots from Dolly's Dallas show Saturday night. View them here. Thanks, Harrell!
London Back On Sale, Vegas Not
Ticketmaster UK on Wednesday once again had tickets for Dolly's London concerts this November back for sale online after a few days of them not being available. No word on how close the shows are being to selling out. In related news, Ticketmaster here once again on Wednesday showed no tickets available for her Saturday concert in Las Vegas, with St. Louis being the only remaining tour stop with tickets still available online here.
An Influence All Around
Aussie singer keith urban appeared on CMT's Most Wanted Live on Wednesday, and when asked what album is in his CD player right now, he responded Dolly's Little Sparrow. Thanks, Justin!
Some People Think He's Divine
As the 25th anniversary of Elvis' death is coming up soon, stories are all over about the King, and Dolly isn't left out. In an Associated Press article published Wednesday, she talked about Elvis and his impact today on people in her home area of East Tennessee. "I don't think he will ever die down," she said. "He's considered by many to be like a religious figure, like Jesus . . . I don't know how to explain it, but it's there, and it's real, and people love it." Read the full story here.
---
Aug. 7:
Dolly At Her Bus
Dolly fan Mike White was kind enough to send in a couple of pics of Dolly as she returned to her bus Saturday outside the Granada Theater in Dallas following her soundcheck. Check them out here. Thanks, Mike!
A Dedicated Fan
The Detroit Free Press on Tuesday had a wonderful article by Julie Hinds about big-time Dolly fan Helen Longino, who will be attending Dolly's sold-out Chicago concert on Aug. 17 bearing a large bedsheet with messages on it beckoning Dolly to visit the Motor City which she hopes to present to the diva before the show. Read this very interesting and entertaining profile here.
On The West Coast
Dolly buzzed into Los Angeles this week for her sold-out House of Blues Hollywood concert Wednesday night. Anyone who attends and would be kind enough to provide a recap would be greatly appreciated (e-mail me here)! While in L.A., she was scheduled to drop in live Tuesday morning on KZLA (although their website by Tuesday evening showed no mention of her appearance), with Rick Dees for his syndicated show at 8:45 a.m. local time Thursday and NBC's The Tonight Show With Jay Leno on Thursday.
Tickets Update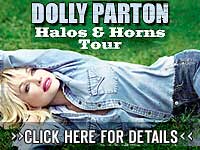 Ticketmaster on Tuesday was again showing tickets available for Dolly's concert Saturday in Las Vegas, but the fact that it had shown none available on Monday indicates that the show is near the selling-out point, so if you haven't gotten yours yet, hurry! The only other tickets currently available on Ticketmaster for the remaining tour dates are for her Aug. 28 concert in St. Louis. Get tickets here.
Another Profile
Borders bookstores has posted a little interview with Dolly about the new CD. It is available on their site here.
---
Aug. 6:
More Dallas Pictures
As promised, additional photographs of Dolly at Saturday night's concert in Dallas have been posted here. And if you haven't yet read the review of the show and seen the first pics posted Sunday night, click here. (Also, a few fans who attended the show alerted me to why paramedics entered the concert hall. A portion of the theater's ceiling collapsed on some in the audience. Apparently no one was seriously injured. Thanks, guys!)
The Locals Love Dolly
The local papers had their say on Monday, and both exclaimed that Dolly was brilliant in Texas. Mario Tarradell of The Dallas Morning News called the concert "jaw-dropping" and said her performance of "Shine" "sent chills down your spine." He lauded her wonderful sense of humor and "soaring" voice and summed up the evening as "a country performance as religious experience." Read his full review here. And J. Taylor Rushing of the Ft. Worth Star Telegram called the evening a "warm, intimate and on-target bluegrass show" and pointed out the many instruments she played and the humility she expressed in thanking her fans. Read his review here.
Tickets Update
Ticketmaster on Monday evening began showing no tickets available for Dolly's Aug. 10 Las Vegas concert, suggesting that it has also sold out or is very near the sell-out mark. As of Monday, the only date with tickets still available online was Aug. 28 in St. Louis. And Ticketmaster UK on Monday stopped showing tickets available for her rescheduled Nov. 18-19 shows in London. It didn't indicate whether tickets are just temporarily unavailable of if they had sold out already. The same is true with Ticketmaster Ireland for her Nov. 29 Dublin concert.
A Boston Recommendation
Out Baltimore has chosen Dolly's Halos & Horns as its current issue's music recommendation. Visit their site here.
Dolly In Print
Backstage With The Original Hollywood Squares, a new book by Peter Marshall on the TV series now in bookstores, features three pages about Dolly, who appeared on the show in the late '70s when she was crossing over to the pop field. The book features a photo of her from the 9 to 5 set with Marshall and his stepdaughter, and Marshall notes both how Dolly helped, inspired and coached his stepdaughter into music and how she felt that she didn't play the game well on television. Thanks, John!
---
Aug. 5:
Dolly Does Dallas


Well, I'm sure you guys all expected Dolly to pull off an amazing show in Dallas on Saturday night, and she didn't let anyone down! The concert was excellent, Dolly's performance wonderful, her band superb, and everyone in attendance left more than satisfied, even if the venue itself had several problems. Read the full review and see some photos here (more photos coming soon!) And don't forget that the next stop on her summer tour is the sold-out show at House of Blues Hollywood on Wednesday night, followed by an appearance with Jay Leno on Thursday. (Anyone attending the LA show who would like to submit a recap would be greatly appreciated. E-mail me here. Thanks!)
Week No. 4 At The Top


Halos & Horns holds on to the top spot on the British country albums chart for a fourth week in a row, it was announced Sunday. The CD also slips four places to No. 19 on the independent label albums chart. In the same edition, Little Sparrow falls two spots to No. 10 for its 75th chart week on the country albums chart overseas, and The Grass Is Blue dips one place to No. 14 for its 23rd chart week.
---
Aug. 3:
U.K. Tickets Back On Sale
Some ticket outlets are now offering seats for Dolly's new tour dates in Europe, a rescheduling which Dollymania was the first to report on Tuesday night. Ticketmaster UK has tickets available for Nov. 26-27 her Glasgow, Scotland, and Nov. 18-19 London shows on sale now. Ticketmaster Ireland has seats for her Nov. 29 Dublin concert also on sale. Tickets are not yet on sale for the evening in Belfast, Northern Ireland, and the venue for her Nov. 15 Manchester, England, show hasn't updated its box office with the new date yet (here).
Mass. Show Update
And in the U.S., Ticketmaster on Friday evening began showing no tickets available for Dolly's Aug. 21 stop in Lowell, Mass., near Boston. So far, each time this has happened for this tour, the show was either sold out or would sell out within days of that posting. Next on her summer tour is the sold-out show in Dallas on Saturday night (look for a review and photos here Sunday evening!), but tickets are still available for Las Vegas and St. Louis. Get them here!
New Reviews
Some more great reviews have come out praising Halos & Horns! Among them:

LA Frontiers writer Chris Freeman raves about her songwriting on the disc, saying that "even a non-country fan will find something in this collection to which he or she can relate." About her "Stairway" cover, he notes: "When her clear warble starts singing those classic lines 'there's a lady who's sure, all that glitters is gold,' you know it's going to be good . . . If anyone could do this and get away with it, it's Parton." He laments that the album probably won't be a hit but that it "deserves to be." He sums up his review with: "Dolly, you rule." Read it here. Thanks, Mark!

Australian site The Beat goes on and on about how good the record is. David Dawson focuses mainly on Dolly's bravery in questioning hatred in the name of God with the powerful "Hello God" but says she "peaks" with "These Old Bones" and "lands a few punches" at the tabloids on "Shattered Image." Read his full column here.

And "Hello God" also gets a mention in the Miami Herald review of Toby Keith's new CD, with the reviewer saying Keith's "Courtesy Of The Red, White And Blue" is "forgettable" and "disturbing" and pales in comparison to "intellectual" Sept. 11th responses by Alan Jackson, Bruce Springsteen and Dolly. His review is here.

Kiss This
Dolly got a mention in a column in Friday's The Guardian in England. An interview she did promoting the new album on Radio 2 was recapped, with Dolly noting that the music industry which forced her to record radio-friendly three-minute songs for most of her career "can kiss my ass now. It doesn't matter if they're five minutes long, or six, or seven." Read the story here.

Video Schedule
Here's your weekend video schedule for Dolly's "Dagger Through The Heart." Great American Country (GAC) will air it at midnight, 6:30 a.m., 3 p.m. and 9:30 p.m. Saturday; 2 a.m. 8 a.m., noon, 5:30 p.m. and 11 p.m. Sunday; and 11 a.m. Monday. CMT will show it at 2 a.m. and 5 p.m. Sunday, 2 p.m. and 9 p.m. Monday, 7:30 a.m. Tuesday and midnight Wednesday. Request the video on CMT here and GAC here!
---
Aug. 2:
Still In Top 15 Stateside


Billboard released its Aug. 10 albums charts on Thursday, and Dolly remains high. Halos & Horns inches down five spots on the country albums charts to come in at No. 14 for its third chart week. The CD drops 10 on the pop charts to No. 113 but remains steady on the independent albums chart and bluegrass albums chart, staying at No. 5 and No. 2, respectively. The album falls out of the top 25 Internet sales chart, however, down from No. 24. Little Sparrow also re-enters the top 15 bluegrass chart, coming in at No. 12 for its third week on that list.
Down A Bit In Canada
The CD slips 11 places on the Canadian country albums chart for its third chart week up north, coming in at No. 29 on the Aug. 1 tally released Thursday.
Another Review, Sort Of
The Gay Chicago Magazine this week published a review of the album, and while Mark Cosenza gave it three-and-a-half out of four stars, the prose of his review was a bit off. He seems to say that he likes the album, especially "These Old Bones" and "Stairway To Heaven," then he degrades roots music (saying playing this genre would "kill" any good party), says the album sounds like what you'd expect to hear if one were "trapped in the Tennessee mountains with no electricity and well water" and adds that he doesn't know why any of the extra technological bonuses were included in the CD because most of the people who listen to acoustic mountain music in his opinion are very unlikely to have computers. Anyway, if you want to read his review, click here. Thanks, Christopher!
Next Stop: Dallas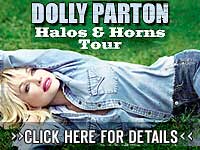 Look for a review and photos here soon (likely late Sunday night) on Dolly's sold-out concert at Dallas' Granada Theater, which takes place on Saturday! If you haven't gotten tickets to other shows, what are you waiting for! Los Angeles, Chicago and Kansas City are sold out, and Denver is probably sold out as well even though there has been no official notice of such, but seats are still available for Aug. 10 in Las Vegas, Aug. 21 in Lowell, Mass., and Aug. 28 in St. Louis. Order them here!
---
Aug. 1:
More Photos From N.O.
As promised, an additional gallery of photos from Dolly's New Orleans show have been posted. You may view them here. And if you haven't read it yet, catch the Dollymania review of the show and a few other pics here!
More NY Pics
John sent in some shots of Dolly from her July 9 CD signing in New York. See them here. Thanks, John!
Another Review
Pop Matters on Wednesday posted its review of Halos & Horns, with Andrew Gilstrap commenting that Dolly "makes such good use of harmonies and joyful singing that Halos and Horns often feels only a step or two away from a revival." He adds that her return to roots music in 1999 was and still is a bit of a risk, as it was before the O Brother resurgence of bluegrass interest and that popularity hasn't made many changes in country radio. He sums up the album as "full of moments where Parton follows an intuition that others might have shied away from, but she pulls it off. It's rare to hear an album with such a lack of self-consciousness. That's always been one of Parton's strengths, though -- that ability to do things that don't feel like calculated risks, but which are just Dolly being Dolly." Read his full review here.
A Few More Details
A couple of others who attended the New Orleans show provided a few additional details for me to pass along to you. At the show's conclusion, Phil Wells handed Dolly some Mardi Gras beads adorned with butterflies, to which she replied: "I was hoping to get some beads! For giving me these, I will always love you." (Sorry I forgot to include that in my review.) And Harrell, who was first in line for admission starting at about 10:30 Monday morning, said Dolly's bus pulled up at about 12:45 p.m. At about 4 p.m., security began setting up barricades around her bus, a process which took a whole hour before she took walked out at about 5 to take the four or five steps into the artist's entrance for a sound check. She returned to the bus shortly thereafter, where she remained until a little after 7 p.m. He said they hung out with other die hard Dolly fans all day, which made the time go by very fast. Thanks, guys!
'Instant' Dolly
Sugar Hill is now offering a couple of AOL Instant Messaging Buddy Icons, including one of Dolly! Visit their site here for more information.
Another Party
Leigh Shannon will be hosting a CD release party for Halos & Horns on Friday, Aug. 9, at the Cold Keg in Melbourne, Fla. The club is located at 4060 New Haven Avenue, and their site is available here.
Win Dollywood Tickets
For the next few weeks, Dollywood is conducting a contest where you can enter to win two tickets for free admission to the park anytime this year as well as admission for two to one of four different concerts in September as part of their Country Legends In Concert series. Visit their site here for more information.
I Bet She Wouldn't Curse Like Ozzy
A Billboard poll published Wednesday night put Dolly in seventh place out of a field of 15 celebrities whom readers would like to see in an Osbournes-like reality series. Wild girl Courtney Love took the top spot with a quarter of votes, followed by Pink with 14 percent. Rapper Eminem had 13, P. Diddy Combs 11, Madonna 10, Michael Jackson 6 and Dolly 4 percent. Others trailing further behind in the poll were Faith Hill and Tim McGraw, U2, Marilyn Manson, Shakira, Jay-Z, Gene Simmons, Elton John and Liza Minnelli.
---