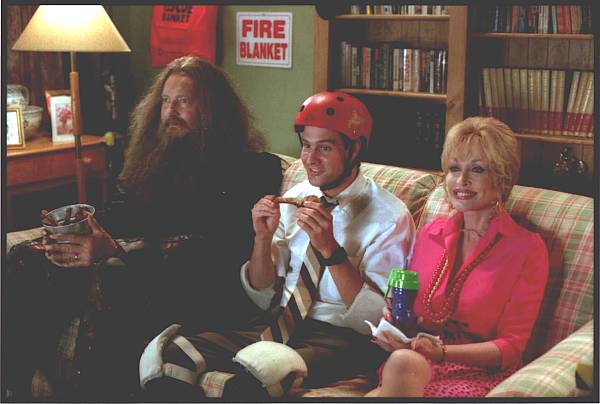 Randy Quaid, Dave Sheridan, Dolly Parton. Photo by Scot Humbert.
© Touchstone Pictures. All Rights Reserved. Used With Permission.

Frank McKlusky, C.I.


Release Date: Video/DVD Nov. 19.

Cast: Dave Sheridan, Randy Quaid, Enrico Colantoni, Kevin Pollak, Orson Bean, Andy Richter, Cameron Richardson and Dolly Parton

Director: Arlene Sanford

Story By: Dave Sheridan and Mark Perez

Screenplay By: Mark Perez

Producer: Robert Simonds

Executive Producer: Tracey Trench

Co-Producer: Ira Shuman

Distributor: Touchstone Pictures

Rated: PG-13

Synopsis: Comedian Dave Sheridan stars in Touchstone Pictures' Frank McKlusky, C.I., an outrageous comedy in the vein of Ace Ventura: Pet Detective, about an insurance claims adjustor who takes his job a little too seriously. As a child, Frank (Sheridan) watched his daredevil father wipe out in a horribly-conceived motorcycle stunt, and since then, Frank's developed an unhealthy aversion to any kind of risk: he lives with his parents (Dolly Parton, Randy Quaid), wears a helmet everywhere he goes, and lives his life strictly by the rules. He was inspired to become a claims investigator by his father's experience, but lets his partner do all the dirty work on every case, preferring his odds as "the in-the-van guy." But when his partner is killed in the line of duty, Frank's forced to come out of his shell (and his helmet) to crack the case, aided by his sexy junior partner, Sharon (Cameron Richardson). Frank does get a thrill out of his new life, but can he get the evidence before the odds catch up with him?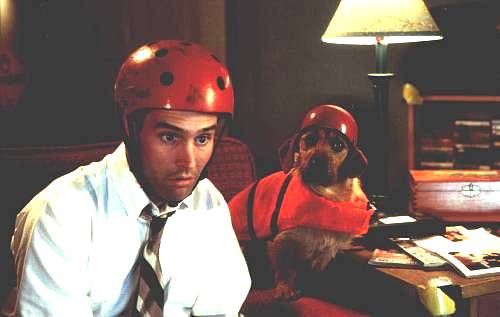 Dave Sheridan and his dog. Photo by Scot Humbert.
© Touchstone Pictures. All Rights Reserved. Used With Permission.
---
News And Reviews
April 25: Frank McKlusky, C.I., the cheesy comedy with Dolly playing the title character's overprotective mother which was released on video and DVD last year, has its television premiere next month, cable network STARZ announced this week. The film will premiere on the premium movie channel at 8 p.m. Eastern May 23, with repeats scheduled throughout the month. The movie follows Dave Sheridan's title character of an insurance claims investigator tracking down the crooked attorneys who shafted his daredevil father following an accident. The film spent a few weeks in limited release a year ago in Florida, where it performed poorly, resulting in its straight-to-video release in November. See the Dollymania page on the film here.
Feb. 22: Although it was released three months ago, Steve Lackmeyer of The Oklahoman on Friday offered his opinion on last year's Dolly comedy Frank McKlusky, C.I., saying that the film is "so horribly bad" that it's actually "worth renting." He said he laughed a lot at it and criticized the script, acting, and slew of celebrity cameos, even calling Dolly's appearance as the lead character's mother "bizarre casting." He closes by offering: "It's not Citizen Kane, but it might just be the next Howard the Duck. And I know there are plenty of you out there who enjoy bad movies more than I do." So maybe the film will develop a cult following? Read his review here.
Nov. 22: Reviewer Rick Bentley of The Fresno Bee thoroughly trashed Dolly's picture Frank McKlusky, C.I. in Thursday's edition. He goes so far to say the lead actor, Dave Sheridan, is so bad in this one and his two previous films, Corky Romano and Bubble Boy, that there should be a three-strikes rule which prevents him from ever acting again. He chides Dolly's performance as "plastic" and the plot as not "worth mentioning," adding that its title should have been Frank McKlusky, P.U. (Hey, I'll admit it's not Citizen Kane, but the movie is not that bad. It's a mindless, silly comedy -- nothing to watch if you want intelligent comedic social commentary, but still an enjoyable if completely politically incorrect picture.)
Nov. 19: My copy of Frank McKlusky, C.I., which is released on Tuesday, arrived Monday, and I can tell you, contrary to the couple of reviews when it was released in a test run in Florida earlier this year, the film is funny. It's certainly not the type of comedy for everyone -- it's in the vein of the Saturday Night Live movies and National Lampoon comedies, and therefore has stereotypes of just about every minority imaginable which are bound to offend someone, but all-in-all it's not bad. As most Dolly fans who've followed the film's development know, the title character, played by Dave Sheridan, works as an insurance claims investigator. He entered this line of work following an accident his daredevil father (Randy Quaid) had -- and a frivolous lawsuit after the accident resulted in his insurance being cancelled, preventing proper medical care and consequently leaving him in a coma for 20 years. Because of this, Mrs. McKlusky (Dolly) has sheltered her children and instilled in them an obsessive need for safety. When Frank's partner at his insurance firm is murdered, he throws caution to the wind to find the killer. The film is full of many performers you'll easily recognize: character actor Kevin Pollak, Andy Richter from Conan O'Brien, Tracy Morgan from Saturday Night Live, George Lopez, Joanie Laurer (the wrestler Chyna) and Enrico Colantoni from Just Shoot Me. Dolly appears in several scenes -- she looks amazing throughout! -- and she is hilarious, especially when she is being sarcastic or lecturing her son, and those scenes alone make it worth a Dolly fan buying. The film is rated PG-13 for strong language (most of it from Tracy Morgan's character) and some very risqué outfits worn by Joanie Laurer, so it's probably not best to let young children watch it, but it should be fine for teen-agers. (And while Dolly did write and record a few songs for the film's never-released soundtrack, there aren't any which make it to the DVD. Also, the disc has no special features.) Order yours here!
Nov. 15: Although the film got rotten reviews and low attendance while in limited release earlier this year in Florida, The Washington Times listed Frank McKlusky, C.I., which hits stores on Tuesday, in its weekend section as one of next week's releases featuring "A List" stars (namely Dolly, Randy Quaid and Dave Sheridan). Read the story here and reserve your copy of the film on DVD or VHS here!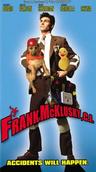 Sept. 13: Disney's production company Buena Vista has released the cover art for Frank McKlusky, C.I. (at left). As was reported here last month, the comedy featuring a Dolly supporting role will hit stores Nov. 19. Dolly plays the title character's overprotective mother. The film made it into a limited test release in Florida earlier this year but lasted only a couple of weeks before movie bosses decided to ship it straight to video. Reportedly filled with slapstick and some sexual humor, it is rated PG-13. Reserve your copy of the film here. Thanks, Tony!
Aug. 19: The movie website ComingSoon.net has announced that Dolly's comedy Frank McKlusky, C.I. will hit store shelves and video rentals on Nov. 19. The film, which did very poorly in a two-week limited test release in Florida earlier this year, stars Dolly and Randy Quaid as the parents of the main character, a wacky insurance claims investigator.
May 22: A pal recently came across a fairly favorable review of Dolly's film Frank McKlusky, C.I., which is reportedly heading to video after a disappointing test release in Florida last month. The review, on a "cheesy" film tribute site titled Cheesy Movie A Go-Go, called the movie a "mixed bag" but said it has some hilarious parts and a few lines of amusing dialogue. Dolly is only mentioned in a couple of places, but the full review (which gave the film a score of three out of five cheese slices) is available here. Thanks, Manuel!
May 17: Dolly herself conceeded in an article published in the Minneapolis-St. Paul Star Tribune this week that the film is probably "headed straight to video," adding that the only reason she agreed to perform in it was to prove to Hollywood that "I would still do a movie."
May 14: Upcomingmovies.com published on Sunday night a report that Disney has decided to release Dolly's film Frank McKlusky, C.I. directly to video after a poor showing in its Florida test release the past two weeks. It doesn't give a release date but says it should be sometime this year or in 2003. Dollymania has received no official word yet from the studio. Upcomingmovies.com's page on the film is located here.
May 10: The Florida test release appears to be all but over for Dolly's new comedy, Frank McKlusky, C.I.. It opened two weeks ago in several dozen cinemas in about 10 major market areas of the state, still playing in most of them through Thursday of this week. However, as of Friday, I could only find one cinema in the state scheduled to show the film: a United Artists location in Lauderhill (near Ft. Lauderdale and Miami). There might be one or two others still showing it, but I checked a large majority of the ones that had shown it originally, and this is the only one I found. No word yet on whether the studio intends to release it nationally or send it straight to video, but my guess would be it will likely be the latter, given the dismal attendance reported to me by the handful of Florida residents who contacted me after viewing it and the very bad reviews it earned in the local papers there.
May 8: I hate to report this, but two local reviewers down in Florida, where Dolly's new comedy Frank McKlusky, C.I. is still playing in a limited test release, slammed the film in recent reviews. Bob Ross of Tampa Bay Online (partner site with the Tampa Tribune) said the movie is possibly the worst one scheduled for release in 2002, while Jan Findley's review in the Charlotte Sun-Herald argues that the film will appeal to no one. Ross called the picture a "timid, tepid, all-but-unendurable scrap of flotsam," comparing it to Joe Dirt and Corky Romano. The only mention of Dolly in the review is that she plays the lead character's mother and that her "looks and acting style haven't changed in 20 years" (which, in my opinion, could be taken both as good or bad). His review is available here. Thanks, Christopher! Findley offered similar feelings, saying: "I'm not sure why they (the movie studio) thought testing would tell them anything they didn't already know. This movie barks." However, she doesn't say it's all bad, mentioning that she felt the same way about Jim Carrey's first couple of movies and noting that this film "vaguely resembles" Carrey's early work. She says "probably no one that you or I are likely to know" will enjoy the film. She mentions the character Dolly plays but makes no comment on her performance. Her review is available here.
April 29: Another Dollymania reader in Florida offers his opinion on Dolly's film Frank McKlusky, C.I., giving it an enthusiastic thumbs up. Justin of Lake City, Fla., writes that the film is along the lines of the "silly" comedy style of Jim Carrey, Scary Movie or Saturday Night Live and will be thoroughly enjoyed by any fan of that style of humor. He explained: "I thought the movie was absolutely hilarious! I LOVED it! I found myself laughing out loud several times. Dolly was awesome as can be. And I must say that in her opening scene, she looked the best I've ever seen her!" He categorized the humor as late-teen/young-adult in its appeal, not slap-stick or corny. Regrettably, he reported that attendance was very light for the showing he attended on Friday. Thanks, Justin!
April 27: Dollymania reader Vince down in Florida took in the afternoon matinee of Frank McKlusky, C.I. on Friday and offers his opinion on the film. "I hate giving this report about anything Dolly is in," he started out saying, explaining that he thought the movie was awful. He said that of the five friends who went to see it, only two sat through more than the first 20 minutes (he because he wanted to see all of Dolly's scenes, and another guy because he was a fan of star Dave Sheridan's MTV series). He summarized the film as "a lot of Chyna skin everywhere and no laughs." The film opened in several markets in Florida Friday as a test release to determine whether to release it nationally at a later date. If you're in Florida this weekend and get to see the film, share your thoughts with the readers of Dollymania by e-mailing me here. Thanks, Vince!
April 24: Well, those in Florida are lucky, and those who don't live there may want to consider a weekend getaway, as it appears that is the only state where Dolly's new film Frank McKlusky, C.I. will open on Friday in the studio's reported test release of the film to determine its fate: national "wide release" or straight-to-video. Although I still haven't received any official word from the studio, through some cinema sleuthing Dollymania has confirmed the film will open in the following Florida markets this weekend (I could not find any cinemas currently scheduled to show the film on Friday outside of Florida):
Ft. Myers
Jacksonville area - including Jacksonville and Orange Park
Miami/Ft. Lauderdale area - including Miami, Coconut Grove, the Palm Beach area (West Palm Beach, Jupiter, Delray Beach), Ft. Lauderdale (Lauderhill, Boca Raton)
Orlando area - including Orlando and Ocoee
Leesburg (between Gainesville and Orlando)
Tampa area - including Tampa Bay and Clearwater
Titusville (between Daytona and Melbourne near Cape Canaveral)
Lake City (between Tallahassee and Jacksonville)
Daytona area - Ormond Beach
Melbourne area - Palm Bay.

April 22: Although I have received no official word from the studio on this yet, Upcomingmovies.com reported on Friday that Dolly's upcoming comedy Frank McKlusky, C.I. is in fact to be released on a "test" basis in 10 cities on Friday. The site identified one city as Tampa, Fla., where commercials for the film reportedly have been airing on late night television, but the nine other cities were not known. According to the site, an anonymous source with the studio confirmed to them that the film is being released this week to gauge audience reaction so a determination may be made of whether to send it into wide release in cinemas nationwide or issue it directly to video. The site noted that the majority of films sent into a test release are soon after released nationally. Upcomingmovies.com was also the first to cite an anonymous source as saying the film was to be released in only 10 cities in a report dated April 3. Their page on the film is here. The movie, which marks Dolly's first return to the big screen in a decade, has been rated PG-13 by the MPAA. As has been previously reported, Dolly portrays the mother of comedian Dave Sheridan, who plays the title role of an insurance claims investigator. Randy Quaid plays Dolly's husband, a former daredevil, and the film also features cameos by Chyna and Hanson, among others.