2000: Dolly's Year in Review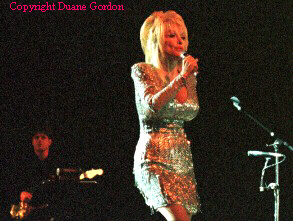 Dolly performs at the Opryland Hotel in Nashville on New Year's Day. View additional photos here.
A recap of Dolly news from "Y2K."
January

Dolly rings in the new year with a concert at the Opryland Hotel in Nashville. Read the Dollymania review here.

The Denver Post names Trio II one of the Top 10 country CDs of 1999, and The Pittsburg Post-Gazette and Columbus (Ohio) Dispatch give the same honor to The Grass is Blue. The venerable New York Times critics place The Grass is Blue in the Top 10 of all music genres for the year.

"Islands in the Stream" is named the 22nd top song of the century in Canada according to chart performance, where it was No. 1 for nine weeks.

It is announced that Trio II is nominated for Best Country Album and Best Country Vocal Collaboration at the 42nd Annual Grammy Awards, bringing Dolly's career nominations to 33.

Bluegrass crooner Rhonda Vincent covers "Jolene" on her CD Back Home Again.

Dolly turns 54.

She announces she will film a remake of Solid Gold Cadillac in the near future for TNT.

VH1's Before They Were Rock Stars includes a segment on Dolly.

February

Dolly sells WDLY-FM/WSEV-AM, the Sevierville, Tenn., radio station where she first sang as a child and purchased as an adult.

It is announced that one of three concerts Dolly will give in 2000 is the bi-annual Stars Over Mississippi benefit in Amory, Miss., in October.

"I Will Always Love You" is named No. 10 in the 100 Best Love Songs of the 20th Century.


Dolly, Linda Ronstadt and Emmylou Harris take home the Best Country Vocal Collaboration Grammy for their cover of Neil Young's "After the Goldrush" with Dolly singing lead, but they lose Best Country Album to the Dixie Chicks' Fly. It is Dolly's fifth Grammy, Linda's 10th and Emmylou's ninth.

Lonestar's "Amazed" becomes the first country song to go to No. 1 on the pop charts since Kenny and Dolly's "Islands in the Stream" in 1983.

Bryan Sutton releases Ready To Go, which features Dolly singing a new version of "Smoky Mountain Memories."

Dolly appears on The Late Show with David Letterman.

March

Dolly announces plans for a Dixie Stampede restaurant in Australia. (Plans later fall through due to questionable financial dealings by her business partners Down Under).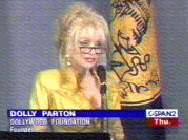 Dolly is honored by the Association of American Publishers with its third annual AAP Honors award during the association's annual meeting in Washington, D.C. Dolly was chosen for the honor in recognition of her Imagination Library program through the Dollywood Foundation, which provides a free book every month to each preschooler in her native Sevier County, Tenn., and which is expanding nationwide. Accepting the award, she acts as keynote speaker for the convention and also speaks at the National Press Club Luncheon while in D.C. (Read transcripts here.)

It is announced that Dolly will host the 35th Annual Academy of Country Music Awards in May.

April


The Grass is Blue wins Dolly the British Country Music Association's awards for Top International Independent Label Artist. (The CD also spends the month at No. 1 on the bluegrass charts.)

Dollywood opens its 15th season, but Dolly moves her usual April benefit shows for the Dollywood Foundation to December.

Dolly and Kathie Lee Gifford perform "Only My Pillow Knows," a duet from Kathie Lee's CD Born For You, at the Kathie Lee-hosted Dove Awards.


The 20th anniversary of 9 to 5 is recognized with a special screening of the film in New York by American Movie Classics. While all of her co-stars are there, Dolly misses the screening and panel discussion due to filming of a yet-to-be-released Christmas film in Canada.

Johnny Russel releases Actin' Naturally, which features a duet with Dolly on "Making Plans."

May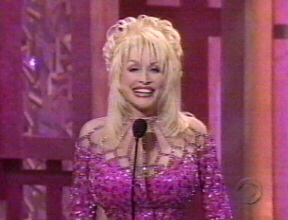 Dolly hosts the ACM Awards. The great ratings (more than 30 million viewers) she brings to the show convince producers to ask her back for 2001.

The Grass is Blue is named Best Bluegrass Album at the Association for Independent Music (AFIM) Awards.

Country Weekly names Dolly one of country music's 25 sexiest stars.

Dolly starts another chapter of her Imagination Library, this time in Missouri and funded by her Dixie Stampede in Branson.

It is announced that the new Country Music Hall of Fame in Nashville, which is expected to open in May 2001, will house the original handwritten lyrics to "Jolene."

Dollymania, which moves to its own domain on the Internet, passes 50,000 visitors.

June

The American Film Institute's list of the 100 Funniest Movies of All Time includes 9 to 5 at No. 74, but public voting on the AFI Web site gives Dolly's film debut the No. 1 spot.

Dolly breaks ground on her new $20 million water park in Pigeon Forge, Tenn., to open in May 2001. A contest also begins to name the park (the winning entry was "Dolly's Splash Country").

July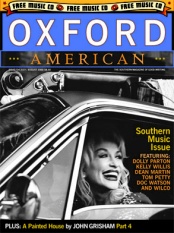 Dolly graces the cover of literary magazine Oxford American for its annual Southern music issue. An accompanying CD includes "Silver Dagger."


Steel Magnolias is released on DVD.

Dollywood announces it will open early in 2001 and feature a multi-ethnic celebration called The Festival of Nations.

August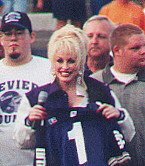 Dolly presents the state football championship trophy to her alma mater, Sevier County High School.

Big Mon, a Ricky Scaggs-produced tribute to Father of Bluegrass Bill Monroe, is released featuring Dolly singing "Cry, Cry Darling."

September

Dolly co-hosts Live! With Regis for most of its first week of the new season, bringing the show its highest ratings in years.

Dolly says she is proud to be ranked in People Magazine's Worst Dressed of All Time list.

It is announced Dolly will perform at the bluegrass-themed Merle Fest in Wilkesboro, N.C., in April 2001.

VH1's The List names Dolly the No. 1 country crossover artist of all time. (Willie Nelson is No. 3 and Faith Hill No. 2.)

October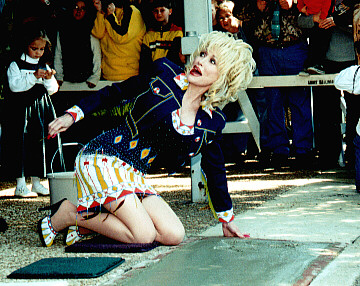 Dolly headlines the Stars Over Mississippi benefit concert, but freezing temperatures at the outdoor show affect her voice and force her to cut her set short. (For a full report and photos, click here.)

Sonya Isaacs releases her self-titled debut CD, which features Dolly singing harmony on "Healing Hands."

Dolly participates in the 75th anniversary celebration of the Grand Ole Opry (which includes taping of a television special which she co-hosts with Vince Gill on CBS in November).

Dolly performs at the International Bluegrass Music Association Awards show in Louisville, Ky., and picks up the Album of The Year trophy for The Grass is Blue.

Dolly appears as herself in Bette Midler's CBS series Bette, which includes the two performing three songs together.

Dollymania passes 75,000 visitors.

November

Whitney Houston's cover of Dolly's "I Will Always Love You" is ranked by MTV and Rolling Stone at No. 40 in the Top 100 Pop Songs of All Time.

Dolly's father, Robert Lee Parton, passes away from a stroke at age 79.

Dolly is keynote speaker at the International Association of Amusement Parks and Attractions convention in Atlanta.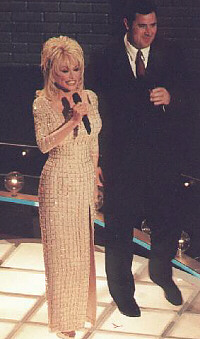 About 13 million viewers tune in for Dolly and Vince Gill's hosting of the Grand Ole Opry's 75th anniversary special on CBS.

Dollymania publishes the first-anywhere review of Dolly's upcoming Little Sparrow. Read it here.

December

Dolly performs a set of Christmas concerts at Dollywood to raise funds for her Dollywood Foundation.

Dollywood/Dixie Stampede purchases 12 acres in Orlando, Fla., for a new Dixie Stampede there.

2001
Little Sparrow will be in stores on Jan. 23. Billboard calls the upcoming CD "authentic, heartfelt . . . stunning." Reserve your copy today here!

Dollymania nears 100,000 visitors as the new year begins.