Year In Review: 2001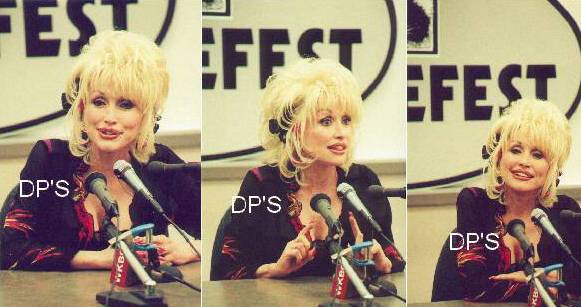 Dolly at a press conference before her first-ever appearance at bluegrass' MerleFest in Wilkesboro, N.C. Images courtesy Dollymania correspondent Debbie Poole.
This is your Dolly Year In Review for 2001, the third annual installment of the only published overview of the past year in Dolly's life! To read the 2000 Year In Review, click here. For 1999, click here.
---
January

The cable music channel Great American Country names Dolly the Top Country Star Of The 20th Century and "I Will Always Love You" the Top Country Song Of the 20th Century. She and Porter Wagoner come in at No. 75 as a duo.


It is announced that Dolly is up for two Grammy Awards at this year's ceremonies. The Grass Is Blue is nominated for Best Bluegrass Album, while one of its tracks, her cover of Billy Joel's "Travelin' Prayer," is up for Best Female Country Vocal Performance against Faith Hill's "Breathe," Jo Dee Messina's "That's The Way," Lee Ann Womack's "I Hope You Dance" and Trisha Yearwood's "Real Live Woman." These constitute her 34th and 35th career nominations. In addition, Big Mon: The Songs of Bill Monroe, which features Dolly covering Monroe's "Cry, Cry Darlin'," is nominated for Best Bluegrass Album as well. "I am surprised to death, thrilled to death and honored to death to be nominated and to be in the company of such talented people. I love this business," Dolly tells country.com.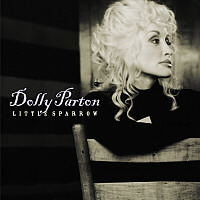 Dolly films her first-ever appearance on the PBS concert series Austin City Limits.

Dolly celebrates her 55th birthday.

Little Sparrow, a merger of bluegrass and mountain folk, hits store shelves to rave reviews. The Washington Post calls the album "fabulous," The Calgary Sun says it's "blissful," SonicNet labels it "stunning," and Billboard proclaims: "Dolly rules. An instant classic." The CD would peak in the U.S. at No. 12 country, No. 97 pop and sell in excess of 165,000 copies. In Great Britain, the CD hits No. 1 on the country charts (a spot it holds for eight weeks) and No. 30 pop, selling more than 100,000 copies. The CD is dedicated in memory of her father, who passed away in late 2000.

In a media tour to promote the album, Dolly appears for a CD signing at Tower Records in New York (which has a line stretched down several blocks for her signature) and in an Internet chat at Barnes & Noble.com. Over the next several weeks, performs from the CD on NPR's Fresh Air, NBC's Today and Jay Leno, CBS' David Letterman and Conan O'Brien as well as many others. She also holds a press concert at a New York nightclub, Joe's Pub.

BMG's European offices release a double-album re-issue of Jolene/My Tennessee Mountain Home, the first time the latter of the two albums has been available on CD.

Dollymania passes 100,000 visitors.

February

It is announced that Dolly will be inducted this year into the national Songwriters Hall of Fame.

The Sweet November soundtrack is released, featuring a Dolly duet with Paula Cole on the Cole-written and produced cut "Heart Door."

Dolly travels to England to promote Little Sparrow, appearing on Parkinson, Open House and So . . . Graham Norton.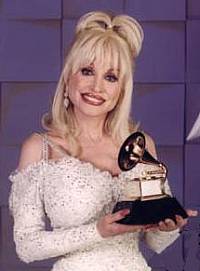 Dolly has two additional CD signings, one at Tower Records in Los Angeles and another at HMV in London.

Once again, Dolly is nominated for Best Country Guitarist Female at the Orville H. Gibson Guitar Awards but loses out to Shelby Lynne.

Dollymania becomes the first Dolly site to earn the Six Stars/Gold Award from the voters of StarPages.

Dolly takes home her sixth career Grammy Award, winning Best Bluegrass Album for The Grass Is Blue. Although the award is presented in the portion of the show which is not aired (as is Best Country Female Vocal Performance, which she lost to Faith Hill), she does perform an abbreviated version of "Travelin' Prayer" during the prime-time broadcast and presents with Brad Paisley the Best Country Album trophy (the only country award aired on television) to Faith. Dolly, who does not make a speech when accepting the award because her voice is stressed from her European stops and she wants to save it for her performance, tells Launch.com afterward: "I broke my high heels jumping up and down. It is one of the biggest thrills of my bluegrass life."

Although she never publicly states her reason (but it is believed to be a scheduling conflict with movie filming), Dolly turns down the request to host the Academy of Country Music Awards' 2001 telecast. (The resulting show in May, hosted by LeAnn Rimes, drops from the record high audience of 30 million viewers when Dolly hosted it the previous year down to a record low audience of fewer than 14 million.)

March

Aussie singer Sherrie Austin's cover of Dolly's classic "Jolene" is shipped to radio as a single from her CD Followin' A Feeling. The song peaks at No. 55 on the country charts.

The RIAA, National Endowment for the Arts, AOL@School and Scholastic Inc. release a ranking of the 365 top songs of the 20th century, with Whitney Houston's megahit cover of the Dolly original "I Will Always Love You" at No. 108 and Dolly's "9 to 5" at No. 299.

A Cincinnati radio station and the city's Chamber of Commerce start an unsuccessful "Good Golly! We Want Dolly" campaign (complete with an official invitation from the City Council) asking Dolly to serve as Queen of its 25th annual Octoberfest.

Dolly's appearance on PBS' Austin City Limits airs in most markets. (Photo courtesy Austin City Limits.)

The Knoxville News-Sentinel reports that a lawsuit has been filed pitting Dolly and nine of her siblings against two additional siblings in a battle over who will manage their 77-year-old mother's finances.

Variety reports that ABC is developing a television bio-pic on Mae West with Dolly cast in the lead role.

April

Dollywood opens for its 16th annual season, a couple of weeks earlier than usual to promote its Festival of Nations, which brings hundreds of performers and artisans from dozens of foreign nations to share their cultures with visitors to the park. (Photo courtesy Brenda Willis.)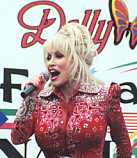 It is announced that Dolly has signed on to play the lead character's mother in the Disney comedy Frank McKlusky, C.I. The film is slated for an April 2002 theatrical release. It is Dolly's first feature film role since 1992's Straight Talk.

In exclusive comments to Dollymania, Dolly refutes a British newspaper report that she is considering taking on the role of Mrs. Robinson in the London stage version of The Graduate, which would have required full nudity.

Twenty-one years after its debut, 9 to 5 is released on DVD.

A lawsuit between the makers of an IMAX film on country music and its producers, Gaylord Entertainment, postpones release of the movie indefinitely. Dolly is among the several artists who perform in the film.

Dollymania is profiled in the national gay and lesbian newsmagazine The Advocate.

Dolly headlines the world famous bluegrass festival MerleFest in Wilkesboro, N.C. Founded by Doc Watson in memory of his son, Merle Watson, the annual event raises funds for Wilkes Community College. Dolly brings in a record audience of more than 77,000 for the festival.

May

Dolly's filming begins for Frank McKlusky, C.I..

Dolly is nominated for the top award, Golden Voice Entertainer, for the third annual Golden Voice Awards, a program honoring the legends of country music. Mel Tillis wins the award in July.

The soundtrack to the film Songcatcher hits stores, featuring a Dolly track. Dolly somehow obtained a copy of the film before it was released and asked if she could write a song to perform with one of the lead actresses, a 13-year-old opera singer named Emmy Rossum, who plays an Appalachian singer in the movie. The producers were thrilled and said yes immediately. The resulting song, "When Love Is New," is amazing. The CD peaks at No. 42 on the country albums chart.

New York band the Chelsea Mountain Boys organizes a tribute to Dolly at the New York club Downtime called "A Chest Full of Dolly: A Tribute To The Fairy Godmother Of Country Music" and featuring local musicians performing their favorite Dolly tunes. Dolly is so touched she calls and talks to the band live via telephone during the show and donates several items for auction to benefit The Dollywood Foundation.

Dolly films a video for "Shine" from Little Sparrow.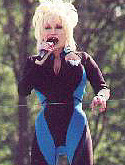 Dollymania is featured in Cowboys In Cyberspace, a radio/newspaper/Internet show in Australia dedicated to the best in country music on the Web.

The new Country Music Hall of Fame opens in Nashville. Dolly, inducted in 1999, is its youngest living member.

The Moulin Rouge soundtrack is released, featuring the chorus to Dolly's "I Will Always Love You" in one of the film's songs.

The first Dolly Parton Scholarship is awarded to a senior at Dolly's alma mater, Sevier County High School, by The Dollywood Foundation. Valedictorian Chastidyi Wilson accepts the inaugural $15,000 award.

Dolly's Splash Country, a $20 million water park adjacent to Dollywood in Pigeon Forge, Tenn., opens to the public. Dolly is on hand for the ceremonies. (Photo courtesy Debbie Poole.)

June

Dolly appears on CMT's Most Wanted Live to premiere the video for "Shine." While the song itself does not chart on Billboard, the video makes it to No. 4 on CMT's weekly countdown.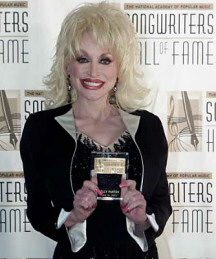 Little Sparrow passes the silver mark in England with 60,000 units sold. Before year's end, it would also pass their gold mark, 100,000 units sold.

Dolly travels to New York, where she, Willie Nelson, Diane Warren and Paul Williams are inducted into the National Academy of Popular Music/Songwriters Hall of Fame in a dinner ceremony held at the Sheraton Hotel and Towers. Special awards are also given to Billy Joel and Gloria and Emilio Estefan. Trio partner Emmylou Harris performs Dolly's classic "To Daddy" as she inducts her pal into the Hall of Fame.

Broadway Online reports that Dolly has turned down repeated requests by the producers of the Broadway revival of Annie Get Your Gun to take over when Reba McEntire's much-raved run in the title role ends. Dolly does, however, attend a performance of the show during the last week of Reba's appearance.

Longtime close Dolly friend, legendary guitarist and former head of RCA Records Nashville, Chet Atkins, dies at age 77. Dolly and Porter Wagoner are named honorary pallbearers at his funeral.

July

Dolly's 1999 Lifetime made-for-television film Blue Valley Songbird is released on DVD and videotape for the first time.

Another Dolly friend, singer Johnny Russell, with whom she recorded a duet on his classic composition "Making Plans" for his final album (2000's Actin' Naturally), dies at the age of 61.

The fifth annual music issue of Oxford American magazine hits newsstands, with Dolly becoming the first artist to be featured on the magazine's companion CD two years in a row. In 2000, "Silver Dagger" from The Grass Is Blue made the cut, and in 2001, "Seven Bridges Road" from Little Sparrow is included. Magazine officials say the rare feat occurred because the song was "just too good to pass up."

Yet another Dolly mentor, legendary producer Bob Ferguson, who ran RCA Records Nashville in the 1960s and 1970s with Chet Atkins, passes away. Co-producer with Porter Wagoner of most of her early RCA material and writer of "Carroll County Accident" and "Wings of a Dove," both recorded by Dolly, he was 73.

Hank Locklin releases the CD Generations In Song, which features a duet with Dolly on his classic "Send Me The Pillow That You Dream On."

Dollywood welcomes its 30 millionth visitor.

August


BMG releases Joshua/Coat of Many Colors in Europe. Although the latter album had been re-issued in the U.S., this marks the first time Joshua has been available on CD.

Dolly earns three nominations for the annual International Bluegrass Music Association's awards: Best Female Vocalist as a soloist and Album of The Year and Best Recorded Event for the group which performed Big Mon: The Songs of Bill Monroe. Although she had won Album of The Year the previous year for The Grass Is Blue, Dolly walks away without any trophies at the awards show in October.

It is announced that Will Smith is planning an African-American-centric re-make of Dolly's film debut, 9 to 5.

September

After several release date changes, Hal Ketchum's Lucky Man, featuring a duet with Dolly on "Two Of The Lucky Ones," hits store shelves. The song is released as a single from the album.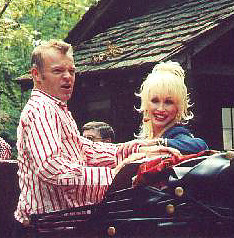 Dolly returns to Dollywood to film commercials for the theme park and her water park as well as a Christmas special with British host Graham Norton for English television titled Graham Goes To Dollywood. (The show airs on Channel 4 in Britain on Dec. 26). (Photo courtesy Debbie Poole.)

The world stops in reaction to the terrorist attacks of Sept. 11. Dolly, at Dollywood, cancels her media events for the week which were to announce the new attractions for the park's 2002 season. She gives her reaction exclusively to the Knoxville News-Sentinel, saying: "It's hard. That's when you really need to stay upbeat if you can . . . It's always good to help the other people that can't get up from this. I think everybody is dealing with this tragedy in their own kind of way, based on what they feel and what their own fears and insecurities are. I'm a very patriotic person, but I also know that when things are at their worst that I need to be at my best." She added that the events have led her to deal with her feelings through songwriting. "Everybody deals with this differently. I deal with it very internally," she explained. "I see how everybody else deals with it, and I am able to write about their emotions. It allows me a way to express (sorrow), not just for myself, but for the people who can't put (their emotions) into words. It's very strange and deep places where I am going."

Dollywood announces that a new state-of-the-art Dolly museum will open for the 2002 season, complete with a 4-D simulator ride through the Smoky Mountains. The Chasing Rainbows museum will be located in the new $10 million Adventures in Imagination complex to be built at the park.

It is announced that Dolly and Shirley MacLaine will star in a film version of the novel Miss Julia Speaks Her Mind.

It is announced that Dolly will, in fact, build a Dixie Stampede dinner theatre in Orlando, Fla., one year after zoning officials shot down her plans for the entertainment complex in another location in town due to traffic concerns.

Ralph Stanley's Clinch Mountain Sweethearts, which features a Dolly duet on "Loving You Too Well," is released.

October

British magazine Your Life releases the results of a survey of European celebrities and fashion experts on who the "classiest" women of all time are, and Dolly ranks at No. 2.

A rumor starts on an America Online bulletin board that radio stations across the country are boycotting Dolly's music because she allegedly refused to participate in fundraising efforts for the victims of the terrorist attacks. After discussing the rumor with several close to Dolly involved in her career, only Dollymania confirms that the rumor is false and reports it as such.

Good Housekeeping awards its Seal of Approval to people for the first time in its nearly 100-year history, and Dolly is among the first five honored by the publication with the Seal.


An Australian record company releases Mission Chapel Memories (1971-1975), a compilation CD featuring songs from all but one of Dolly's solo albums from that time period, many of which have never before been issued on CD.

Academy Award-winning filmmaker Herbert Ross, director of Steel Magnolias, dies at age 74.

Dolly announces she will host and headline Red White And Bluegrass, a benefit concert scheduled for New Year's Eve in Nashville to raise funds for a scholarship program for the children of those killed or disabled in the terrorist attacks. Unfortunately, she is unable to book many of the acts she wants to perform with her on the show, so she announces a few weeks later that the show will be postponed until spring or summer 2002.

In an article focusing on the roots of American music, Smithsonian magazine profiles a dozen legends in our musical heritage, including Dolly, Bob Dylan, Janis Joplin, Bill Monroe and Hank Williams.

November

Dollywood's 11th annual Smoky Mountain Christmas opens.


Seventeen years after its initial release Kenny & Dolly's double-platinum Once Upon A Christmas album enters the Canadian country albums chart, peaking at No. 6 in December.

Dollymania welcomes its 200,000th visitor and is chosen as one of about a dozen "cool sites" by country-music-club.com.


Two years after its release, Trio II with Linda Ronstadt and Emmylou Harris is certified gold for sales in excess of 500,000 copies. This marks Dolly's 14th gold album. In addition, she has had five albums go platinum and one double-platinum as well as three gold singles and one platinum single.

Dolly's producer, Steve Buckingham, confirms to Dollymania that they were recently in the studio where she recorded several songs for possible inclusion in the Frank McKlusky, C.I. soundtrack as well as some demos for the Mae West film.

December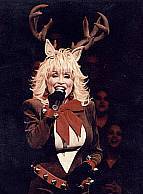 Little Sparrow makes several best-of-the-year lists.

The book Behind The Muse: Pop and Rock's Greatest Songwriters Talk About Their Work And Inspiration is released, featuring interviews with many of rock's legendary composers, including Billy Joel, Barry Gibb and k.d. lang. However, the largest profile in the book focuses on Dolly.

Dolly performs to sold-out crowds at her second annual Smoky Mountain Christmas benefit concerts for The Dollywood Foundation. She had moved the benefit shows from the spring grand opening to the holiday season the previous year. At the show, she premieres a new patriotic song written in response to the Sept. 11 terrorist attacks titled "Color Me America." (Photo courtesy Chris Dossenbach.)

Dolly's holiday special with Graham Norton airs on television in Great Britain.