www.dollymania.net News May 27, 2015
---

Today's Dolly Parton news


Dolly Helps Salute 40th Anniversary Of 'Rhinestone Cowboy'


People magazine asked several country artists, including Dolly, Tim McGraw and Darius Rucker, to sing Glenn Campbell's hit "Rhinestone Cowboy" in observance of the song's 40th anniversary and released the video on Tuesday. Check it out in the media player above or by visiting the magazine's website here.

Portland's Dolly Tribute Night Returns For 10th Year
Portland, Ore.'s, Alberta Rose Theatre on June 6 hosts the 10th annual Dolly Parton Hoot Night, where several local and regional artists pay tribute to Dolly's songs and career. Check out a story from Go Local PDX here and check out the event's Facebook page here.

Dollywood Eagles Raise Adopted Chick
Dollywood eagles Independence and Franklin are highlighted by Knoxville TV station WBIR in a story here about their adopting an eaglet hatched from an abandoned egg.  



---
First created as "Duane's Dolly Pages" in 1996, and becoming Dollymania in 1998, this is the oldest continually operating Internet site dedicated to Dolly Parton and the ONLY regularly-updated resource about her available anywhere in the world!
---
Past news

May 25:
Dolly Steady In U.K., Re-Enters Down Under
Dolly's Blue Smoke this week remains at No. 1 for a 50th consecutive week on the British country compilation albums chart, Sunday's numbers confirmed. Elsewhere on the U.K. country compilations list, Emmylou Harris's Original Album Series, Volume 1 (with two Dolly covers, one track with Dolly harmony and one track with Trio harmony) loses three to No. 11 while her Original Album Series, Volume 2 (featuring one track with Dolly harmony and two tracks with Trio harmony by Dolly and Linda Ronstadt) falls two to No. 15 and Ronstadt's own Original Album Series (featuring one Dolly cover and one track with Dolly harmony) re-enters the top 20 at No. 17. Down Under, The Very Best Of Dolly Parton re-enters the top 40 country albums chart at No. 38 for a 350th week.
Site Praises Dolly's 'Jolene' Album
Nooga over the weekend praised Dolly's 1974 milestone album Jolene, saying: "These songs were not necessarily happy, nor were they abjectly depressing—they simply told the truth, even if that truth was something that we might not want to face. When we think of the impact that Dolly Parton has had on the history of mainstream music, it can sometimes be difficult to separate the music from her flamboyant public persona. But even that falls perfectly in line with her intrinsic refusal to sugarcoat or change herself or her music for any reason. She presents herself as she wants, and nothing will ever change that. It's this denial of compromise that has made her such an endearing and lasting influence on popular music." Read more here.
---
May 23:
Dolly Makes Cover Of 'Country Weekly'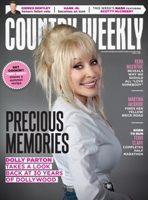 Dolly graces the cover of the June 1 edition of Country Weekly magazine making its way to newsstands now. The article, which I understand is a six-page spread, focuses on Dollywood's 30th anniversary, with Dolly looking back at the history of the park and sharing the details of the park's DreamMore Resort. She last appeared on the magazine's cover in December.
Emmylou: 'Trio' Outtakes CD Coming In September
We now have a month for the previously-reported release of the unreleased Trio songs: September. Emmylou Harris made the reveal in an interview posted Friday with Rolling Stone here, where she was asked "Dolly Parton recently revealed there will be another Trio album of the songs you did with her and Linda Ronstadt" and replied: "We had a lot of outtakes. I didn't realize how many. That will come out in September. And it is some pretty great stuff. I go back and say, 'Damn, we sounded good. Why didn't we put that one on there?'"
'Tennessean' Talks Dolly, Dollywood Anniversary
The Tennessean on Friday posted a story on Dollywood's 30th anniversary featuring interviews with Dolly and others from the theme park. Check it out here.
Bradley Covers Dolly's 'Stranger'
Bluegrass singer Dale Ann Bradley has announced a new CD, Pocket Full Of Keys, for release June 9 including a cover of Dolly's "The Stranger," a song Dolly has performed on television but has never recorded, although singers who have covered it include Kenny Rogers and Stella Parton. Get your copy here.
Library Hires Ontario Director
The Dollywood Foundation this week announced the hiring of an Imagination Library director for Ontario, Canada: Jeanne Smitiuch. She'll serve as a "lobbyist, fundraiser and standard bearer" for the program as they work to expand the program across the province. In a statement, Dolly said: "Our staff will move mountains to make sure as many kids as possible have the opportunity to love books and to love reading... If there is a mountain to move in Ontario, Jeanne will move it!" Read more from The Brantford Expositor here.
---
May 21:
Dollywood Video Added To Homecoming Coverage



Tonight we add raw video from Dolly's recent Homecoming appearance at Dollywood (please excuse the jerky camera work!) to complete your official Dollymania.net coverage of the weekend in that section of the site here or in the media player above. If any readers wish to submit photos, please send them here.

U.K. Story Mentions Children's Album
Continuing coverage of Dolly's expansion of her Imagination Library literacy project in Nottingham continues this week, with a story in Nursery World noting she has made the song "I Believe In You" available for free download from the City Council here and that the song will appear on her children's music album to be released in autumn to raise funds for the Library. Read more here. As was previously reported here, Dolly had first mentioned the upcoming CD in an interview nearly three weeks ago, saying it should be available in summer.

Dollywood 'People' Lights Noticed By Magazine
The lighting upgrades for this season's My People show at Dollywood made Live Design Online here.

HuffPo Names Splash Among Top 10 Water Parks
The Huffington Post offers its list of the 10 best water parks in the U.S., which includes Dollywood's Splash Country. See the full list here.
---
May 19:
More Coverage Of Dolly's 'Duck' Greeting



Dolly's utterance of the Northern English phrase "Ay up me duck" in her announcement of the Imagination Library's expansion in Nottingham has taken the British press by storm. It led the BBC to ask whether the phrase is really used in that region here and stories about the video from BBC America here and The Nottingham Post here and here. Watch the video for yourself here or in the media player above.

Dollywood Bluegrass Fest Starts Soon
Dollywood is prepping for the return of the park's Barbeque & Bluegrass festival, which runs May 23 to June 7. In a press release issued Monday, Dolly commented: "It's no secret that I love to have all these great bluegrass stars at my Barbeque & Bluegrass festival at Dollywood. They make some of the sweetest music you'll ever hear and I'm so glad we can bring it to the folks who come visit. Everyone also knows I enjoy good southern barbeque, and you can find some of the best around right here at Dollywood. I'm proud of my bluegrass roots, so I truly enjoy sharing all of it with our guests to help kick off the summer." Headliners include The Earls of Leicester May 23-24, The Gibson Brothers May 25-26, The Seldom Scene May 27-28, Marty Raybon & Full Circle May 28-29, Frank Solivan & Dirty Kitchen May 29-30, Blue Highway May 30-31, Rhonda Vincent & The Rage set up shop May 31-June 1, J.D. Crowe & The New South June 2-3, The Boxcars June 2-4, Dailey & Vincent June 4-5 and The Del McCoury Band June 6-7. All concerts are free and included with park admission. In related news, an astute reader pointed out that the park's new DreamMore trolleys, pictured here Sunday night, are natural gas powered, given the logos on the back from the Sevier County Utility District and CNG.
---
May 18:
North Carolina Station Talks To Dolly At Dollywood



Charoltte, N.C.'s WBTV over the weekend posted its interview with Dolly from the recent Homecoming weekend at Dollywood. Watch it here or in the media player above and see the edited story as it aired on television here. In other news, the DreamMore Resort trolleys have arrived. Check them out here. They may be environmentally friendly electric vehicles as they don't appear to have anywhere to put in gas or to have exhaust come out but do appear to have two plug-in ports. Also, more photos and audio files have been added to that weekend's section of the website here.

Dolly's Destin Dixie Deal Dead
Dreams of Dolly's Dixie Stampede or Pirate's Voyage coming to Destin, Fla., are no more, as the chains' holding company has listed property purchased in the city three years ago, The Destin Log reports here. A spokesperson confirmed the property was up for sale but that the company continues to explore opportunities for expansion.

Bravo Host Plays '9 To 5' Dolly With Lily, Jane
Dolly's 9 To 5 co-stars Lily Tomlin and Jane Fonda were on Bravo's Watch What Happens Live with Andy Cohen Thursday night, and a caller asked if Dolly would guest on their Netflix show Grace and Frankie, to which Fonda said she'd only be able to come on as herself with them going to see her in concert as they needed to make it about their characters, to which Tomlin added that if Dolly is on they'd write a series about Dolly instead of them. They were also asked about a sequel to their 1980 movie, to which they said 20th Century Fox holds the rights and has other ideas in mind. They also re-created the bar scene from the film, with Cohen standing in for Dolly. Watch it here. In somewhat related stories, The Advocate offered its list of the 10 pop divas who "rocked it on film or tried" and included Dolly's turn in the 1980s classic (and mentioned her as the songwriter of "I Will Always Love You" when it covered Whitney Houston and The Bodyguard) here. Also, The Celebrity Café chose the film for its "Netflix Sunday" in respect to the premiere of Grace And Frankie here.

Sevierville Dolly Singing Competition Held
The annual Sevierville Bloomin' Bluegrass & BBQ Festival with its Mountain Soul Vocal Competition of songs written by hometown girl Dolly took place over the weekend, complete with Dolly's sister Cassie as one of the judges. Check out a story from Knoxville's Local 8 Now here.

Dolly Still Up For Living Legend Award
Don't forget to vote for Dolly for the Living Legend Award in the 2015 Golden Boot Awards here. You may vote as often as once per hour in the poll below through noon Eastern on Monday, June 8.

BBC: Dolly Says 'Ay Up Me Duck'
The BBC on Sunday noted Dolly's use of the East Midlands greeting "ay up me duck" (which loosely translates as "hello my friend") in a video she taped to celebrate the expansion of the Imagination Library in Nottingham, England. Read more here.

E! Brings Impersonator To Surgery Show
E!'s Botched plastic surgery show on Tuesday will have a Dolly impersonator seeking help with her belly button. Check out a preview here.

Dolly Holds Steady On U.K. Chart, Others See Mixed Results
Dolly's Blue Smoke this week remains at No. 1 for a 49th consecutive week on the British country compilation albums chart, Sunday's numbers confirmed. Elsewhere on the U.K. country compilations list, Emmylou Harris's Original Album Series, Volume 1 (with two Dolly covers, one track with Dolly harmony and one track with Trio harmony) gains five to No. 8 while her Original Album Series, Volume 2 (featuring one track with Dolly harmony and two tracks with Trio harmony by Dolly and Linda Ronstadt) slips one to No. 13 and Ronstadt's own Original Album Series (featuring one Dolly cover and one track with Dolly harmony) falls off the top 20, down from No. 18.

'The Bodyguard' Musical Coming To U.S.
The musical adaptation of the film The Bodyguard, which features several of Whitney Houston's songs including, of course, her mega cover of Dolly's "I Will Always Love You," will tour the U.S. starting in fall 2016, it has been announced. The show ran first last year in London's West End (their equivalent of Broadway) and this year is touring the U.K. and Ireland. Read more from Broadway.com here.
---
May 14:
British Paper Looks At Dolly Fans From U.S.
British newspaper The Guardian, which is regarded as one of London's more "serious" publications (similar to how The New York Times is viewed in the U.S.) this week published a very honest and in-depth look into the lives of some of Dolly's biggest fans making the Homecoming pilgrimage to Dollywood a couple of weeks ago, including frequent Dollymania.net correspondent Harrell Gabehart and his partner, Patric Parkey, and even including a nod (and link) to this news page. Read the engaging piece here.
NBC Announcement Gets More Notice
Dolly's appearance for NBC's upfronts presentation on Monday found its way into a couple of jokes by late night host Jimmy Kimmel when he opened ABC's upfronts presentation with a comedy monologue. He joked that Dolly's series of movies based on her songs was a great way for the network to court urban audiences and read a letter to NBC Chairman Bob Greenblatt complaining about the network's long and somewhat disjointed presentation on Monday, saying: "Dear Bob. We're glad that Dolly Parton will always love you. After what you made us sit through yesterday no one else ever will. Signed, Everyone." 
'New Republic' Laments Relevance Of '9 To 5' Even Today
New Republic has an opinion piece about today's relevance of Dolly's 1980 film 9 To 5. Read it here.
'Newsday' Looks Back At How Dolly Hurt Chevy Chase's Career
Newsday this week looked back on Chevy Chase's disastrous late night talk show from 1993 in a story here, noting that he got the gig from FOX after they first approached Dolly, who declined to host the show but recommended Chase. The program lasted six weeks before cancellation.
Splash Country Opens This Weekend
Dollywood's Splash Country water park opens to the public on Saturday, and Local 8 Now News in Knoxville reports here that anyone who attends a Knox County graduation can receive a $7 coupon for the park.
U.K. Community Taking Public Comments On Library
The community of Rotherham, England, which was the first in the U.K. to launch Dolly's Imagination Library, is taking public comments on the proposal to shut down the publicly-funded program in that region due to government budget cuts. The program there, in its seventh year, currently serves 13,000 children and costs the local authority (similar to a city council) £387,000 per year (about $610,000 U.S.). Facing the need to cut £23 million (about $37 million U.S.) from their budget, the Library is one of the programs on the chopping block. Public input will be accepted here through June 10. If the decision to eliminate the program moves forward, its final books would be delivered in December. The closure would not impact the other chapters of the program throughout the U.K. Read more from BBC News here.
---
May 12:
Dolly Wows NBC Upfront Crowd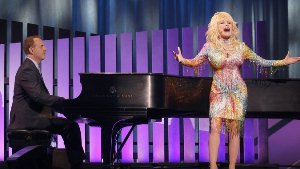 Dolly was the center of NBC's "upfronts" presentation of its 2015-2016 season to potential advertisers at New York City's Radio City Music Hall on Monday, taking nearly 20 minutes of the 90-minute ceremony to tell stories and sing "Coat Of Many Colors" and "I Will Always Love You," the latter song with NBC President Bob Greenblatt accompanying her on the piano (she revealed she often dines with him at his Beverly Hills home, with the evening ending with her singing as he plays piano after a few drinks). The appearance was to promote the upcoming two-hour movie Coat Of Many Colors, based on her song of the same name that the network officially announced over the weekend. The network has added a page on the project here. Check out a video of the "I Will Always Love You" performance courtesy Vulture here. The announcement resulted in Dolly shooting up to No. 1 on Yahoo's top 10 search trends by Monday night, although most coverage (even Dolly's own entertainment website here) erroneously stated that the original coat is on display at Dollywood's Chasing Rainbows Museum (Dolly has said in several interviews and appearances at the park that the actual coat was handed down to younger family members until it fell apart and that the one in the museum is an accurate reproduction). Check out coverage from Deadline here, The Wall Street Journal here, The Los Angeles Times here, Vulture here, Ad Week here, Entertainment Weekly here, Variety here and Broadway World here. Photo courtesy NBC. Click on it for a larger version.
Dolly Up For Golden Boot Award
Vote for Dolly in the Living Legend category of the Golden Boots Awards administered by AOL's country music blog, The Boot. Cast your ballot here.
---
May 11:
NBC Formally Announces 'Coat Of Many Colors' Movie
NBC over the weekend revealed its 2015-2016 television season, officially announcing Coat Of Many Colors as the first in the series of made-for-television movies based on Dolly's songs and life in a production deal with her that network executives had first unveiled in January. Although Dolly had spilled the news of the song being the first of the series – and that it should air sometime around Christmas 2015 – at March's season opening of Dollywood in response to a question by your webmaster, this was the first mention of the specific title by the network. The official announcement provided the following description: "Based on the inspiring true story of living legend Dolly Parton's remarkable upbringing, this once-in-a-lifetime movie special takes us inside the tight-knit Parton family as they struggle to overcome devastating tragedy and discover the healing power of love, faith, and a raggedy patchwork coat that helped make Dolly who she is today. Pamela K. Long serves as writer. Sam Haskell and Dolly Parton will executive produce. 'Coat of Many Colors' is produced by Magnolia Hill Entertainment and DP Productions in association with Warner Bros. Television." The description does not give further details about the "devastating tragedy," but perhaps it will deal with the death of her little brother, Larry.
More Photos From Dollywood Posted
Apologies for the break in postings, but your Dollymania.net coverage of Dolly's recent Dollywood appearances returns with photos from her media event. They've been added to that section of the website here.
Overseas Chart Updates
Dolly's Blue Smoke this week remains at No. 1 for a 48th consecutive week on the British country compilation albums chart, Sunday's tallies showed. Elsewhere on the U.K. country compilations list, Emmylou Harris's Original Album Series, Volume 1 (with two Dolly covers, one track with Dolly harmony and one track with Trio harmony) slips five to No. 13 while her Original Album Series, Volume 2 (featuring one track with Dolly harmony and two tracks with Trio harmony by Dolly and Linda Ronstadt) gains three to No. 12 and Ronstadt's own Original Album Series (featuring one Dolly cover and one track with Dolly harmony) falls eight to No. 18. Down Under, The Essential Dolly Parton falls back off the Australian top 40 country albums chart, down from No. 40 in its 82nd chart week since release.
In Memoriam: Elizabeth Wilson
Character actress Elizabeth Wilson, a 1972 Tony Award nominee and 1987 Emmy nominee who played Dustin Hoffman's mother in The Graduate but was best known for her largest role, corporate lackey Roz in 9 To 5 with Dolly, has died. She was 94. Her most recent role was in 2002 in Law & Order: Criminal Intent. Read her obituary from Sunday's The New York Times here.
In Memoriam: Johnny Gimble
Johnny Gimble, a prolific country music instrumentalist who won the CMA Award for Musician of the Year five times and ACM Award for Musician of the Year nine times, passed away Saturday in Texas. He was 88 and had suffered a series of strokes over the past several years. His playing could be heard on several of Dolly's early 1970s albums including Coat of Many Colors, My Tennessee Mountain Home and Jolene. Read his obituary from CMT.com here.
---
May 9:
'Steel Magnolias' Returns To The Big Screen
Dolly's 1989 classic film Steel Magnolias is heading to cinemas this week for a limited digital run. Cinemark Cinemas (which also own Rave, Century, CineArts and Tinseltown Cinemas) has announced the picture will screen at 2 p.m. Sunday and 2 p.m. and 7 p.m. Wednesday at many of its theaters nationwide. Visit their site here to see if the film is playing in your area. (I had to reload the page after entering a city/state or zip code for the search function for cities to show.)
See 'New' Old Dolly Photo
A previously unreleased portrait of Dolly is among 64 images on display starting Saturday at the National Museum Cardiff in Wales, U.K. "Chalkie Davies: The NME Years," which features the 1977 photo that is also highlighted in The Guardian's profile on the exhibit here, continues through Sept. 6.
'Grace And Frankie' Creator Talks
Marta Kauffman, creator of the new Lily Tomlin/Jane Fonda series Grace And Frankie and co-creator of Friends, spoke to the Associated Press here about the new show and the first question was about their 9 To 5 co-star Dolly. She replied: "I know. Here's the thing. Until the show is established as a world of its own, when you bring Dolly Parton into it, who I love by the way. I love her, I love everything about her. When you bring her in what it takes you to is, 'Oh, it's a 9-to-5' reunion.' We haven't established 'Grace and Frankie' yet as individuals so you can enjoy that without it taking you out of the show so that's why I'm hesitant." Fonda and Tomlin have both said it would be possible to have Dolly guest on the second or third season if the show is renewed.
---
May 7:
Dixie Stampede Horse At Auction For Charity
A molded fiberglass horse made to celebrate the Dixie Stampede 20th anniversary in Pigeon Forge in 2007 is being auctioned for charity. The horse bares an original painting of Dolly and is signed by both Dolly and the artist, Robert Tino. All proceeds will go to the Boys & Girls Club of the Smoky Mountains in Dolly's hometown of Sevierville, Tenn. Opening bid is $5,000 plus shipping. Bidding via ebay ends on May 16. See the listing here.
Kenny's Concert For Showcase Series Goes On Sale
Dollywood on Wednesday began offering tickets for sale for Kenny Rogers' Sept. 27 concert at the park to help raise money for Dolly's Imagination Library literacy program. However, as happened when Dolly's concert tickets in the series went on sale, several regular season passholders reported not receiving the e-mail to alert them that tickets were available (including, for the second time, your webmaster's household). By the time word started to be shared on Facebook that tickets were on sale mid-afternoon, all of the $100 preferred tickets were sold out. By evening, the first of the three $50 sections was also sold out. Get your tickets here, which are currently only available to season passholders.
---
May 6:
New Pics Posted, Dolly Honors Teacher With Award
Tonight, your Dollymania.net coverage of Dolly's weekend appearances at Dollywood continues with photos from her park tours on Friday and Saturday. They've been added to that section of the website here. Also, Knoxville's Local 8 Now posted a story about her presentation of the Chasing Rainbows Award to Andover, Kansas, teacher Dyane Smokorowski, 2013's Kansas State Teacher of the Year. Read more here.
---
May 5:
Dolly: Kids CD Coming In June, Trio In Fall
A new children's CD to be sold through Dolly's Imagination Library charity is expected this June, she revealed in a Nashville interview via satellite from Dollywood during last week's media blitz. She also said that the repackaged Trio recordings with Linda Ronstadt and Emmylou Harris that will include a third album consisting of previously unreleased recordings should hit stores sometime in the fall. Watch the interview here.
Dollymania Photos From Weekend Are Posted
Your Dollymania.net coverage of Dolly's weekend Homecoming appearances continues tonight with three galleries from her Pigeon Forge parade that have been added to that section of the site here. Still much more to come! In other news, The Kingsport Times News covered the weekend here.
Stampede Auditions Happen On Thursday
Want to ride in Dolly's Dixie Stampede dinner theatre? Auditions will take place at 10 a.m. Thursday, The Sevier News Messenger reported here.
---
May 4:
Dollywood Homecoming A Hit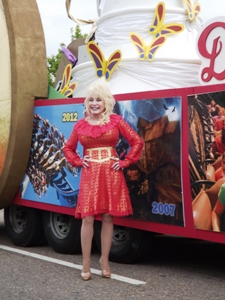 Dolly surprised fans on Friday at a ceremony celebrating Dollywood's 30th anniversary and her annual Homecoming parade through Pigeon Forge by giving each of about 1,700 attendees in DP's Celebrity Theatre a vacation package consisting of one free night at the park's upcoming DreamMore Resort, two tickets to Dollywood, two tickets to Splash Country and two tickets to Dixie Stampede, all good through the end of 2017. In addition, a handful of winners were randomly chosen from the audience to receive a free stay in Dolly's suite at the resort hotel. Earlier in the ceremony, she sang several songs live: "9 To 5," "Jolene," "Islands In The Stream" with brother Randy Parton and "Coat Of Many Colors." Original cast members from former shows such as "Fire On The Mountain" and "Paradise Road" took to the stage to perform songs from those past shows (including American Idol's Janelle Arthur). The afternoon, she had a park tour before her annual parade through the city (photo from which is at right and copyright ©2015 T. Duane Gordon/Dollymania.net and may not be reproduced without prior written permission. All rights reserved. Click on it for a larger view.). On Saturday, she popped in at the Kingdom Heirs' show to sing "I'll Fly Away" and her family's My People show to sit in the audience to watch it and make a brief appearance on stage to greet the crowd before an afternoon park tour. Your official Dollymania.net coverage will continue through the next several days. Coverage is available from Local 8 here, WATE here and WBIR here, here, here, here, here and here. Full footage from Friday's event is available here. In addition, a story on a dying woman fulfilling her wish of meeting Dolly from Local 8 is here, WBIR had a piece on Dolly participating in a practical joke in 2003 here and a piece on a former Johnny Appleseed Jr. actor at the park who rose to be head of HR here. Finally, some pre-appearance satellite interviews took place with Charleston, W.V., station WOWK here, St. Louis, Mo.'s, KPLR here and Chicago's WGN here.
Dolly's 'Pure And Simple' Contest Winner Named
Dolly on Sunday announced the winner of the contest to meet her at her August concert at the park. Check out the video announcement here. (And remember that the 30 Days of Thanks contest at the park continues to accept entries at kiosks around the park until the end of the month for a similar prize package.)
Overseas Chart Updates
Dolly's Blue Smoke this week remains at No. 1 for a 47th consecutive week on the British country compilation albums chart, Sunday's numbers confirmed. Elsewhere on the U.K. country compilations tally, Emmylou Harris's Original Album Series, Volume 1 (with two Dolly covers, one track with Dolly harmony and one track with Trio harmony) gains two to No. 8 while her Original Album Series, Volume 2 (featuring one track with Dolly harmony and two tracks with Trio harmony by Dolly and Linda Ronstadt) slips three to No. 15 and Ronstadt's own Original Album Series (featuring one Dolly cover and one track with Dolly harmony) gains three to No. 10. Down Under, The Essential Dolly Parton loses 14 places on the Australian top 40 country albums chart to No. 40 for an 82nd chart week since release.
Appalachian Lichen Variety Named After Dolly
Dolly already had a rose variety named after her – as well as the world's first cloned animal – and now she has a lichen named after her. The New York Botanical Garden made the announcement last week of the classification being published. Although the variety had been known to scientists for some time now and it ranges from Georgia to Maine along the entirety of the Appalachian Mountains, they only recently found it in a state that would allow for it to be formally classified. Japewiella dollypartoniana was named after her to recognize her career and philanthropy. Jessica L. Allen, who co-wrote the paper naming the organism, said in a press release: "Dolly Parton is an inspirational figure who has championed the Appalachians both in America and around the globe. By naming an Appalachian lichen species found near her Tennessee hometown in her honor we hope to pay tribute to her tireless work as an artist and philanthropist." Science Magazine noted the naming here.
'Whorehouse' Royalties Lawsuit Settled
Dolly should be getting a check from Universal Pictures in the near future. The studios reached an agreement to end a class action lawsuit brought by the estate of The Best Little Whorehouse In Texas director Colin Higgins about how royalties for home video sales are calculated for actors, directors, producers and others. Traditionally, such payments were based on 20 percent of the video sales total, but his estate argued that the payments should be based on 100 percent of sales. The suit was started over Higgins' film with Dolly and Burt Reynolds. The settlement sets aside $26 million to compensate those involved in that picture and others produced by the studio in that era. Read more from The Los Angeles Times here.
---
For the archive of monthly news stories, click here.