Year In Review: 2003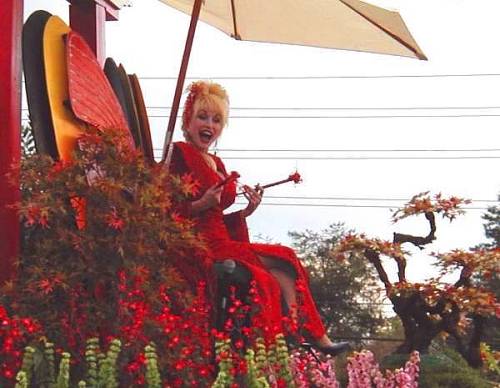 Dolly jokes around from her float in her annual parade through Pigeon Forge, Tenn., to celebrate April's season opening of Dollywood. Image copyright © 2003 Duane Gordon/Dollymania. May not be reproduced without prior written consent.
This is your Dollymania Year In Review for 2003, the fifth annual installment of the only published overview of the past year in Dolly's life!
---
January


The Best Little Whorehouse In Texas, Dolly's second film, is released on DVD for the first time 21 years after hitting cinemas. The digitized release includes several bonus features.

Respond II, a CD to benefit the victims of domestic violence, is released. Dolly contributes her song "Endless Stream Of Tears," originally from The Grass Is Blue.

The BBC airs a special one-hour documentary Dolly Parton: Platinum Blonde, which garners 4.1 million viewers, or one-quarter of all televisions in the British Isles which were turned on at the time it was broadcast.

Dolly receives two Grammy nominations, with "Dagger Through The Heart" up for Best Female Country Vocal Performance and Halos & Horns up for Best Country Album, bringing her total career nominations to 40, of which she has won seven.

Dolly turns 57 years old.

Phil Bredesen is sworn in as governor of Tennessee. The Democrat's major campaign pledge was to expand Dolly's Imagination Library into a statewide program using public and private funds, which brought support from Dolly. However, a state budget crisis has put the project on the back burner for now.

Country Music magazine ranks Dolly as the fifth-best artist of 2002, second-best female artist, third-best tour and ninth-best album.

Dolly's Imagination Library expands into Alabama, its 26th state, with the Danville-Neel community signing on.

February

Dolly disbands her touring group, The Blueniques, since she has no immediate plans to tour.
The Imagination Library expands into Indiana with the addition of the Fayette County community.

One of Andy Warhol's paintings of Dolly goes on display in a Warhol exhibit at the Bellagio Casino in Las Vegas.

Halos & Horns passes 150,000 copies sold.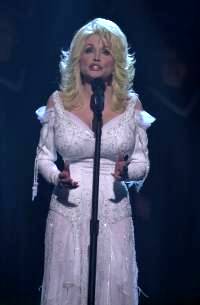 "Hello God" from Halos & Horns peaks at No. 1 on the PowerSource weekly Christian country chart. (Photo by Jim Hagans of Dolly performing the song on the 2002 CMA Awards. Image provided by Country Music Association. Used with permission.)

Sugar Hill Records confirms a tentative fall release date for an all-star tribute album to Dolly.
Dolly records a track with the Bellamy Brothers for their upcoming album Angels And Outlaws.

Dolly drops in at a 50th anniversary celebration for Knoxville's WIVK, a radio station on which she performed as a child.

Dolly is to record a duet on an upcoming CD by Randy Kohrs, who had been the leader of The Blueniques, it is confirmed.
Dolly the cloned sheep, named after Dolly Parton, is put to sleep after developing lung disease. She was 6.

Dolly loses the Best Country Album Grammy to The Dixie Chicks for Home and Best Female Country Vocal Performance to Faith Hill for "Cry." Several critics say Dolly deserved to win both trophies.

March

Dolly is profiled in a segment of the four-hour BBC2 documentary Lost Highway on country music.

CMT airs Stars Over Texas, a one-hour concert special filmed in Austin featuring Dolly, Vince Gill and other performers and hosted by Ray Benson of Asleep At The Wheel.

Dolly is named by viewers of the cable network TV Land as the Most Memorable Female Guest Star In A Comedy As Herself for her 1989 stint on Designing Women in the first annual TV Land Awards.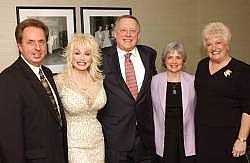 Dolly is honored with the 2003 Lifetime Achievement Award from the Tennessee Arts Commission at its Governor's Awards In The Arts. (Image courtesy the Tennessee Arts Commission. Used with permission.)

The new book Heartaches by the Number: Country Music's 500 Greatest Singles ranks Dolly's "Coat Of Many Colors" as the eighth-best country music song of all time. Dolly logs a total of 10 entries in the top 500, a number exceeded only by George Jones, who has 12.

Dolly's producer dispels rumors that she is to be a surprise guest at the legendary Glastonbury Music Festival in England, a speculation which had circulated in the British press for several weeks.
The Travel Channel airs an hour-long behind-the-scenes look at Dollywood and Dolly's Splash Country as part of its Secrets series.

April

A new recording of Dolly performing "I Will Always Love You" begins airing in a Verizon Wireless commercial.

Dolly heads to Dollywood for its annual season opening festivities, including her usual parade through Pigeon Forge and two parades through Dollywood's grounds. She also appears at a special luncheon with the Junior Achievement of East Tennessee to be inducted into the chapter's Business Hall of Fame. (Image © 2003 Duane Gordon/Dollymania. May not be reproduced without prior written consent. See more shots and read about the weekend's events here.)

An instrumental bluegrass tribute to Dolly, Pickin' On Dolly Parton, is released.

Dolly appears on The Food Network's Best Of Celebrity Tables to discuss the cuisine at Dollywood.

Chicago performer Stephen Rader opens a cabaret-styled show comprised of Dolly songs titled Dolly Would to good reviews.

It is announced that the Dollywood Foundation's Dolly Parton Scholarship will be expanded this year to three additional Sevier County high schools in Tennessee. The $15,000 scholarship, which has been awarded for the past two years to one graduating senior at Dolly's alma mater, Sevier County High School in Sevierville, will now also be awarded annually to a senior from each Seymour High School, Pigeon Forge High School and Gatlinburg-Pittman High School.

Dolly's December benefit concerts at Dollywood for the Foundation sell out a few hours after they go on sale to the general public.
Frank McKlusky, C.I., Dolly's 2002 comedy which was sent straight to video after a disappointing test release in Florida, gets its cable debut on STARZ.

Dolly is honored by the Parents As Teachers National Center as its 2003 Child And Family Advocacy Award winner for her Imagination Library program.
Sinead O'Connor announces she is retiring from music and that her final recording will be a cover of Dolly's "Dagger Through The Heart" for Sugar Hill's tribute album.

The U.S. premiere of out British host Graham Norton's late-night talk show, in which he spent half an hour with Dolly, loses to an episode of The Rosie O'Donnell Show on gay adoption for the Outstanding Talk Show award at the 14th Annual Gay and Lesbian Alliance Against Defamation (GLAAD) Awards.

May


Dolly's 1992 comedy Straight Talk is released on DVD for the first time.

For the third year in a row, Dolly makes an appearance at the Country Music Hall of Fame ceremony where medallions are presented to the previous year's inductees. Dolly gives a special performance honoring former duet partner Porter Wagoner, who was receiving a medal for his 2002 induction. Dolly was inducted into the Hall in 1999.

The Kingsport, Tenn., Area Chamber of Commerce sues Dollywood in federal court alleging trademark infringement over the name of the park's children's festival. Dollywood initially called it Kidz FunFest, changing the name to Kids Fest in February when the Chamber complained the name was too similar to its annual Fun Fest concert series. Even though the park has not used the old name in months, the Chamber files suit claiming it has been in continued use since then. The matter is later settled out of court.

Dolly's Splash Country water park adjacent to Dollywood opens for its third season, premiering a new $1.5 million, two-acre area known as Raintree Hollow.

The IMAX film Our Country, about country music and in which Dolly briefly sings, premieres at a film convention in Los Angeles. The movie also begins its first public showings with a several-month engagement at a theater outside Palm Springs, Calif. The show comes to Nashville in June, although producers incorrectly term it the movie's "world premiere."

June


Ultimate Dolly Parton, a new compilation CD which Dolly herself helped oversee, is released. The album debuts at No. 20 country, No. 130 pop, to become Dolly's 57th top 20 country album. The CD also reaches No. 1 country and No. 17 pop in England.

Dolly appears on a special hour-long interview on CMT's MWL Star to premiere her new video for "I'm Gone." She also announces she will be releasing a CD of patriotic and inspirational songs in the fall titled For God And Country.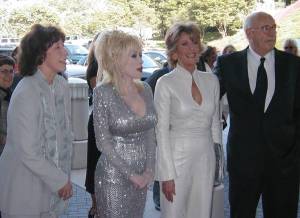 Dolly gathers with her 9 To 5 co-stars Jane Fonda, Lily Tomlin and Dabney Coleman for a fundraiser in Atlanta to benefit Fonda's charity, the Georgia Campaign for Adolescent Pregnancy Prevention (G-CAPP). The night features a live auction and a "retro-premiere" of the classic 1980 film. It is the first time all four cast members are gathered in one place since the film was in cinemas. Dolly also announces at the event that she and Kenny Rogers will record a new song she wrote titled "Undercover" for his upcoming album. (Image © 2003 Duane Gordon/Dollymania. May not be reproduced without prior written consent. See more shots and read about the event here.)

CMT airs a special counting down the 100 Greatest Songs Of Country Music. Dolly is honored with two entries: "I Will Always Love You" at No. 16 and "Coat Of Many Colors" at No. 54.

It is announced that Dolly will headline the Capitol Fourth concert on July 4 from the U.S. Capitol in Washington. The concert airs live on PBS annually.

Sugar Hill Records issues Dolly's two most recent CDs on hybrid super audio format (SACD).

Dolly serves as keynote speaker for the annual National PTA Conference in Charlotte, N.C. (See photos here.)

Dolly's fourth Dixie Stampede, this one in Orlando, Fla., opens to the public with great fanfare. Dolly herself is on hand for a special preview of the facility aired live on NBC's Today show, performing the dinner theatre's finale, "Color Me America," which she announces will be on For God And Country. (See images from the event here.)

Dolly makes numerous appearances around Dollywood to kick-off the two-month-long Kids Fest celebrations. (Image of Dolly singing "Happy Birthday" to Garfield at the celebration © 2003 Duane Gordon/Dollymania. May not be reproduced without prior written consent. See more shots and read about the weekend's events here.)

Ray Benson of Asleep At The Wheel releases his first solo album, Beyond Time, on which Dolly duets on "Leave That Cowboy Alone," a song they co-wrote for their 1991 tele-film Wild Texas Wind.

It is announced that Dolly will appear at the National Zoo in Washington, D.C., to receive a special U.S. Fish and Wildlife Service Partnership Award for her efforts in wildlife conservation through the American Eagle Foundation and to donate two bald eagles from the sanctuary at Dollywood to a new exhibit at the zoo.
Dollywood announces it will open a new wooden roller coaster, Thunderhead, in April 2004.
July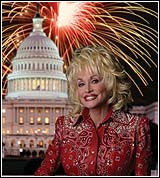 Dolly dazzles viewers with an hour-long candid, in-depth interview with Larry King on CNN. (King uses a great deal of material from Dollymania in his interview.) Although she announces that she plans a major tour to promote For God And Country, she says it will not be released until early 2004 (but it ends up being released in 2003). While in Washington, she does a handful of other brief interviews, appears at the National Zoo, performs at the Capitol Fourth concert aired live on PBS and is spotted at The White House. (Image courtesy PBS.)

Shaunna and Kristina Larkin release their debut CD as a sister duo, The Larkins, featuring Dolly guest vocals on a cover of her "Steady As The Rain."

Dolly opens up about how AIDS has affected her life in an honest and lengthy interview with A&U magazine, which focuses on the arts and the disease. (Read the article here.)

The complete final track listing, liner notes and publicity shots of Dolly are released for the tribute album Just Because I'm A Woman: Songs Of Dolly Parton.
Dolly ranks at No. 189 on VH1's list of the 200 Greatest Pop Culture Icons. She joins Shania Twain, Garth Brooks and Johnny Cash as the only country artists represented in the 200.

Dottie Rambo releases Stand By The River, featuring a Dolly duet on the title track which had gone to No. 1 on several gospel charts in late 2002.

August

It is announced that Mindy Smith's "Jolene" will be the first single from Just Because I'm A Woman: Songs Of Dolly Parton. Smith shoots a video for the song which includes a Dolly cameo.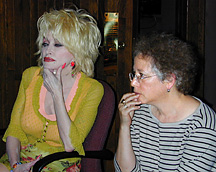 Dolly records a new duet with Janis Ian on a song called "My Tennessee Hills." (Image courtesy JanisIan.com. Used with permission.)

It is announced that the duet will appear on Ian's album, Billie's Bones, to be released in February 2004.
The Imagination Library expands into Kentucky.

It is confirmed that Dolly will not tour before the end of 2003.
Dolly appears on the grounds of Dollywood to film a patriotic episode of The John Walsh Show to air on the two-year anniversary of the Sept. 11 terrorist attacks. (Visit the galleries page here for several great sets of photos from the taping.)

Dolly earns her 39th CMA Award nomination, getting her first nod for Female Vocalist Of The Year in 16 years.

The final track listing and cover art for For God And Country are released.
September

Dolly is nominated for four Christian Country Music Association Awards, but doesn't win.

The first unofficial "Gay Day" is held at Dollywood.

Dolly's Blueniques leader Randy Kohrs weds Shaunna Larkin at the Ryman Auditorium. Since Dolly can't be present due to a benefit concert taping, she sends a video message of "Marry Me" (the song she performed immediately before Kohrs proposed to Larkin during Dolly's Ryman concert the previous year) and "I Will Always Love You," with the lyrics changed to reflect a new marriage instead of an ending relationship. (Read a story on the ceremony including the new lyrics here.)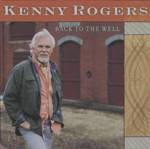 Kenny Rogers' Back To The Well, featuring the new Dolly duet "Undercover," is released.

Although Rogers had previously said "Undercover" would be released as the album's second single in September 2003, label officials confirm it is planned as the third single in early 2004.
Dolly headlines the Women Rock breast cancer benefit concert, taped in Los Angeles for broadcast on Lifetime.

Livin', Lovin', Losin': Songs Of The Louvin Brothers, featuring a Dolly duet with Sonya Isaacs, is released.

October


Dolly's 1968 album Just Because I'm A Woman is released on CD for the first time in the U.S. with bonus live tracks of the title song and "Coat Of Many Colors."

A duet of "High And Mighty" with Aaron Crisler appears on Crisler's debut album.

CMT Crossroads tapes a concert of Dolly with Melissa Etheridge in Los Angeles.

Wal-Mart gets an exclusive Dolly DVD to promote the tribute album and patriotic album.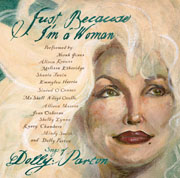 Just Because I'm A Woman: Songs Of Dolly Parton is released. Dolly appears on The Tonight Show With Jay Leno to promote it. The CD reaches No. 6 country and No. 55 pop.

A Dolly tribute-themed episode of The Oprah Winfrey Show is filmed with Dolly, Melissa Etheridge, Shania Twain and Alison Krauss. On the show, she performs with each of the three women, Shania cries when she speaks of Dolly's impact on her life and says singing with her was her lifelong dream, and Dolly congratulates Melissa on her recent wedding to another woman and says she supports gay marriage.


The Women Rock! breast cancer benefit concert airs on Lifetime, with Dolly as its headliner. She performs "Just Because I'm A Woman," "Angel From Montgomery" with Bonnie Raitt and Alison Krauss, "9 To 5" with Krauss, and "Jolene" with Mindy Smith and the concert's entire cast as the show's finale.

Dolly and Jane Fonda pay tribute to pal Lily Tomlin when she is awarded the Mark Twain Prize For American Comedy in Washington. The ceremony is taped to air on PBS in November. In addition to lauding the lesbian comic and her longtime professional and personal partner for their talents, Dolly sings the theme to their hit film 9 To 5 and introduces the Kennedy Center's chairman to present the actual award to Tomlin.

November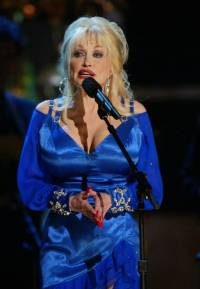 Dolly performs "The Grass Is Blue" with Norah Jones on the CMA Awards but loses the Female Vocalist Of The Year honor to Martina McBride. (Photo by John Russell and courtesy the Country Music Association. Used with permission. See additional shots here.)

Dolly is profiled in Rolling Stone in a special "Women Who Rock" section.

Dolly is honored with the ICON Award, the top honor from the songwriting association BMI. (See images from the ceremony here.)

Dolly is chosen as the No. 1 Greatest Fashion Statement in country music history by CMT.

Disney announces the animated film which was to co-star Dolly will not be produced. She says that part of the problem was the studio felt a film with an all-mountain-music soundtrack would not appeal to a mass audience.

Rolling Stone names Coat Of Many Colors No. 299, one of only a dozen country discs chosen in its 500 Greatest Albums of All Time.


For God And Country hits stores. To promote its release, Dolly appears on The Early Show, The Late Show With David Letterman, Late Night With Conan O'Brien and The O'Reilly Factor. The CD spends only four weeks on the 75-album Billboard country albums chart, peaking at just No. 23.

British magazine Erotic Review names Dolly one of the world's 25 "Sex Goddesses."

CMT's Crossroads with Melissa Etheridge airs. Dolly sings Etheridge's "Come To My Window," "I Want To Be In Love" and "Bring Me Some Water," all with a little help from Etheridge, who sings Dolly's "Jolene," "Coat Of Many Colors," "I Will Always Love You" and "9 To 5," all with a little help from Dolly. In an interview segment, they perform a short version of Elvis Presley's "All Shook Up." Cut from the broadcast were Dolly's version of "You Can Sleep While I Drive," Etheridge's "It's All Wrong, But It's All Right" and a duet of Johnny Cash's "I Walk The Line" (although the introduction and commercials for the concert showed Dolly joking during the performance of that song as their faces came close together: "I'm not Madonna -- I'm MaDolly! Don't make me kiss you!")

December

Dolly's uncle Robert "John Henry III" Owens, who was responsible for her traveling to Louisiana to record her first single, "Puppy Love," as a child, dies at the age of 72.

Country Weekly announces that Dolly has been chosen as its Career Achievement Award winner in the 2003 Fan Favorite Awards.

Dolly earns her 41st Grammy nomination, this time for Best Female Country Vocal Performance for "I'm Gone" from Halos & Horns.

Just one week after the passing of her uncle, Dolly loses her mother, Avie Lee Owens Parton, who dies at the age of 80.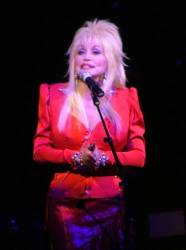 Dolly appears in her annual benefit concerts at Dollywood for the Dollywood Foundation. She also hands out the 1 millionth book for her Imagination Library program. Although it took seven years to reach the milestone, the library expects to pass the 2 million mark before the end of 2004. At the end of 2003, the program is active in 260 communities in 35 states. (Image © 2003 Duane Gordon/Dollymania. May not be reproduced without prior written consent. See more shots and read about the weekend's events here.)

Shania Twain's cover of "Coat Of Many Colors" with Alison Krauss, Union Station and Dolly debuts on the country singles chart even though it is not officially released as a single due to restrictions from Shania's label.

USA Today confirms that Dolly will appear on Norah Jones' next album, due in February.

Just Because I'm A Woman: Songs Of Dolly Parton takes the No. 1 spot on the Americana albums chart as the CD of the Americana sub-genre with the most radio airplay of the week.

Dollymania is named the 82nd best music-related site on the Internet by British Telecommunications' 2003 Interactive Music Awards, up from No. 102 in 2002.

Dolly announces that ABC has pulled the plug on her planned bio-pic on Mae West, citing that the network has decided to reduce the number of made-for-television movies it produces.

The Associated Press ranks Just Because I'm A Woman: Songs Of Dolly Parton the fourth-best album of the year, the only country disc in its top 10.

Billboard updates Dolly's sales figures for her most recent albums, reporting that The Grass Is Blue has sold 195,000 copies, Little Sparrow 212,000 and Halos & Horns 187,000.
---
Previous Years In Review:
---
Dollymania was the first Dolly site to report the vast majority of the above stories. Those items marked with the butterfly icon represent a handfull of the approximately three dozen items throughout the year which Dollymania was the first news outlet anywhere to publish.