Year In Review: 2005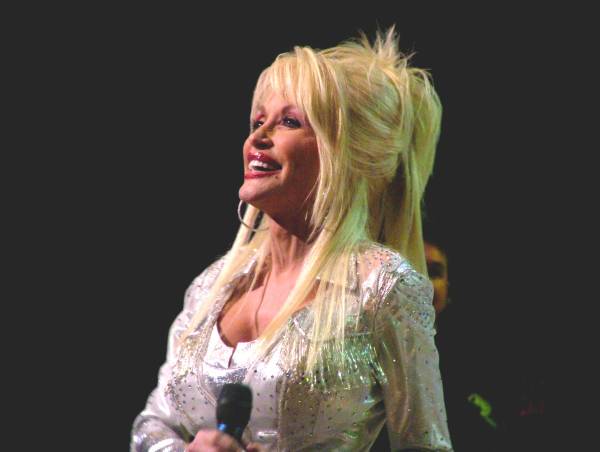 Dolly at The Grand Ole Opry in Nashville in April. Image copyright © 2005 T. Duane Gordon/Dollymania. May not be reproduced without prior written consent.
This is your Dollymania Year In Review for 2005, the seventh annual installment of the only published overview of the past year in Dolly's life!
---
January


With more than 3 million copies sold across the pond, Norah Jones's Feels Like Home, featuring its Dolly duet on "Creepin' In," is named Europe's best-selling disc of 2004.

Dolly's CMA performance of "The Grass Is Blue" with Norah Jones loses the Favorite Combined Forces trophy at the Peoples Choice Awards to Lil' John and Usher for "Yeah!"

Dolly celebrates her 59th birthday.

After having peaked at No. 2 on the adult contemporary charts due to holiday airplay, Dolly's recording of "Baby It's Cold Outside" with Rod Stewart from his Stardust . . . The Great American Songbook: Volume III falls out of the 40-position singles tally.

Dolly's flagship Dixie Stampde in Pigeon Forge, Tenn., announces a $2 million expansion which adds 200 seats to its pre-show Carriage Room.

It is confirmed that Dolly's annual Dollywood Foundation benefit concerts will be held in September again this year at Dollywood.

Billboard reveals that Dolly's 2004 "Hello I'm Dolly" Tour, which ended in December, grossed more than $5 million. (See photos from the tour here.)

It is confirmed that Dolly's long-talked-about guest spot on the WB's sitcom Reba will tape in February.

Johnny Carson, longtime host of NBC's The Tonight Show who regarded Dolly as one of his favorite all-time guests, dies. He was 79.

The always-charitable Dolly offers herself as one of the prizes at a Nashville auction to benefit Easter Seals. Several high-rollers pay out $25,000 each for the charity to dine with Dolly at a private home.

February

The Grand Ole Opry announces that due to a bout with the flu, Dolly will have to postpone her planned appearance on the country music institution to April. Brad Paisley steps in at the last minute to take over her hosting and performing duties for the sold-out Feb. 5 show.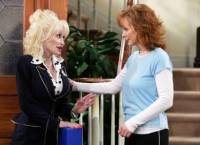 Dolly tapes her episode of Reba in Los Angeles. Having just come off of a week of battling a very severe flu, she is notably skinnier than usual, but the audience loves her. Image of Dolly and Reba courtesy The WB.

The Grascals, who made up the majority of Dolly's stage band for her 2004 tour as well as serving as her opening act on the road, release their debut CD, The Grascals, which features their cover of "Viva Las Vegas" with Dolly. The disc peaks at No. 3 on the Billboard bluegrass albums chart.

Love Rocks, a fund-raising CD issued by gay rights group the Human Rights Campaign in support of its efforts to legalize gay marriage, is released to music stores after being available only online for a few months. Dolly, a supporter of same-sex marriage, contributes her 2002 recording of "Sugar Hill" to the collection. Anti-gay conservative activists publicly slam the artists who appear on the project, including Dolly.

Although nominated for Best Country Collaboration With Vocals with Norah Jones for "Creepin' In," Dolly loses the category at the Grammy Awards to Loretta Lynn and Jack White for "Portland, Oregon." The category had also included an uncredited Dolly appearance, with Shania Twain and Alison Krauss and Union Station nominated for Twain's cover of "Coat Of Many Colors" from the tribute project Just Because I'm A Woman: Songs Of Dolly Parton (Dolly provided harmony throughout the track, but since she was listed as a performer on the liner notes only and not the track listing, she was not identified in the nomination). Rod Stewart's Stardust . . . The Great American Songbook: Volume III, with its Dolly duet on "Baby It's Cold Outside," wins Best Traditional Pop Vocal Album.


It is announced that Dolly has filmed a cameo appearance in the Sandra Bullock film Miss Congeniality 2: Armed & Fabulous. Although a quote from Bullock about a joke she says Dolly made during the filming of their scene together, which involved Bullock tackling her in a casino lobby, gets distorted by the tabloid press into inaccurate claims that the two share a lesbian kiss in the film. The story makes its way onto a news syndication wire, where it gets picked up by mainstream newspapers, causing somewhat of a minor controversy with some conservatives protesting the non-existent kiss. When the film opens nationwide the next month, audiences discover there never was a kiss.

March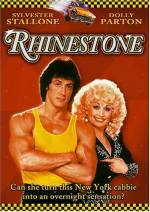 Dolly's critically-blasted 1984 film with Sylvester Stallone, Rhinestone, is released on DVD for the first time.

Although it's been known for several months that Dolly was working on the score for a Broadway musical adaptation of 9 To 5, more details on the project are released, including that it should premiere in late 2007, it is being produced by Showtime networks president Robert Greenblatt, it will remain set in the 1979-1980 period and while Dolly will be heavily involved in the production, she will not appear in the actual show.

Dolly's 1994 concert CD Heartsongs: Live From Home is re-issued after being out-of-print for a few years.

Rhonda Vincent releases Ragin' Live, her concert CD which contains a live cover of Dolly's "Jolene."

The Bellamy Brothers release Angels & Outlaws, Vol. 1, a collection of re-recordings with guest artists of their biggest hits, including "If I Said You Had A Beautiful Body (Would You Hold It Against Me)" with Dolly.

Dolly accepts the Country Music DJ and Radio Hall of Fame's Artist Career Achievement Award from the Country Radio Broadcasters at their annual convention in Nashville, joking that country radio once treated her like a great lover, buying her nice things, but then it dropped her ass for younger women. Newcomer Catherine Britt and established diva Martina McBride offer their tributes during the ceremony by performing their favorite Dolly songs for her live.

Dolly's version of "Thank God I'm A Country Boy" with Roy Rivers takes Europe by storm, making its way to No. 1 for country single airplay in several nations overseas.

A&E airs a new Biography on Sylvester Stallone, which includes quite a few statements from co-star Dolly.

It is announced that Dolly and Norah Jones are nominated for Vocal Event Of The Year at the Academy of Country Music Awards for their duet "Creepin' In." In May, the award goes instead to Brad Paisley and Alison Krauss for "Whiskey Lullaby."

Reader's Digest issues its April edition, which features a story from Reba McEntire on how much she modeled her personal life and career after her idol, Dolly.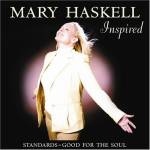 Dolly pal Mary Haskell, wife of her former film agent Sam Haskell, releases her CD Inspired, which includes the first recorded version of Dolly's "Try," the tune she wrote as the theme song for her Imagination Library.

Dolly makes an unannounced appearance with Gov. Phil Bredensen (D-Tenn.) at Nashville's downtown public library to formally kick-off the adoption of her Imagination Library literacy program in Davidson County, where Music City is located.

It is confirmed that Dolly's next planned CD, Blue Smoke, which was to combine some of her favorite '60s and '70s folk rock covers with some new bluegrass songs she has written, is on indefinite hold as she focuses her energy on composing songs for the Broadway adaptation of 9 To 5. (A few months later, the plan to include any "new" songs is dropped, and the album evolves into her covers project, Those Were The Days.)

Miss Congeniality 2: Armed & Fabulous, with its Dolly cameo, opens in second place at the box office. The film grosses $48.5 million in the U.S. and $52.9 million internationally for a combined total of $101 million.

Even though Dolly won't be on hand for its official season "grand opening" ceremonies for another week, Dollywood opens for its 20th season, featuring the new $5 million expansion of the Country Fair area.

Dolly's slated interview with Larry King on his CNN program to celebrate the park's anniversary is postponed due to developments in the Terri Schiavo case, the cable network confirms. The appearance is later re-scheduled.

April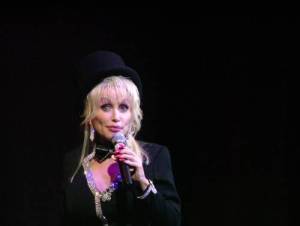 Dolly celebrates the 20th season opening of Dollywood by giving the 1,600 people who were able to get into the park's Celebrity Theatre for her anniversary celebration a 20-year pass to the park and its adjacent water park, valued at $5,000 each for a total of $8 million. Image of Dolly at the season opening weekend copyright © 2005 Duane Gordon/Dollymania. May not be reproduced without prior written consent. See more photos here!

Two Dolly-related books hit store shelves: Jane Fonda's autobiography, My Life So Far, which contains stories from the set of 9 To 5 and how Dolly helped her research her Appalachian role for The Doll Maker, and the celebrity fan book Starstruck by Michael Joseph Gross, which interviews several major Dolly fans.

Steel Magnolias, the hit off-Broadway play made into a blockbuster film starring Dolly in 1989, makes it to Broadway for the first time, with a lackluster run featuring Designing Women star Delta Burke in Dolly's role, Truvy.

Darrell Webb releases his new CD, Behind The Scenes, featuring Dolly singing along on a new song she wrote, "Cold."

Dolly's national Imagination Library literacy program reaches the milestone of being available to half of the children statewide in her native Tennessee, where the governor is working to bring it to every child in the state.

Dolly performs a charity concert in Nashville at the annual national convention of the American Academy of Cosmetic Dentistry, raising more than $100,000 for its program to provide dental surgery for free to victims of domestic violence.

Dolly's appearance on The WB's Reba premieres. While hailed by critics, her guest spot has little impact on ratings, pulling in about 4.6 million viewers, roughly the same average that watch the show weekly already.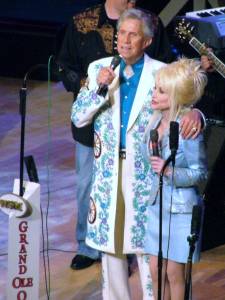 Dolly wows the sold-out crowd at her re-scheduled appearance on The Grand Ole Opry. In the GAC-televised portion of the program, she performs "Viva Las Vegas," "Coat Of Many Colors" and "Rocky Top" with The Grascals while introducing guests Jo Dee Messina, Hanna-McEuen and Secretary of Defense Donald Rumsfield during a telecast also broadcast to American troops worldwide which included a satellite hook-up to troops in Iraq. Dolly returns later that night for a non-televised segment hosted by pal Porter Wagoner to perform "Viva Las Vegas" and "Coat Of Many Colors" again. She surprises Porter by asking him to sing "The Last Thing On My Mind" with her, and he surprises her by asking her to sing "Rocky Top" to close out the segment, even though traditionally the segment host sings the last song of that portion of the show. In other non-televised portions, Dolly is paid tribute by Jeannie Seely with Cheryl and Sharon White for a performance of "Those Memories Of You," newcomer Catherine Britt with "Little Sparrow" and Ralph Stanley and the Clinch Mountain Boys with an instrumental dedicated in her honor. Image of Porter & Dolly at the Opry copyright © 2005 Duane Gordon/Dollymania. May not be reproduced without prior written consent. See more photos here!

May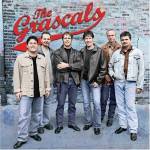 The Country Music Association announces Dolly and The Grascals will appear on the first night's concert in the CMA Music Fest, formerly known as Fan Fair, in Nashville.

Dolly rises 11 spots to No. 36 for the year in the list of the 100 most powerful Tennesseans as ranked by Business Tennessee magazine.

Brenda Lee announces Dolly is among several friends who have recorded duets with her for a gospel album which will likely be released in 2006.

The E! True Hollywood Story: Dolly Parton premieres on the cable network. Although usually tabloid-style sensationalism, often with no input from the episode's subjects, Dolly's show in the series is quite tame, having been made with her complete cooperation. It makes extensive use of an interview with her filmed specifically for the show and several new interviews with family members and friends.

CMT announces Dolly will participate in the top 12 countdown concert for the network's 100 Greatest Duets special.

Dollywood's Splash Country water park opens for its fifth season with the premiere of the $2 million Bear Mountain Fire Tower addition.

June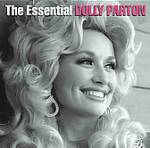 Sony BMG releases The Essential Dolly Parton, a re-issue of the two-disc version of BMG's 2003's compilation The Ultimate Dolly Parton, which she had a direct hand in assembling, with the addition of her 2001 recording of "Shine." (Although a one-CD version was sold in stores, the two-disc one was available only through an Internet and mail-order catalogue company, so this marked the first time the double-disc set was available in stores.)

Ralph Stanley releases his gospel collection Shine On, featuring a cover of a Dolly spiritual number as the title track.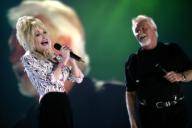 "Islands In The Stream" is revealed as CMT's No. 1 all-time country duet, giving Dolly two No. 1s on the network's all-time charts, as her "I Will Always Love You" was named the top country love song of all time the previous year. She and Kenny Rogers perform the song in concert in Nashville as part of a countdown of the top 12 songs from the list taped for a fall special. Image of Kenny & Dolly rehearsing for the show courtesy CMT/PR Newswire. Used with permission.

Dolly's holiday film Unlikely Angel is re-issued on DVD.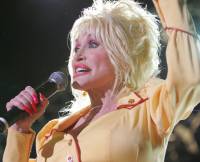 Dolly brings big cheers from the audience as she performs at the first night of the CMA Music Festival in Nashville. She does "Viva Las Vegas," "Train, Train," "Orange Blossom Special" and "Rocky Top" with The Grascals. Image at left provided by the Country Music Association. Used with permission. See more photos here!

Backstage at the show, Dolly announces she has decided to rename her next CD Those Were The Days instead of Blue Smoke, make it an all-covers project and go out on tour in the fall to promote it.

Dolly reveals her fall tour will be called "The Vintage Tour" and visit about 40 cities, that her Dollywood benefit concerts will be the same show as the rest of the tour, and that the new CD will feature along with '60s and '70s covers a very old public domain number, which turns out to be the Civil War-era tune "The Cruel War," which had been made popular by Peter, Paul & Mary 100 years after it was written.

Dolly's national Imagination Library literacy program's partnership with the state of Tennessee to take it statewide there passes its one-year anniversary, and the program becomes available to 70 percent of the state's eligible children.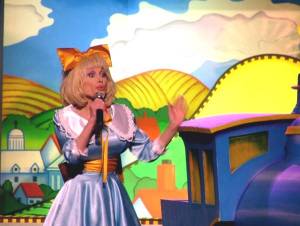 Dolly returns to Dollywood to kick-off the third annual KidsFest, which features three new live action musical stage shows based on books from her Imagination Library literacy program (and for which she wrote new songs), the stage show version of Clifford The Big Red Dog, a Spongebob Squarepants turbo action ride, MGM's Mad Science Movie Magic show, the ASA Extreme Sports Team and world premiere of the new VeggieTales movie, VeggieTales' Minnesota Cuke & the Search for Sampson's Hairbrush, among other attractions. She also presents the annual Dolly Parton Chasing Rainbows Award of the National State Teacher Of The Year Organization and this year's four recipients of the $15,000 Dolly Parton Scholarship Awards. Image of Dolly at the festivities copyright © 2005 Duane Gordon/Dollymania. May not be reproduced without prior written consent. See more photos here!

July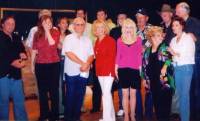 A who's-who of Grand Ole Opry legends join Dolly in the studio to record a sing-a-long chorus for the title track to her Those Were The Days album including former duet partner Porter Wagoner, George Jones, Brenda Lee and more. Image at left courtesy LeeAnn Lallone.

Wagoner is honored with a six-month temporary exhibit at the Country Music Hall of Fame in Nashville which includes some Dolly artifacts from their time together.

Although gossip columnist Liz Smith reports several guest stars have recorded their parts for Dolly's Those Were The Days CD, including Joni Mitchell, Sean Lennon and Cat Stevens, Dollymania confirms that while invitations have gone out to those individuals, neither Lennon nor Islam has agreed to appear on the disc yet and Mitchell had to back out of her commitment to harmonize on "Both Sides Now" due to a family member's illness. Lennon eventually turns Dolly down to appear on his father's "Imagine," and while Islam records vocals and guitar for "Where Do The Children Play," he asks Dolly to use only his guitar accompaniment, a request she honors.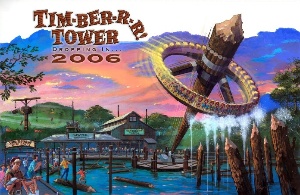 Dollywood announces that the 2006 park addition will be a new $6.5 million Timber Tower, a 65-foot-tall rotating tower which hurls riders toward a 5,100-square-foot lake below. Offering a 2.5-minute ride, the 40-person spinning disc will rotate nine times a minute as it climbs to the top of the tower, which is made to appear as a partially-chopped down tree. Once passengers have reached its peak, the tower will begin to swing side-to-side, tossing the disc several times at a 60 degree angle toward the water below, where water sprays will make it appear as if the riders have hit the lake surface. It will be the first ride of its type in the Western hemisphere, following the opening of two versions of the tower in Europe earlier in the year. Continuing the lumberjack theme of the adjacent roller coaster, the expansion will also feature a new restaurant called Lumbercamp, "rustic" children's play areas and a 30-foot tower ride aimed at children, where passengers will control the twin-seated vehicles by drawing up a cable to make the car rise up to 25 feet and "free-fall" back down. In addition, Dollywood's Splash Country announces that in 2006 it will add its tallest, fastest ride yet with two 70-foot-tall free-fall speed slides called Fire Tower Falls.

The first dates for Dolly's autumn "Vintage Tour" are slowly announced.


It is announced that Dolly will join George Jones on "The Blues Man" on his own covers disc, Hits I Missed . . . And One I Didn't, due out September. It is quickly revealed that the song will be the disc's first single and video in August, although it doesn't chart.

Dolly makes an unannounced appearance at Nashville nightclub The Station Inn to help out pal Chris Thile of Nickel Creek in his solo show at the establishment. The two sing duets of "Mr. Mandolin Man" (a re-working of Dylan's "Mr. Tambourine Man") and "Jackson" as well as a medley of favorites including "Going Down The Road Feelin' Bad," "My Long Journey Home," "Gotta Travel On," "Will The Circle Be Unbroken" and "I'll Fly Away."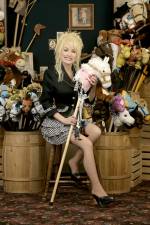 Dolly's Dixie Stampede Pigeon Forge opens Dolly's Barnyard Critters, which includes the world's only build-your-own-stick-horse operation and the largest collection of stick horses ever compiled. Dolly is shown in a photo courtesy Business Wire with the stick horse she made, "Lucky."

CMT.com reports Dolly made it out to an Annie Leibovitz photo shoot in Nashville with Walk The Line stars Joaquin Phoenix and Reese Witherspoon. One image of the three, plus singer Steve Earle, makes it in an issue of Vogue magazine later in the year.

Dolly's four September Dollywood benefit concerts sell out.

An Oct. 11 release date for Those Were The Days is confirmed.

Eddie Shuler, former owner of Goldband Records who first recorded Dolly back in 1957, dies. He was 92.

August

Ticketmaster begins auctioning Dolly meet-and-greets for several of her concerts on "The Vintage Tour" with proceeds benefiting her Imagination Library (although one auction benefits Hurricane Katrina relief efforts instead).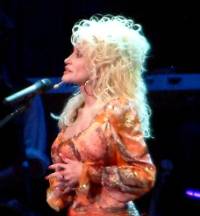 Dolly's "Vintage Tour" kicks off in Atlantic City. Over the course of four months, she plays 44 dates in 39 cities in the U.S. and Canada, including 13 sell-outs with most of the other shows near sell-outs. Image at left of Dolly at the tour's second night, New York City's Radio City Music Hall, courtesy Anthony Pepitone. Used with permission. See more photos from the tour here!

Candid Camera: Five Decades Of Smiles, a 10-disc collection from the TV series which includes Dolly's two mid-1970s appearances, is released.

Dolly's recording of "If I Said You Had A Beautiful Body (Would You Hold It Against Me)" with the Bellamy Brothers manages to chart for one week at No. 60 on the 60-position country singles chart.

Saxophonist Jerry D. releases a new recording of Dolly's "I Will Always Love You" which is instrumental until the third verse and final chorus, which find Dolly joining in. (Get it here.)

A dinner with Dolly is auctioned off at the Dr. Robert F. Thomas Foundation's 16th annual Evening of Elegance fund-raiser in Sevierville, Tenn., with the prize going for about $10,000.


Brad Paisley's Time Well Wasted, featuring Dolly singing on "When I Get Where I'm Going" and joking it up on the comedy skit "Cornography," hits stores to critical acclaim and wonderful sales, debuting at No. 1 country and No. 2 pop and quickly going gold.

The amusement industry's top awards, The Golden Ticket Awards, name Dollywood's Thunderhead the world's Best Wooden Rollercoaster for the year.

September


Bettye LaVette's R&B collection, I've Got My Own Hell To Raise, hits stores to rave reviews, particularly for her smashing cover of Dolly's "Little Sparrow."

Rhino Records releases One Kiss Can Lead To Another: Girl Group Sounds, Lost & Found, a boxed set which includes Dolly's wonderful Monument single "Don't Drop Out" from 1966.

Hurricane Ophelia forces Dolly to postpone her Myrtle Beach, S.C., concert on "The Vintage Tour," and two bouts with acute laryngitis force the postponement of shows in Danville, Ky., Tallahassee, Fla., and Birmingham, Ala., in one round as well as planned appearances on The Tonight Show With Jay Leno and The Ellen Degeneres Show a few weeks later. The postponed concerts are rescheduled for later in the tour. It is also confirmed that her Dec. 8 concert in New Orleans is cancelled due to damage to the theater from Hurricane Katrina.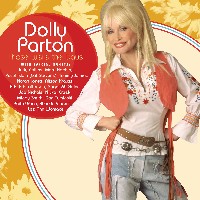 After initially announcing plans to release Dolly's Those Were The Days in Europe on Oct. 10, Sanctuary Records backs out of that agreement less than a month before the disc comes out, reportedly over concerns that she would be unable to travel to the U.K. for promotional appearances due to her North American tour. A new European distributor isn't finalized for months, delaying the album's release overseas.

CMT's 100 Greatest Duets premieres, featuring Kenny Rogers and Dolly performing "Islands In The Stream" at No. 1 in concert as the countdown closer (plus three Dolly duets with Porter, one with Ricky Van Shelton and one with Vince Gill in the top 100).

Dolly's duet with Brad Paisley, "When I Get Where I'm Going," is released as the second single from his CD.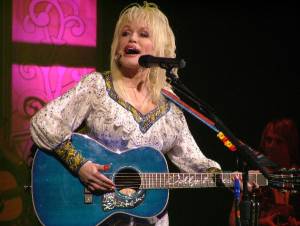 Dolly returns to Dollywood to kick-off its National Music And Harvest Celebration and perform her four sold-out benefit concerts. She reveals that "Imagine" will be the first single from her upcoming CD and announces that the Dollywood Foundation is sending 100,000 books for distribution to the children of Hurricane Katrina evacuees staying in Red Cross shelters. She also announces two new musical shows to debut at the park in 2006: a '50s and '60s revue called "Dreamland Drive-In" and "Babes In Toyland," which will be the largest production ever mounted there. Image of Dolly at the festivities copyright © 2005 Duane Gordon/Dollymania. May not be reproduced without prior written consent. See more photos here!

Dolly makes up her earlier postponed appearance on CNN's Larry King Live.

October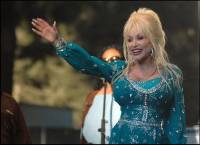 As part of her "Vintage Tour," Dolly performs at Hardly Strictly Bluegrass, San Francisco's free annual music festival in Golden Gate Park, before a crowd estimated to be 185,000-people strong. Image from the concert courtesy Philip Liborio Gangi. Used with permission. See more photos from the tour here!

Gospel legends The Chuck Wagon Gang announce an all-star tribute album they're recording for a 2006 release, including Dolly on one track.

Billy Dean releases his holiday album, The Christ (A Song For Joseph), featuring Dolly on a duet of "Silent Night."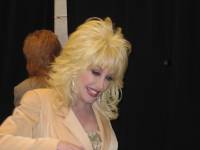 Dolly releases Those Were The Days in the U.S. on Sugar Hill Records and in Australia on Shock Records to critical acclaim and a bevy of personal appearances to promote it including a CD signing at Best Buy Midtown in New York City and stops on ABC's Good Morning America, NBC's Late Night With Conan O'Brien, Comedy Central's The Daily Show, the syndicated Tony Danza Show, ABC's The View and CNN Headline News's Showbiz Tonight. She also films a video for "Imagine" while in New York, and the CD debuts at No. 9 country, No. 48 pop and No. 2 independent labels albums. That pushes Dolly past her own record for the artist with the most top 10 albums on the country chart with a total of 41 -- she had previously been tied with Loretta Lynn at 40. The album makes it to No. 3 country in Australia, and in Canada it goes to No. 8 country and No. 94 pop. Image of Dolly at her CD signing courtesy Pierro Turgeron. Used with permission. See more photos from the signing here!

Dolly's Dixie Stampede dinner theatre in Pigeon Forge is sued by several families alleging that a former employee molested children performing in the annual Christmas show at the venue. The company denies any liability in court filings. The case is still pending at year's end.


Martina McBride's own covers project, Timeless, with Dolly on "I Still Miss Someone," is released. It debuts at No. 1 country and No. 3 pop and quickly goes platinum.

Dolly announces that her two Charenton, La., concerts on "The Vintage Tour" in December will serve as fund-raisers for the Humane Society's animal relief efforts associated with Hurricane Katrina.

Voters in the annual British Telecommunications (BT) Digital Music Awards rank Dollymania No. 108 of all music sites on the Web worldwide and the No. 1 site devoted to a country artist.

Dolly's "I Will Always Love You" makes Country Weekly's list of the 25 greatest country songs of all time (although it doesn't appear to rank the songs in any certain order, some reports claim hers is No. 1 because it's the first one listed in the story).

Welch opera sensation Katherine Jenkins releases a Dolly-approved Italian opera cover of "I Will Always Love You" under the title "'Ti Amero Per Sempre' on her new CD, Living A Dream.

November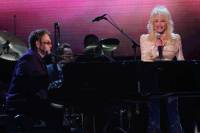 Dolly and Elton John perform his single "Turn The Lights Out When You Leave" and her single "Imagine" on the Country Music Association Awards in New York, although their musical styles don't really click on the show, resulting in harsh criticism of their appearance. Image at left by John Russell/CMA. Provided by Country Music Association. Used with permission.

Dolly is announced as one of 10 recipients selected by President George W. Bush for this year's National Medal of Arts, the highest governmental honor for excellence in the arts. However, due to her tour, she is unable to travel to Washington to participate in a medal presentation ceremony with the other recipients, the president and first lady in the Oval Office.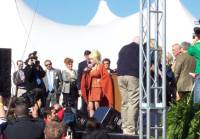 Dolly and sisters Rachael and Stella join brother Randy Parton and his family to break ground on Randy's new music theatre in Roanoke Rapids, N.C., before a crowd estimated to be around 12,000. Image courtesy Greg K. Used with permission. See more photos from the event here!

Dollywood's "I Will Always Love You" Bear, a rainbow-colored stuffed animal which features several shots of Dolly, flowers and musical notes, wins Souvenir of the Year at the 2005 International Association of Amusement Parks and Attractions Convention.

It is revealed that Dolly has written and recorded a song called "Travelin' Thru" for the soundtrack to the film Transamerica, which stars Emmy winner Felicity Huffman of Desperate Housewives as a pre-op male-to-female transsexual. Both the actress's performance and Dolly's tune generate great awards buzz for the indie film.

The video for Dolly's "Imagine" premieres on CMT. In addition to Dolly and several extras in New York, the video features several home movies of the song's composer, John Lennon, and his wife, Yoko Ono, which Ono released for Dolly to use due to how impressed she was with the new recording of the song.

December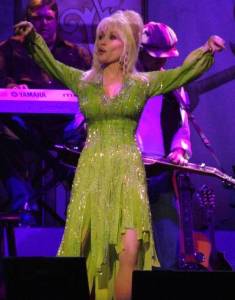 The night after her public arena concert in town, Dolly performs at a more intimate $500 and $1,000-per-person fund-raiser in Dallas for a musical theatre program.

A dulcimer autographed by Dolly is among nearly 40 celebrity items auctioned on eBay by Good Morning America to benefit Hurricane Katrina relief efforts of the Salvation Army in the Pass Christian, Miss., hometown of one of the show's co-anchors, Robin Roberts. The dulcimer goes for $6,411, and the overall auction raises nearly $100,000.

In what she says is the first time she's neglected to perform her signature tune in a full concert since writing it 36 years ago, Dolly inadvertently leaves out "Coat Of Many Colors" from her Birmingham stop on "The Vintage Tour." She immediately issues an apology to her fans at the show via Dollymania, saying: "I got so caught up in singing 'These Old Bones' that I accidentally skipped over it. Never in a million years would I intentionally leave 'Coat Of Many Colors' out of a show."

Dolly's "Vintage Tour" comes to a close mid-month. Image of Dolly at her Atlanta concert copyright © 2005 Duane Gordon/Dollymania. May not be reproduced without prior written consent. See more photos from the tour here!

Dolly reveals in Reader's Digest, and subsequently repeats in other interviews, that she plans to take 2006 (and possibly 2007, she later says) off from touring to devote her time to completing the Broadway musical adaptation of 9 To 5, an upcoming children's book tentatively titled I Am A Rainbow and possibly a children's album.

Although exactly which track it is has yet to be revealed, Pinmonkey (which covered Dolly's "Falling Out Of Love With Me" on their major label debut CD, Pinmonkey, in 2002 and got Dolly to sing on it) says they will record another Dolly cover for their next release, Big Shiny Cars, to drop March 7 on EMI imprint Back Porch Records. The band has been performing "Down" in concert off and on for about a year, which suggests that may be the tune they're putting on the album.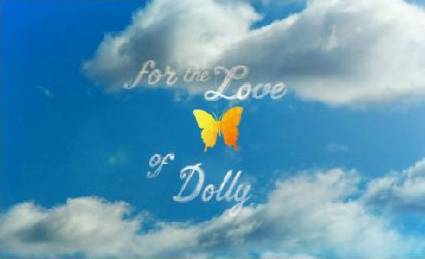 The director of the Dolly fan documentary For The Love Of Dolly announces on Dollymania that it will see its world premiere at the Miami International Film Festival in March. A few days later, the site publishes the first review of the project (read it here).

Grammy nominations are announced, and while a couple of albums which contain her guest appearances are up for awards, this marks the first time in seven years that Dolly does not receive an individual nomination. (Her current CD was released a little over a week after the deadline for next year's awards.)

A video for Dolly's tune with Brad Paisley, "When I Get Where I'm Going," premieres on CMT. Although she sings throughout the song, Dolly is only shown once near its end. Several celebrities and family members of celebrities are shown with images of their deceased loved ones after every couple of lines of the song, and Dolly is the last one shown before Paisley holds up a picture of his aunt, whose death prompted him to record the song and ask her favorite singer, Dolly, to join him on it. In her segment, Dolly holds a photo of her late grandfather, the Rev. Jake Owens, softly kisses two fingers and places them on his face in the image.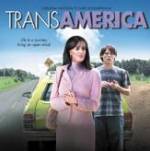 In the course of less than three weeks, Dolly's tune "Travelin' Thru" from Transamerica is nominated for Best Song at both the Golden Globes and Critics Choice Awards and takes home Best Song honors at the Phoenix Film Critics Society Awards in Arizona and Las Vegas Film Critics Society Sierra Awards. Winners for the Globes will be announced Jan. 16 live on NBC, while the Critics Choice Awards will be presented Jan. 9 on The WB. Nominees for the Academy Awards -- and the song is a favorite to win there as well -- will be revealed Jan. 31. It's her fifth Golden Globe nomination and would be her second Oscar nomination. The song is also released for legal downloading via Apple's iTunes two months before the soundtrack is to come out.

Houston lawyer Mark Lanier, known for throwing lavish holiday bashes with hired guest performers ranging from Reba McEntire to Bill Cosby to the Dixie Chicks, lands Dolly to headline this year's party. The price tag for her appearance is not revealed.

Dolly reveals on CMT's Insider that she's in talks to return later this season to The WB's Reba sitcom as Realtor "Dolly Majors," with filming to take place in January if the script is finalized in time.

The editors of The Knoxville News-Sentinel name Dolly the No. 1 all-time greatest East Tennessean from the names of suggested contenders for the title submitted by readers. World War I hero Sgt. Alvin C. York is No. 2, and frontier legend Davy Crockett comes in at No. 3.

Sugar Hill Records reaches an agreement with EMI to distribute Those Were The Days in Europe with a Feb. 20 release date.

A new version of "Train, Train" is released by Eric Lee Beddingfield featuring Dolly. (Get it here.)

Dollywood's 20th season draws to a close, bringing nearly 2.4 million visitors through its gates, a 7.3 percent increase over the previous year.

The final charts of the year are released, and "When I Get Where I'm Going" sits at its peak at No. 11 on the country singles charts, Dolly's biggest hit in nearly 15 years.
---
Previous Years In Review:
---
While Dollymania was the first Dolly site to publish more than 90 percent of the news presented above, the butterfly icon indicates that the story noted in the recap is one of several dozen during the year which Dollymania was the first media outlet anywhere to publish the news.